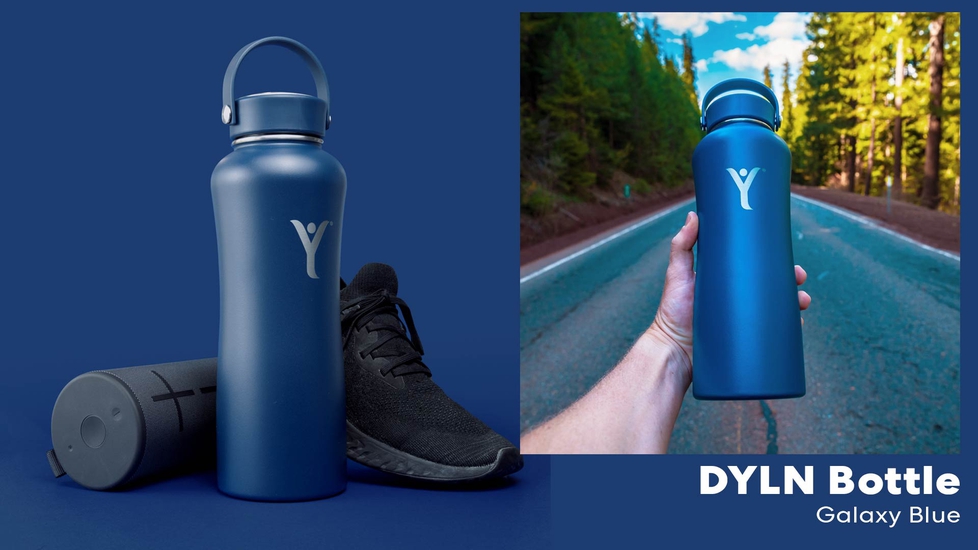 DYLN Alkaline Water Bottle
FREE shipping Feb 08 - Feb 10. FREE 30-day returns.
Sold and shipped by DYLN. Visit our store
Great-tasting, antioxidant alkaline water on-the-go, because the day doesn't slow down for anyone. The DYLN 40 oz insulated steel water bottle keeps water cold for up to 24 hours and increases your water's pH up to 9+ in minutes!
• Holds 40 fluid ounces
• Patented diffuser system
• Double-walled vacuum insulation
• Triple layers
• Food-grade & surgical-grade materials
• Easy-to-carry handle
• CREATES ALKALINE WATER (40.00 oz/1.2 L) • VACUUM INSULATED • EASY-TO-HOLD ERGONOMIC SHAPE • HIGHEST QUALITY BOTTLE ON THE MARKET • FLEXIBLE HANDLE CAP
• 10-year warranty
The DYLN Bottle transform your water into high pH Alkaline Water within minutes. The replaceable Diffuser (lasts up to 315 refills/300 L) increases the pH up to 9.5 and reduces the ORP down to -150 to make your water alkaline and antioxidant. It also makes your water hydrogen-rich.
Tief in die Spezifikationen eintauchen
We are all aware of the need for proper hydration. Many of us are concerned that we may not be drinking enough water to guarantee peak performance. However, few are aware of the need for proper, optimised hydration. One way to make sure we fulfill this requirement is by using the DYLN alkaline water bottle. The DYLN 40 OZ insulated water bottle is built to enhance your water drinking experience. It promises improved hydration within only a few minutes. It's a great way to make sure you get cool, quality water whenever you want. It is one of our home office essentials, and is a must-have in hot seasons. The superior technology and design of the DYLN alkaline water bottle means a simple, easy way to help optimize your health and lifestyle.
Specifications of The DYLN 40 OZ Insulated Water Bottle
Out of all 40 oz water bottles, the DYLN 40 OZ insulated water bottle is one of the best in terms of quality and performance. Each DYLN water bottle is made with surgical grade stainless steel lining the inside and food grade stainless steel on the outside. The technology is such that within minutes, the bottle increases the contained water's pH to 9+. This is done with the aid of the VitaBread Diffuser which is fixed at the bottom of the bottle. It dispenses magnesium that increases the alkalinity and significantly impacts the effectiveness of hydration. This makes it a great option when it comes to home gym equipment. The diffusers are replaceable and last for about 3 months. In addition to this, the DYLN 40 oz insulated water bottle also keeps water ice cold. This is because of its double walls with vacuum insulation. The DYLN's copper coating will enable your water to stay cool throughout the day. To make this even better, the design of the cap lets you add ice cubes into the bottle with ease. The best part of purchasing a DYLN water bottle is that you can add on a Bottom Guard to the bottle which doubles as a dog bowl. So take your dog on you for hikes and walks and stay hydrated together. DYLN water bottles have a patented design that is ergonomic. Featuring a flexible handle and easy to remove cap, the bottles are extremely comfortable to use. The bottles are built to last and so, making use easy is a priority. The materials used have zero plastic to guarantee that your water does not get infused with harmful chemicals. It also means a highly durable bottle that resists bumps and scratches, which makes it one of the best office accessories to own. The final touch is its sweat-free exterior. Every DYLN 40 oz stainless steel water bottle has been powder-coated. This means that there will be no condensation on the exterior and no more worrying about your bottle slipping through your hands.
Benefits of using DYLN Alkaline Water Bottle
Hydration is extremely important when it comes to our health, but many times, it's the one we ignore the most. This is due to many reasons usually, sometimes it's not chilled enough, and sometimes you don't have a store to go to. In times like these, it can be really handy to have something like the DYLN 40 oz Insulated Water Bottle – it's a purchase you won't regret. You might look at the hefty price tag on the DYLN and think: what makes it worth it? The reality is that this water bottle can greatly help in many ways to make you achieve your health goals.The more alkaline water that is filled with antioxidants helps hydrate your body as fast as possible. It also removes toxins from your body and enables you to have a faster metabolism. Along with these long term health benefits, drinking water from the DYLN alkaline water bottle can help with short term health issues like acid reflux and fatigue. Overall, the DYLN 40 oz water bottle is the way to go if you want a quick, easy and effective way to ensure proper hydration.
Benefits of using stainless steel water bottle
Using a 40 OZ stainless steel water bottle is not only a great choice for your own health but also for the welfare of the environment. DYLN 40 oz insulated water bottles are reusable and long-lasting. This significantly aids with reduction of plastic waste and offers a cheaper alternative to one-use water bottles. Additionally, the DYLN 40 oz stainless steel water bottle will keep your water cooler for longer.
About DYLN
DYLN aims to solve the problem of proper hydration one bottle at a time. Their goal is to ensure wellness through the most convenient means. DYLN water bottles are a solution to dehydration related issues such as weight loss, low energy and slow metabolism. Their bottles and their enhanced water drinking experience ensures the absolute best hydration for every user. Convenience is one of their main goals. This is why they offer a simple way to consume antioxidants and alkaline rich water. With the growing concern about plastic waste in mind, their reusable water bottles help ensure the wellbeing of you and the environment.
Häufig gestellte Fragen
Sie sehen die Antwort auf Ihre Frage nicht?
How long does it take for my water to become alkaline?
The alkaline process takes approximately 20 minutes to reach an optimal level of more than 8.5pH. The VitaBeads are formulated for the pH to level at around 9.5 pH, depending upon the source water.
How do I replace the VitaBead Diffuser?
Each bottle comes with a diffuser removal tool to easily remove the VitaBead Diffuser for replacement or bottle cleaning.
What is the lifespan of a VitaBead Diffuser?
Depending on your usage, we recommend replacing your VitaBead Diffuser every 3-4 months. That's after about 300L of water.
What are the VitaBeads made of?
They are made out of a proprietary blend of all natural minerals including Magnesium, Tourmaline, Zinc and Silica.
How should I clean my VitaBead Diffuser?
We recommend hand washing using only warm water. Then let the VitaBead Diffuser completely air-dry.
Can I put my DYLN Bottle in the freezer to cool it?
No. Putting your DYLN bottle in the freezer is not a good idea. Instead, we recommend putting a few ice cubes inside to chill your water.
How do I know when to replace my VitaBead Diffuser?
The easiest way to know when to replace your VitaBead Diffuser is by registering your DYLN Bottle
here
. Once registered, an email will automatically be sent to remind you when it's nearing time for replacement.
What kind of water can I use with my DYLN?
We recommend only using purified or filtered drinking water as the Vitabead Diffuser does not filter water. As for water temperature, using warm, room temperature or cold water is fine.