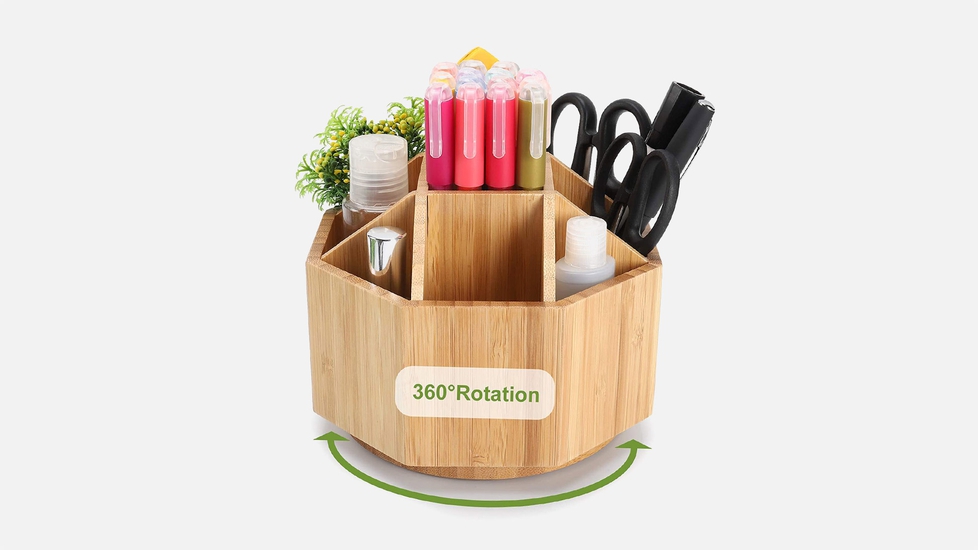 Maydear Bamboo Pen Holder: Desk Organizer
7 Bewertungen
Visit our store
Kostenloser & flexibler Versand
GroßbestellungSparen Sie bis zu 

5%
Mich benachrichtigen, wenn dieser Artikel verfügbar ist
Geben Sie unten Ihre E-Mail-Adresse ein. Wir informieren Sie, wenn es wieder vorrätig ist.
Verkauft und versandt von Maydear
• 360 degree rotation • organize all pens and office supplies • natural bamboo material, environmental friendly
• 6-month warranty
Enjoy your clean work space, organize and store all your pens and other office supplies. 360 degree rotation with smooth turning mechanism. Made of 100% natural bamboo material
Tief in die Spezifikationen eintauchen
Merkmale
FAQs
Spezifikationen
Bewertungen
4.7
Do you often find yourself searching for a pen or pencil amidst a sea of clutter on your office desk? A messy workspace can not only be frustrating, but it can also negatively impact your productivity. That's where a pen holder comes in. A pen holder for desk is one of the essential desk accessories for keeping your desk organized and tidy. Not only does it help you easily locate your writing utensils, but it can also add a touch of style to your workspace.
Why Should You Use a Pen Holder for Desk?
Using a pen holder for a desk has a multitude of benefits. For starters, it helps you stay organized and saves you valuable time that would otherwise be spent searching for lost pens and pencils. It also helps to free up space on your desk, making it easier to work on important projects. In addition, a pen holder can help reduce stress by providing a more calming and visually appealing workspace. By keeping your desk neat and tidy, you can improve your focus and productivity, allowing you to get more work done in less time. Bamboo is an excellent choice of material when it comes to a pen holder for desk, as it will make for cute desk accessories. Here are some of the key advantages of using a bamboo pen holder:
Natural Bamboo Material That is Environmental Friendly
Bamboo is a natural and sustainable material that is eco-friendly and biodegradable. Unlike plastic or metal, which can take hundreds of years to decompose, bamboo is a renewable resource that can be harvested and replenished quickly. It also has a beautiful and unique grain pattern that adds a touch of natural beauty to your workspace, so it is best for a pencil holder for desk. Bamboo is environmentally friendly and safe for use in furniture and home decor. Unlike some other types of wood, bamboo does not contain harmful chemicals or toxins that can be released into the air. This makes it a safe and healthy choice for your home or office.
Multipurpose Use, Sturdy and Durable
A bamboo pen holder for desk is not just for holding pens and pencils, and it can also be used to store other office supplies such as paper clips, sticky notes, and even your smartphone. This versatile storage solution can help keep all of your essential office items within arm's reach which makes it easier to work efficiently. Despite its lightweight and natural appearance, bamboo is incredibly sturdy and durable. It can withstand wear and tear and is less likely to crack or break than other materials. This means that your bamboo pen holder will last for years, providing a reliable and functional storage solution for your workspace.
Easy to Clean
Unlike some other materials that are difficult to clean and maintain, bamboo is incredibly easy to clean and care for. It can be wiped clean with a damp cloth or simply dusted off, and it is also resistant to moisture, so you don't have to worry about water damage or warping.
Maydear Bamboo Pen Holder: Desk Organizer
Looking for a high-quality bamboo pencil holder for a desk? Look no further than the Bamboo Desktop Storage Office Stationery Box with 360 Degree Rotation and 9 Grids from Dousy Home. Here are some of the key features of this product:
360 Degree Rotation & Multiple Compartments
This bamboo pen holder features a unique rotating design that allows you to access all of your office supplies easily. With a simple twist, you can bring the items you need into view, making it easier to find what you're looking for. With 9 separate compartments, this bamboo pen holder has plenty of room for all of your office supplies. You can use it to store pens, pencils, paper clips, sticky notes, and more. The compartments are different sizes, making it easy to organize your supplies and keep them within easy reach.
Stylish Design, Durable and Eco-Friendly
This bamboo pen holder is both sturdy and environmentally friendly. It is designed to withstand wear and tear, and will last for years. Plus, because this bamboo pencil holder is made from bamboo, it is a sustainable and eco-friendly choice. This bamboo pencil holder has a modern and stylish design that will complement any workspace and is one of the most unique desk accessories.