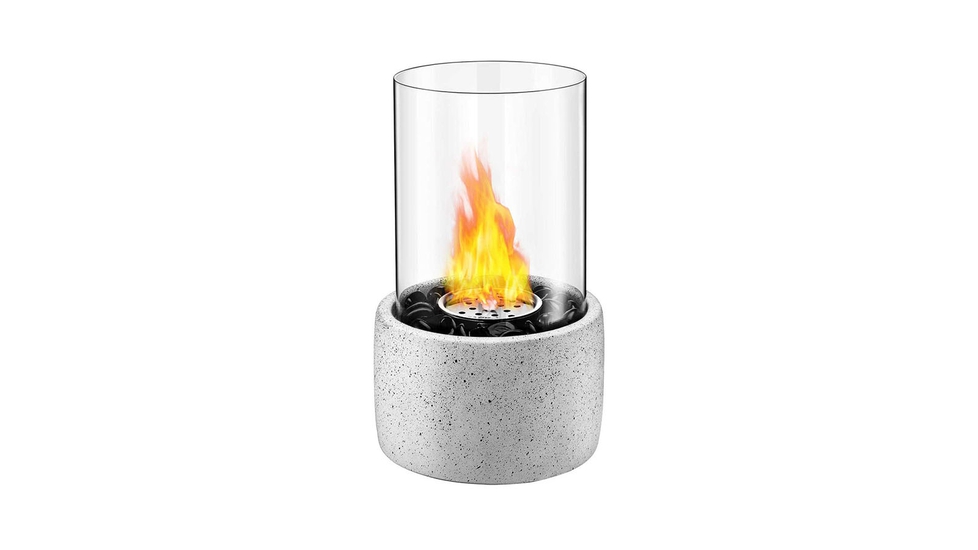 6Blu Tabletop Fire Pit: Tabletop Fireplace with Glass Stone
Notify me when this item is available
Enter your email below. We'll let you know when it's back in stock.
Sold and shipped by Racktodoor
• Sturdy and Portable: The tabletop fire pit's base is made of cement, which provides a sturdy, durable, and portable design that can be used anywhere, indoors or outdoors. • Windproof Glass Panes: The fire pit features a windshield glass panel that protects the flame from being blown out while also ensuring the safety of those nearby. Enjoy the beautiful 360-degree dancing flames without any worries. • Two Burning Options: With this fire pit, you can burn bio-ethanol directly for a bigger flame or use a wick for a longer-lasting flame that can burn for up to 2 hours. Adjust the wick for a larger or smaller flame, providing a unique visual experience. • Ashless, Ventless, and Economical: Forget about wood, gas, chimney, or electricity. This fire pit runs on affordable and eco-friendly bio-ethanol that is dust-free, smoke-free, and won't harm your health or the environment. You can safely use it in a closed environment without any concerns. • Modern Design: With an elegant appearance and crystal clear glass stones, this fire pit can be used as a perfect decoration or a gift on occasions like Valentine's Day or birthdays. It can add a luxurious atmosphere to any space, whether it's a kitchen, garden, or any other room. Safety Operation: Ensure the fuel is completely burnt out before putting out the flame. Never refill fuel into a burning flame, and do not touch the heated parts before they cool down. Children should operate the fire pit under adult supervision.
• 1-month warranty
Our sturdy and portable tabletop fire pit features windproof glass panes, two burning options, and a modern design. It runs on bio-ethanol, is ashless and ventless, and provides a safe and economical alternative to traditional fire pits. Enjoy the ambiance and warmth while prioritizing safety and convenience.
Deep dive into specs