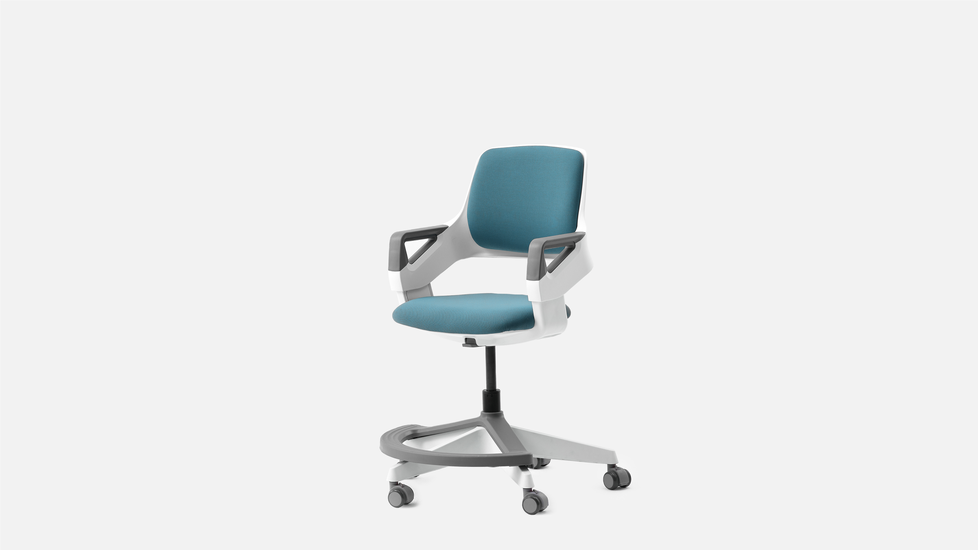 Autonomous ErgoChair Junior
$249
Kostenloser & flexibler Versand
Kaufe jetzt
In den Warenkorb legen
Kostenloser Versand Jun 08 - Jun 12. Kostenlose Rückgabe am 30 Tag.
Bought by 37 NVIDIA employees
Verkauft und versandt von Autonomous.
Autonomous ErgoChair Junior auf einen Blick.
Ergonomically designed to support growing bodies over many years, and practically built to help out the busy parent.
• Adjustable height, back, seat, armrest, and footrest
• 7 easy ergonomic positions
• Ideal for anyone between 3'2 to 4'7 tall
• Certified fire-resistant, non-toxic, and safe for kids
• Weight capacity of 275 lbs
• 1-year warranty
Tief in die Spezifikationen eintauchen

ERGOCHAIR JUNIOR
The only chair you need.
For healthy spinal development from age 4 all the way to 10. Grows with your child, so you can stop endlessly customizing poorly fitting chairs.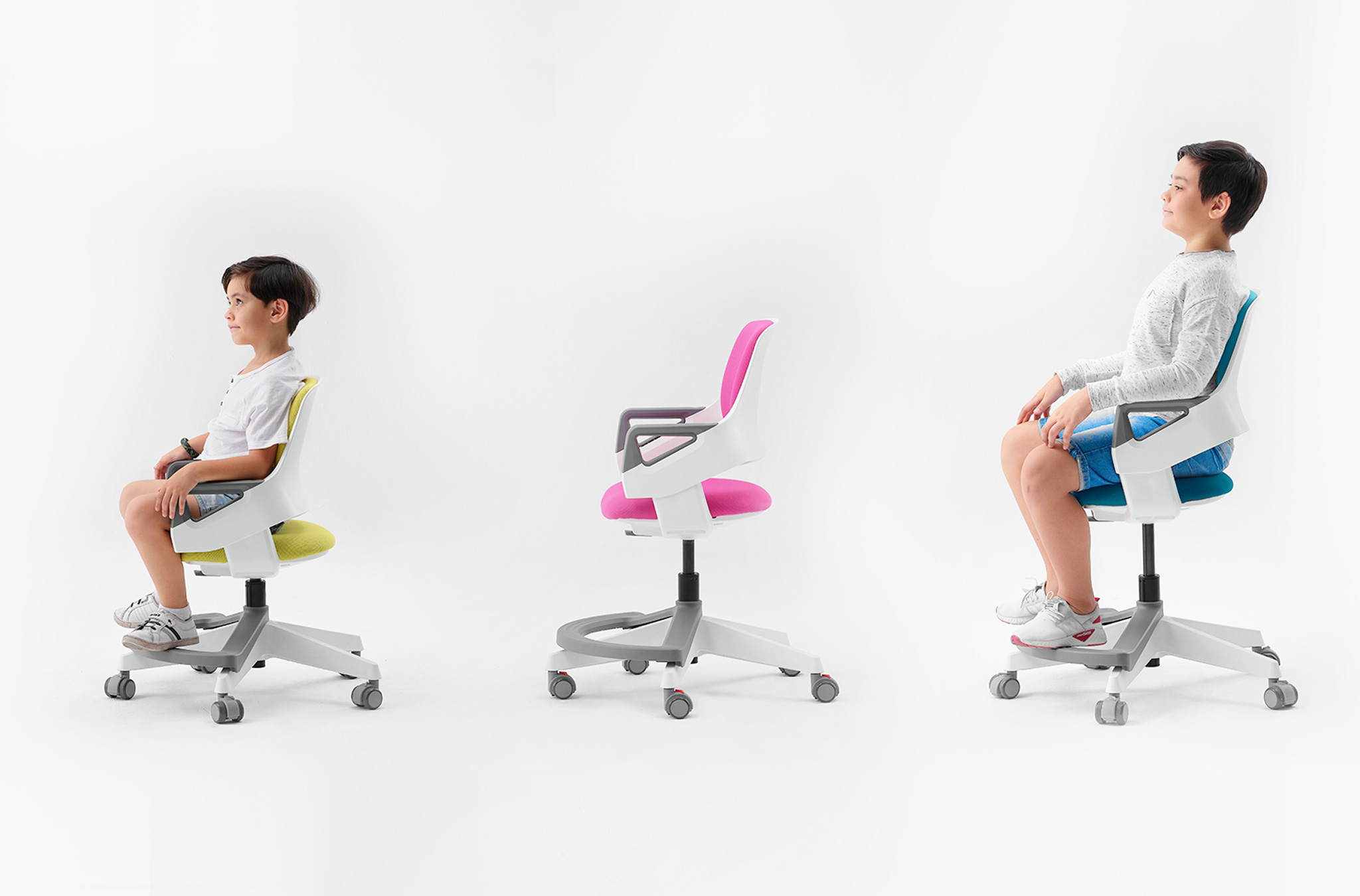 7 ERGONOMIC POSITIONS
Super simple to adjust.
Since there's no standard way to grow, help your child cycle through 7 ergonomic options to discover their ideal seated position.
FULLY-ADJUSTABLE
Keeps pace with your growing child.
Adjustable height, back, arms, seat and footrest make this chair ideal for anyone between 3'2 to 4'7 tall.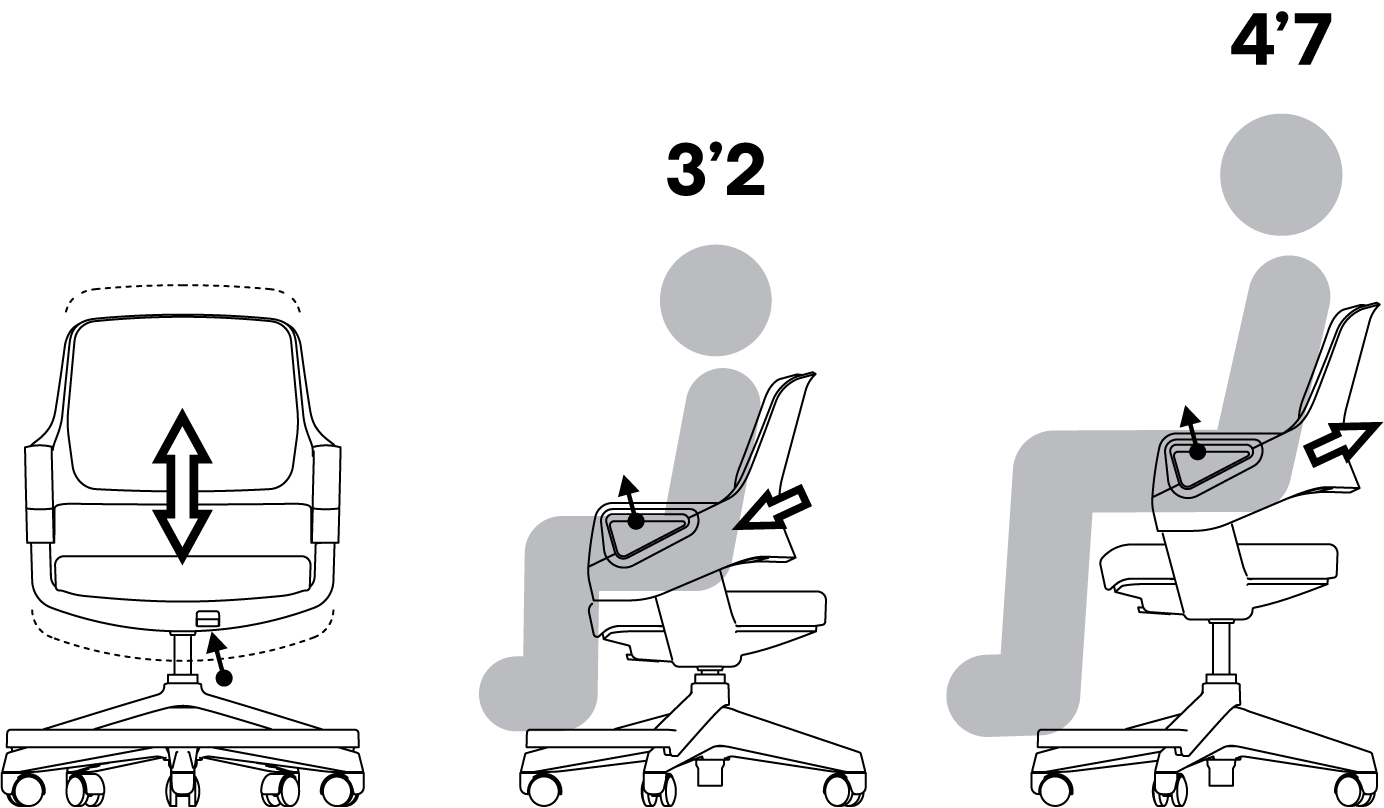 DURABLE BY DESIGN
Built to stay with you for a while.
The 100% recyclable tough-as-nails polymer shell will support up to 275 lbs and happily take any knocks thrown at it without looking worse for wear.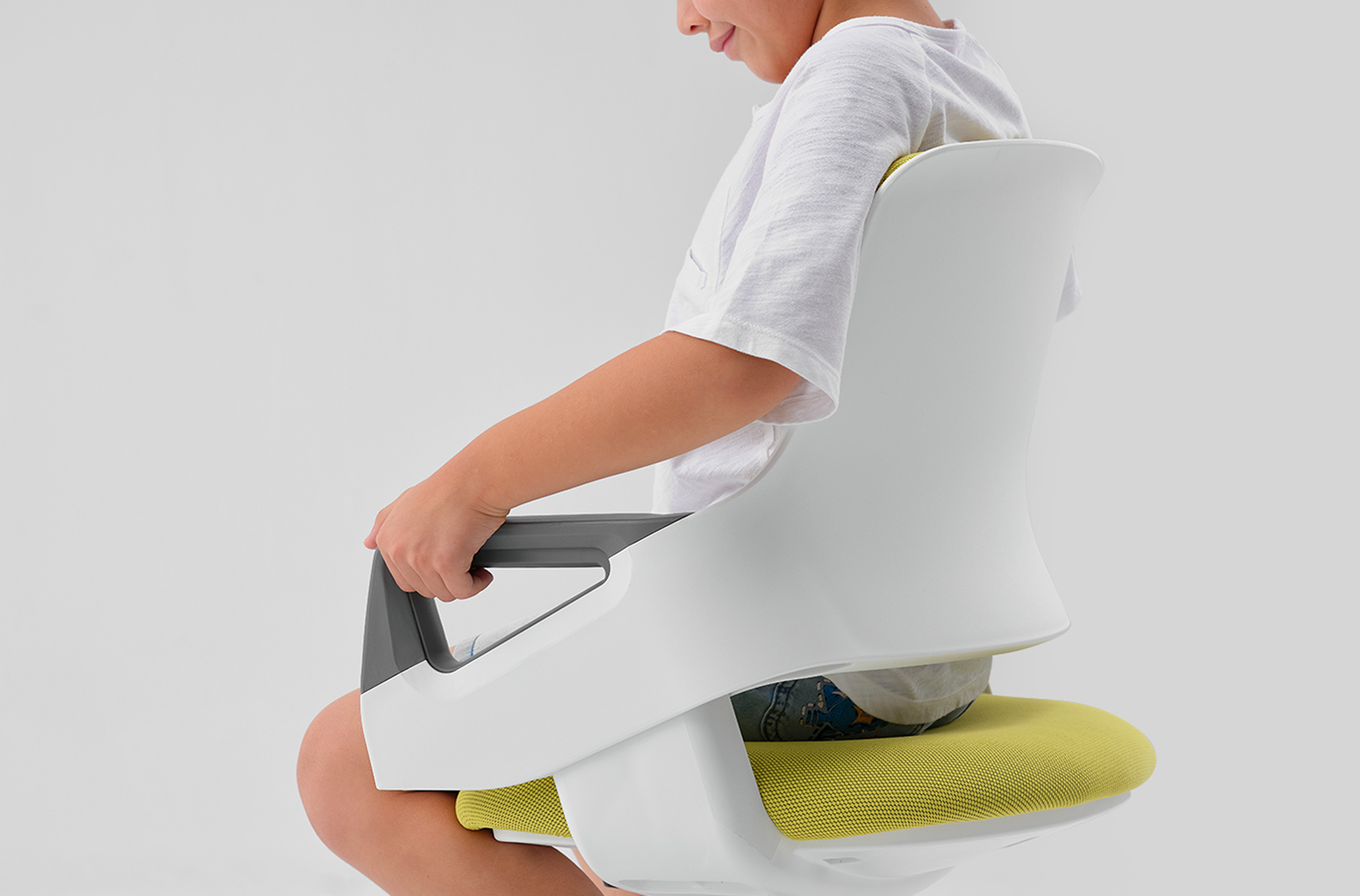 MESS-RESISTANT
Easy to wipe clean.
From its scratch-resistant body to friction-proof fabric, you can easily wipe the entire chair clean if any spills occur.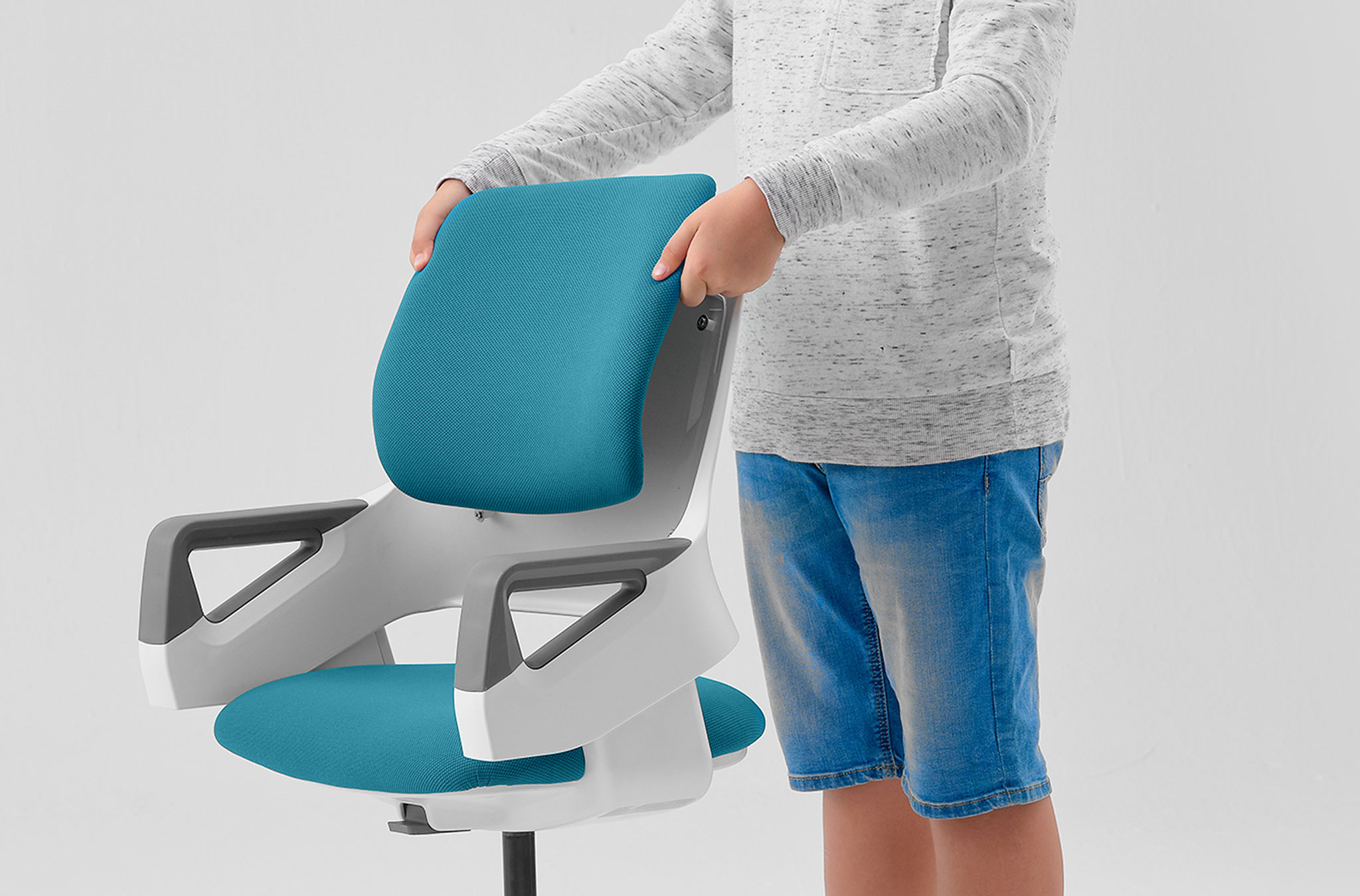 CERTIFIED KID-FRIENDLY
Always safety-first.
Simply lock the casters if you need to moderate movement for a younger child. BIFMA and Greenguard certified fire-resistant, robust and non-toxic.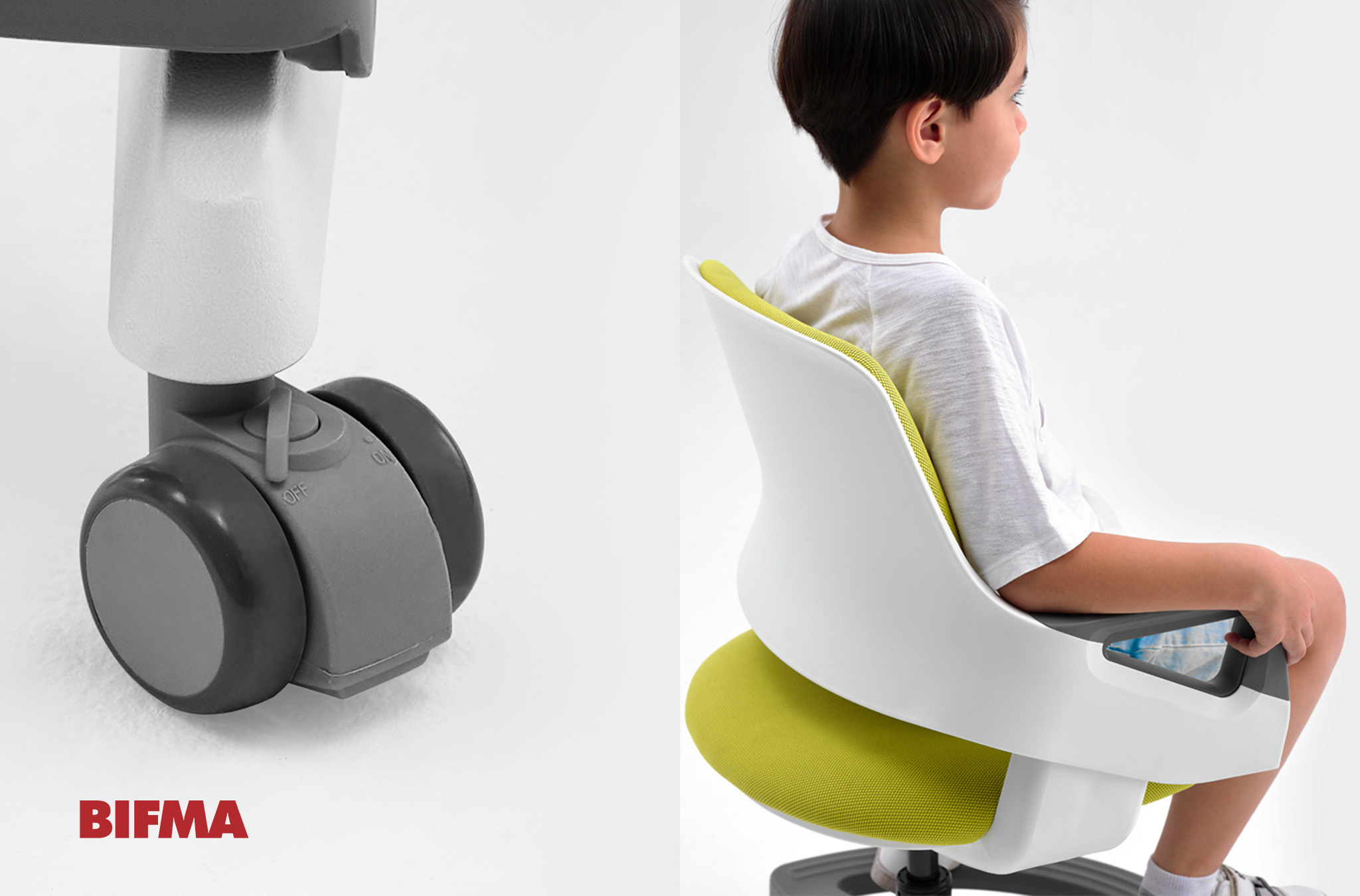 Hier ist ein Stuhl, der mit Ihrem Kind mitwächst
Jedes Element des ErgoChair Junior ist auf Anpassbarkeit und Unterstützung ausgelegt, denn es gibt keinen einheitlichen Wachstumsverlauf. Sie müssen nicht endlos schlecht passende Stühle ertragen oder im Laufe der Jahre mehrere Stühle in "Kindergröße" kaufen. Sie brauchen wirklich nur diesen einen Stuhl.
7 ergonomische Positionen
Lassen Sie Ihr Kind durch 7 ergonomische Optionen wechseln, um seine ideale Sitzposition zu bestimmen. Hier gibt es keine verwirrenden Knöpfe oder Hebel - drücken oder ziehen Sie einfach die Schiebegriffe an der Armlehne, um sowohl die Rückenhöhe als auch die Sitztiefe einzustellen. Wenn Ihr Kind jung ist, sollten Sie Ihm helfen, die Rückenlehne des Sitzes an die natürlichen Krümmung der Wirbelsäule auszurichten.
Für Groß und Klein
Die verstellbare Höhe, Rückenlehne, Armlehnen und Sitzfläche halten problemlos mit dem Wachstum Ihres Kindes mit, so dass der ErgoChair Junior ideal für alle ist, die zwischen 1,00 m und 1,58 m groß sind. Eine abnehmbare Fußstütze hilft kleineren Kindern zusätzlich, die Belastung der wachsenden Knie zu reduzieren und bietet Halt für baumelnde Füße.
Es ist ein Stuhl für die kommenden Jahre
Der ErgoChair Junior hilft bei den manchmal chaotischen und beunruhigenden Aspekten des Elternseins. Entwickelt, um als Begleiter für schnell wachsende Körper und Köpfe zu dienen, ist er eine Unterstützung für die Zukunft, praktisch für heute und dafür gebaut, Sie für eine Weile zu begleiten.
Sicherheit hat immer Vorrang
Das Design mit abgerundeten Kanten sorgt für ein harmonisches Erscheinungsbild, ist feuerfest und von Greenguard als ungiftig zertifiziert. Die geschmeidigen, stabilen Rollen verfügen über einen optionalen Feststellmechanismus, falls Sie die Bewegung des Stuhls für Ihr Kind einschränken möchten.
Langlebig, keine Wegwerfware
Von der kratzfesten Konstruktion bis zum rutschfesten Stoff können Sie den gesamten Stuhl leicht abwischen, falls etwas verschüttet werden sollte. Sowohl Sitz als auch Rückenlehne sind abnehmbar, damit keine Staubansammlungen entstehen. Und die zu 100 % recycelbare Polymerschale hält bis zu 125 kg aus und steckt auch Erschütterungen problemlos weg, ohne abgenutzt zu erscheinen.
Ein Stuhl, auf dem Ihr Kind tatsächlich sitzen möchte
Halt und Langlebigkeit sind wichtig, aber ein Stuhl ist nur dann gut, wenn er auch bequem ist - besonders für die Zappelmänner unter uns. Deshalb ist der ErgoChair Junior sowohl atmungsaktiv als auch bequem und bewegungsfreundlich.
3 Farben zur Auswahl
Ergonomisch zu sein muss nicht langweilig sein. Während das weiße Unibody-Gehäuse die Dinge zu Hause stilvoll hält, macht ein Farbtupfer in der Lieblingsfarbe Ihres Kindes das Design interessanter, lebendiger und - was am wichtigsten ist - zu seinem eigenen. Wird es rosa, gelb oder blau sein?
Die Montage ist so einfach, dass Ihr Kind sie erledigen kann
Die Verstellmöglichkeiten sind integriert und nahtlos, d. h. ohne umständliche Komponenten. Perfekt für Amateur Handwerker (und vielbeschäftigte Eltern) - befestigen Sie einfach die Zylindersäule an der Basis und dann den Sitz auf der Oberseite des Zylinders. Optional ist eine Fußstütze erhältlich.
Jetzt ist der perfekte Zeitpunkt, um zu beginnen
Gute Haltungen Gewohnheiten beizubehalten und eine schmerzfreie Zukunft zu sichern ist ein lebenslanger Prozess, der umso einfacher ist, je früher man damit beginnt. Es kann so einfach sein wie mit dem Autonomous ergonomischen Schreibtischstuhl für Kinder.
Häufig gestellte Fragen
Sie sehen die Antwort auf Ihre Frage nicht?
Is ErgoChair Jr. fully certified for kids?
Yes, ErgoChair Junior is tested and approved by SGS. It comes with CA PROP 65, Greenguard and BIFMA certificates for kids safety.
I'm worried my kids will play with around on the chair, can I lock the castor wheels?
Yes, you have the option to put the castor wheels on unlock or auto-lock mode. Please refer to ErgoChair Jr. user manual for more details. When on auto-lock mode, the wheels will automatically be locked when the user sits on the chair.
Can I remove the backrest and seat pads for cleaning?
Yes both backrest and seat can be removed for dust and fabric cleaning. Please refer to the user manual for how to clean the fabrics.
Which age and height range do you recommend this chair for?
We recommend ErgoChair Jr. for kids from 4-10 yo., or for users who are 3"2 to 4"7.
Can I remove the footrest?
The footrest is optional and be easily be installed or removed.
No, but it's simple to assemble without any special tools. So easy your kids can help assemble ErgoChair Jr.!
We do! We have shipped to more than 60 countries so far, and we're still counting! Please select your country for localized checkout and appropriate pricing, duties, and taxation processing.
Does ErgoChair Jr. come in Green or other colors?
If you would like another color for this chair, please drop us a line on our community page. If we have enough request for a color, we will include it as an option!
How is ErgoChair Jr. shipped?
How many packages are there? It's shipped in 1 package of 30" x 17" x 26.4".