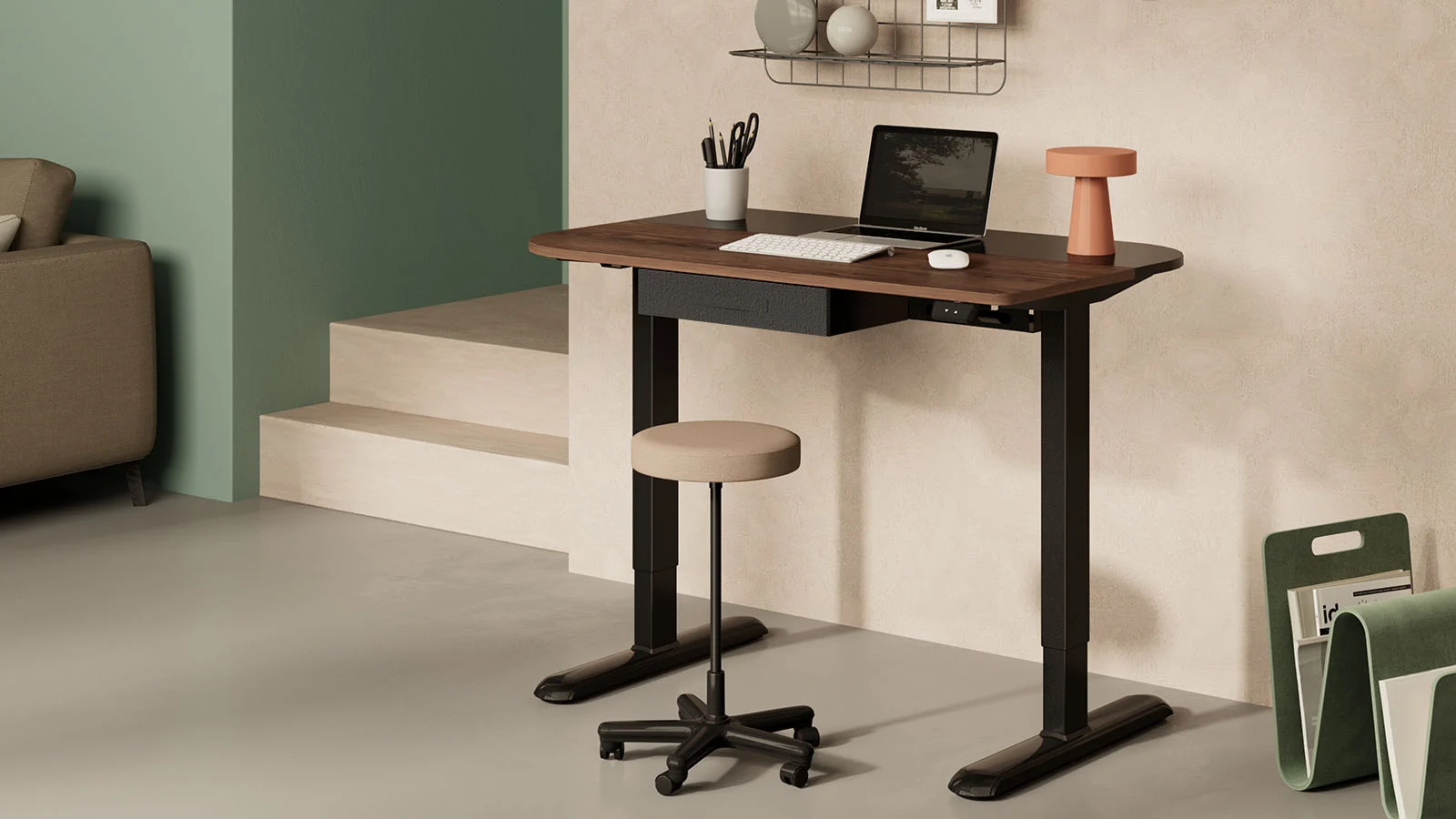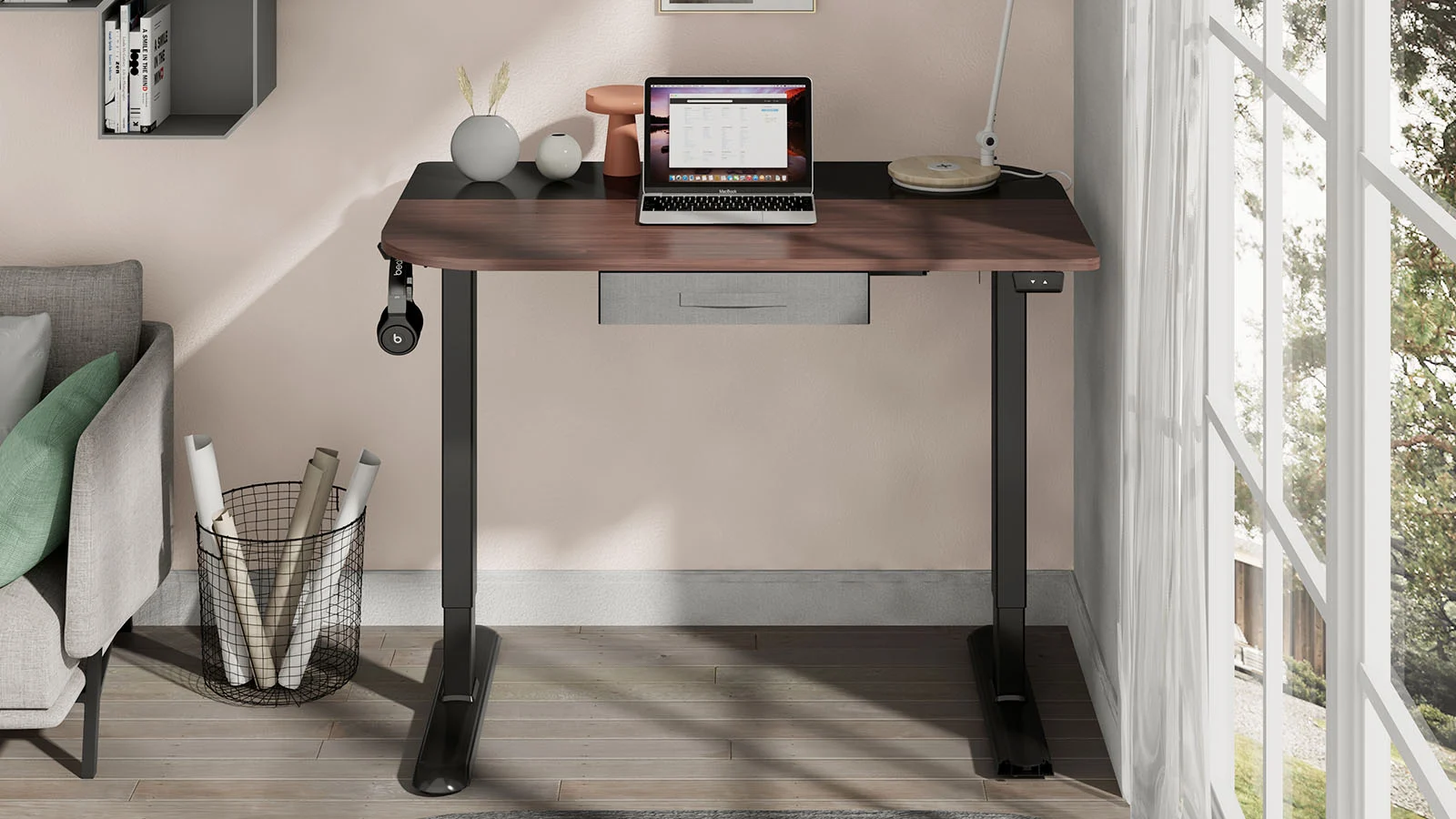 FENGE Fenge Ultrawide CompactDesk: Drawer and Bag Hook
11 reviews
Visit our store
Buy now
Add to cart
FREE shipping Dec 03 - Dec 05. FREE 30-day returns.
Bought by 50+ Fb employees.
Sold and shipped by FENGE
• Color: Black+Brown • Material: Aluminum, Iron, Particle Board • Number of Buttons: Up and Down (2 buttons) • Desk dimensions: 47.5" x 27.6" x 29"-48" • Height Adjustable Between 29.5''-48'' • NOTEs: If you would like to return FENGE compact desk, both the desk & free monitor stand must be returned together.
• 2-year warranty
FENGE adjustable standing desk fits the concept of ergonomics. Reduce people's work pressure through scientific office methods. This desk helps you to promote blood circulation when working and studying at home, avoiding lumbar pain, venous thrombosis and other hazards caused by prolonged sitting.
Deep dive into specs
Features
FAQs
Specs
reviews
5.0
Having smart Fenge standing desk installed in your office, is a great way to improve your productivity, as every office worker knows. In recent years, many office employees have invested in home and office standing desks as the working trends have evolved, and the hybrid work model has emerged. Standing desks raise the issue of whether or not they're worth it. A lot of people rave about electric standing desks with drawers and how elegant and simple they are, but have you really thought about how much better your health and productivity would be as a result? To your physical and emotional health, standing as you work might be a benefit. With this in mind, we're here to provide a better image and explain all the advantages of a Fenge standing desk, compact standing desk to you. For those who are unfamiliar with standing desks, we recommend that you learn about the basics of how they work before diving into the nitty-gritty. When we discuss the advantages of standing at work, you'll have a better understanding of what to expect. Office standing desk is a piece of contemporary office furniture that is meant to improve your work experience. Researchers have discussed the concept of active sitting at work as a way to combat the negative health effects of sitting for long periods of time at a desk all day.
Why Go For Compact Standing Desks
With the aid of a small standing desk with storage, you may practice active sitting. Most of these desks include a mechanism for adjusting the height, either electrically or manually. A height-adjustment mechanism is included in the system. You may modify the height of your Fenge standing desk electrically so that you can alternate between standing and sitting throughout the day. Adjusting the desk's height is as simple as pushing a button on an electric model or pulling a lever on a mechanical one. That's all you need to know about the benefits of using a small stand-up desk. This is the section where we're going to inform you about the advantages of having these desks in your office. This debate will provide you with a definitive answer to the question of whether or not you should switch to a standing desk at certain times. However, here are tips for using your standing desk like a pro.
Benefits Of Fenge Standing Desk - Compact Standing Desk
Inhibits Obesity and Weight Gain. Almost everyone is aware that overconsumption of calories leads to weight gain. On the other hand, you may lose weight by burning more calories than you ingest with the help of this Fenge electric standing desk. May Lower Your Blood Sugar Levels. Additionally, standing at work helps lower your blood sugar levels. When you eat, your blood sugar rises dramatically. Decreases Pain in the Neck and Back. Sitting for lengthy periods of time strains your lower back, which may lead to more serious problems if left untreated. As a result, doing a sit-to-stand program may be beneficial.
Key Features Of Fenge Standing Desk Compact Size 43" x 27"
A simple way to have a good working day!
Sitting correctly has been demonstrated to benefit many different aspects of health, including mood, energy, memory, self-esteem, digestion, bones, and headaches.
Enjoy your good health and energized workday
It is Fenge's goal to give all customers high-grade product quality, unique design solutions, and a friendly customer service experience.
Canvas Drawer - Bag/Headset Hook
You may store your daily notes, pencils, and erasers in the canvas drawer that was added to the Fenge electric standing desk for a whole new workplace experience! Using the hook just on side of the desk job, you may keep your headphones or a bag close at hand. As a result, the table is now spotless.
Height Adjustable Computer Desk
Adults and teens of varying heights may benefit from this Fenge standing desk, which ranges in height from 29.5 inches to 48.2 inches.