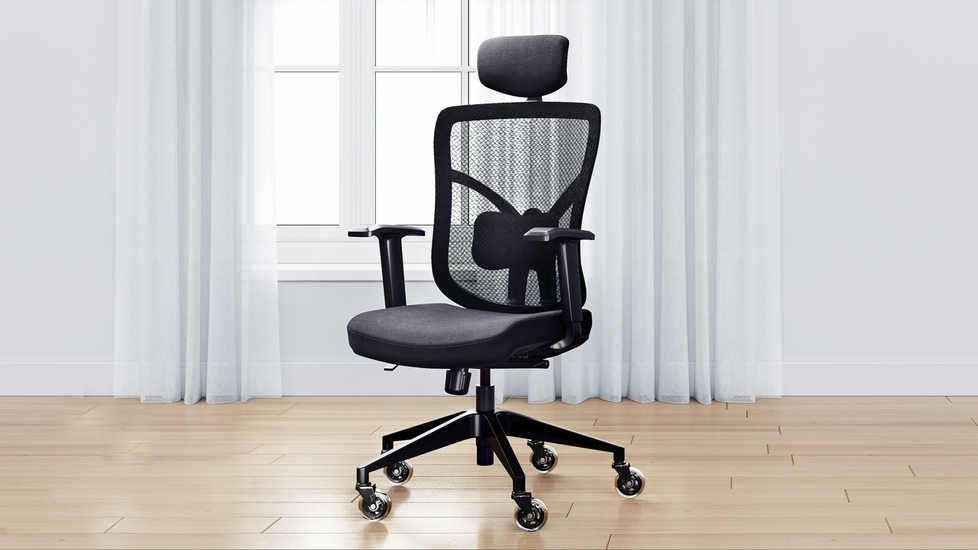 TOO Ergonomic Chair: Hardwood Floors Caster
Notify me when this item is available
Enter your email below. We'll let you know when it's back in stock.
Bought by 3+ University of Arizona employees.
Sold and shipped by The Office Oasis
• 100-Day Risk-Free Trial • Lumbar Support for Back Pain Relief • Safe for Hardwood Floors • Breathable Mesh Fabric for Cooling Comfort • 5+ Adjustable Features
• 5-year warranty
Ridiculously comfortable office chair with smooth gliding rollerblade wheels. The mesh back and ergonomic design combine comfort with modern style.
Deep dive into specs
There's a common perception that office chair wheels cause damage to hardwood floors. You should still purchase rolling chairs despite this assertion. With a rolling office chair, you can keep your hardwood floors pristine without sacrificing either that's what you get with The Office Oasis ergonomic mesh office chair. Although wood flooring options are durable, they can be scratched, scraped, and scuffed. Interestingly, this is likely the number one problem with hardwood installations. It is possible to avoid this type of damage in a typical hardwood environment, and most of them involve the people who live there. This means being careful not to slide furniture, wearing shoes without hard or abrasive soles, and not dropping heavier or sharper objects onto the floor. However, a caster that doesn't damage the floor regularly on everything from living room furniture to ergonomic mesh office chairs with lumbar support is also a key consideration.
What is ergonomic chair? Its benefits
Office chairs come with chair protectors for wood floors or casters for hardwood floors. Typically, office chairs aren't sold with high-tech caster wheels, but The Office Oasis ergonomic mesh office chairs are incredibly lightweight, so even when rolled on hardwood floors, the casters won't cause damage. The vast majority of hardwood areas can likely retain their nylon casters if used with lighter furniture and lighter people. Due to their low abrasive nature, these casters do not damage hardwood, marble, or granite unless put under a significant amount of stress. For those pieces of furniture with wheels that need to be replaced or refurbished, it is possible to find nylon casters in more than one size, color, and style. Besides looking amazing on any reclining desk chair, they're also a great fit for tables, desks, and numerous other items around the office and home. Additionally, nylon casters are more affordable when compared to other types of casters, making it easy to fit them into any budget. It looks almost indistinguishable from the typical nylon caster and is considered one of the strongest competitors in this space. Despite having the same shape and color options as nylon wheels, these wheels feature an added benefit: Urethane has a much softer feel than nylon, so it's easy to attach a small polyurethane "tread" to the casters to extend the caster's protection to the flooring even further.
The Office Oasis Ergonomic Mesh Office Chair - Highlight features
Hardwood floor safety
In addition to providing excellent adjustability and smooth-rolling rollerblade wheels, The Office Oasis ergonomic mesh office chair offers much more. It is also possible to damage your floors with cheap plastic wheels on other swivel chairs. This seemed counter-intuitive. As such, this best office chair for hardwood floorr includes caster wheels instead of rollerblades. Scratches or marks are guaranteed to be kept at a minimum. Thanks to their soft, smooth polyurethane coating, you can use the casters on hardwood, carpet, tile, and other surfaces without leaving marks or scratches. You don't need a mat for this rollerblade wheel office chair for your desk! You can fit almost any chair or stool with the universal standard size wheels. You just need to remove the old wheels and replace them with the new ones. You won't find a stronger chair wheel on Amazon! Support brackets made from high-grade steel sustain up to 650 pounds of weight and are long-lasting and durable.
Maintains your back's health
Have you ever experienced back pain because of sitting long hours at your office desk? It is normally caused by an office chair that doesn't provide adequate lumbar support or does not have adjustment options for the right posture. The Office Oasis ergonomic mesh office chair fully supports your spine, and your posture is fully corrected. As a result, you can go about your day without worrying about your back.
Comfortable and cool
The waterproof office chair in your office might make you sweaty on the back. Do not worry, because The Office Oasis ergonomic mesh office chair is different. With the breathable mesh backrest and seat cushion, your whole body will stay cool and comfortable. A piece of mesh fabric covers the seat and backrest, while a soft foam cushion covers the seat. You can easily make adjustments to the headrest height, the tilt, the chair height, the lumbar depth, and the armrest height. Standard use of this best office chair for hardwood floors has been tested to support up to 350 pounds.