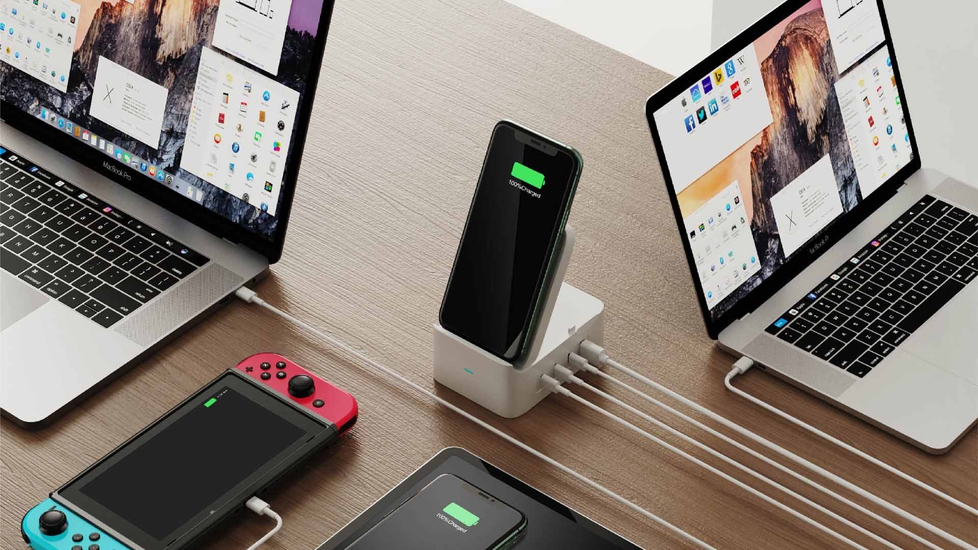 Fledging Spruce Charger: Up to 5 Devices
Sold and shipped by Fledging. Visit our store
Ships by Jul 11
.
FREE 30-day returns.
Sign in

to unlock business pricing
Secure payment
Charge it to your company
$85.37
Fledging Spruce Charger: Up to 5 Devices at a glance.
Spruce by FLEDGING charges up to 5 devices with a multiport GaN charger with a dual coil wireless pad. It's fast, cool, and eco-friendly.
• Charge up to 5 devices at once
• 140 watts of smart power delivery
• Gallium Nitride technology
• 3 x USB-C, 1 x USB-A, 1 x Wireless Charging Pad
• 1-year warranty
Deep dive into specs
Fledging Spruce Charger – Charge multiple devices at once!
Technology improves every year, and with that, we get access to newer devices that allow us to make our lives easier. That's the case for the Fledging Spruce Charger. Now it is possible to charge up to five devices at once without consuming too much energy or space. The Fledging Spruce Charger allows you to charge up to five devices simultaneously, including three devices compatible with USB-C, one compatible with USB-A and another with wireless charging. It is one of the best wireless chargers due to its convenience, compact size and power.
Benefits of a wireless charger for multiple devices
This wireless charging pad is also a multiport USB charger. Furthermore, it is equipped with gallium nitride technology, allowing the charger to produce effective results without getting the main product or the rest of the devices too hot, regardless of the number of devices you're currently charging. Universal wireless chargerscome in several shapes and forms, and some are built specifically for user convenience. That is the case for the Fledging Spruce Charger. It doesn't matter what kind of person you are; you can be 100% sure that you'll be able to take advantage of this charger as much as possible. Here we describe some of the advantages you'll be able to enjoy with the Fledging Spruce Charger.
Charge up to 5 devices at once: As mentioned, the Fledging Spruce Charger contains four USB ports (3x USB-C, one USB-A) and a wireless charging pad. You can charge multiple devices at once without compromising the charger's effectiveness or functionality – it will continue delivering optimal results at all times. Using the wireless charger is not complicated and works with diverse cases of different thicknesses. It is a universal charger compatible with most of the brands present in today's market. Compact and stylish: After hearing that this gallium nitride charger can charge up to five devices at once, you may think that it is such a prominent product that it will take a lot of space on your desk. However, it is actually the opposite – it is compact enough for you to carry it anywhere. That's because it is a GaN charger, which means it uses fewer components while providing better performance. It also has a beautiful finish, allowing it to be another piece of decoration in your workstation. Organization: Most office workers look forward to reducing the cable clutter on their desks. Cable trays and other similar products can help with the issue, but having multiple chargers at once can make it worse. With the Fledging Spruce Charger, you will be able to keep all your devices connected to the same source and all of the USB cables going in the same direction. You can now say goodbye to all the cable clutter you dealt with in the past.
What is a gallium nitride charger?
Gallium nitride chargers or GaN chargers are smaller than traditional chargers. They don't require too many components to work effectively and can conduct higher voltages. Thus, they can charge your devices faster while using less energy, being an eco-friendly option to most chargers out there. The compact size of GaN chargers is one of their many advantages. It is also worth noting that they're often better than most wireless charges available in the market, as they enable faster power transfer. Thus, you can think of it as the enhanced version of the regular fast charging that appeared not long ago. These devices also have improved durability, allowing you to keep using the same charger for a long time. It is quite convenient for all users and can be especially useful for office workers that tend to use multiple devices at once. Thanks to this charger, you'll be able to continue charging your devices in case something goes wrong with your main device, for instance. It can be useful in multiple situations.
About Fledging
Fledging is a company that specializes in electronic products. The company is based in two locations, Dallas, TX and Shenzhen, China. The company's mission is to provide the general population with "the power to power their surroundings," and they do so with tons of power accessories, storage solutions and diverse rapid data transfer devices.
FAQs
Don't see the answer to your question?
How many devices can it power at the same time?
Will my smartphone's case interfere with the wireless charging?
Every case is different but in general, cases less than 0.20 inches / 5mm thick should always charge.
Which ports are the most powerful?
Spruce power-balances across all 4 ports. The USB-A port will never be affected by the USB-C ports. The first USB-C port, as you look at the front of the charger, is always prioritized to provide the most power. If in doubt, plug the device that needs the most power until the C1 port.
Are the ports prioritized by power?
Yes. See the Tech Specs section for a detail chart showing every possible configuration of ports with wattages.
Will my charger become hot?
Likely not. GaN is very efficient and the Spruce is built to stay cool. Contact us if your charger becomes hot and we will replace it. Please note that if you're charging many devices at once for a long time, the charger may become about as warm as the palm of your hand (but not hot).
Can I wirelessly charge multiple devices at once?
No, Spruce can only wirelessly charge one device at a time.
My charger isn't keeping up with my devices. What's going on?
First, check your cable connections. Second, check your cables - some third party cables don't do a great job. Third, check your consumption. Spruce is powerful, but if you're heavily using 2 or more devices while charging, you might be using too much power at once. Think about too much power as "Me and a friend are actively editing videos at the same time while also using the other 2 ports". If none of that works, contact us so we can fix this with you.