$436
$869
(-50%)
Free shipping
Buy now
Add to cart
FREE shipping Jun 06 - Jun 08. FREE 30-day returns.
Bought by 63 Apple employees
Sold and shipped by OVICX.
Ovicx Indoor Cycle at a glance.
With precise controls from 0-100% resistance, this indoor cycle can adapt to different riding positions with varying levels of intensity and incline, without skipping gears.
• Bluetooth connectivity
• Free workout app
• Infinite magnetic adjustment
• Smooth drive system
• Dismountable crank arm
• Adjustable seat & Multi-grip handlebar
• Tablet/Phone holder
• Sturdy construction
• Easy assembly
• 1-year warranty
Deep dive into specs
A sturdy home cycle with health and safety features built in
BUILT TOUGH
Enclosed design, sturdy frame
The poly-v belt mechanism delivers a smooth, quiet workout with every use, fully enclosed for your protection. Its sturdy steel frame stays steady at even the highest intensities.
ADJUSTS TO YOU
Customizable comfort
12x seat height adjustments, 7x front rear seat positions and 8x handlebar heights help you choose the most comfortable position for any type of workout.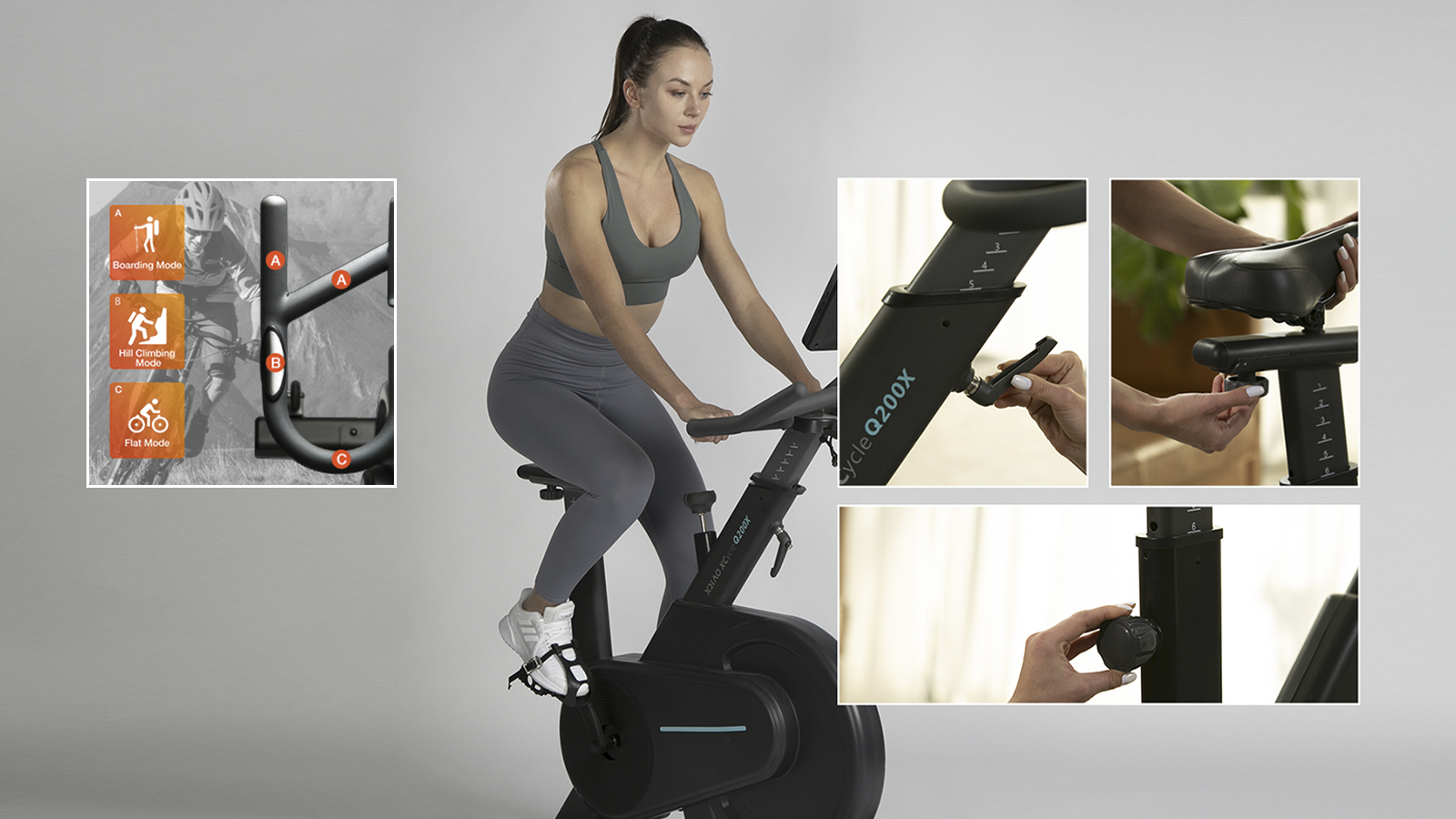 MOVE CONFIDENTLY
Professional cycling
Front drive heavyweight flywheel with high inertia, surrounded by an adjustable magnetic field, and slip-proof pedals allow for a smooth but effective and challenging workout.
ACCIDENT PROTECTION
Safety built in
The fully enclosed flywheel ensures the safety of kids and pets when riding. In an emergency, you can press the emergency knob to stop the flywheel immediately.
FITNESS COACH
Track your progress
Easy connect with the OVICX app. Track your fitness goals and subscribe for access to training with word-class coaches. New customers get 6-months free subscription, valued at $120!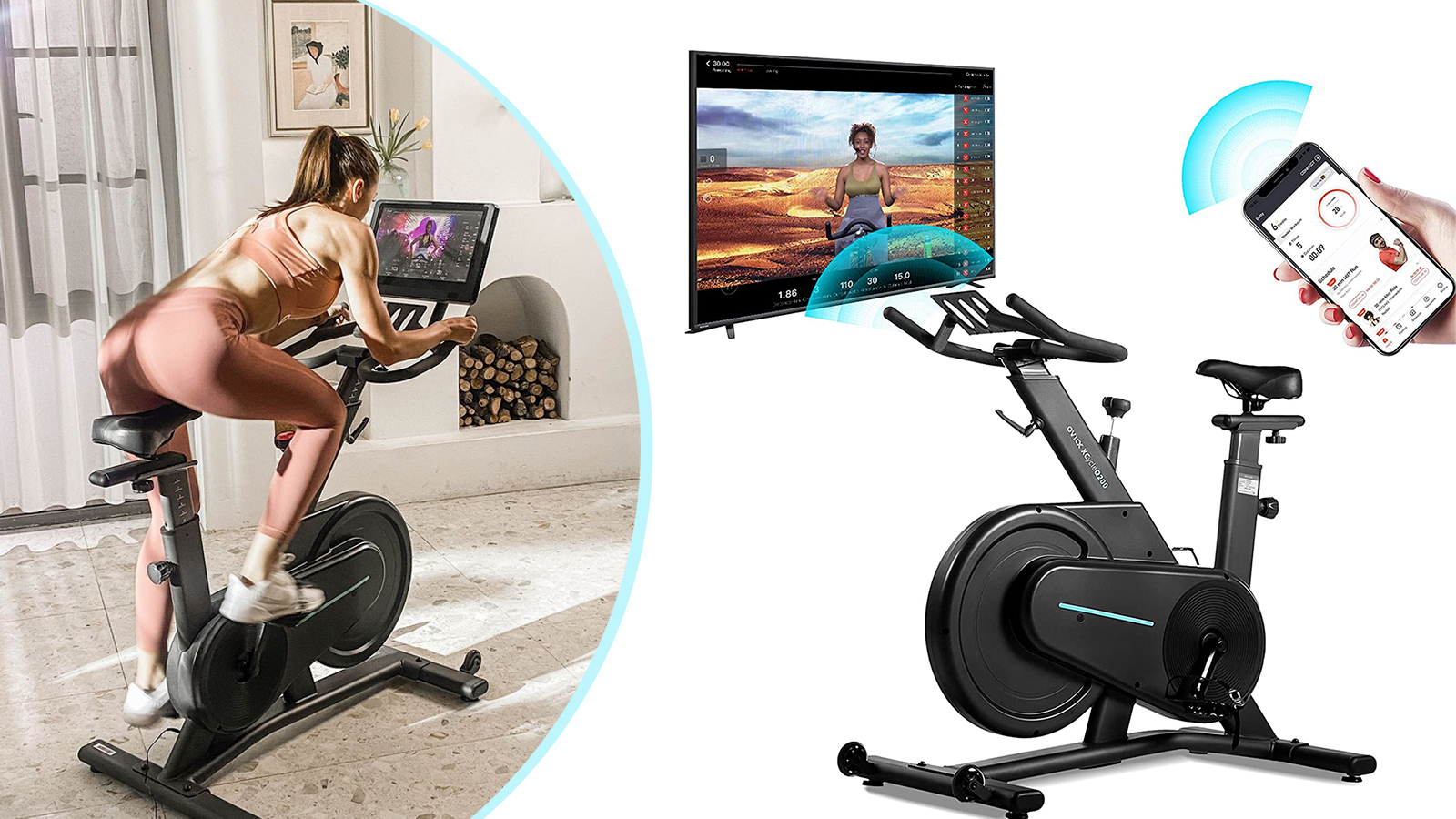 OVICX Q200B MAGNETIC STATIONARY BIKE WITH BLUETOOTH
Often called spinning, indoor cycling is a popular organized sport these days. The best indoor cycling bikes are available in every fitness center. People often call this spinning machine as an exercise bike. If you use your OVICX Q200B magnetic stationary bike with bluetooth on a daily basis, you will get to see some changes in your body endurance, strength, stamina, and so on. Such vigorous exercise helps in fast recovery as well. These days, people are joining indoor cycling classes as this cycling exercise is good for controlling your obesity, heart health, muscle endurance, and so on. With this Indoor cycling, you can improve your leg muscles and make them strong. This type of indoor cycling will feel your brain with plenty of endorphins. You can change your body completely by taking indoor cycling classes once or twice a week.
What is magnetic resistance on a magnetic spin bike?
Magnetic resistance is an important part of the indoor cycling exercise bike. For magnetic resistance, you need a proper quality magnet, and it creates tension against your flywheel. Here, the magnetic resistance doesn't contact the flywheels at all. The magnets create a magnetic force. This force is generated when the magnet is close or away from the flywheels. With the help of magnets, the magnetic force uses the magnetic resonance of varying degrees. Believe it or not, magnetic bikes are pretty expensive in nature. When you spin the metal disk via a magnetic field, this will generate magnetic resistance. Indoor cycling bikes generally use kinetic magnetic resistance.
How does OVICX Q200B magnetic stationary bike with bluetooth work?
The magnetic stationary bikes generally use magnetism. Electricity is also used to operate this bike. These bikes feature variable magnetic resistance. In the case of magnets, the opposite poles attract one another, but the same pole repels each other. For indoor cycling exercise bikes, magnetism is influenced by electricity. It is the "Eddy current" that helps the metal disk drag. The magnetic stationary bike offers incremental resistance. Direct Tension: The direct tension triggers magnetic resistance. In this method, there is stress on the wheel while the users pedal the indoor cycling bike. Flywheel and air resistance: Strong flywheel and air can create magnetic resistance in these bikes as well. In this method, the magnetic resistance bike will be a lot quieter. Magnetic resistance: Here, with a click of a button, you can change the magnetic resistance thresholds. These magnetic resistance bikes are quite popular in the market these days. Belts VS Magnets: A tension belt is used inside the indoor cycling bike. This is a cheaper option for such a stationary magnetic bike. However, with this belt, it is pretty difficult to pedal.
1. Cardio fitness: This indoor cycling is a great way to pump your heart. This form of cycling helps you to improve the condition of your heart. The bike keeps heart attacks, strokes, and other heart diseases at bay.
2. Burning body fat: It burns the calories of your body. It makes your body strong and helps you in losing some weight and maintaining personal health and wellness.
3. Low-impact workout: It provides a low-impact workout facility. This low-impact workout is good for bone health and getting rid of joint pains.
4. Safe: Here, with the OVICX Q200B magnetic stationary bike with bluetooth, you don't have to go outside. It is much safer than outdoor cycling as there is no chance of an accident.
Expert Advice: How to Choose the Right Indoor Cycling Bike for You
1. Usage frequency: Divided into 3 types depending on usage: regular, occasional, and intensive. The bikes of regular usage are for weight loss purposes only. Those who want to remain in great shape use the indoor cycling bike occasionally. If you are a professional sportsman, you will need it for intensive usage.
2. Smooth pedalling: It should feature a smooth motion, and there should not be any jerking. Here, the flywheel weight should be at least 3 kgs. If you are shopping from physical stores, you can check for pedaling comfort as well.
3. Comfort: You can adjust the distance between the handles and the saddle according to your comfort. The seat is wrapped with soft paddings. We suggest our customers go for indoor cycling bikes with adjustable handlebars only.
About Ovicx
The OVICX is a great company which makes smart machines and office furniture. The company is pretty famous for its enclosed designs. They are making various exercise equipment these days. The OVICX indoor cycling bike offers a precise control from 0 to 100% of the resistance and allows you to ride on it in different riding positions. The OVICX Q200B magnetic stationary bike with bluetooth are so far the best magnetic spin bikes according to our choice. Take a wellness challenge with the best magnetic spin bike today.
FAQs
Don't see the answer to your question?
Is this too heavy for second floor?
This is very heavy, but two strong people could lift it up a flight of stairs.
How to experience your app's 30-day free trial?
To start a 30 day free trial, download the app from the app store, create an account and choose the free trial option for your subscription. You can manage and cancel your subscription through your device.
I want to create an account on the app site!
To create an account you'll need to enter a valid email address, and click the link in the confirmation email. If you do not receive that email, please check your spam, junk or promotional email folders.
How can I adjust my spinning bike?
I have just got 1 in my home but still have no idea of how it works.