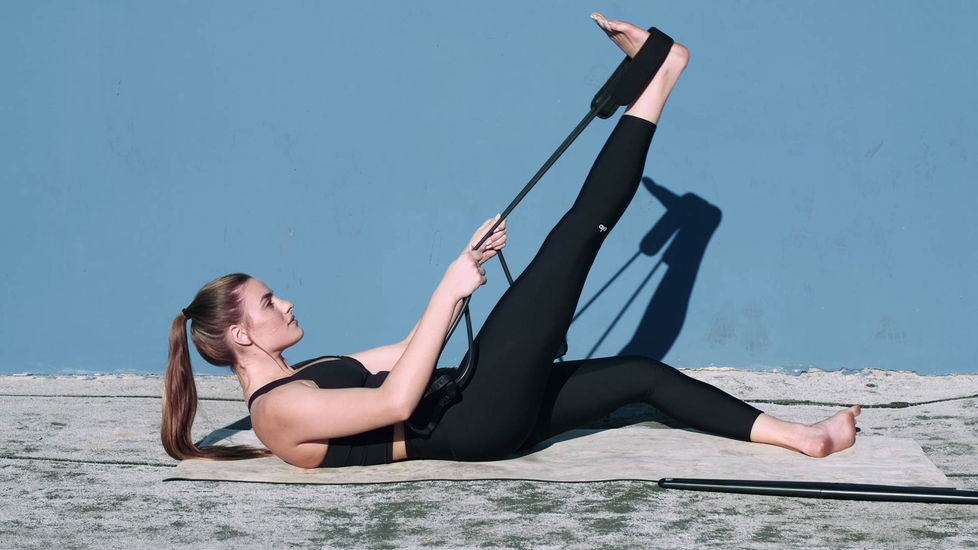 BODYGYM 2.0 Resistance Band
Sold and shipped by BODYGYM. Visit our store
Sign in

with your work email to unlock business pricing (

$20.29

)
Secure payment
Charge it to your company
$19.88
BODYGYM 2.0 Resistance Band at a glance.
By BodyGym

The BODYGYM Multi-level Resistance Band is an add-on accessory designed for the BODYGYM 2.0 All-In-One portable home gym system.
• Recommended with BODYGYM 2.0 All-in-one Home Gym
• Over 150+ strength training exercises
• Up to 80+ LBS of resistance
• Extremely portable and lightweight
• Made of the highest quality natural latex rubber
• Includes nylon and silicone soft straps
• 1-year warranty
Deep dive into specs
Reasons to Use Home Gym Resistance Band for Working Out
If you are passionate about the gym and want to work more on strength training, a resistance band can make it an easy task. Often known as a gym band, it is one of the most excellent ways to tone up your muscles, become stronger and add more fitness. It helps a lot in enhancing body strength. Practicing stretching with this BODYGYM gym band from a resistance band bar set will give your muscles more power and keep them relaxed. In addition, regular practice will enhance the body mass by reducing excess fat and bad cholesterol. Many doubt whether resistance is helpful or not. Well, experts always advise that this band seems perfect for those who are beginners or recovering from any injury. So, besides strength training exercises, these elastic bands are great to use in certain therapies.
1. Perfect toning and body strength: Using the BODYGYM gym band is extremely beneficial for all who dream of getting an ideal body. Practicing stretching helps in increasing tension in the body muscles. The hardness of the exercise depends on the stretching you practice and helps in enhancing the body tension.
2. Great for muscle stimulus: There is a huge difference between workouts with BODYGYM gym bands and free weights. During free weight exercises, not all parts of our bodywork at the same time, like doing workouts with gym bands.
3. Excellent for stretching to burn fat: Top-quality gym rubber bands are known to be excellent for stretching exercises. These bands are good to use to remove upper back pain and keep your muscle strength. The more you practice using a BODYGYM gym band, the higher you can relax the muscle tightness and elongate the limbs. Experts consider resistance training as a great measure to burn fat. The more energy you put in doing strength training, you will burn more fat. Not only burning fat, proper strength training exercises help in enhancing metabolism rate by more oxygen consumption.
4. Easy to carry & Alternative to other gym accessories: It is not possible to maintain fitness exercise while you are traveling. You can hardly get the facility of a gym center at all places. Well, these elastic body bands are made perfect for carrying. Moreover, these are lightweight to carry while travel. It is often impossible for all to join a gym for daily workouts. And buying various home gym equipment can be extremely costly. The gym rubber band can solve all your problems as it can be the best replacement for varied gym accessories.
What workout exercise can the BODYGYM gym band do?
While you are planning to use elastic bands for a workout, you need to check the types of workouts you need to continue to get the best result. They offer varied workout facilities to keep your muscles toned. Arm and leg exercises are the core muscle exercises and will help keep the abdominal muscles toned. Toned bicep - Bicep muscles can get excellent toned features using a body resistance band. While doing this exercise, you need to position the rubber band under the knee. You can carry on this exercise either standing or sitting. Resistance band is a good choice to practice squat for perfect toning of your thigh muscles. Those who are passionate about maintaining body fitness all need a perfect resistance band to fulfill their needs. Many top-ranked branded body sport bands are available in the market, and you can opt for BODYGYM gym bands. This multi-level gym band is made perfect for those who want to get a perfectly toned body.
1. Easy to adjust
The Company has designed the elastic band with comfortable materials so that users will enjoy the extension of their body while practicing. The band is extremely portable and lightweight.
2. Durability
The best thing about these bands is that they are made of top-notch material, and you can use them more than 10000 times. These bands are made with top-quality materials like nylon, hand straps, and silicon foot. One can use this band for at least 150+ strength training exercises.
3. Appropriate for levels
These gym bands are perfect for all levels of exercise, and the resistance range is limited to 20-80 lbs and designed for all levels of workouts. Beginners can easily use this fitness accessory during their workout.
4. Entire body workout
The BODYGYM gym band has all the necessary features and helps all in full-body exercise. So, you can replace all other gym accessories to get a toned muscle at your upper body, lower body, chest, and back. The maximum weight of the band is 2 LBS, and hence you can easily take it with you while you travel.
FAQs
Don't see the answer to your question?
What is the resistance level for the LEVEL 1 resistance band?
This band delivers a range of resistance depending on how it is being used. When used with the
BODYGYM All-in-one Home Gym Set
, the band can range between 5-20+ LBS of resistance.
How easy is the band to use?
The band was created by a former professional athlete but designed to be incredibly easy to use from fitness fanatics to casual workouts.
Can you workout your entire body?
Yes, you can replace nearly every machine in the gym to workout your upper body, lower body, chest, back, and core. The band will perform better with its
BODYGYM Home Gym Set
The band weighs less than 2 LBS so you can take it anywhere.
Do you need to attach this to a door or wall?
No, the band does not require an anchoring system or door attachment like many other pieces of resistance training equipment.
What is the band made of?
The resistance bands are made of all natural rubber latex, nylon, and silicon parts.