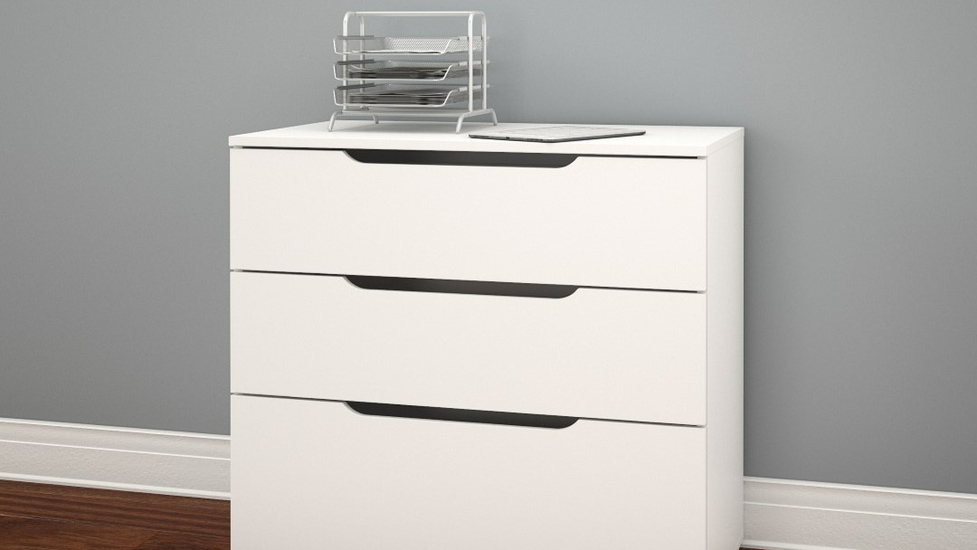 Nexera Filing Cabinet, 3-Drawer: Filing Cabinet
5 reviews
Visit our store
Color: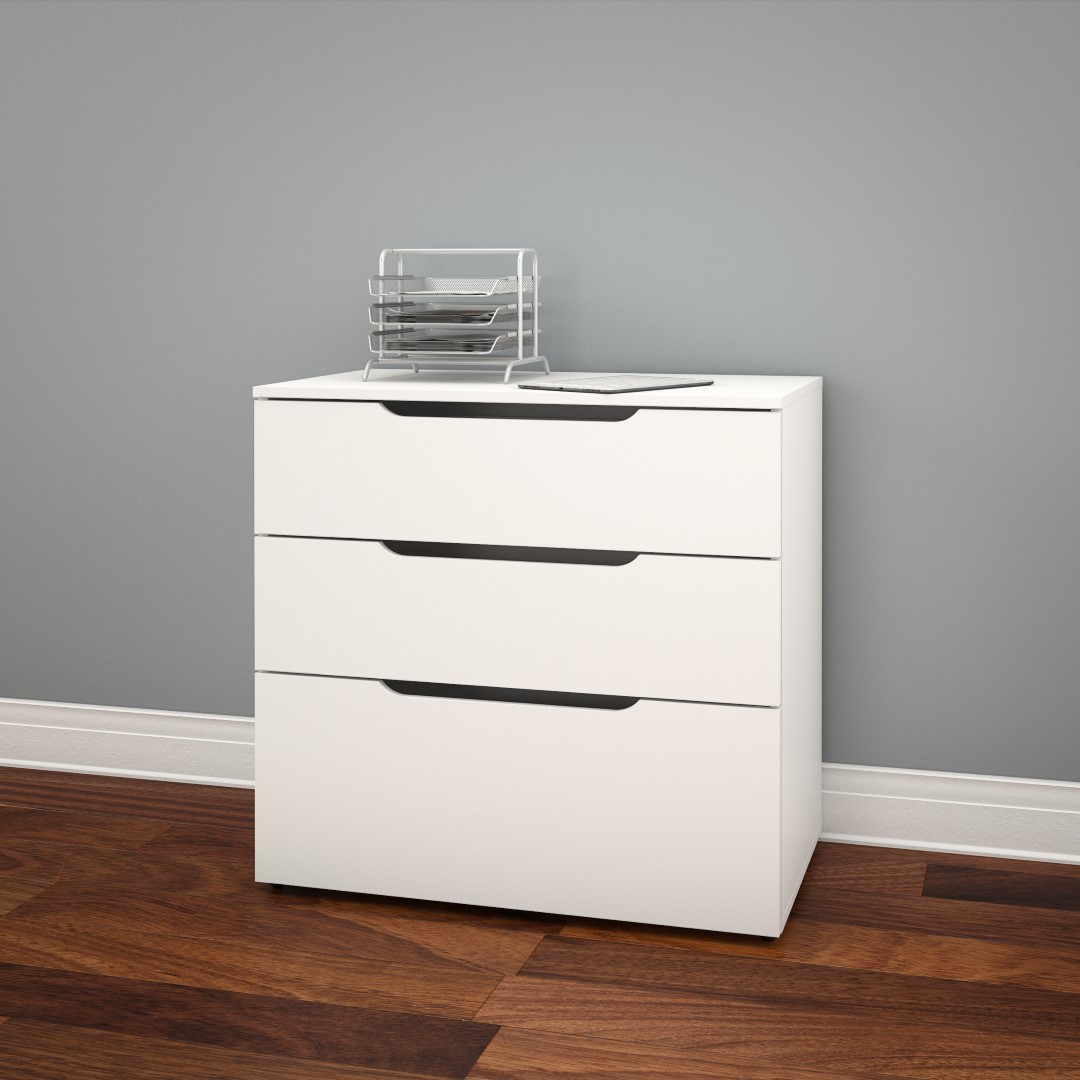 Not available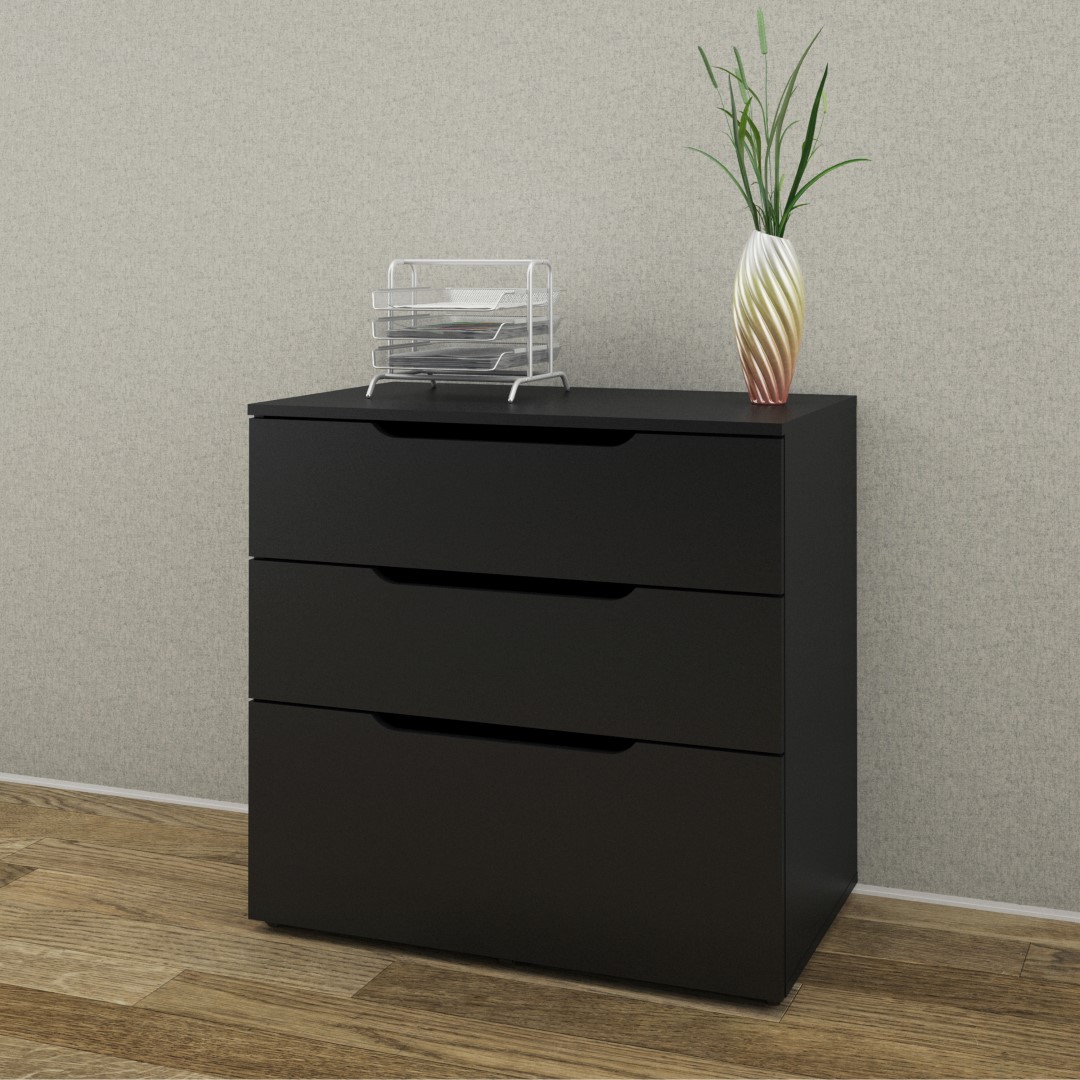 Not available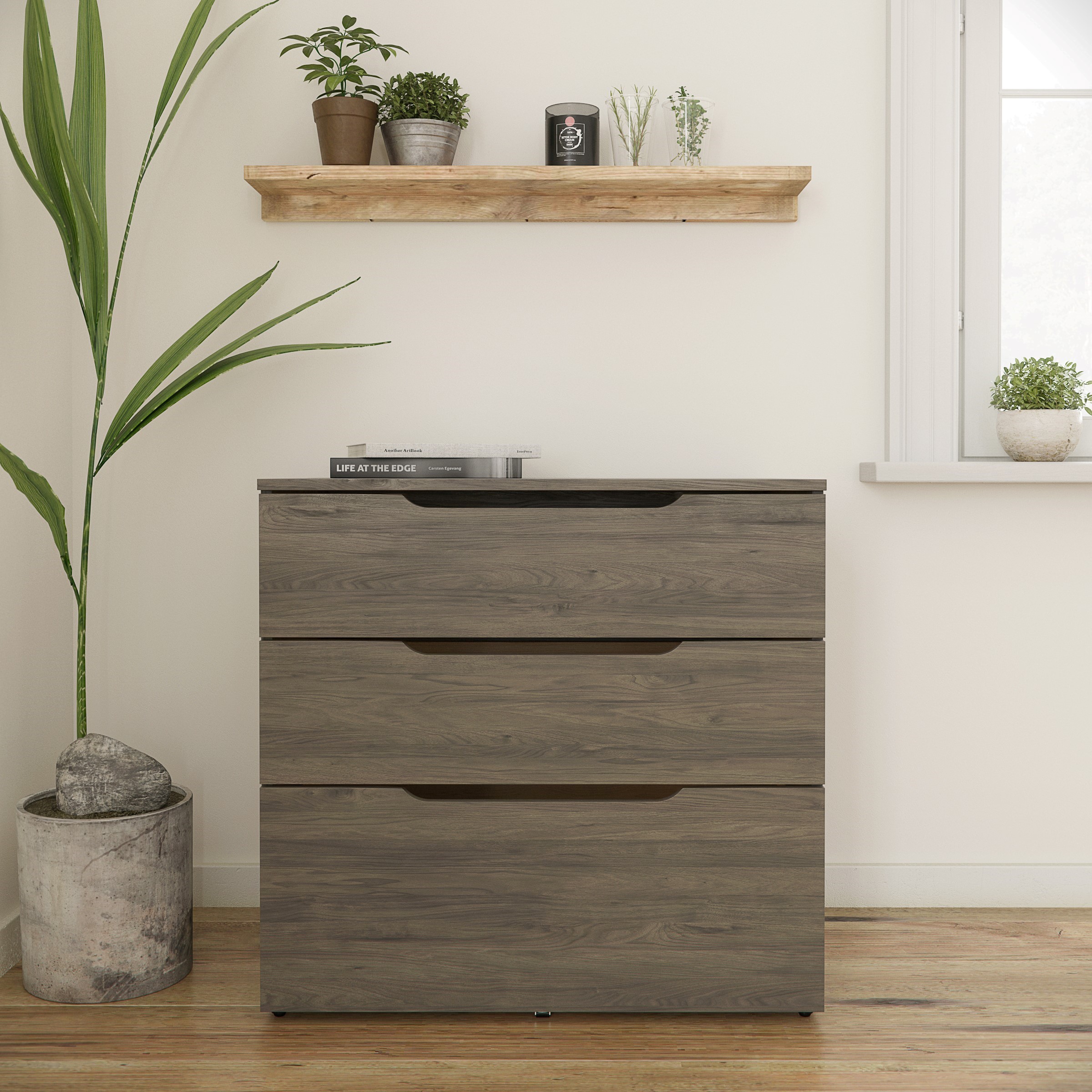 Not available
Buy now
Add to cart
FREE shipping Dec 03 - Dec 05. FREE 30-day returns.
Sold and shipped by Nexera
• 2 large storage drawers on solid metal slides and 1 legal/letter size filing drawer on full extension slides • Anti-Tilt safety wheel device • Solid back panel and unit finished all-around • Designed and made in Canada with CARB II/FSC Certified particle board and MDF materials. Ships in 24-48H from order date. Assembly required
• 1-year warranty
3-Drawer Filing Cabinet from Nexera adds generous storage capacity to your home office setting. It features 2 drawers on solid metal slides and 1 large filing drawer on full extension ball bearing slides at the bottom. This filing cabinet is equipped with anti-tilt safety device, finished all-around and accommodates both legal and letter file sizes. Arobas Collection from Nexera is characterized by its unique modern design, multiple smart features and offers flexible settings for your entertainment and home office areas.
Deep dive into specs
Features
FAQs
Specs
reviews
4.8
When organizing your home or office, having the right storage solutions can make all the difference. A 3-drawer cabinet is a versatile and practical choice that offers ample space for storing various items, from important documents to personal belongings. Such under-desk storage solutions are extremely important for tiny setups where efficiently managing the workspace is strenuous. Read more about the ultimate office storage solutions, such as the Nexera cabinet.
About Nexera
Before diving into the details of the 3-drawer metal filing cabinet, let's take a moment to learn more about Nexera. Nexera is a leading furniture manufacturer known for its high-quality products and innovative designs. With a commitment to functionality and style, Nexera aims to provide customers with storage solutions that meet their needs while enhancing the aesthetics of any space. Their extensive range of furniture options caters to various tastes and preferences, making them a reliable choice for consumers seeking reliable storage solutions. The best part about them is the sleekness and royal feeling their furniture resonates with. Its simplicity makes it even more accommodating to various types of environments. The company offers a 20% discount on all of its products and even provides a year warranty. In a nutshell, Nexera knows what its consumers like, and they successfully deliver upon their promises with the best office desk accessories and studio apartment storage ideas.
Nexera Next Filing 3 Drawer Cabinet – The Ultimate Storage Solution
Talking about the outstanding Nexera 3-drawer metal filing cabinet, we know it's all classy. This 3 drawer vertical file cabinet makes it the perfect addition to any modern home office. What makes it stand apart is its generous storage capacity without compromising on its look and compact nature. The office 3-drawer cabinet even features an anti-tilt safety feature to prevent unauthorized personnel from getting their hands on important documents. Talking about the appearance, the Nexera cabinet is made from highly-certified materials sourced from Canada. Once the structure is built, it is given a wonderful rich black and Walnut finish to make the cabinet look next level. The company takes immense care of its customers and their needs. They give out a complete document of assembly instructions on the product page, allowing customers to follow the instructions and assemble this masterpiece easily. Overall, it is a noteworthy 3-drawer cabinet that solves the storage issues of your office and allows you to work on out-of-the-box home office setup ideas. Now let's talk about some key features of the Nexera 3-drawer cabinet that makes it a viable option in the world of affordable and stylish furniture:
Ample Storage Capacity
The Arobas Collection 3-Drawer Filing Cabinet offers generous storage capacity, providing plenty of space to organize your belongings. The three spacious drawers accommodate many items, including files, folders, stationery, and more. This cabinet lets you say goodbye to clutter and enjoy a neat and tidy workspace or living area..
Versatile File Size Compatibility
One of the standout features of the Arobas 3-Drawer Filing Cabinet is its versatile file size compatibility. Whether you need to store letter-sized documents or legal-sized files, this cabinet has got you covered. The drawers are designed to accommodate both file sizes, allowing you to organize your paperwork efficiently and easily access them whenever needed.
Enhanced Safety Features
Safety is paramount when it comes to storing important documents or valuable items. The Nexera Collection 3-Drawer Cabinet prioritizes safety by incorporating enhanced features. The drawers have a secure locking mechanism, protecting your confidential files from unauthorized access. This feature adds an extra layer of security and peace of mind, making it an ideal choice for personal and professional use.
Modern Design
In addition to its practicality, the 3-Drawer Cabinet boasts a modern design that effortlessly blends with any interior decor. This cabinet's sleek and contemporary aesthetics make it a stylish addition to your space. Whether you have a traditional or modern setting, this cabinet's clean lines and minimalist appeal will complement your surroundings, elevating the overall look and feel of the room.
Smart Features and Flexible Settings
The Arobas Collection 3-Drawer Filing Cabinet incorporates smart features and flexible settings to enhance user convenience. The drawers have smooth gliding rails, ensuring effortless opening and closing. Additionally, the 3 drawer vertical file cabinet comes with adjustable leveling feet, allowing you to stabilize it on uneven surfaces. These smart features and flexible settings make the cabinet user-friendly and adaptable to various environments.
What to Consider When Buying a 3-Drawer Cabinet
Before purchasing a 3-drawer cabinet, it's crucial to consider several important factors. First, assess the size and dimensions of both the available space and the office 3 drawer cabinet itself to ensure a proper fit and sufficient storage capacity. Next, prioritize cabinets made from high-quality materials such as metal or solid wood, as they offer durability and longevity. Consider the number of drawers and their storage capacity, ensuring they can accommodate your items efficiently while promoting organization and easy accessibility. If security is a concern, opt for cabinets with reliable locking mechanisms to safeguard sensitive or confidential documents. Lastly, choose an office 3 drawer cabinet that aligns with your aesthetic preferences and complements your existing decor, enhancing the overall visual appeal of the room and harmonizing with other furniture pieces.
Organize belongings efficiently - Add style to any space
A 3-drawer cabinet is an excellent storage solution for residential and commercial spaces. The Arobas Collection 3-Drawer Filing Cabinet by Nexera offers ample storage capacity, versatile file size compatibility, enhanced safety features, modern design, and smart features with flexible settings. When purchasing a 3-drawer cabinet, consider factors such as size, material, storage capacity, security features, and aesthetics to make an informed decision.