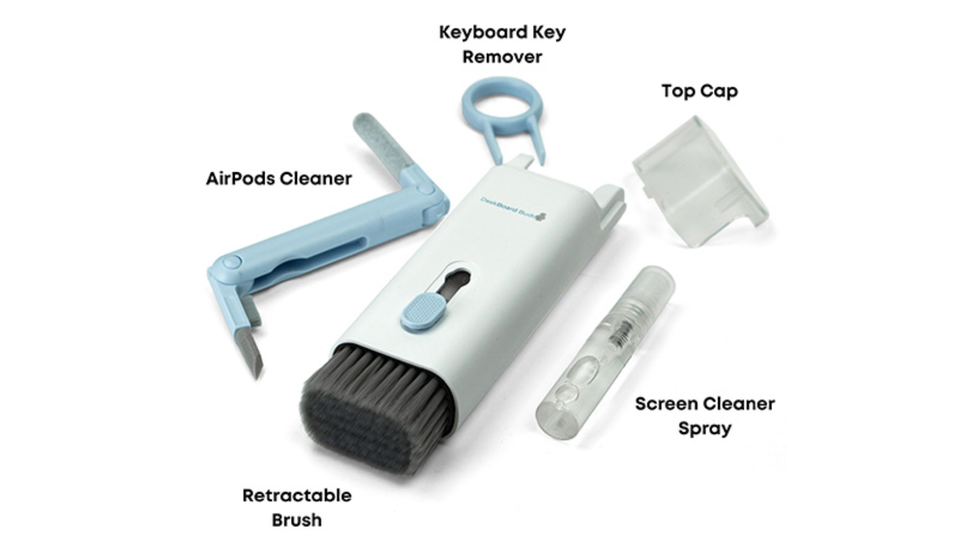 DeskBoard Buddy Keyboard, Screen and Headphone Cleaning Kit: All In One Cleaner
Buy now
Add to cart
FREE shipping Dec 10 - Dec 12. FREE 30-day returns.
Sold and shipped by DeskBoard Buddy
• Keyboard Cleaning Brush: The kit includes a soft-bristled brush designed to gently remove dust and crumbs from the tight spaces between your keyboard keys. Its compact size and ergonomic design make it easy to navigate through the intricate layout of your keyboard, leaving it spotless and free from debris. • Electronics Cleaning Solution: To effectively clean your electronic devices without causing damage, the kit offers a specially formulated cleaning solution. This solution is specifically designed to remove smudges, fingerprints, and dirt from screens, laptops, and other electronic surfaces, restoring their original shine and clarity. • Headphone Cleaning Tool: This tool is designed to thoroughly clean the nooks and crevices of your earbuds, ensuring an optimal audio experience by removing dirt and debris that might affect sound quality. • KeyBoard Key Remover: Got some dirt and dust between the keys of your mechanical keyboard that you just can't get out? Remove the keys with this handy key removal tool. Note this tool only works for keyboard with removable keys. Check your keyboard specs for details if your keys can be removed. • Portable and Compact: The Keyboard Cleaning Kit is conveniently compact, allowing you to carry it wherever you go. Whether you're at home, in the office, or on the move, this portable cleaning kit ensures that your devices remain clean and functional at all times. Plus, if fits right inside your DeskBoard Buddy! So it's always within reach.
• 1-month warranty
Introducing the DeskBoard Keyboard, Screen and Headphone Cleaning Kit, the ultimate solution for maintaining the cleanliness and functionality of your beloved electronic devices.
Deep dive into specs