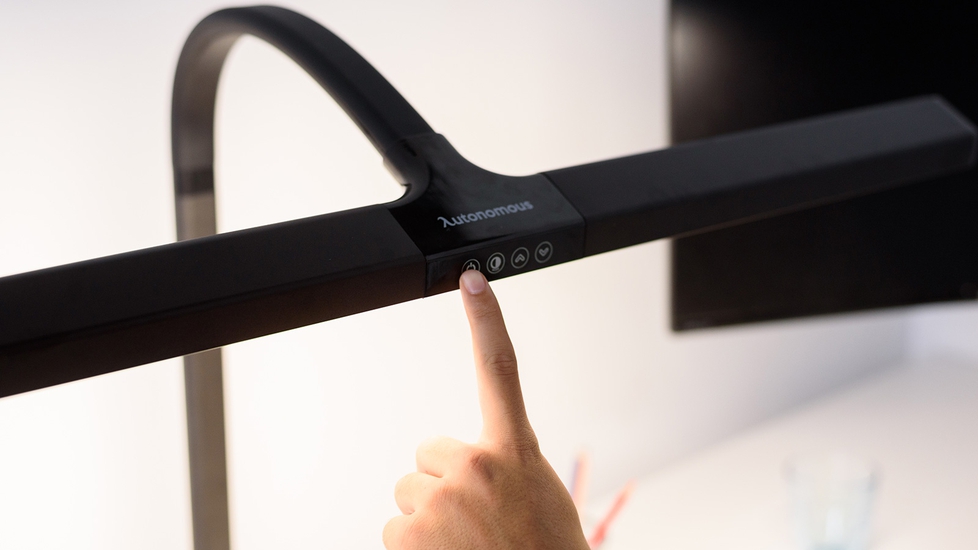 With its 31.5 inch LED strip perched on a flexible 35 inch stem, the Ultra Wide Led Desk Lamp will light up your desk thoroughly. Alternate between four light temperatures to suit any time of day.
Ships within 2 business days
|
Free shipping
& 30-day returns
If you don't love it, just return it for a full refund.
• Extra-wide 31.5" LED light bar
• 4 light temperatures
• 5 brightness level
• Remembers your exact lighting
• 1-year warranty
Deep dive into specs
FAQs
Don't see the answer to your question?
How much energy does the lamp consume?
It's only 15W. It's a lamp of energy-saving and high performance.
What table size is suitable for this Ultra Wide LED Desk Lamp?
Our lamp is suitable for most kinds of desk. With a 31.5 - inch super wide LED light bar, it's especially the best lighting solutions for desk with multiple monitors.
Is the Ultra Wide LED Desk Lamp adjustable?
Absolutely. The gooseneck brings flexible height adjustment so you can change the direction of the light as you want.
What light colors does the lamp offer?
Select from 4 color temperatures with 5-lever dimmer of the Ultra Wide LED Desk Lamp to match your need of lighting. From detailed jobs to multiple tasks, you are always in a good lighting environment.
Does the lamp have memory functions?
For sure, it does. Don't have to reset the mode or brightness level the next time you turn it on. Ultra Wide LED Desk Lamp gets your last lighting preference.
What is the Ultra Wide LED Desk Lamp made of?
It's made of aluminum so it's sturdy, long-lasting and never out of style.
Do I have to assemble the lamp?
You only need to tighten the lamp to your desk using already assembled clamp. It will take you less than 5 minutes to set up your Ultra Wide LED Desk Lamp.
We currently ship anywhere in the USA. International delivery is on the way, we'll happily keep you updated!
Do I have to pay shipping when returning it per your free 30 day trial. How does return shipping work?
We are happy to cover the cost of shipping if you request a return before the end of your 30 day trial period.