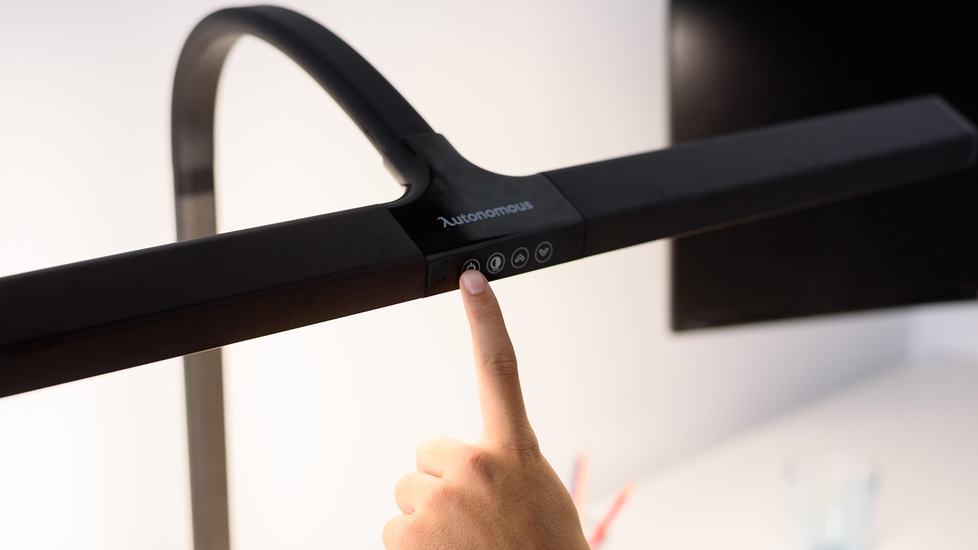 Bought by 200+ Shopify employees
FREE shipping Mar 31 - Apr 03. FREE 30-day returns.
Sold and shipped by Autonomous.
Autonomous Light Bar at a glance.
With its 31.5 inch LED strip perched on a flexible 35 inch stem, the Ultra Wide Led Desk Lamp will light up your desk thoroughly. Alternate between four light temperatures to suit any time of day.
• Extra-wide 31.5" LED light bar
• 4 light temperatures
• 5 brightness level
• Remembers your exact lighting
• 1-year warranty
Deep dive into specs
Ultra Wide LED Desk Lamp: Autonomous Light Bar for Desk
If you are exploring for an ultra bright led desk lamp, your search stops right here. You can not miss Autonomous's simplistic, elegant, and functionally robust design for the Ultra Wide LED Desk Lamp. The best part is that this desk bar light uses a C-type clamp to clip onto any work desk. It doesn't have to be screwed or fixed onto a wall or work desk. This means you can easily move it into any room as per your use. Do read-up on our reviews of a minimalist desk setup. Available in a nice executive black color, the desk bar light is made primarily from a die-cast of Aluminum and other metals. This gives it ample strength for higher durability for this adjustable led desk lamp. You can use this easily as an office led desk lamp. It works on alternating current (AC). Further, it uses only 9 watts of energy per hour to give you up to 600 lumens of illumination. So bright, isn't it? One hundred two pieces of LED bulbs give you this strong illumination. The lamp bulb time is for more than fifty thousand hours of usage. This tall desk lamp is available in four different colors for you to choose from. What's more? It comes with a one year warranty for any manufacturing defects. Do keep a check on how you can work on reducing eye strain.
What to look for when choosing an ultra wide led desk lamp
1. How is adjustable led desk lamp different?
When buying an LED bulb or LED fluorescent light, you need to watch out for an efficient, longer-lasting branded LED light. Here are some more details. Remember that LEDs give out light and heat in a single direction, unlike an incandescent bulb that emits light and heat in all directions. With this focused light bar for desk LED light, you get better illumination. But to make this happen, it needs a special type of microchip that helps perform this function. The LEDs are the best desk lamps for eyes.
2. Watts or Lumens
Over a while, we have learned to look at how much is the wattage of a bulb. However, when shopping for LEDs, it may be worth looking at the lumens it produces. What is the difference? They are two different units of measurement. The higher the lumens, the higher the illumination the LED produces. Wattage is the measure of electricity consumption that an incandescent bulb will consume to be lit for an hour. Lumen, on the other hand, is the amount of brightness produced by the ultra wide led desk lamp. Usually, a rule of thumb is to say 1 watt will produce about 100 lumens. Various sources will show you that the amount of lumens for a 25 watts of incandescent bulb light produces lower illumination than a 2500 lumens light.
3. LED and or an Incandescent Bulb
The debate on whether to use an LED or an incandescent bulb remains throughout as you go ahead and make changes to your office/home. So how do you choose where to use an incandescent bulb or a LED? Need: In high traffic areas, the most often used lights are a good way to lower your electricity consumption and bills. The higher durability provided by LED bulbs is one of the reasons for this. Illumination: Use LED bulbs or tube lights where you need a higher illumination. Like on your work desk, or in the porch or stairway, and more. Why? Since they illuminate better than incandescent light, they give you brighter ambient lighting, making the area safe for you to see. Open areas: Remember that the LED ultra bright desk lamp also dissipates heat that is generated upon illumination. So they too need open areas to ensure that heat is transferred into the air to take away the heat. So do not use LEDs in a tight space that is lit most of the time.
If you haven't done it earlier, the time to progress to an ultra wide led desk lamp is here. Save yourself on your electric bills while taking advantage of higher illumination and choice of colors. Your best bet is the LED Desk lamp by Autonomous.
FAQs
Don't see the answer to your question?
How much energy does the lamp consume?
It's only 15W. It's a lamp of energy-saving and high performance.
What table size is suitable for this Ultra Wide LED Desk Lamp?
Our lamp is suitable for most kinds of desk. With a 31.5 - inch super wide LED light bar, it's especially the best lighting solutions for desk with multiple monitors.
Is the Ultra Wide LED Desk Lamp adjustable?
Absolutely. The gooseneck brings flexible height adjustment so you can change the direction of the light as you want.
What light colors does the lamp offer?
Select from 4 color temperatures with 5-lever dimmer of the Ultra Wide LED Desk Lamp to match your need of lighting. From detailed jobs to multiple tasks, you are always in a good lighting environment.
Does the lamp have memory functions?
For sure, it does. Don't have to reset the mode or brightness level the next time you turn it on. Ultra Wide LED Desk Lamp gets your last lighting preference.
What is the Ultra Wide LED Desk Lamp made of?
It's made of aluminum so it's sturdy, long-lasting and never out of style.
Do I have to assemble the lamp?
You only need to tighten the lamp to your desk using already assembled clamp. It will take you less than 5 minutes to set up your Ultra Wide LED Desk Lamp.
We currently ship anywhere in the USA. International delivery is on the way, we'll happily keep you updated!
Do I have to pay shipping when returning it per your free 30 day trial. How does return shipping work?
We are happy to cover the cost of shipping if you request a return before the end of your 30 day trial period.