ErgoChair Pro - Cool Gray Ergonomic Office Chair
- Ergonomic Office Chair
Buy now
Add to cart
FREE shipping Jun 02 - Jun 05. FREE 30-day returns.
Bought by 2,700+ Google employees
Sold and shipped by Autonomous.
ErgoChair Pro - Cool Gray Ergonomic Office Chair at a glance.
Fully adjustable, completely supportive, and super breathable. This one has it all.
• Adjustable height, armrest, headrest, backrest, and seat tilt
• Smooth recline with 5 lockable positions
• Flexible lumbar support for any seated position
• Fully supportive up to 300 lbs
• Woven mesh back for optimum airflow
• 100% earth-friendly materials
• 2-year warranty
Deep dive into specs

ERGOCHAIR PRO
For every part of you.
Every element you see and feel is engineered to increase mobility and eliminate pain. Because everything starts with well-being.
STABILIZING BACKREST
Corrects your posture.
Featuring adjustable tension and 22° of recline. Lockable across 5 key positions, each designed to keep your spine stable and support your lumbar area. And it's wrapped in ultra-breathable woven mesh, for gentle posture-perfecting resistance.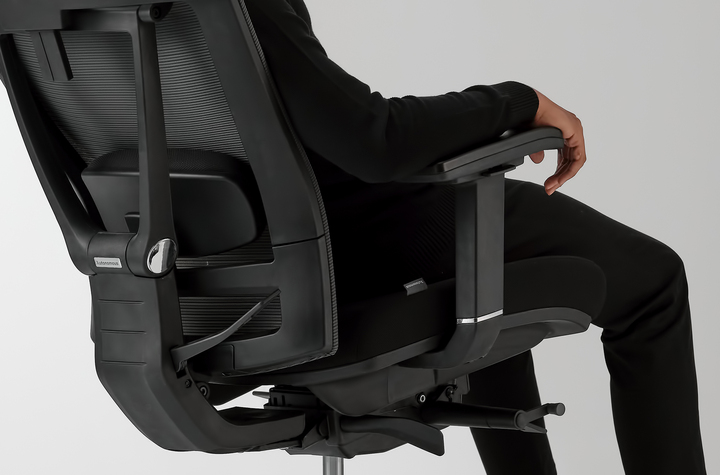 SYNCHRO-TILT
Fights fatigue.
Back and seat move in tandem at an ergonomic 2:1 ratio, so you can recline and stretch without putting pressure on your legs, thighs, and lower back. End your day with as much energy as when you started.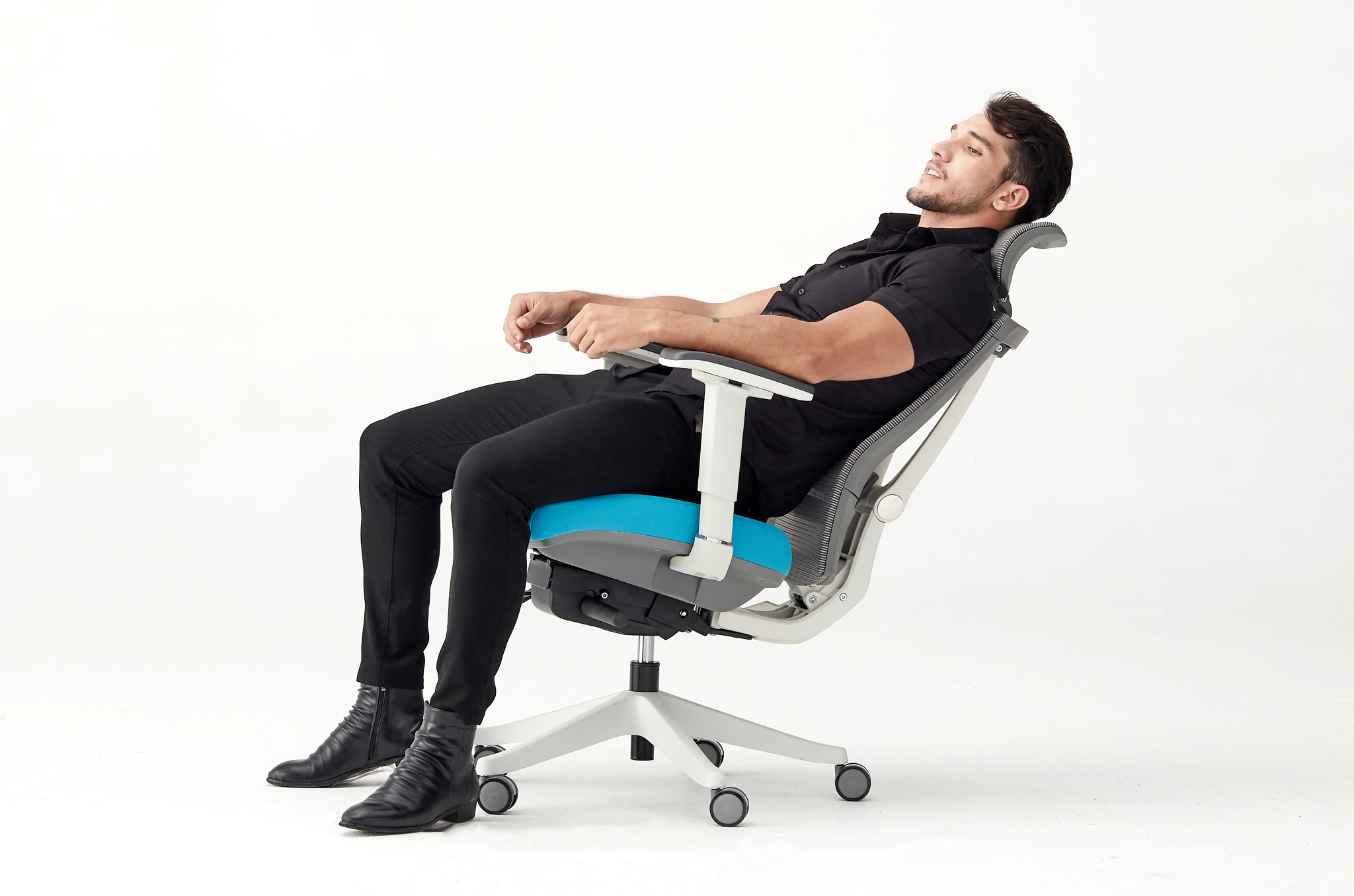 RESPONSIVE LUMBAR SUPPORT
Relieves back pain.
The flexible lumbar cushion protects the natural curvature of your spine and eases both pain and stiffness. Instead of dictating the inward curve, it responds to the unique shape of your body to provide tailored support.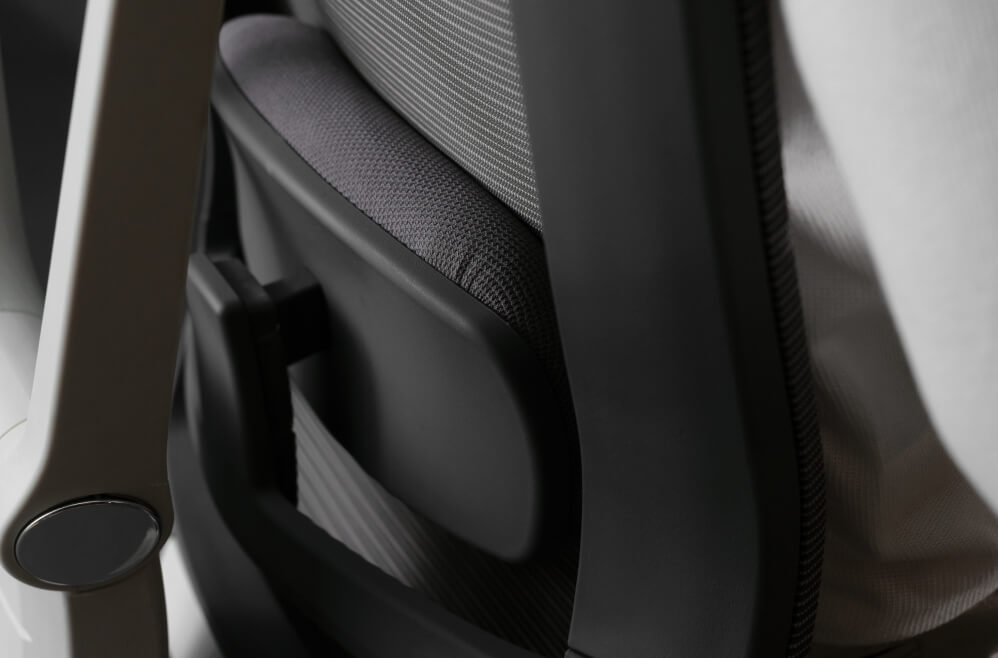 ADJUSTABLE HEADREST
Prevents hunching.
Both height and angle are adjustable, so you can stop straining your neck. Explore 45° of flexibility to find ideal support – whether you're writing at your desk, looking at a monitor, or leaning back to relax.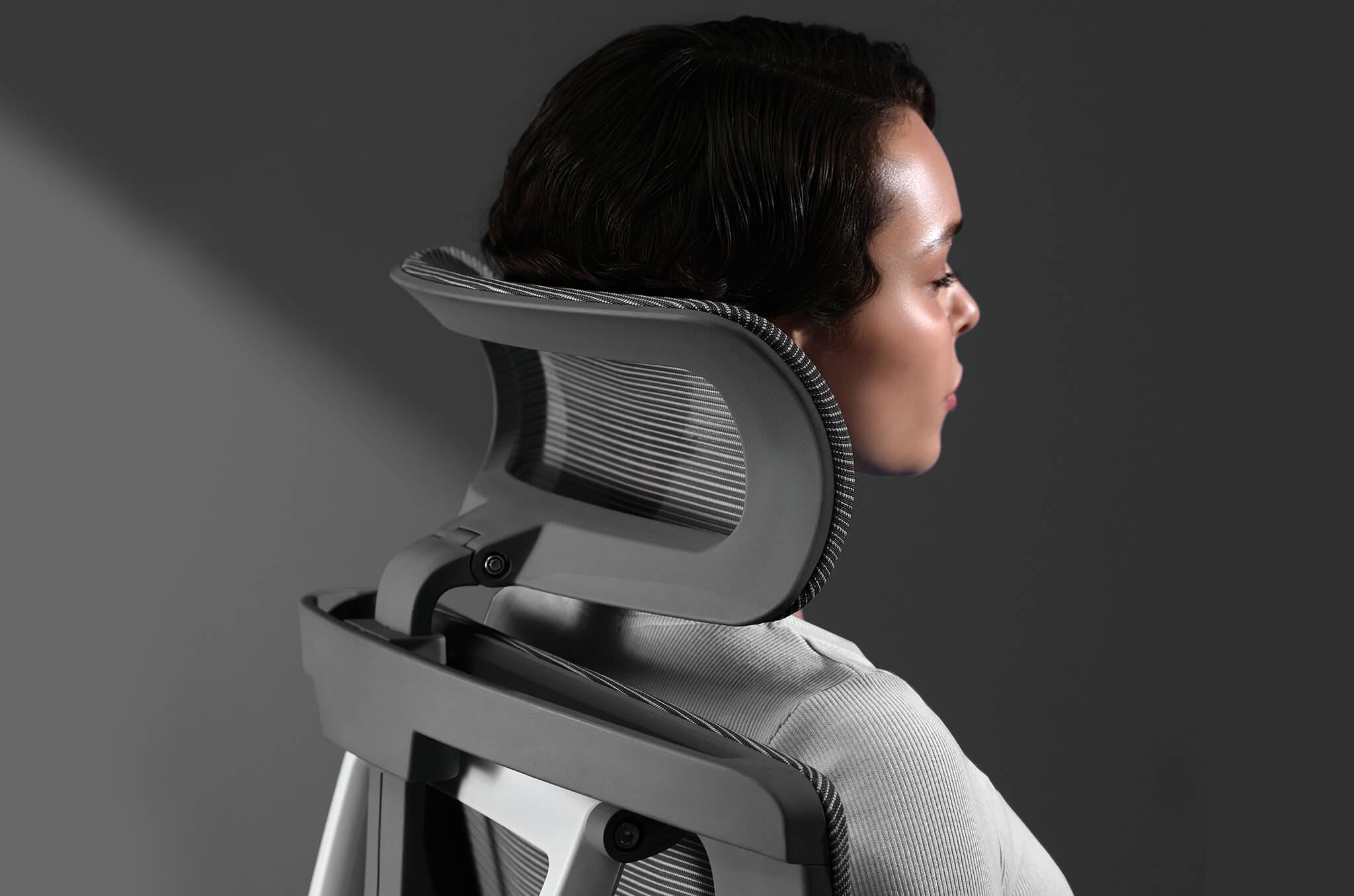 WATERFALL SEAT PAN
Improves circulation.
Comfortably contoured with rounded edges for dynamic pressure distribution up to 300 lbs. Essential for freeing up any restricted blood vessels and reducing stress on the lumbar region.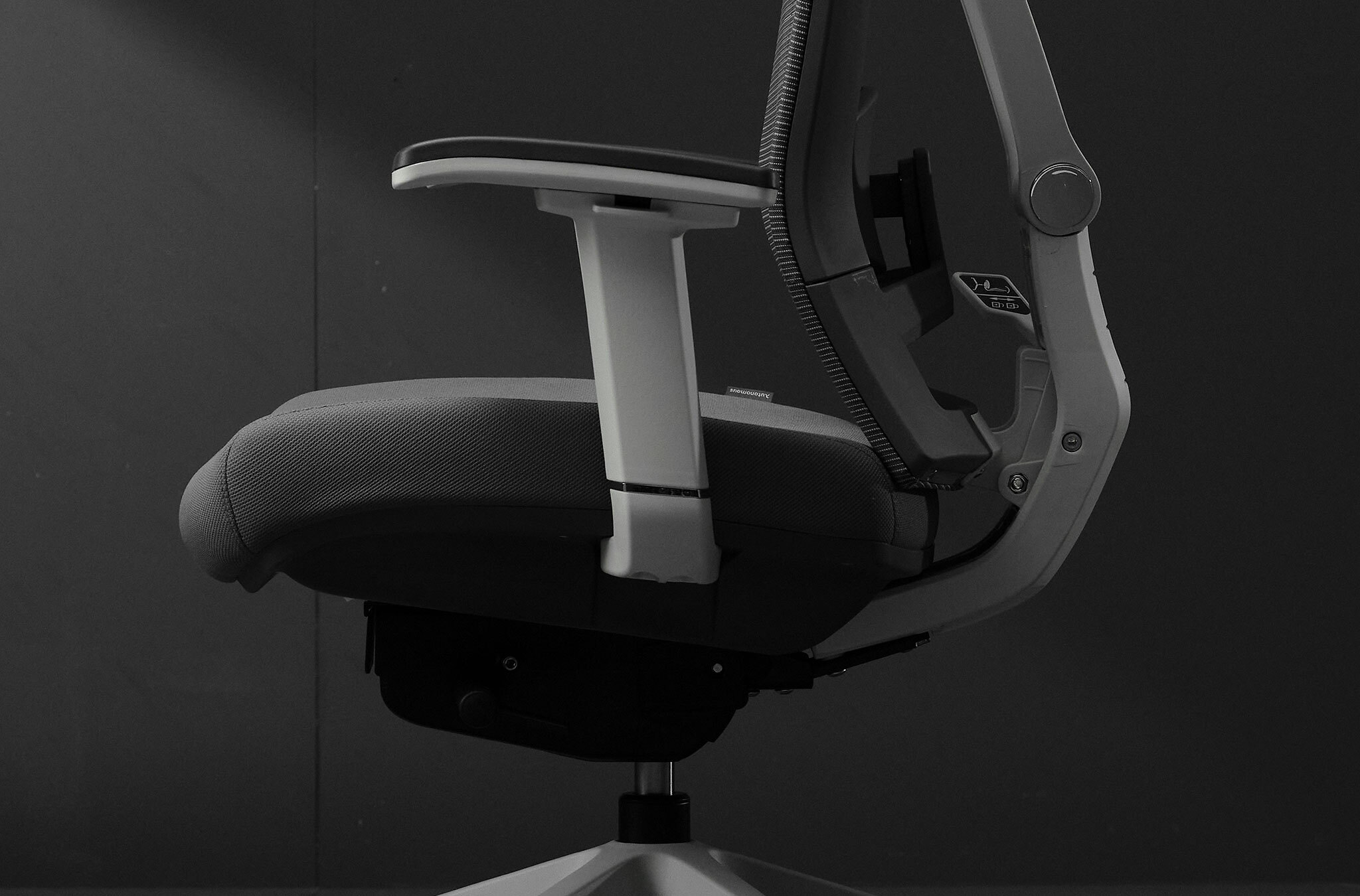 ADJUSTABLE SEAT TILT
Strengthens your core.
10° of adjustable tilt allows you to properly align your sacrum and ensure even muscle development in your back, side, and core. And it keeps your pelvis in a neutral position to prevent future postural issues.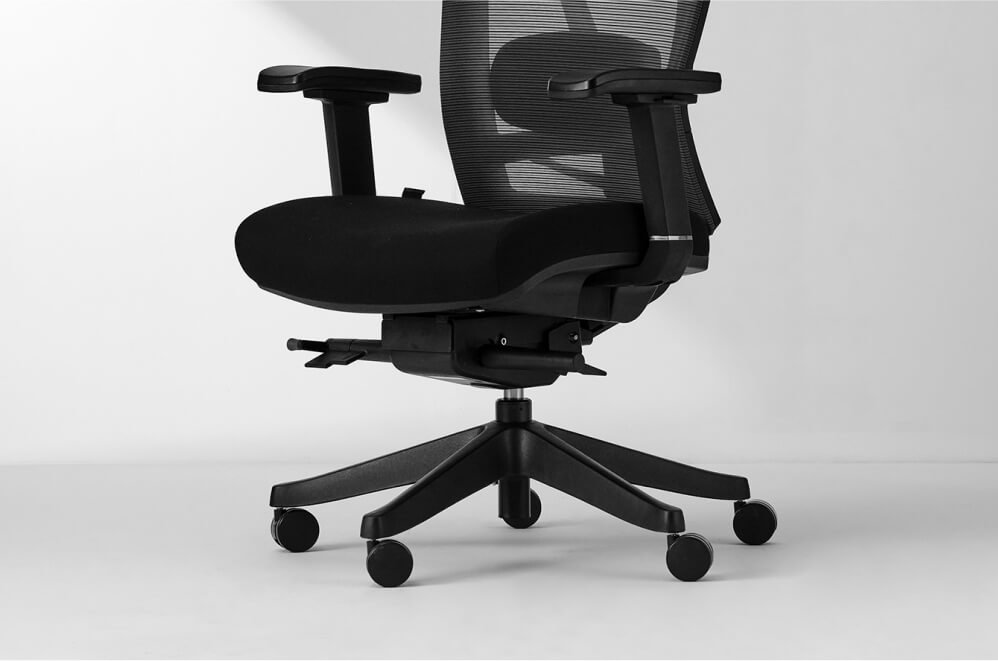 STRUCTURAL INTEGRITY
For your peace of mind.
Rigorously tested for a wide range of weights and sizes. BIFMA certified for durability and safety, so it'll be with you for a while.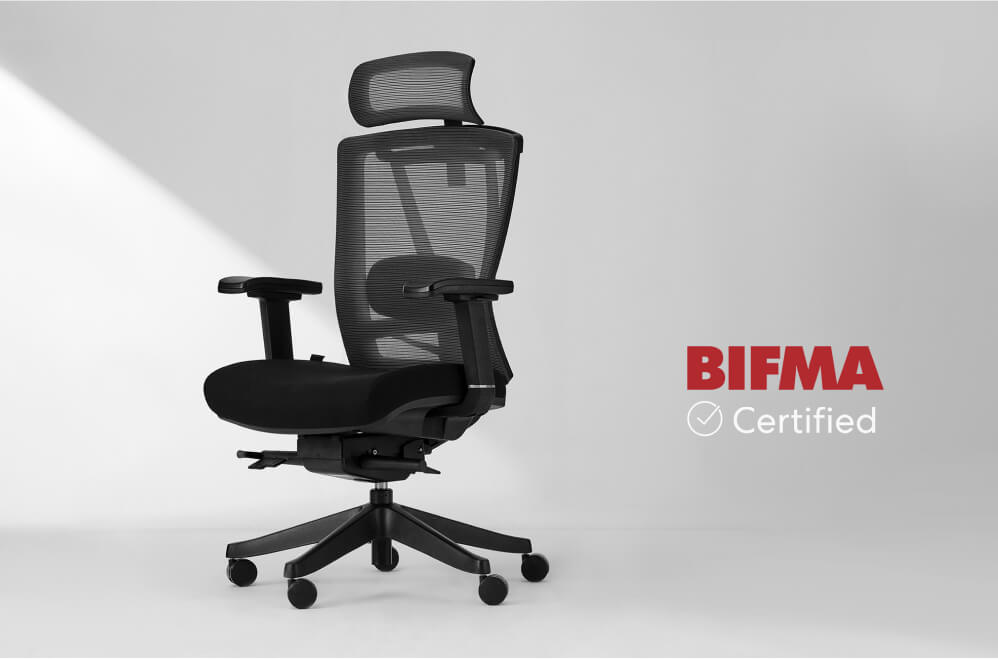 The Ergonomic Chair Every Office Needs
The ErgoChair Pro is an ergonomic office chair made to optimize your health throughout the workday. These key features ensure you work comfortably with maximum productivity, positively impacting everything from your posture, to your spinal alignment for minimizing back pain, to your blood flow so that vital nutrients reach every part of your body—most importantly, your brain! Here are some key factors the ErgoChair Pro has that you should consider when you buy an ergonomic chair.
Ergonomic Chair with World-Class Mechanism and Premium Materials
We scoured the globe for the highest quality and most versatile system we could find to make the best ergonomic office chair for sale. Our new Italian-designed tilt mechanism offers multiple levers for you to tailor the support and resistance of the ErgoChair to your exact requirements. This is the ergonomic chair that every office needs. We've upgraded our foam seats to make them even softer and more supportive, as well as able to keep their form even better over time. We've also wrapped them in a breathable fabric to make sure that they stay fresh as well as comfy. Our chairs also feature a breathable, durable mesh fabric that optimize comfort and airflow. Plus, all materials are made from environmentally-friendly, recyclable materials. The construction of the chair is rock-solid and supports up to 300 lbs of weight.
Adjustable Armrests and Flexible Lumbar System
The armrests in the ErgoChair are slightly concave to cradle your forearms comfortably. In addition to moving forward and backward to support different arm lengths, the armrests are easy to adjust up and down, as well as in or out, to ensure that your arms are bent at an ergonomic 90-degree angle and resting comfortably by your side. This helps reduce instances of wrist strain and carpal tunnel. The Autonomous ErgoChair Pro - ergonomic chair for back pain lets you control exactly how much lumbar support you need from your ergonomic chair. Our patented adjustable lumbar system uses a simple handle to unlock the right amount of pressure to help you maintain a healthy, pain-free posture regardless of your body type. Every ErgoChair comes with a lumbar support cushion. Since taller and shorter people need support at different points to achieve a natural lumbar curve, the lumbar support cushion can be pushed up or pulled down easily to support any body type. With up to 6 cm of range, the lumbar support cushion should support tall, medium, and short body types. You may need to adjust this cushion a few times to get a feel for where your spine curves most naturally.
Tilting Backrest and Breathable Support
To take advantage of the ErgoChair's 20-degree range of reclining, simply flip up the left handle below your seat to unlock the backrest. You can then lean back or forward to the precise position you want. Simply flip the handle back down again to lock the backrest in place. This is the best way to make sure you're sitting straight and get a nice relaxing recline when it's time to take a break. Not only is it good for your sitting posture, it helps you relax with maximum comfort when you need to rest. The Korean mesh backing on ErgoChair Pro is light, breathable and allows for a subtle stretch that cradles your body whenever you lean back. With this breathable support from our best ergonomic chair, you'll feel like you're reclining on a cloud while you work.
Rest Your Head and Adjust Seat Height
Don't forget this feature when buying the best ergonomic chair. Chronic neck pain is a serious issue for people who spend long hours sitting in an office environment. We designed the ErgoChair Pro's headrest to be both height and tilt adjustable so there's no pain, no strain, just a wonderfully comfortable sitting experience. The ErgoChair's headrest is easily adjustable and can be lifted and lowered as a whole to cradle your head and neck in the exact right spot. In addition to lifting and lowering, the headrest can be tilted up or down to meet the natural curve of the back of your head and neck, and pushed forward or backward. This reduces stress on your neck and eases neck pain, and helps increase blood flow to your brain. Using the right handle located under your seat, you can press upward to release the chair and lower it down, or remove your weight to lift the cushion upward. The seat's height range is from 18-21.7 inches from the floor. For optimal comfort, you should adjust the height of your ergonomic office chair so that your legs are bent at a 90-degree angle with your feet resting flat on the floor. This promotes healthy blood flow and reduces pressure on your feet and knee joints.
BIFMA certified ergonomic office chairs
The Business and Institutional Furniture Manufacturers Association (BIFMA) is a globally recognized body that promotes safety and performance standards for consumer products and ergonomic office chairs for sale. Our ergonomic chair is certified by BIFMA.
ErgoChair Pro – The Best Gray Ergonomic Office Chair for Your Office
Everyone wants a quality chair for the office, but it's important to think about the color you choose. The ErgoChair Pro comes in various colors and is a quality piece of furniture. If you're interested in a gray ergonomic office chair, this is the one you should focus on. Autonomous offers a variety of office equipment to meet your needs. If you want a light gray office chair, then the ErgoChair Pro is the right choice. You're going to be impressed with how it goes with your overall décor and gives a calming effect when you walk into the office to start working. Most people focus primarily on painting their office walls to achieve better productivity. However, owning a gray mesh office chair is also going to help because the color is serene and provides you with the ability to relax throughout your workday. Let's learn more about the features of this grey ergonomic chair.
High-quality Material
There are plenty of grey ergonomic desk chair options on the market, but the ErgoChair Pro features high-quality materials. The brand has upgraded the foam seats so that they're more supportive and softer than ever before. In fact, they can keep their form with time, so you don't have a light gray office chair that goes flat as you continuously sit in it throughout the years. Plus, the gray mesh office chair seat is wrapped in breathable fabric so that your behind stays fresh and doesn't get sweaty or moist throughout the day. The mesh fabric of the ErgoChair Pro is durable and breathable. You're going to appreciate this gray ergonomic office chair because it promotes airflow and optimizes comfort. If that weren't enough, the materials used are environmentally-friendly and recycled. It also supports weights of up to 300 pounds, which is suitable for almost every remote worker.
Headrest - Back and Lumbar Support - Tilting Abilities
The ErgoChair Pro is a top choice for a gray ergonomic office chair because it features an adjustable headrest. Those who sit for long periods can get chronic neck pain. This chair was designed so that the headrest can be tilted and height-adjusted. Therefore, you don't have any strain or discomfort. Instead, there's just a comfortable sitting experience, regardless of your movements. This grey ergonomic chair features a headrest that can easily be adjusted, so you can lift/lower it to cradle the neck and head in the best spot. You can also tilt the headrest up/down to follow the natural curve of the neck and head. Push it forward/backward to relieve stress on the neck and promote blood flow to the brain. With the ErgoChair Pro, you've got a gray mesh office chair with a flexible lumbar system. Control how much support you require. The patented lumbar system utilizes a handle to unlock the pressure so that you maintain a pain-free posture throughout the workday. Each ErgoChair Pro features the lumbar support cushion. Tall and short people require support at different areas to achieve the right curve, so you can push up or pull down the cushion on this grey ergonomic desk chair. Everyone can appreciate the 20-degree reclining range of the ErgoChair Pro. Just flip up the handle below the seat and unlock the backrest. Lean backward/forward to the right position for you, and then flip the handle down to lock it into place. With this light gray office chair, you can sit up straight and recline when you're taking a break. This works well for the ergonomic sitting posture, but it also gives you full comfort, regardless of your task.
Why Choose the Gray Office Chair Color?
Many people wonder why they should choose a grey ergonomic desk chair when fun colors can be exciting and interesting. Let's find out! Gray ergonomic office chair represents Neutrality. Gray is a neutral color, so it can be easier to match a gray ergonomic office chair to the rest of the décor. Your desk might be wood, white, black, or something else. All of these colors pair well with gray. Grey ergonomic chair looks sleek and modern. Ultimately, a grey ergonomic desk chair is going to look more modern and sleek in the office. This is great if you often have clients come to the home office. Otherwise, guests who happen to wander in are going to find that the space looks well-thought-out and put together.
FAQs
Don't see the answer to your question?
Do these chairs come assembled?
Our chairs come un-assembled. You would need to assemble it however there're just simple steps and we include all the tool you would need into the package as well. 
What is the weight capacity of the chair?
The ErgoChair Pro could stand up to 300 lbs.
What are the seat dimensions?
The seat length and width is roughly 20 inches.
Can the armrests be removable?
Yes, the armrests do not come assembled out of the box, so you have the option to install it or not.
What is the chair made out of?
The chair is made with top quality breathable polyester fabric imported from Korea, with molded foam interior and durable nylon plastic frame.
What are the dimension and weight of the box?
The box is 29"L x 27"W x 19"H and weighs 67 lbs.
What's the weight of the chair?
The chair weighs 48.5 lbs.
What are the dimensions of the chair?
The ErgoChair Pro dimensions are 29"L x 29"W x 46-50"H
Does the price cover taxes?
No, the listed price is not inclusive of tax.
Can the chair be locked in the reclining position?
What does the warranty cover?
The warranty covers all manufacturing defects.
Chairs looks low to the ground. For us tall folks, how high does this chair go?
The seat of the chair is 18-20" from the ground
Do I have to pay shipping when returning it per your free 30 day trial. How does return shipping work?
We are happy to cover the cost of shipping if you request a return before the end of your 30 day trial period.