Smart Products
10 Popular Fabric High Back Office Chairs to Remove Your Pain
1,240 Views
Have difficulty avoiding back pain while working for a while without affecting your performance? Are you searching for the best fabric high-back office chair that will help you avoid it? You have come to the right place. In our article, we're going to reveal the most comfortable fabric high-back desk chair you can use without experiencing any discomfort.
Your muscles become tight and sore after office work, and you suffer from back pain. The chair might not cushion your back properly if you use an ordinary fabric office chair with a high back. Sciatica and disc disorders may result if you do not prevent that problem.
Top 10 Popular Fabric High Back Office Chairs
1. Autonomous ErgoChair Recline
ErgoChair Recline is incredibly comfortable, well-crafted, and durable. In addition to its removable headrest, the chair features a footrest that can be extended and a lumbar support cushion that can be adjusted. If you wanted a mesh vs. fabric chair - this mesh backrest and foam seat are mounted to a steel frame with caster wheels.
Pros and Cons of Autonomous ErgoChair Recline
Affordable
Solid steel frame
Cool mesh backrest
Limited colors and styles
2. Autonomous ErgoChair Pro
In addition to height, depth, headrest angle, and backrest tension, the fabric office chair can be adjusted in several other ways. It has a simple design, and can be dyed to any color you wish. The full mesh backrest and hidden controls underneath the seat of ErgoChair Pro will help keep it cool during the summer.
Pros and Cons of Autonomous ErgoChair Pro
Caster wheels
Multiple adjustment options
Supportive backrest
Limited colors and styles
3. Autonomous ErgoChair Plus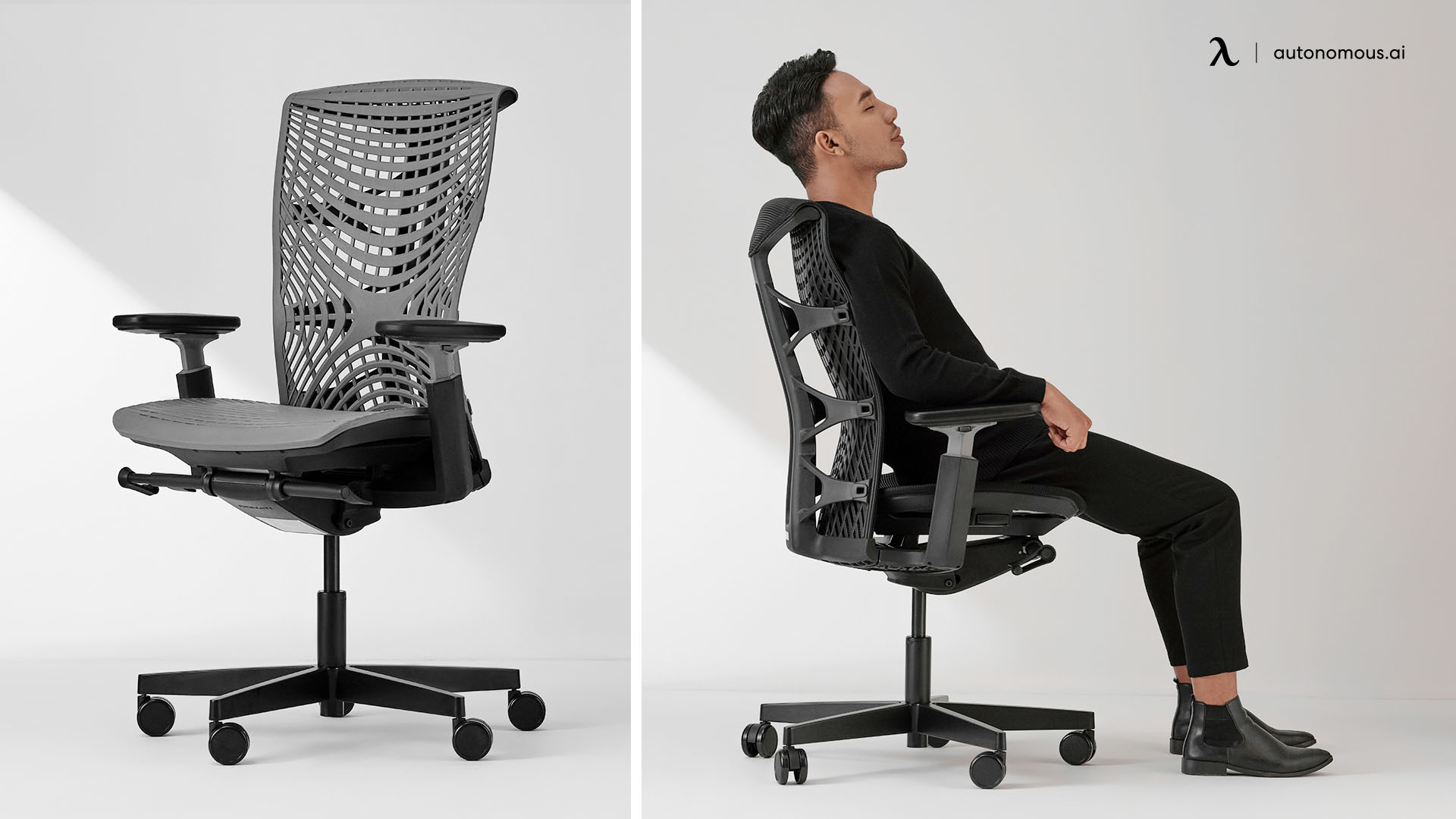 Are you tired of office chair repair or wish to upgrade your old office chair with the ErgoChair Plus casual office chairs? The adjustable seat provides comfort in addition to the lumbar pad. This fabric high back office chair will give your back some balance while also keeping you cool and comfortable. 350-pound individuals can easily fit into the seat. Additionally, the armrests can be adjusted on either side as well as raised or lowered. 
Pros and Cons of Autonomous ErgoChair Plus
Adjustment and lumbar pad
350 pounds weight support
Supportive backrest
Limited colors and styles
4. Herman Miller Embody
In addition to steel and aluminum, this fabric high back office chair has plastic, which are high-quality materials from the United States. The Embody fabric high back swivel office chair seat provides zonal support and comfort with its four layers of materials. Even creases and pockets are taken into consideration with these materials. The Embody fabric high back executive office chair with dynamic surface pressure can improve your posture, making it a functional and high-tech chair.
Pros and Cons of Herman Miller Embody
Unique pixelated back support system
Flexible back material
Has tension adjustment, tilt lock, Synchro-tilt recline
No lumbar adjustment
Limited armrest adjustments
Firm pixelated support
5. Steelcase Gesture chair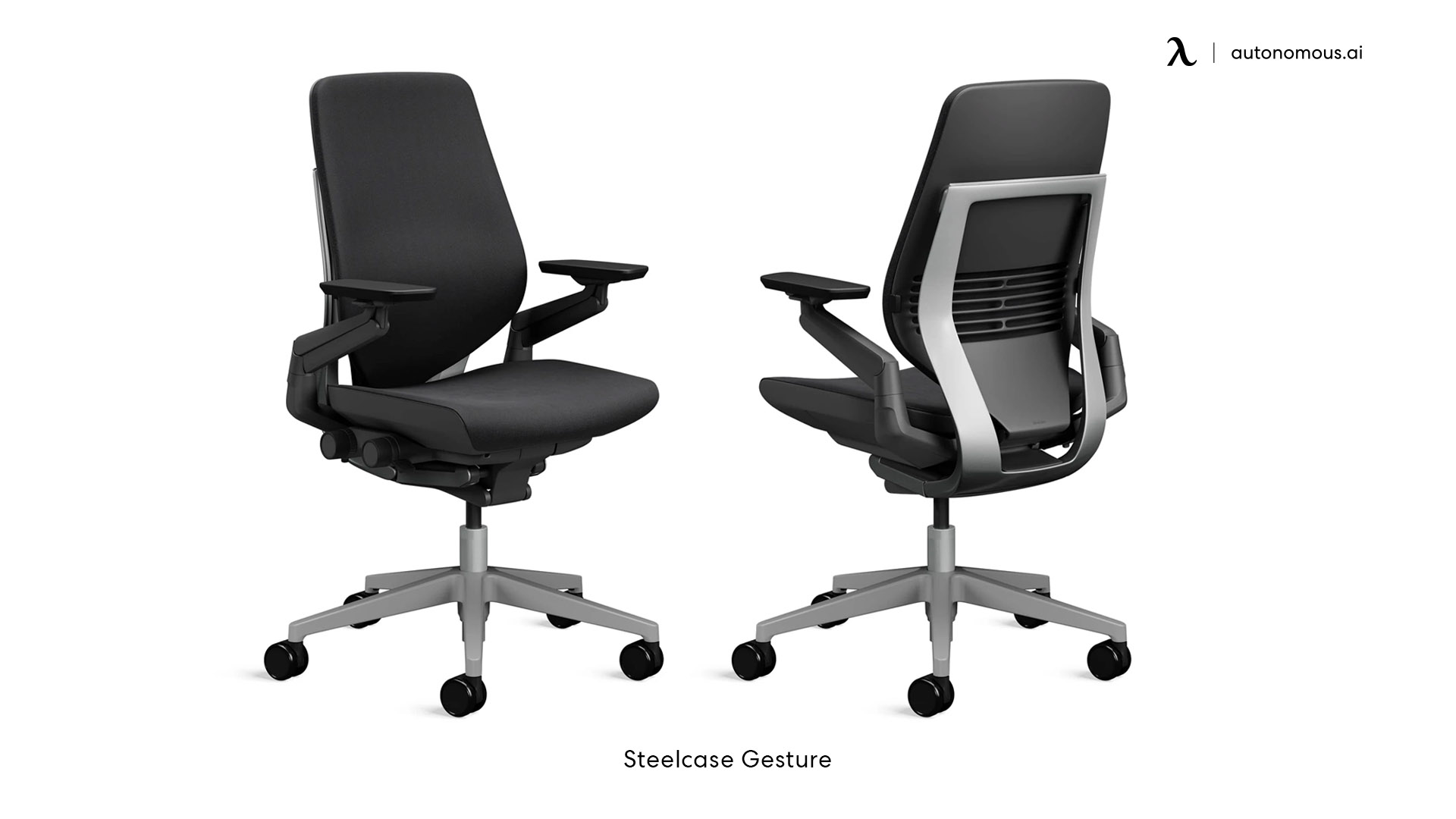 A movable armrest is convenient when switching between computers, especially when you're switching between devices. With adjustable angles, depths, heights, and widths in its armrests, the Gesture office chair is able to offer you exactly that. Seat Backs and seats move together while you recline for better support. This means that you can always rest assured that your back and legs will be supported in this small space desk chair, as well as seeing the computer at all times.
Pros and Cons of Steelcase Gesture chair
Dynamic adjustment when you change devices
Ideal lumbar assistance
Supportive backrest
Expensive
The foam seat might feel too firm
It isn't easy to keep the chair upright
6. Ficmax gaming chair
Headrests, lumbar cushions, and footrests can be easily adjusted, taking pressure off your upper and lower body, reducing muscle soreness and pain. It can also offer a reliable massage because the lumbar cushion vibrates. It is not as effective as massage chairs, but it is sufficient for most purposes.
Pros and Cons of Ficmax gaming chair
180ᵒ max recline
Retractable footrest
Adjustable lumbar support with massage
Very few adjustments
No installation instructions
The headrest is better for average-sized people
7. Gates Leather Big executive chair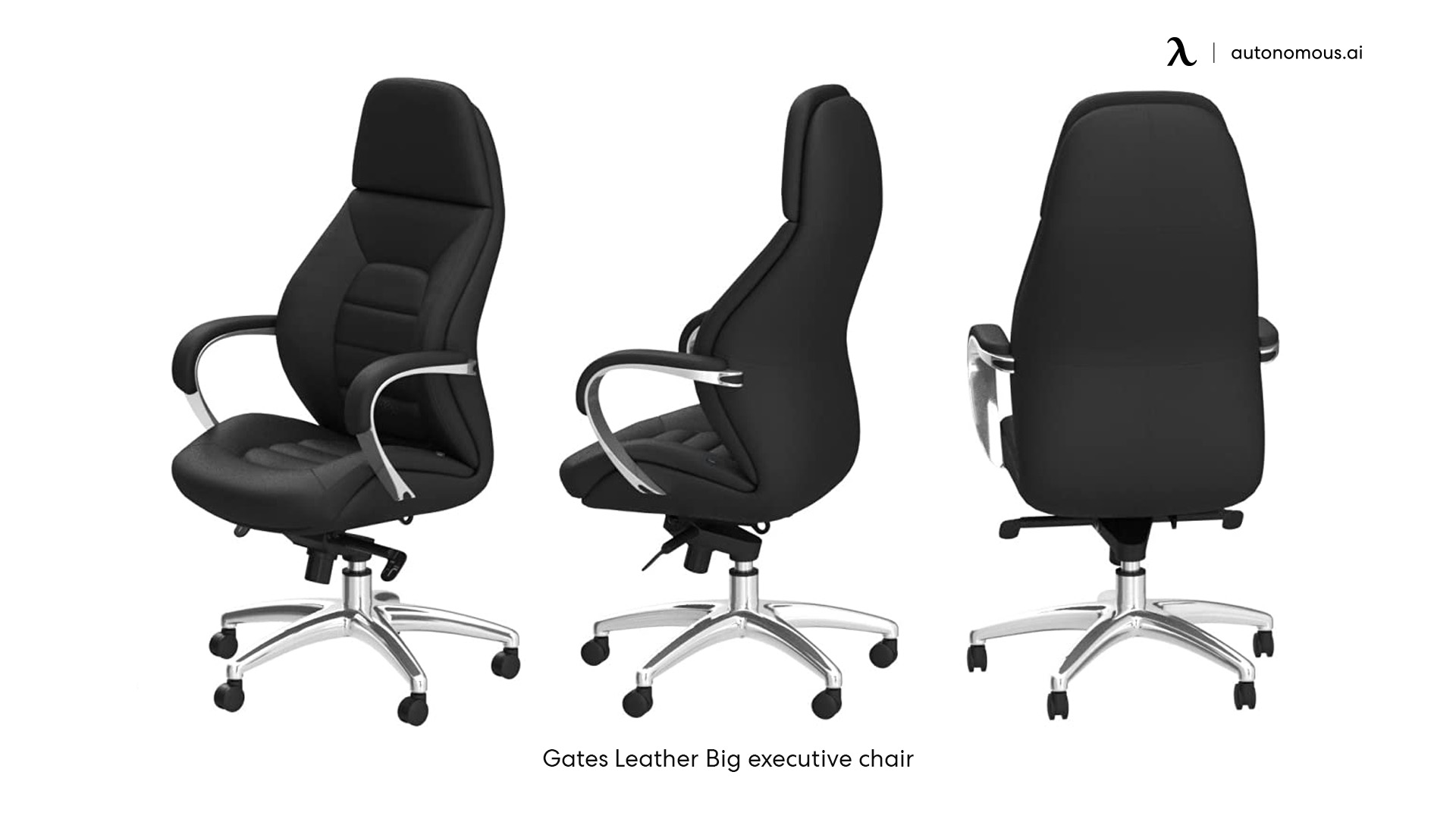 It is made from the highest quality leather, such as Brazilian leather; the Gates Leather Executive Office Chair can be obtained. A thick layer of memory foam is used to pad the seat, while the seatback is contoured and curved, just like on the Ficmax chair. While the waterfall seat edge cushions your legs and aligns your hips with your spine, the backrest relieves your back. If your posture is correct, you will not have any back pain with this fabric high back desk chair.
Pros and Cons of Gates Leather Big executive chair
Breathable and smooth Brazilian leather
S-shape and contoured backrest for long hours
Improves posture and circulation
Very few adjustments
Better for tall people
It might not fit under a regular desk
8. Big and Tall Chair from Amazon Basics
Commercial-grade parts are used in creating this fabric high back office chair; however, it is not as resistant to wear and tear as the HM or Steelcase models above. S-shaped backrests function to naturally curve your spine, helping to prevent back pain and strain.
Built-in headrests prevent neck and shoulder cramps and are supportive, providing extra support for the lower back. You can adjust your lumbar cushion. Compressed disc pain sufferers will benefit from this cushion as it relieves pressure on the spine.
Pros and Cons of Big and Tall Chair from Amazon Basics
Good for the spine
Supportive and comfortable armrests
Adjustable lumbar cushion
Very few adjustments (not with adjustable arms)
Not water/scratch resistant
9. High back executive chair from AmazonBasics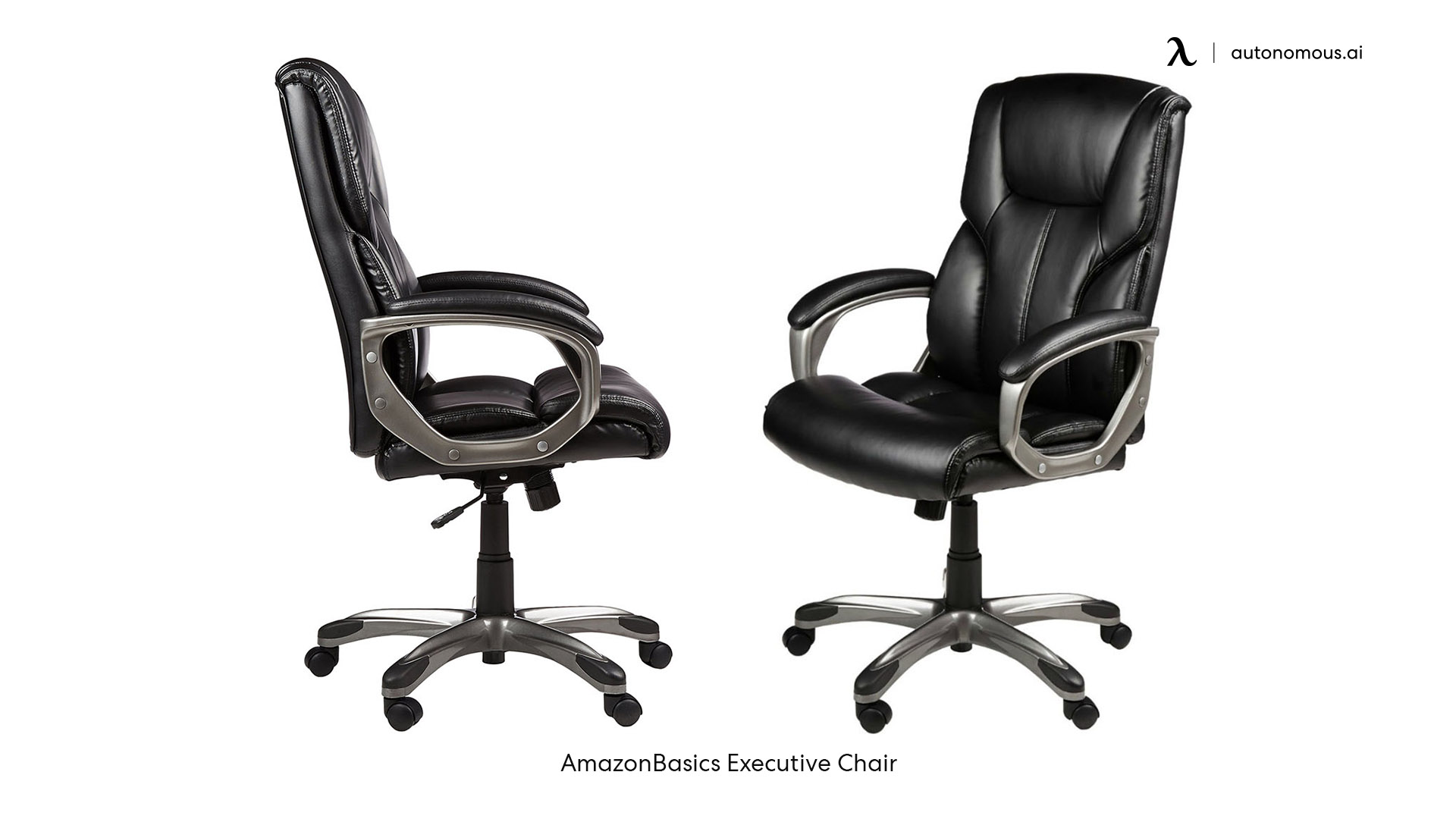 Attractive stitching, bonded leather, and PVC upholstery, comes at an affordable price. This fabric high back office chair is perfect for someone who strains their necks or shoulders all day long. It provides support for your neck and shoulders while giving you a place to rest your shoulders.
This AmazonBasics model comes with a backrest that lets you relax in a natural, calm manner. The seat back will not press against your spine, so you will not feel anything pressing against it. Further, the seat helps prevent joint or disc injuries by keeping the hips and spine in alignment.
Pros and Cons of High back executive chair from AmazonBasics
275 pounds weight limit
Curved armrests
Padded butterfly seat
No tilt options
Funny squeaky sound
Only the swivel and seat height are adjustable
10. Furmax PU Office/gaming chair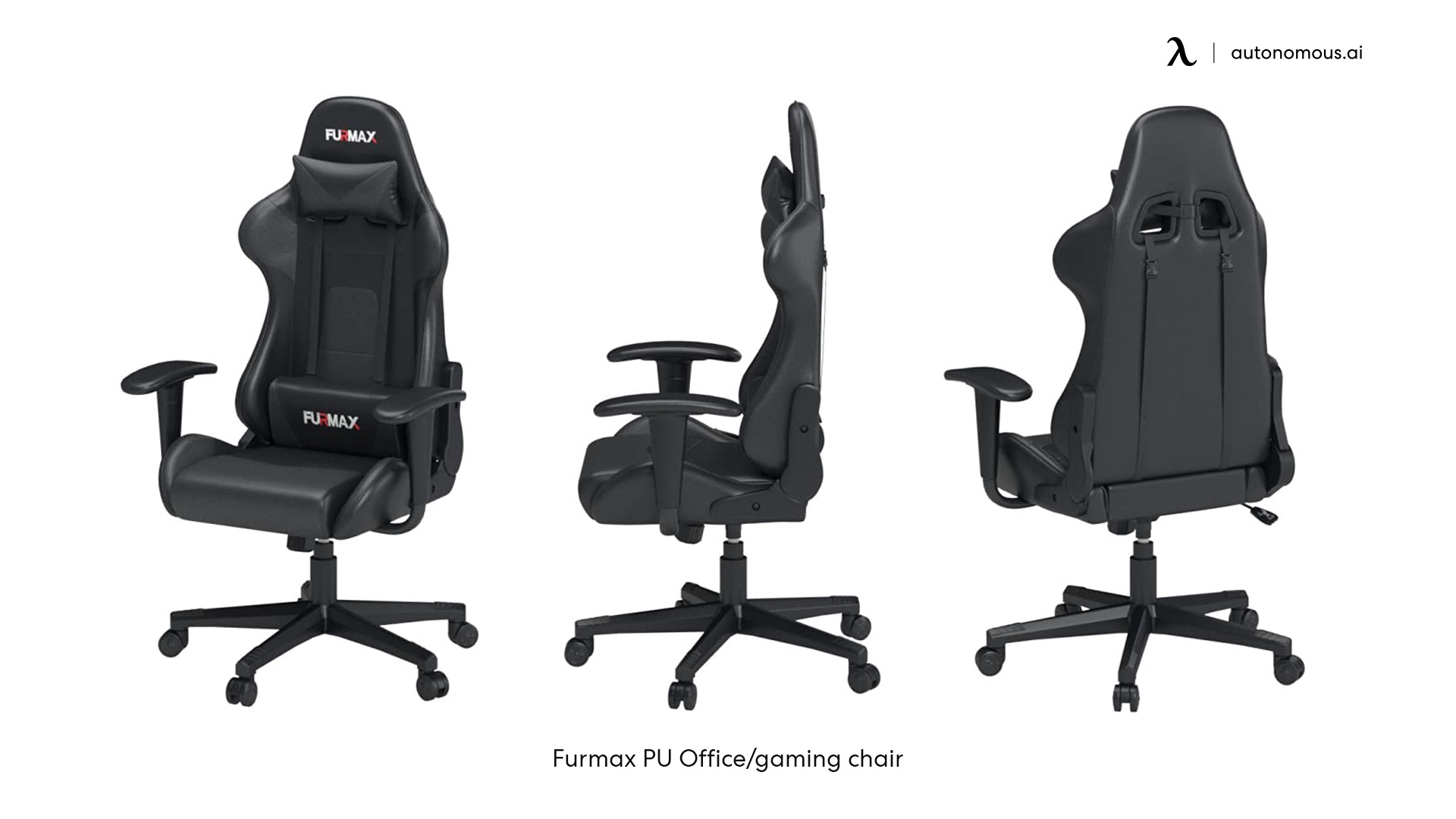 It has a removable lumbar support cushion, which means your lower back doesn't get pressed into your spine since your lumbar region is pressing against the seat. Additionally, the removable headrest helps alleviate neck pain when a person is sitting back in the chair.
Seats with buckets cradle your thighs, and waterfall edges take the pressure off your hamstrings, so they are comfortable, although firm. Soft armrests prevent your arms from digging into these when you're sitting for a long time.
Pros and Cons of Furmax PU Office/gaming chair
Reclines at various levels
For lower back, shoulder, and neck pain
Firm and supportive seat, soft armrests
Limited adjustments
Side seat support isn't comfortable for everyone
The lumbar cushion size might be too big
Subcribe newsletter and get $100 OFF.
Receive product updates, special offers, ergo tips, and inspiration form our team.
WRITTEN BYAutonomous
We build office products to help you work smarter.