Smart Products
20 Best Ergonomic Chairs for Back Pain Support (2023 Updated)

Autonomous
|
Oct 5, 2020
79,562 Views
Posture is something that is mostly overlooked until it becomes a problem. Poor posture can lead to back pain. However, this risk of back pain can be reduced by improving the user's posture.
Ergonomic office chairs are equipped to provide back support that encourages good posture, which holds the ability to help prevent or reduce back pain. Many studies have been conducted to prove that improved ergonomics within the office can significantly impact back pain reduction, especially pain felt in the lower back region.
Best Office Chair for Back Pain Buying Guide
Know your sitting posture
It is easier to find a chair that is shaped according to your natural sitting habit than trying to adapt to it. Find out whether you slouch or sit straight. Either way, you are most unlikely to change your sitting habits. It is always advisable to look for the best office chair for back pain that props your natural sitting posture for optimum comfort.
Price
While many times price is used as an indicator of value, it often leads people to buy expensive chairs from which they will not derive the desired value. Equally being guided by low prices even if on a budget should not lead you to buy low-quality chairs. The value of the chair should be measured on your improved productivity in the office.
Lumbar support office chair with back support
Having lumbar support is integral for the best office chair for back pain. The adjustability of the lumbar support in a chair is even better for aligning the seat to your back for firm support. The reason is a chair without sturdy support on your back can cause excessive straining that may lead to an undesirable condition called sciatica.
Adjustability
While height and arms adjustments are some of the most commonly known adjustments for best chairs for back pain, some chairs have more settings. Some chairs have up to 14 adjustments that will protect your whole body from strains. Some of these desirable features include lumbar support, seat and back angle, tension control among others.
Wheelbase
You should take into consideration the nature of your office floor in order to choose a chair with the appropriate wheels. If for example, your office is carpeted, then there are appropriate wheels for that kind of floor. This is important to avoid straining when reaching out across to another desk for items.
What Are The Best Ergonomic Chairs For Back Pain?
The market is filled with massive amounts of office chairs claiming to be the best ergonomic chair for back pain. This can make choosing an office chair with back support extremely challenging. That's why we have searched far and wide to provide you with some incredible options to help you pick an ergonomic chair lower back pain prevention device for your workspace.
Here are some options that can be named as the best lumbar support office chair:
1. Autonomous ErgoChair Pro
The ErgoChair Pro is considered to be the best lumbar support ergonomic office chair. This is due to the incorporation of a flexible lumbar system. The design of this system from Autonomous allows the user to control how much lumbar support they wish to receive. Thus, the ergonomics of the chair are customized to the user's preference.
2. Autonomous ErgoChair Pro + with Back Support
The unique fishbone design that the office chair is manufactured with and TPE material help correct developers sitting posture, as well as promotes back health. Back pain problems are alleviated with the optimal support feature used in the ErgoChair Pro +'s design.

3. Autonomous ErgoStool
This specialized office chair is less expensive than most ergonomic office chairs, while still providing excellent ergonomic benefits. This alternative ergonomic device, the ErgoStool - ergonomic desk stool from Autonomous, aids in improving posture and engages the core while sitting. Developers gain the opportunity to better their posture, improve their balance, and build their strength.  
4. Zipcode Mesh Chair with Lumbar Support
The Zipcode ergonomic chair for back pain is equipped with many of the ergonomic guidelines that have been set by the Department of Labor. Not to mention, this mesh chair with lumbar support is budget-friendly and has a backrest designed to follow the natural curve of the spine. Thus, the back is supported, and back pain is reduced. 
5. Autonomous ErgoChair Recline Ergonomic Chair for Back Support
The ErgoChair Recline provides developers the ability to recline instantly and ensures complete comfort to the user. This helps encourage good back health. The ergonomic chair is also designed with an auto-balance mechanism that makes adjusting effortless and straightforward. The lumbar support system, adjustable armrests, and headrest ensure that the back is supported to alleviate the risk of back pain in both upper and lower regions. 
6. Tempur-Pedic TP9000 Mesh Chair with Lumbar Support
This ergonomic chair for back pain is designed with memory foam for added comfort, which allows the developer to work for extended periods. The armrest and seat height are adjustable, which aids in the chair's ergonomics and enables the user's back to be supported.
7. Herman Miller Ergonomic Chair for Back Pain
This Herman Miller mesh chair with lumbar support is designed with plush ergonomic features. This office chair is a brilliant option for developers that want a completely customizable device. The ergonomic chair for back pain is equipped to adjust the level of back support offered, the chair size, the seat angle and desired tilt, and wanted armrests.
8. Humanscale Freedom Task Swivel Ergonomic Chair for Back Pain
Developers looking for an ergonomic office chair lower back pain alleviation device that's cutting-edge and is sleek are likely to find the Humanscale Freedom task swivel ergonomic chair to be precisely what they are looking for. The ergonomic superiority is created from the user's body weight and physics. The office chair is designed with an independently-adjustable seat and adjustable armrest for better ergonomics. 
9. Modway Articulate Mesh Chair with Lumbar Support
The support offered from the mesh design and the ability to adjust the seat height and armrests provides an ergonomic chair for back pain. The features used in the chair's design aid in the bettering of the user's posture, which helps alleviate back pain.
10. Tivoca Ergonomic Chair for Back Pain
This office chair is equipped with a headrest that can be completely customized to the user's preference. The use of this feature provides better support to the head, neck, and upper back. The adjustable armrests and sturdy lumbar support provide the developer with better posture and reduce the lower back pain felt from sitting for too long.
11. La-Z-Boy Trafford Ergonomic Chair Lower Back Pain Alleviation Device
This office chair is the perfect fit for developers who have taller heights and bigger builds. The design of the chair can accommodate a weight of up to 500 pounds. Lower back pain is reduced with the incorporation of memory foam in the design. This feature offers lower back support, while the headrest being alleviated supports the upper back and neck regions.
12. Gabrylly Mesh Chair with Lumbar Support
This ergonomic chair provides developers with a broader range of motion. The chair is also equipped with an incredible lumbar support system, adjustable headrest and armrest, and seat height that's adjustable. Thus, the chair's design encourages users to customize the ergonomics to their own preferences while helping alleviate back pain.
13. All33 BackStrong C1 Ergonomic Chair for Back Pain
Instant posture correction is provided with the lumbar curve support system incorporated in the office chair's design. This system provides the developer with relief on vital pressure points located throughout the shoulders, back, and neck. The Sit-in-Motion technology that the chair uses cradles your lower back and stimulates circulation while reducing discomfort.
14. Gaiam Classic Balance Ball Office Chair with Back Support
A ball chair is seen to be an excellent solution to back pain problems. It does take time to get used to it. However, these types of ergonomic chairs promote good posture, which reduces back pain and engages the core for better back support.
15. URBNFit Exercise Ball
Research has shown that various sitting options, rather than a singular office chair with back support solution, work better at alleviating back pain problems. Allowing a complete change in the sitting positions of a developer is extremely helpful for promoting back health. This exercise ball is an excellent inclusion of the office equipment in a developer's workspace as it provides anti-slip technology.
16. DRAGONN Ergonomic Kneeling Chair
As mentioned before, conducting work in a variety of positions is the best method of ensuring good back health. The benefit of using this style of chair is that the user is placed in a more upright position. Another advantage is that the user's hip flexors are lengthened, which reduces the pressure placed on hamstring and glute muscles. The design also provides back support as lengthened hip flexors aid in promoting a lumbar spine that's more neutral.
17. Easy Posture Lumbar Back Support Mesh Chair Accessory
An extremely budget-friendly option is a lumbar support accessory that can be added to any existing office chair to improve the user's posture. This is a brilliant item for developers that don't want to invest a lot of money on a device that stimulates better back health. However, they still want to work in an environment without back pain. It allows the user to stay in a good posture while working and prevents slouching from occurring while the developer is placed in front of a desk.
18. Embody Office Chair with Back Support by Herman Miller
This ergonomic office chair is seen as one of the best and is perfect for developers that aren't looking for a budget-friendly option. The Embody office chair is equipped with a health-positive design. The main objective that was set when designing this chair was to support good circulation and make the extended sitting of developers easier on the spine and back.
19. Steelcase Gesture Ergonomic Chair for Back Pain
This office chair is equipped with some of the best ergonomic technology. The chair's design can accommodate a vast amount of different body sizes and natural body positions. This support is also able to protect the neck and back. Liveback technology is used to automatically adjust your body and mimic the natural form of your neck and spine. 
20. Haworth Zody Office Chair with Back Support
The design of this ergonomic office chair places a large emphasis on function rather than form. The appearance is far from unattractive. However, the chair's primary focus is ergonomics and science, which sets it apart from other office chairs. It's equipped to target the problem areas such as the lower back and allow the chair to conform to the spine's natural curvature. This is due to the simple pad that maintains the natural curvature.  
Causes of Back Pain from Bad Posture
There are many causes for back pain. Muscle strain and spraining (caused by prolonged elongation of back muscles), spine osteoarthritis (which occurs when the soft tissue between joints is worn down), and sciatica (the pinching of the sciatic nerve) are among the most common reasons for back pain. But what do these ailments all have in common? They can all be induced by bad posture.
Bad posture puts unnecessary pressure on your legs, arms, neck, shoulders, and back, and prolonged straining can cause muscles to contract and twist up into knots. Particularly, your back muscles and spinal discs tend to take on a lot of the pressure caused by bad posture.
To compensate for poor ergonomic furniture, many people develop bad habits like slouching forward and down in a chair. The spinal discs surround the central spine structure, and the ligaments between each spinal segment hold them together. Forward slouching stretches these ligaments out, and places a lot of pressure on the spinal discs.
Over time, all that pressure can push your back to a "tipping point," meaning it could give out at any moment. An action as benign as picking up a pencil from the floor could lead to painful results. You see this happen a lot in TV sitcoms where a character, reaching for an object, suddenly experiences sharp back pain and becomes comically paralyzed in that position. It's not so funny when it happens in reality!
Many office workers experience pressure to meet deadlines that can induce stress. This, too, can cause even more strain and exacerbate back pain. Your physical posture is important—but so is your mental health!
What Are Tips To Reduce Back Pain While Sitting?
There are a variety of tips that you can follow to help alleviate back pain that's caused while sitting. Here are some of our recommendations that are incredibly effective: 
Improve your posture by investing in an ergonomic office chair equipped with an effective lumbar support system.
Apply ice to the regions where you experience back pain. Cold temperature aids in reducing inflammation that may be the reason for back pain.
Start using a heating pad, as heat can be very soothing after inflammation has been put under control. It promotes blood circulation back to the specific area in the back, which promotes healing.
Get a massage as this can help relax and loosen tight muscles that are placed under pressure from sitting for long periods.
Take up yoga. The back stretches present in yoga are known for strengthening the body, which helps bring relief to developers suffering from back pain.
Sitting Properly in Your Ergonomic Chair for Back Pain 
There are six important steps you can take to ensure your seated posture is correct and best suited to your unique needs with the best office chair for back pain.
Check your elbows
Sit with your upper arms directly parallel to your spine and rest your hands on your desk. If you have a computer keyboard, place your hands on the keys as though you're about to start typing. Then, adjust your chair height so that your elbows reach a 90-degree angle.
Check space between thighs and seat edge
It's important to keep your thighs and legs at a proper elevation to avoid cutting off blood circulation. Check the space between your thighs and the front edge of the office chair. If you have trouble sliding your fingers in between, either prop up your feet (if you're shorter than average) or raise the height of your desk and office chair (if you're taller than average).
Check space between calves and seat edge
Make a fist and pass it between the back of your calf and the edge of your seat with your bottom all the way against the chair back. If there isn't enough space for your hand to pass through, push your seat back forward until there is. The best ergonomic chair for lower back pain will have an adjustable back for this purpose, however, you may need to use an add-on support or cushion instead.
Low back support
Your lower back should arch slightly at the lumbar curve with your bottom pressed all the way to the back of the seat. This prevents you from slouching forward and ensures correct sitting posture and spinal alignment. Don't over-extend! Your natural posture should produce a slight curve. Following this step is critical to taking the pressure off your spinal discs and keeping your back pain in check.
Check your armrest
Your shoulders should feel just slightly lifted by your arm rests, so raise or lower them accordingly. Your neck and shoulders will thank you!
Check your eye level
Looking straight ahead, your eyes should come into contact with your computer monitor. A laptop sitting flat on a desk won't do here; consider investing in a height-adjustable laptop stand for your permanent work station. If your monitor isn't height adjustable, just use any sturdy objects you can find (like old books) to raise it to eye level. This step will ensure your neck and upper back can rest naturally and pain-free.
Why Should Developers Use an Ergonomic Office Chair?
Developers are known for conducting tasks that leave them to work at a desk for extended periods. Being in the same sitting position while completing this work can apply extra pressure to your spine, hips, and lower back. This can promote bad back health.
For this reason, an ergonomically designed office chair with an effective lumbar support system provides developers with technology that helps correct the problems caused by sitting in the same position for too long. Moreover, the features available from using the best office chair for back pain allow less pressure to be placed on the spine, back, and hips, promoting good back health and alleviating the risk of back pain.
Due to this, more and more developers are investing in an ergonomic office chair for their workspace. Ergonomic office chairs that are equipped with an effective lumbar support system are incredibly popular among developers. 
What Are The Pros of Using an Ergonomic Office Chair?
Spending the majority of your workday in an office chair can lead to your posture and back being negatively affected. The features of an ergonomic office chair are manufactured with improving back and spine health in mind.
Making use of these types of office chairs provide a variety of benefits. These include:
Swivel features made for 360-degree motions help reduce strain and allow for effortless movement around the office.
Comfort is provided to the user while using the office chair.
The adjustable features have the ability to boost energy levels and moods while promoting users to be more productive.
Back and blood circulation problems are prevented by technology, such as lumbar support systems, being incorporated in the design.
What Are The Cons of Using an Ergonomic Office Chair?
Although an ergonomic office chair provides users with incredible health benefits, much like everything, there are some drawbacks. The drawbacks associated with using an ergonomic office chair are:
The design of the ergonomic office chair doesn't accommodate different styles and colors. Thus, the selection of the appearance of these office chairs is limited. Nonetheless, the appearance of these office chairs fits most workspaces and offers a sleek look.
The technology and features that are incorporated in the ergonomic office chair are of outstanding quality. This makes the acquiring of this particular office chair to come at a hefty cost. Nonetheless, the benefits offered by an ergonomic office chair make it a valuable investment in your workspace that outweighs the risks of not having an ergonomic office chair. The chair's cost can still turn out to be cheaper than booking numerous doctor's appointments to help correct the back problems as a result of using a traditional office chair for prolonged periods.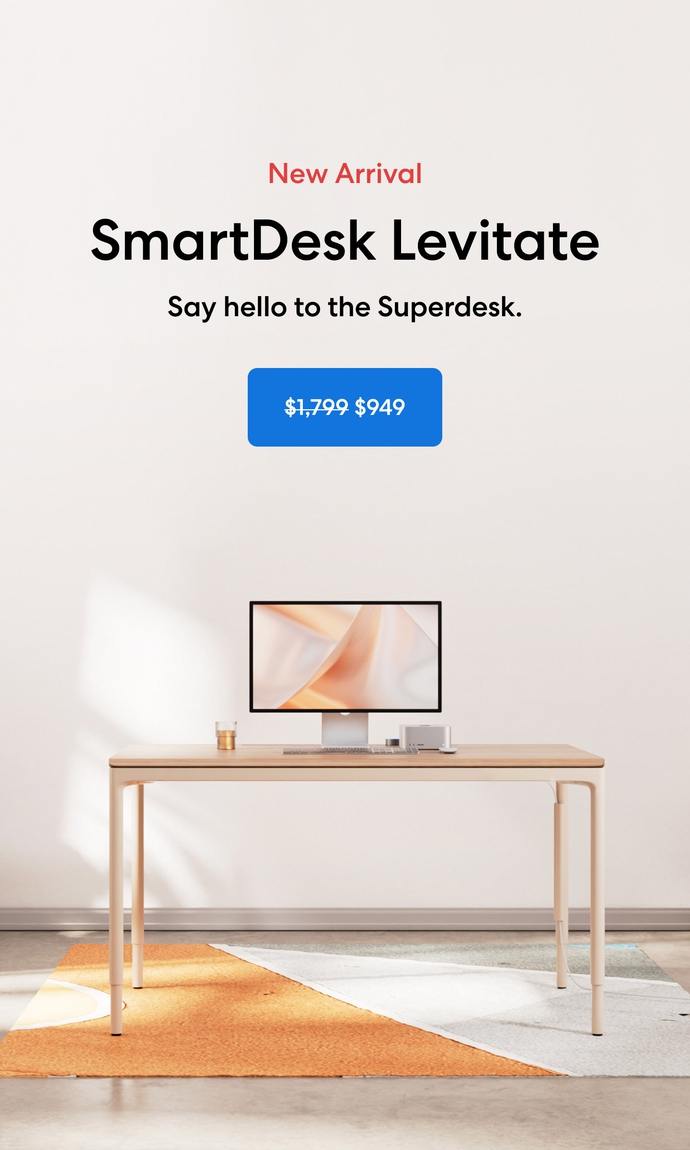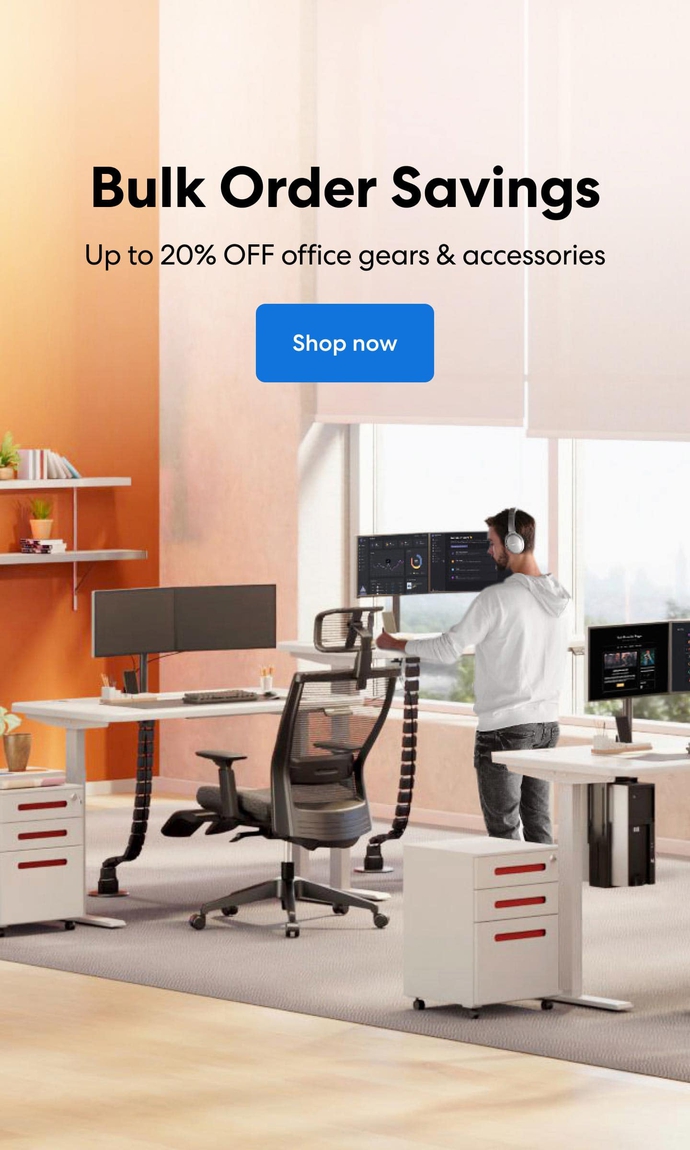 Subcribe newsletter and get $100 OFF.
Receive product updates, special offers, ergo tips, and inspiration form our team.