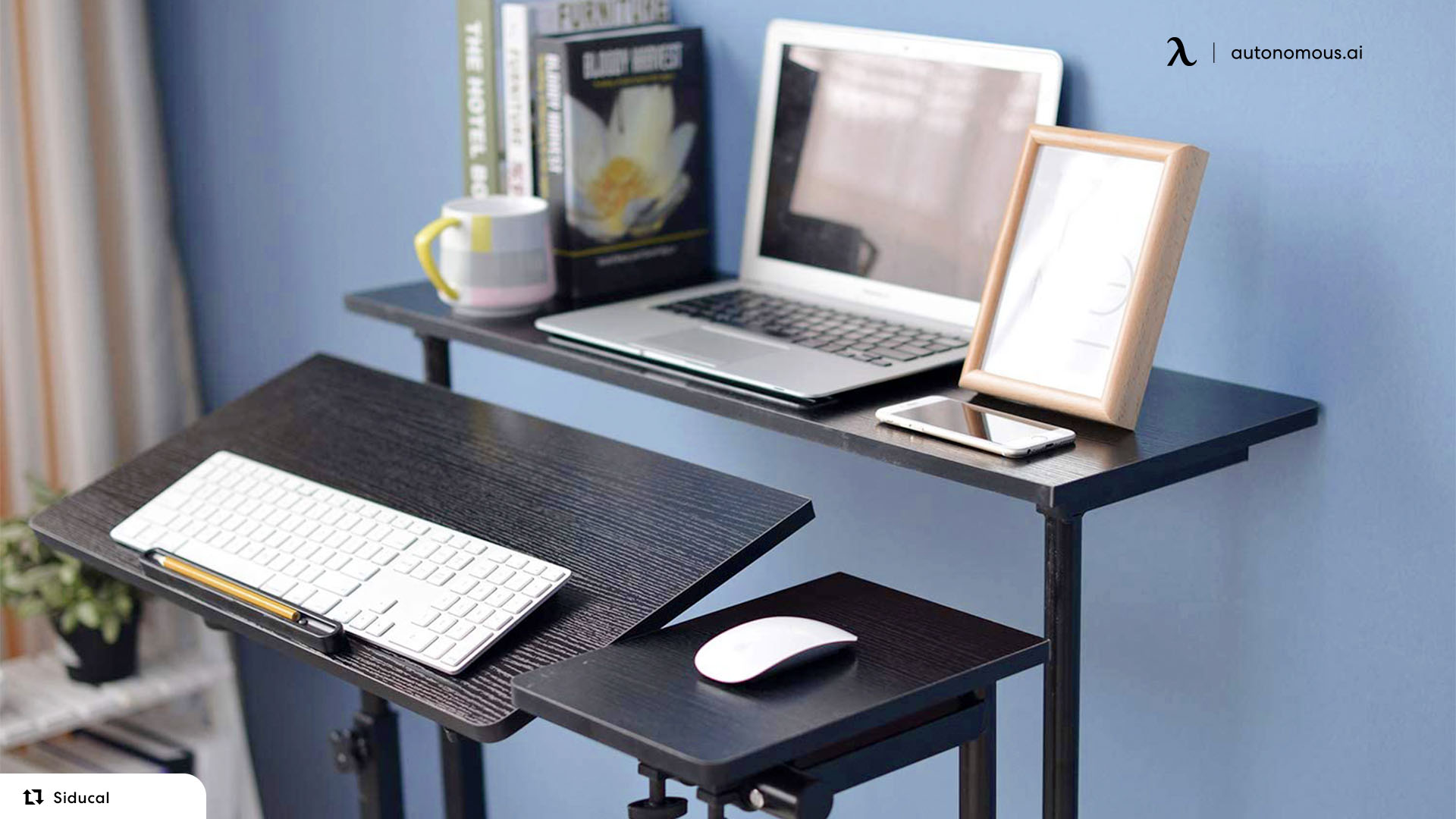 Smart Products
6 Best Mobile Standing Desks for a Flexible Workstation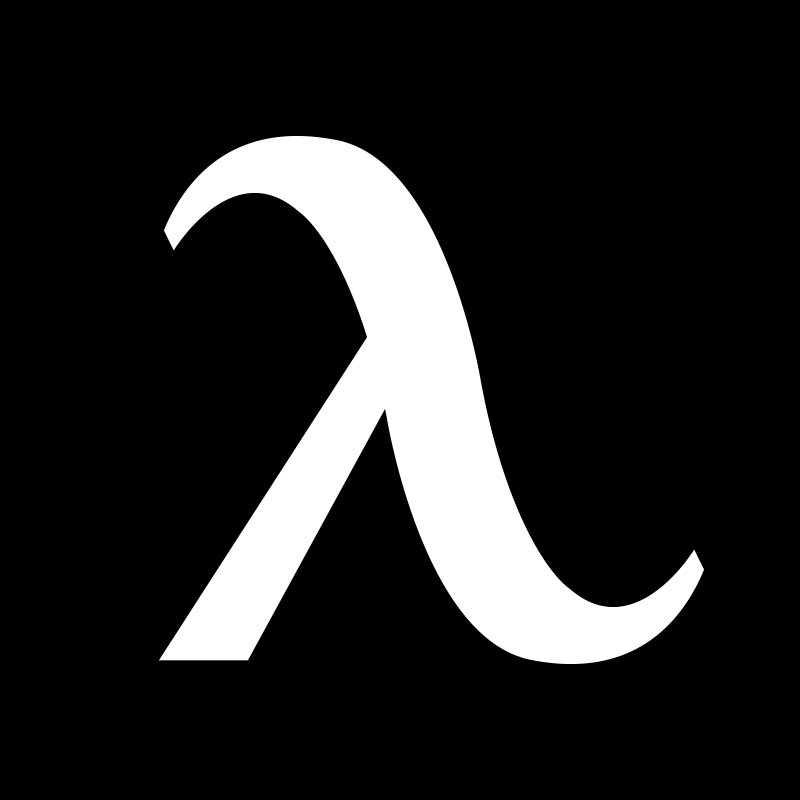 Autonomous
 | 
Mar 30, 2022
You likely heard of standing desks before, but how many times have you heard people talking about mobile standing desk designs? It almost sounds crazy, doesn't it?
Typically, the larger furniture pieces in an office space remain static. Nobody is moving desks or filing cabinets around daily. Of course, ever so often, you may feel the need to rearrange things. The point is that it never becomes a common assault.
However, the idea of a mobile standing desk takes that trope and turns it on its head, yielding a unit that you may just be moving around often. It goes without saying that these are small standing desk builds.
You can imagine that if they were full-sized, moving them around would be quite a task. The fact that you usually find them on wheels, contributes to their ease of movement. You can think of it as a standing desk cart, as opposed to a stationary furniture fixture, which is what you would typically see.
Whenever the conversation of ergonomics comes up, people often think about their positioning relative to the furniture. Well, what if you wanted to create a more ergonomic standing desk position by moving your workspace to a more conducive location? Well, now you have a mobile computer workstation that allows you to do so seamlessly.
What can you expect once your reading is complete today? Well, you are certainly not going to be learning about any full-sized electric standing desk this time around. Instead, you're going to get an overview of when you may need a mobile stand up desk, as well as a look at some incredible models on the market that you may want to consider as you think about making your purchase.
When Do You Need a Mobile Standing Desk?
So, while a portable standing desk can certainly be a convenient addition to your office space, it's not necessarily suited to everyone and every context. So, here is a quick look at a couple of scenarios in which it may be a bit more convenient for you to have a mobile unit.
If your post requires you to spend significant amounts of time in separate locations and your workstation footprint is small, then a mobile standing desk may be a good idea. You can simply wheel it from one post to the next when required, and moving it back is just as easy.
Another scenario is where there is a shared space that may be for meeting presentation purposes or some other task. Note that this is not speaking to a huge workstation that is shared among staff members on different shifts, for example.
Instead, the focus is more on shared areas in which there is a single machine that different staff members come and use for one designated purpose. You may find it that much more convenient to move things around.
Any context that would benefit from an ability to move your desk around easily would be one that can benefit from bringing a mobile computer workstation into the mix.
You even find that these tend to be cheaper than their full-sized counterparts, offering you quite a bit of value for money. Of course, the desktop surface and weight capacities are lower on these units, but you know exactly what it is you're paying for.
List of Mobile Standing Desks (with Wheels)
1. Mount-It! Rolling Standing Desk with Retractable Keyboard Tray
At this point, Mount-It! is known for some seriously unconventional yet suitable furniture pieces for very special situations. That's not to say that the company does not sometimes delve into your typical hardware pieces and it also doesn't mean that these are peculiar.
The point being made is that there are a host of special-purpose designs under the Mount-It name that appeal very well to some unique needs. The Mount-It! rolling standing desk with retractable keyboard is certainly a testament to this.
With height adjustability from 35.5 inches to 50.8 inches, your standing desk experience is conducive to sit-stand sessions, allowing you to alternate between positions and get the best of both worlds.
It's atop four well-designed wheels, which are rotatable, allowing you to easily move your desk omnidirectionally. The design is incredibly compact, yet it can handle a weight capacity of up to 99 pounds, which should be more than enough for whatever you have to fit onto such a small unit.
There is a little storage available in the form of two shelves, one of which is located just above the vertical center of the desk, while the other is suspended just above the wheel area.
There is a retractable keyboard tray present, and its slide-in functionality means that you can tuck it away very neatly. It's wide enough to support a full-sized keyboard and mouse, but you are advised to go for one of the short keyboard designs instead.
You can technically fit two screens atop it, but it's certainly better suited to housing a single one. Mount-It offers a 10-year warranty to customers, so there is no need for you to worry about how factory faults may cost you.
2. Mount-It! Height Adjustable Rolling Desk
This height adjustable rolling desk by Mount-It! is the second of two incredibly stellar designs. Surprisingly, there isn't a price differential between the two, so it's more about what you may find comfortable.
Again, you get a height adjustable design that stands atop four rotatable wheels, which allow for ease of movement and customizable positioning.
When you look at the design, it's not too far removed from the previous one, with the biggest difference being the fact that the peripheral platform is more of a shelf, and it doesn't have the sliding functionality. However, it is quite larger than its counterpart, so if you want it to be more than a peripheral tray, it can certainly handle that.
The maximum weight capacity here is greater at 132 pounds, so you can store a bit more here or a couple of heavier items. The adjustment range runs from 37 inches up to 54 inches, again making sit-stand sessions possible.
You're not going to find much computer or AV equipment that lacks compatibility here, and none of it makes the unit any less easily maneuverable.
Again, Mount-It offers a 10-year warranty with this unit, so just in case there is some fault affecting the desk's performance, you are well taken care of.
3. VIVO Electric Dual Platform Standing Desk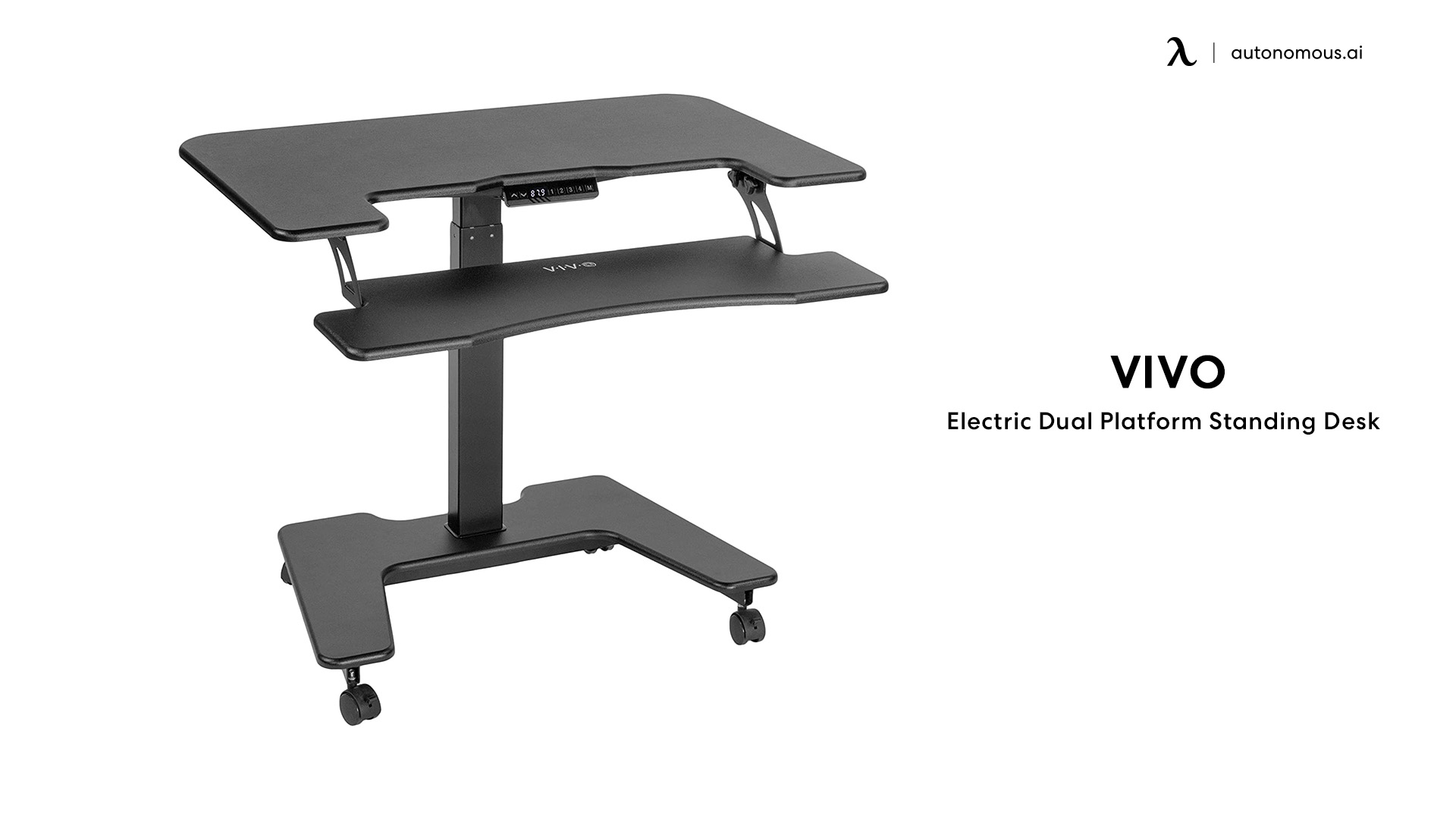 Like Mount-It, VIVO is also pretty common in the world of office desk furniture, especially where traditional standing desks are concerned. However, today it's all about the manufacturer's journey into mobile standing desk territory with this height adjustable design.
Unlike the previous two models, you don't have two additional storage platforms here. It's just the top one that is meant to host your screen or laptop, as well as the peripheral tray underneath. Note that the latter is curved for that comfortable ergonomic style.
Height adjustment runs from 23.2 inches to 49 inches. From a pure distance perspective, it certainly gives you a bit more than its Mount-It counterparts, though the maximum height cap here is lower.
Nevertheless, this VIVO design is quite perfect for small spaces where you may want a desk on wheels to create a certain workflow. Of course, you get electric adjustment functionality, meaning there is some level of automation present.
One thing you should note when you buy this one is that the assembly time is anything but short. Still, you shouldn't necessarily have a hard time, though it may take a long time. The warranty period here runs for three years.
4. SIDUCAL Mobile Stand Up Desk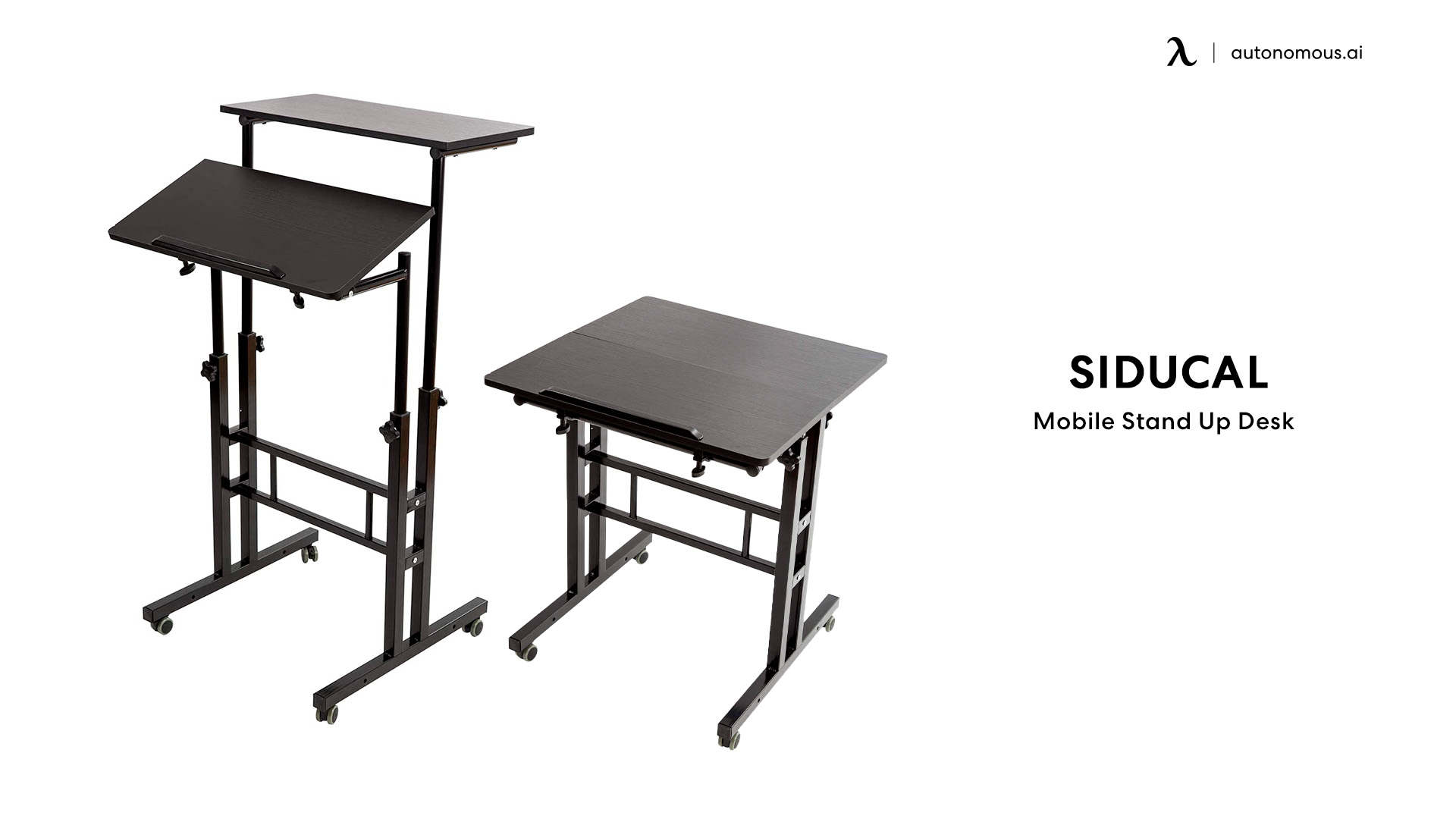 If you've never heard of this name before, you are forgiven, as it's not necessarily the most popular manufacturer where modern office furniture is concerned. Nevertheless, its portable standing desk is a really solid design, which is why it has managed to earn a spot on this list.
One of the first things that stands out is the inclusion of parallel horizontal bars at the third vertical quartet from the top that run from one leg to the other to create additional stability. There are even two short vertical bars acting as connectors for the horizontal ones.
Therefore, no matter which height you're using the unit at, there is no need for you to concern yourself with potential wobbling. The adjustment range is 26.3 inches to 45.3 inches. Again, while it goes lower than the Mount-It! designs, its maximum height is also lower.
Note, however, that you shouldn't have any problem using the desk at seated or standing positions in any case. The wheels are made of rubber, meaning that you are getting protection for your floors from scratching.
Considering all it offers, it is incredibly cost-effective, running you quite a bit less cost-wise than some of the other designs here.
The fact that it has three separate desktops is quite astounding, especially since you can adjust or tilt them to create a large flat surface area. Alternatively, you can give yourself an angled keyboard tray too.
There is a small storage shelf just atop the wheel area, which can hold a couple of desk accessories that you may need.
5. Tangkula Standing Desk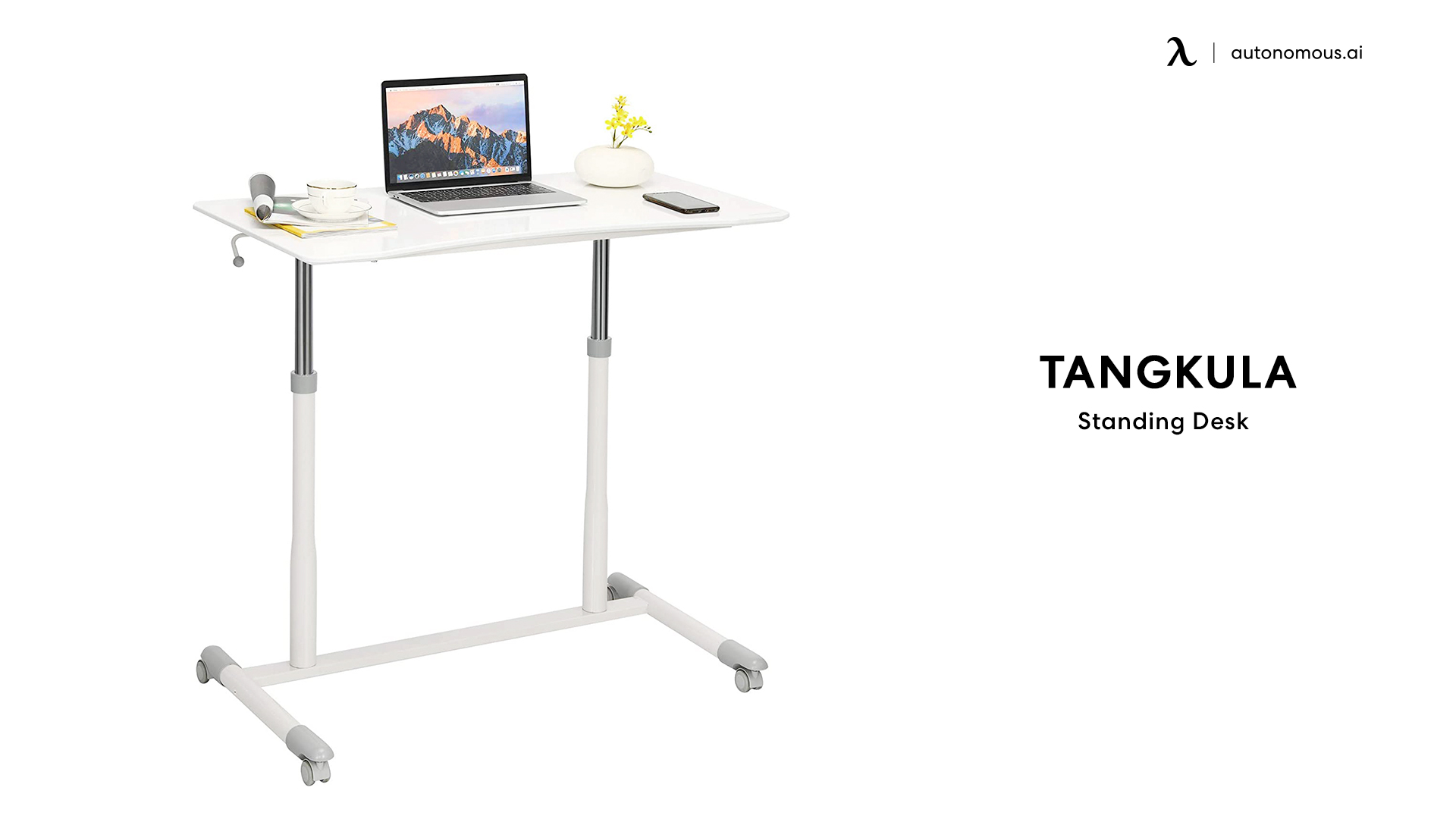 Tangkula is not the most popular furniture manufacturer for office needs, but it is certainly known for a couple of designs that hold their own against some of the more popular competitors. Today, it's all about the manufacturer's standing desk cart, which is highly regarded as far as mobile units are concerned.
It doesn't have any more than a single tabletop, meaning storage shelves and a dedicated peripheral shelf do not make an appearance here. However, the design aims to make up for that by offering quite a generous amount of tabletop space for something with such a small footprint.
Height adjustment is handled by a high-quality gas lift mechanism, providing an adjustment range from 27.5 inches to 42 inches, which is respectable. Don't expect to struggle with any stability issues.
You can see that the intention was to come up with a design that firmly sits upon the principles of ergonomics, which is why using this one can lead to some serious fatigue reduction. Two of the wheels here are lockable, meaning that you don't need to worry about any slipping when you're trying to work.
Note that the casters are built to be wear-resistant, so this is yet another model that ensures to protect your floors as it rolls around.
6. S Stand Up Adjustable Mobile Desk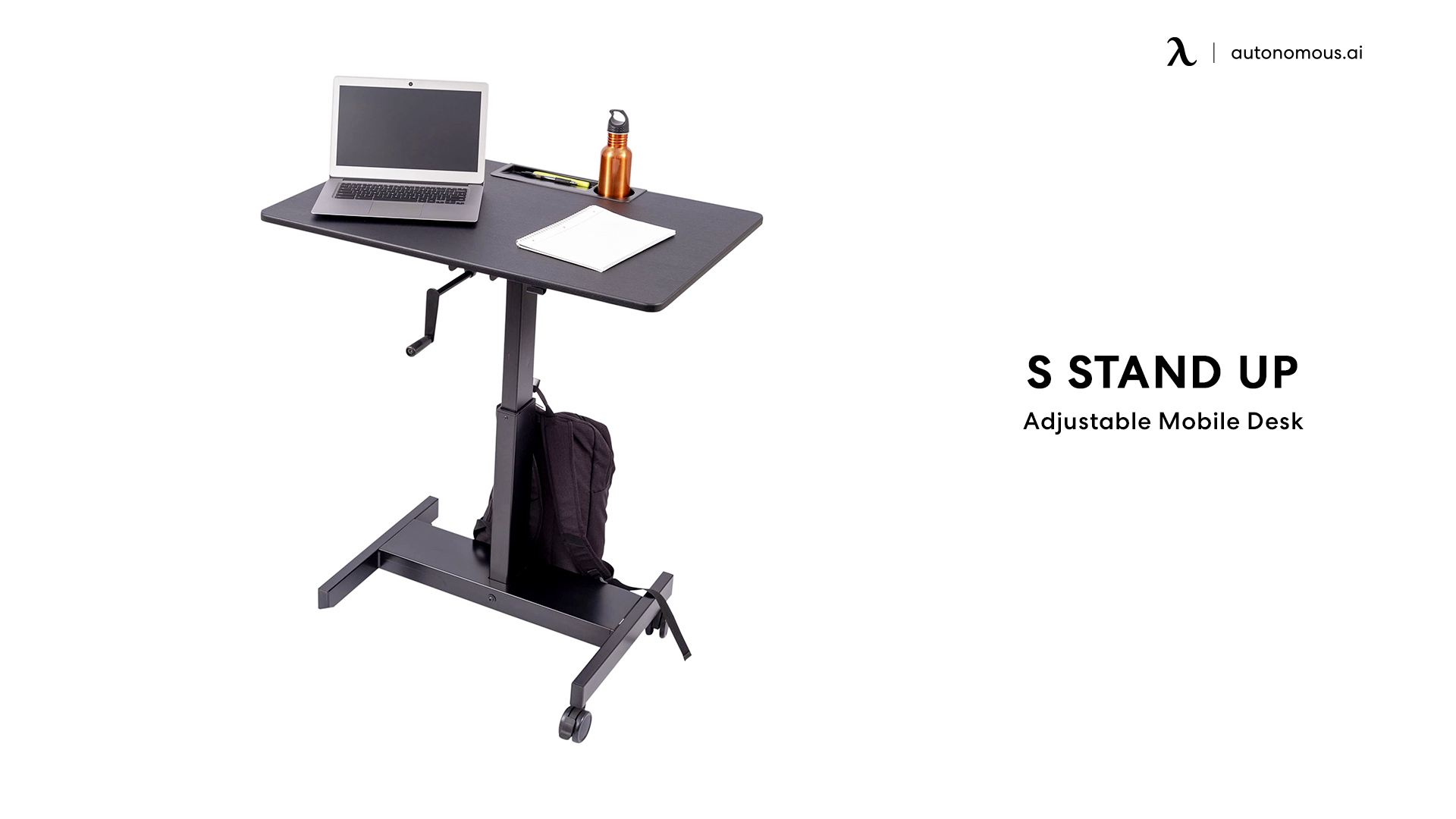 This is the final mobile standing desk on the list, and you should note that it is certainly not on the cheaper side of the spectrum. Oddly enough though, it features a manual crank for height adjustment, which may or may not be a problem depending on where you stand.
No one can argue about how spacious this one is, having the ability to easily fit a laptop, a second screen, and peripherals on the tabletop. There are no additional storage shelves here, but the argument that they're not needed is very easy to make. After all, the tabletop can be 48 inches or 60 inches, depending on your taste.
Still, if you want to, you can customize the build, adding a pencil drawer, ergonomic keyboard tray, monitor shelf, or other options. Technically speaking, you could even forego the crank and upgrade to the electrical height adjustable version. The height range runs from 32.5 inches to 48.5 inches, and the weight capacity is 154 pounds.
Final Remarks
There's a lot of utility in getting your hands on a mobile standing desk as you can see. If you work in any office space where a full-size stationary unit happens to be a bottleneck, then perhaps it's time to consider having a standing desk cart built to replace it.
After all, the presence of the wheels makes movement highly convenient. Apart from understanding conducive contexts, you also got a look at some of the best models on the market.
Giving you that overview was necessary since this is not the most popular product in the world. Considering choices are so limited, it would be highly unfortunate for you to choose one of the poorly designed or less than completely supportive models.
To this end, a series of quality options were reviewed, and no reservation is made in saying that choosing from the pool should grant you a reliable portable standing desk in your office.
Hey, you have special pricing through your company.
Get exclusive rewards
for your first Autonomous blog subscription.
WRITTEN BYAutonomous
We build office products to help you work smarter.
Coming at You Live from Autonomous' Social Media!