Latest Updates
Autonomous Black Friday Sales 2023 - All November and Everything Included!

Autonomous
|
Oct 31, 2023
932 Views
We love Black Friday here at Autonomous. And we love it so much that we're offering you awesome deals right across November. Starting from the very first day of the month, you'll be able to get up to 70% OFF selected products - including SmartDesks, ErgoChairs, and so much more.
This is a Black Friday month like no other, with each week offering new and fresh deals.
Sounds Epic! How Will it Work?
It couldn't be any simpler. Each week, there'll be a new theme and a fresh round of products on offer. The first week (November 1 - 9) will all be about SmartDesks, with up to 60% OFF.
The second week (November 10 - 19) will be focused on ErgoChairs, again offering up to 60% OFF.
In each of these weeks, US and Canada customers will get free gifts with a SmartDesk (first week) or ErgoChair (second week).
And then we get even bigger. For the final phase of Black Friday month (November 20-30), we put all categories up for sale! This is where you'll need to stay tuned and find out what's on offer. 
Alongside the main sale, we're giving you even more opportunities to save! 
Wait, There's More? The Main Event
Yes. We're also offering Flash Sales to complete Black Friday, and give you even more chances to either level up your workplace or buy a gift for your loved one.
Flash Sales - The Details
From November 20 - November 26, we'll be offering some incredible flash sales on a huge array of products, including SmartDesks, ErgoChairs and even the Pods. You'll need to move quick though - availability will be limited, with each product being offered for a few hours each time.
Doorbuster Deals - The Details
This one's for the night owls. From 12am until 3am (ET) November 24 only - we'll be offering 90% OFF & $1 doorbuster deals on selected products. Even if it's past your bedtime, you might want to stay up for this one!
*T&C: Each unique user is limited to purchasing one $1 Deal during the duration of the promotion. Due to limited stock availability, the promotion may conclude at any time.
And Finally… The Pods!
We're not forgetting the biggies. From now until November 9, you can enjoy a $500 discount plus a free Smart Lock with any Pod purchase. And it gets better.
From November 20 - November 30, you'll have a chance to get up to $3,200 OFF for a StudioPod and $1,700 OFF for a WorkPod in the Flash Sales!
Black Friday Month - Get Ready!
We're beyond excited to have you with us in this extraordinary series of Black Friday deals. We wanted to reward our loyal customers and get new ones on board - and we think we've achieved that! 
But you'll need to move quickly and be alert - each of these deals have limited stock and time. So avoid disappointment and get started right now!
Terms & Conditions
Our terms and conditions may be posted on the site during the promotion only and are referenced herein. 
We reserve the right, in our sole discretion, to refuse any disputes that do not follow our Terms and Conditions at any time.
Entry period: Nov 1 - Nov 30 (6am - ET).
Location: US, Canada, EU & UK.
This promotion is a limited-time offer and shall be offered on a "first come first serve" basis and may be ended early in case the item is out of stock.
Promotion trial & return policy
For Autonomous products, please note that the trial & return policy does NOT apply to these promotion products—and the warranty policy is guaranteed. Therefore, no Return or Exchange is accepted under any circumstance. 
For Dropship products by Third Party Vendors on Autonomous'site,
In the US and Canada, the 30-trial & return policy applies to these promotion products—and the warranty policy is guaranteed. Except for the following vendors: 
| | | |
| --- | --- | --- |
| No | Vendor | Trial & Return Policy |
| 1 | Boulies | 14 days |
| 2 | Deskr | 30 days |
| 3 | Gravastar | 7 days |
| 4 | Hyper Lychee | 14 days |
| 5 | Insta360 | 15 days |
| 6 | Gingko Design Ltd | 14 days |
| 7 | Bigso | No return |
| 8 | Techni Mobili | No return |
| 9 | Graphic Image | No return |
| 10 | Flexspace | No return |
| 11 | Artistscent | No return |
| 12 | Gotek | No return |
| 13 | Innodude | No return |
| 14 | Space Lighting | No return |
| 15 | Noble Audio | 5 days |
| 16 | Gamdias | 7 days |
| 17 | Lizvie | 14 days |
| 18 | Bbluv | No return |
In the EU, the 14-trial & return policy applies to these promotion products—and the warranty policy is guaranteed.
Due to logistical constraints, once orders have shipped, they can't be canceled. We are sorry to inform you that the promotion will NOT be applied to Alaska, Hawaii, and Puerto Rico.
Discount code application terms and conditions
Our discount codes and referral codes are not applicable for products on promotion. Codes are applicable for full-price products in your order and only one code can be used per order.
Store credit is applicable for products on sale. However, the credit applied can not exceed $200.
Changes in Terms & Conditions
Autonomous may change the Terms & Conditions at any time. You are responsible for checking these Terms & Conditions from time to time for any changes. If you continue to participate after we post changes to these Terms of Service, you are signifying your acceptance of the new terms.
Autonomous decisions on all matters related to the promotion will be final and decisive.  Autonomous will not be liable for any claims made by you, or for third party claims, or losses of any nature, including but not limited to, any loss of profits, loss of expectations, indirect, special, or other damages, and any related claim of any nature, including direct, indirect, third consequential party, consequential damages or other harm caused by or related to this promotion."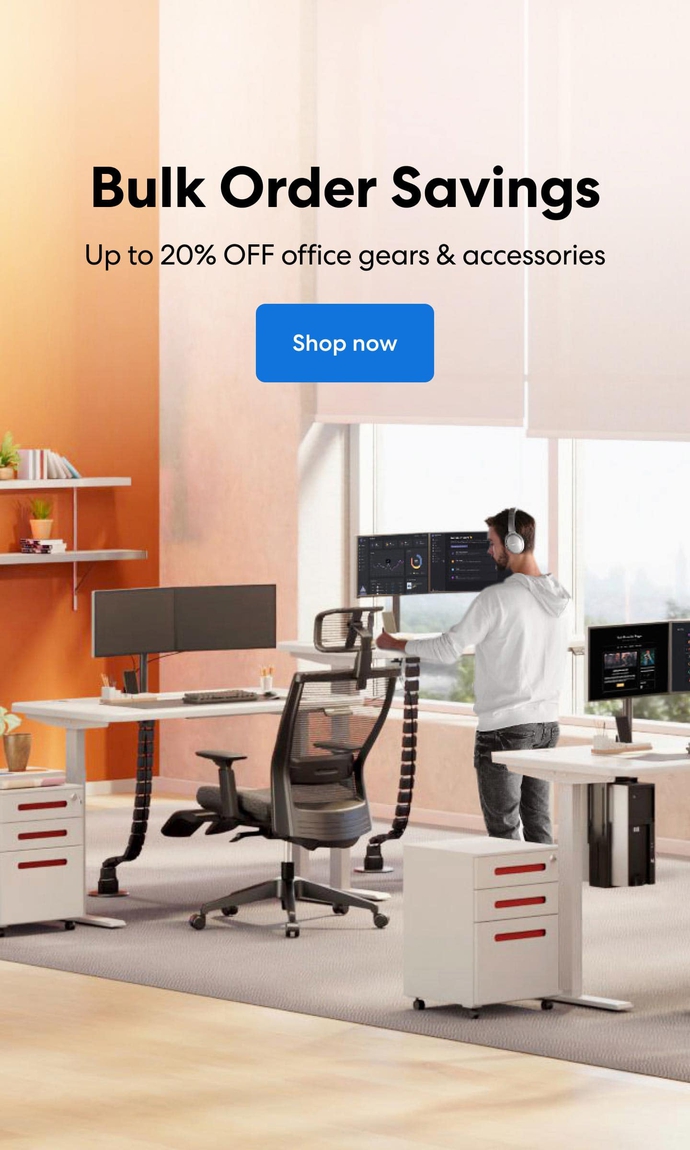 Subcribe newsletter and get $100 OFF.
Receive product updates, special offers, ergo tips, and inspiration form our team.