Smart Products
Best Gray Desks – Trending Office Furniture to Amp Up Your Productivity

Mark Hernandez
|
Jul 4, 2023
10,681 Views
What's better than an office desk that suits your style and personality? Having such a desk can help boost your productivity and allow you to work with style. Gray desks are becoming quite popular lately, mainly because of their classy and trendy vibe, which they exuberate. Moreover, gray desks blend greatly with most workplaces, making them suitable.
In this article, we will discuss the best gray desks that you can purchase from the market today at great prices. Level up your workspace and increase your productivity with modern gray wood desks!
Why Should You Choose Gray for Your Office?
There are lots of colors that work well with a minimalist office look. The key idea with this style is that less is more. gray is a great color for an office style and an office desk. It makes a statement, but not many people have considered it in the past. With the new minimalist office style trending, the beauty of a gray wood desk or a gray executive desk is clearer than ever.
Grey can be paired very well with white and black. Depending on the shade of gray and your style preferences, you can choose to go for the futuristic look, a modern look, or a simple office look. There's a lot you can do with this office style to personalize it without overcrowding it. A few key décor items or a photo frame her, and there are enough to make your new office design stand out.
When you change your office style, you may or may not want to invest in a new desk. You can always find a gray office desk for sale either locally or online to blend with the minimalist office style you are going for. As far as the desk you choose, one of the trending options in recent months is the standing desk.
Top 15 Gray Office Desk for Your Impressive Workspace
Here are top gray executive desk choices you should consider if you switch to a minimalist office style this year. If you are lucky, you can find a gray office desk for sale to start the year out.
1. Autonomous SmartDesk Pro - Grey Frame
Start the list with the SmartDesk Pro, which has been elevating the lives of many thanks to its smart design and functionality. This gray desk is perfect for a small home office. It has built-in electrical dual motor functions silently, providing a personalized working experience. The grey executive desk is built from a solid steel frame, with a warranty of 7 years.
2. Autonomous SmartDesk Connect - Grey Frame
Another gray desk that can give you the best of both worlds in terms of functionality and style is the SmartDesk Connect. For users looking for options that can be customized accordingly, this Desk is a great option since you can easily control it from a mobile application. The app remembers your preferences and auto-adjusts accordingly, giving you the optimal comfort level. In terms of durability, the Desk is great since it can withstand a load of 350 pounds.
3. FM FURNITURE Raleigh L-Shaped Desk
If you have more space to spare, the Raleigh L-shaped desk is a great gray desk option. Made from high-quality MDF wood, the modern grey desk offers a perfect blend of style and structural strength, making it perfect for most workspaces. Moreover, the Desk offers abundant legroom and storage space, allowing users to work comfortably. The product also comes with a 1-year warranty to give customers the peace of mind while purchasing.
4. Techni Mobili Rotating Multi-Positional Modern Desk
The Techni Mobili gray desk is an outstanding option when customization is a mandatory requirement since it offers 3 customizable desk positions. The flexibility allows you to work comfortably in multiple positions, boosting productivity. Apart from the great functionality, the desk is also pleasing to the eyes thanks to its sleek design and wooden aesthetic.
5. Sauder North Avenue Engineered Wood Desk
The Sauder North Avenue Desk with Hutch offers both workspace and storage solutions. The addition of a hutch provides extra shelf space for books, decor, or office supplies.
The faux concrete/gray finish lends an industrial and contemporary feel to your workspace. It's an ideal choice for those who need both a desk and additional storage in a compact design.
6. Trio Supply House Functional L-Shape Office Desk with Storage
The Trio Supply L-shaped gray desk is a simple yet functional desk with storage that offers a lot for a great price. The grey home office desk has abundant desk space along with storage space in the shape of 2 open shelves and a cabinet. Apart from that, the product also has 2 drawers that also act as additional storage compartments. Overall, it is a great option for a medium to large-sized room.
7. Bestier L-Shaped RGB Desk
This Bestier desk is another great desk for your new office style. It is also an L-shaped desk and is perfect as a work desk, study, or gaming desk. The grey modern desk has 55.2'' LED lights and includes a cup holder and headphone hook. It is available in several color options, including gray oak, making it perfect for a gray home office desk.
8. Trio Supply House Modern L-Shaped Desk with Hutch
Another popular gray desk is the Trio Supply House L-shaped desk with its all-new design. The computer desk is great for tiny rooms and best utilizes corner space due to its special design. With this Desk, you get two open storage shelves and 3 vertical shelves for storage. The product comes with a 1-month warranty as well.
9. Cabot 72W 3 Position Sit to Stand L Shaped Desk
The Cabot Sit to Stand L Shaped Desk is a versatile workstation that allows users to switch between sitting and standing positions, promoting ergonomic comfort during long work hours.
It provides ample workspace and often features cable management options to keep your workspace organized. The modern gray finish gives it a sleek and contemporary look, making it suitable for various office settings.
10. Ewyn 70.86'' Desk
The Ewyn Desk is known for its spacious and minimalistic design. With a generous surface area, it accommodates various office equipment and supplies.
Its sleek and simple appearance makes it suitable for modern and minimalist home office setups. This grey executive desk often features a durable construction that can withstand everyday use.
11. Techni Mobili Complete Workstation Computer Desk
The Techni Mobili gray computer desk is a mammoth of productivity and functionality thanks to its bulky build with abundant surface and storage space. The gray wood desk has 3 horizontal drawers and a cabinet for additional storage area. Moreover, it also has a dedicated keyboard tray that gives you a proper workspace for your computer.
12. FM FURNITURE Naples Computer desk Three Drawers
If you have a small workspace and are willing to use it best, consider going for the Naples gray computer desk. The compact design, however, features a spacious desk and 3 large drawers for storage space. Along with it, the gray wood desk also features one open shelf. The product is easy to assemble and comes with a 1-year warranty to give users peace of mind during their purchase.
13. Trio Supply House Modern Office Desk with Hutch
For people in for a simple and functional desk, we present the Trio Supply modern office desk with a hutch made from heavy-duty wooden panels and an oak finish. The gray wood desk works great for small offices and homes because of its compact design. On top of that, it also has abundant storage options in the shape of 2 open shelves and a drawer. With easy assembly and a month's warranty, the grey executive Desk is the perfect option.
14. Monarch Specialties Modern Industrial Style Desk
This gray executive desk from Monarch Specialties is unique and modern and definitely one you should consider for your minimalist office. The frame features a crisscross design on the sides. The tabletop is made from gray reclaimed wood. It's an elegant desk, and if you use it in your home office, it can double as a table.
15. Anousha Desk by Wade Logan
The Anousha Desk by Wade Logan is designed with a focus on aesthetics and functionality. It often features a sleek and modern design with attention to detail.
It's suitable for various purposes, including working, studying, or as a stylish home office centerpiece. Depending on the model, this grey office desk may come with storage options such as drawers or shelves.
What Are the Advantages of a Standing Desk?
There is a reason why you have either seen or heard a lot about standing desks recently. These desks are a completely new take on the traditional office desk, and with that come several great advantages.
Standing desks are modern and stylish. You can find them with a range of desktop and color options. You can even use one as your gray home office desk. Besides the style benefits of a standing desk, you also benefit in terms of health, mood, and productivity. These desks allow you to break up the monotony of a sedentary lifestyle. Many people who switch out their traditional office desks for standing desks have experienced improved posture, a decrease in back and neck ache issues, as well as increased mood and work output.
If you get a mobile standing desk to use in your home office, you can wheel it from room to room and use it for multitasking. Besides work activities, many people use their standing desks to read, eat, and even watch television.
Autonomous offers a variety of office desk options. You can pick the color, desktop, and style that you want. Learn more in our list of great gray office desk choices.
Conclusion
To sum up, a gray desk blends perfectly with most office color schemes, which makes it a popular choice. It also adds a touch of modernism and sophistication because of its elegance. When choosing a furniture item, accurately measure the available space in the room you wish to introduce it. Moreover, always go for an option with external drawers and shelves, as they can come in handy to fulfill storage purposes. Thanks for reading!
Video ads for product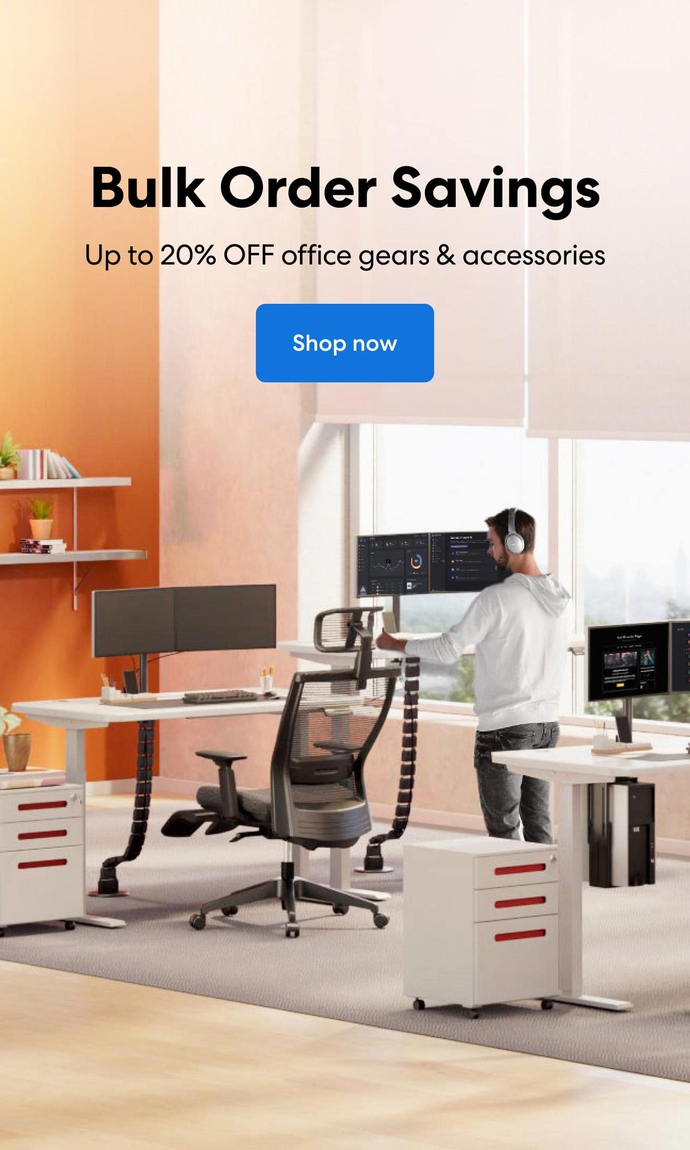 Subcribe newsletter and get $100 OFF.
Receive product updates, special offers, ergo tips, and inspiration form our team.