Smart Products
Grey Office Desk: Trending of Minimalism Office Style in 2023
9,686 Views
Are you looking for inspiration for a new office style in 2022? The minimalist office style is trending this year again, with grey being one of the top color choices to consider. You can use a grey office desk as the key furniture item to set the tone for this style. Carry on reading to find out more about this style and discover some of our best picks for a desk.
Why Should You Choose Grey for Your Office?
There are lots of colors that work well with a minimalist office look. The key idea with this style is that less is more. Grey is a great color for an office style and an office desk. It makes a statement, but not many people have considered it in the past. With the new minimalist office style trending, the beauty of a grey home office desk or a grey executive desk is clearer than ever.
Grey can be paired very well with white and black. Depending on the shade of grey and your style preferences, you can choose to go for the futuristic look, a modern look, or a simple office look. There's a lot you can do with this office style to personalize it without overcrowding it. A few key décor items or a photo frame her, and there are enough to make your new office design stand out.
When you change your office style, you may or may not want to invest in a new desk. You can always find a grey office desk for sale either locally or online to blend with the minimalist office style you are going for. As far as the desk you choose, one of the trending options in recent months is the standing desk.
What Are the Advantages of a Standing Desk?
There is a reason why you have either seen or heard a lot about standing desks recently. These desks are a completely new take on the traditional office desk, and with that come several great advantages.
Standing desks are modern and stylish. You can find them with a range of desktop and color options. You can even use one as your grey home office desk. Besides the style benefits of a standing desk, you also benefit in terms of health, mood, and productivity. These desks allow you to break up the monotony of a sedentary lifestyle. Many people who switch out their traditional office desks for standing desks have experienced improved posture, a decrease in back and neck ache issues, as well as increased mood and work output.
If you get a mobile standing desk to use in your home office, you can wheel it from room to room and use it for multitasking. Besides work activities, many people use their standing desks to read, eat, and even watch television.
Autonomous offers a variety of office desk options. You can pick the color, desktop, and style that you want. Learn more in our list of five great grey office desk choices for 2022.
Top 5 Grey Office Desk for Your Impressive Workspace
Here are five grey executive desk choices you should consider if you switch to a minimalist office style this year. If you are lucky, you can find a grey office desk for sale to start the year out.
1. SmartDesk Core - Home Office
The SmartDesk Core Home Office is the perfect option if you are setting up your home office. It is available as a white standing desk, black standing desk, bamboo standing desk, or grey office desk. There is room to customize what colors you want for the frame and the desktop from the available options.
You can easily assemble this desk at home. It comes with a dual-motor to move the desk between four programmable height levels. It can lift up to 300 lbs, and it does this very quietly. You can see if you love this desk using the 30-day free trial option. This desk is also available in the premium version.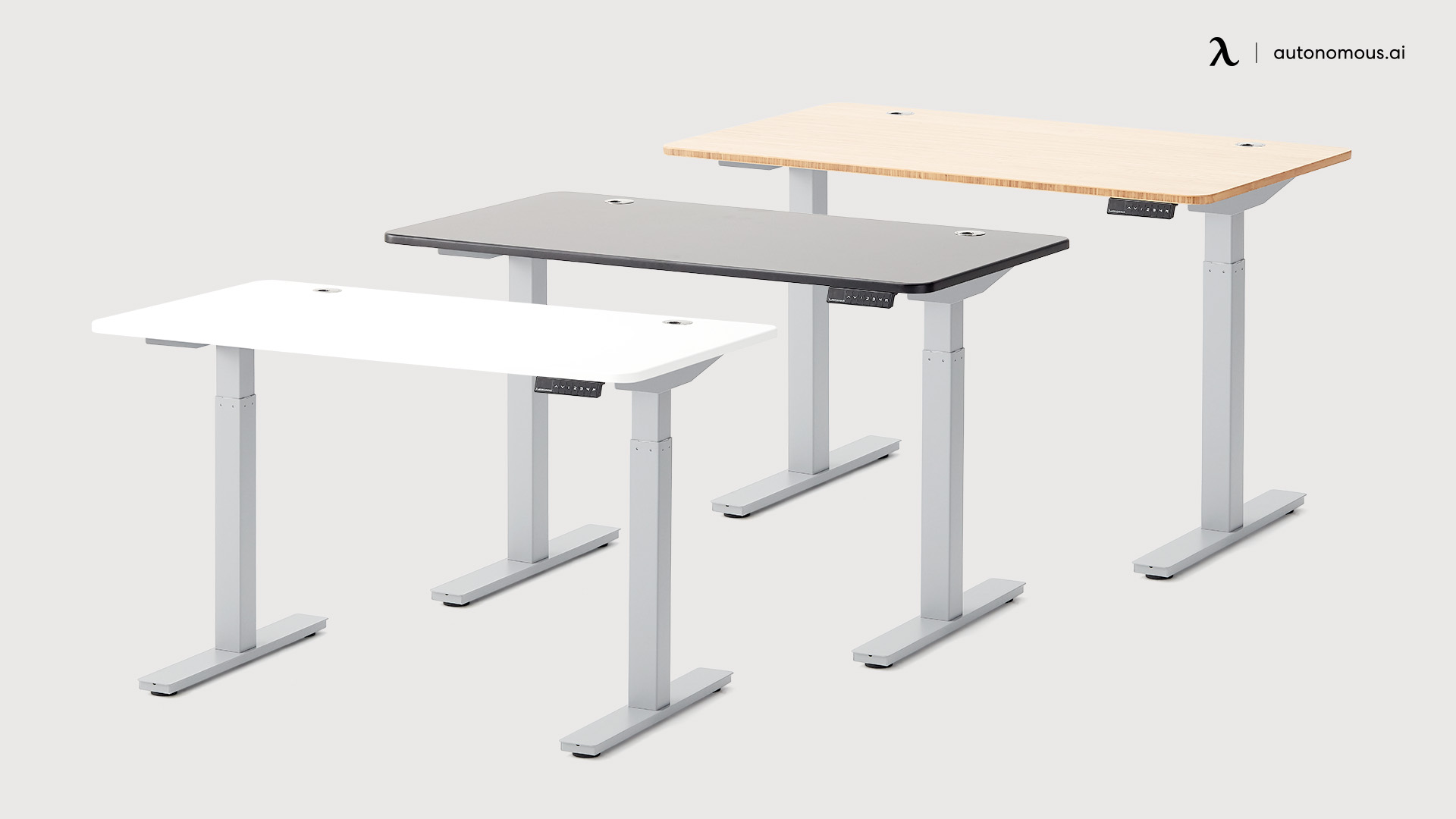 2. L-Shaped SmartDesk
The L-Shaped SmartDesk is another ergonomic office desk from Autonomous. It has similar features to the SmartDesk Core and can be the perfect grey executive desk if you want a little more style and uniqueness. The standout feature of this desk is the L-shape. This is ideal if you have a corner office, multiple screens, or want something a little different from the norm.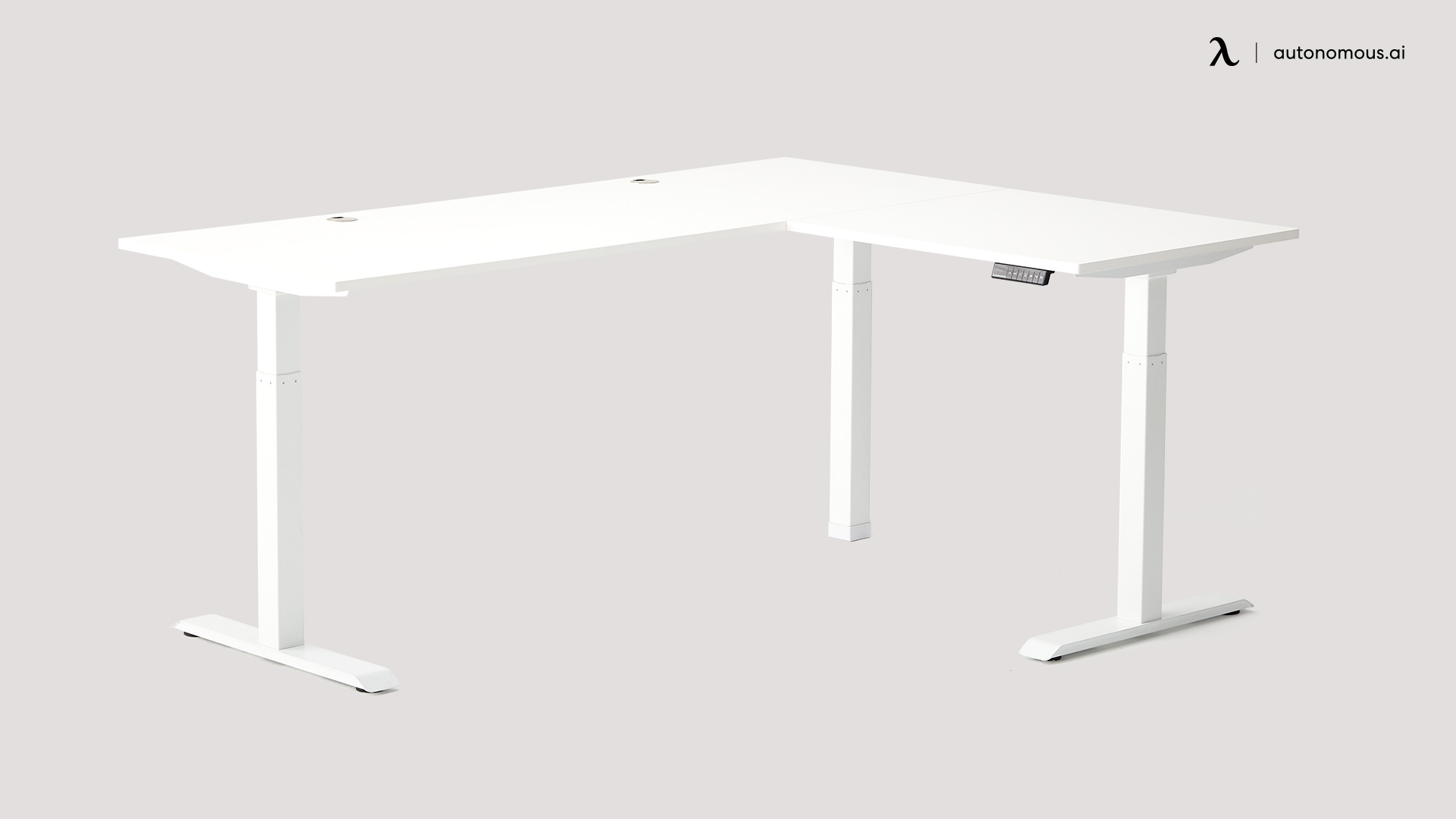 3. Bestier L-Shaped RGB Desk
This Bestier desk is another great desk for your new office style. It is also an L-shaped desk and is perfect as a work desk, study, or gaming desk. The desk has 55.2'' LED lights and includes a cup holder and headphone hook. It is available in several color options, including grey oak, making it perfect for a grey home office desk.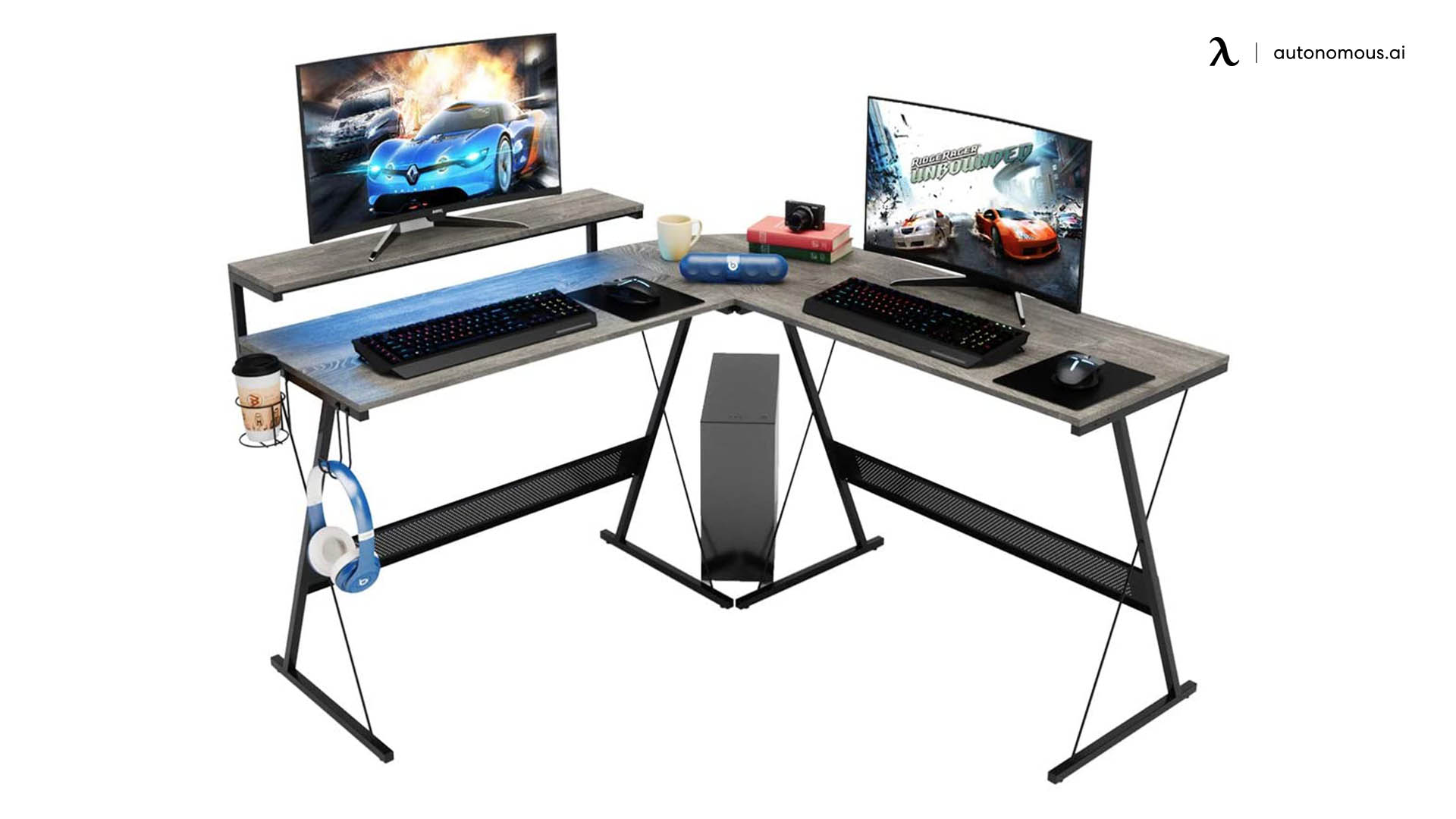 4. Monarch Specialties Modern Industrial Style Desk
This grey executive desk from Monarch Specialties is unique and modern and definitely one you should consider for your minimalist office. The frame features a crisscross design on the sides. The tabletop is made from grey reclaimed wood. It's an elegant desk, and if you use it in your home office, it can double as a table.
5. Custom-made Grey Desk
If you don't see any grey office desk for sale that stands out to you, you can always go the DIY route. You can either get a desk made for you from scratch or convert an existing desk into a grey one with some paint and other DIY materials.
Another option, if you want to enjoy the benefits of a standing desk, is to use the SmartDesk DIY kit for the frame. This kit is easy to assemble, and when you are done, you are going to have a sturdy, motorized standing desk support frame. All you have to do is add the grey desktop of your choice, and you are ready to go.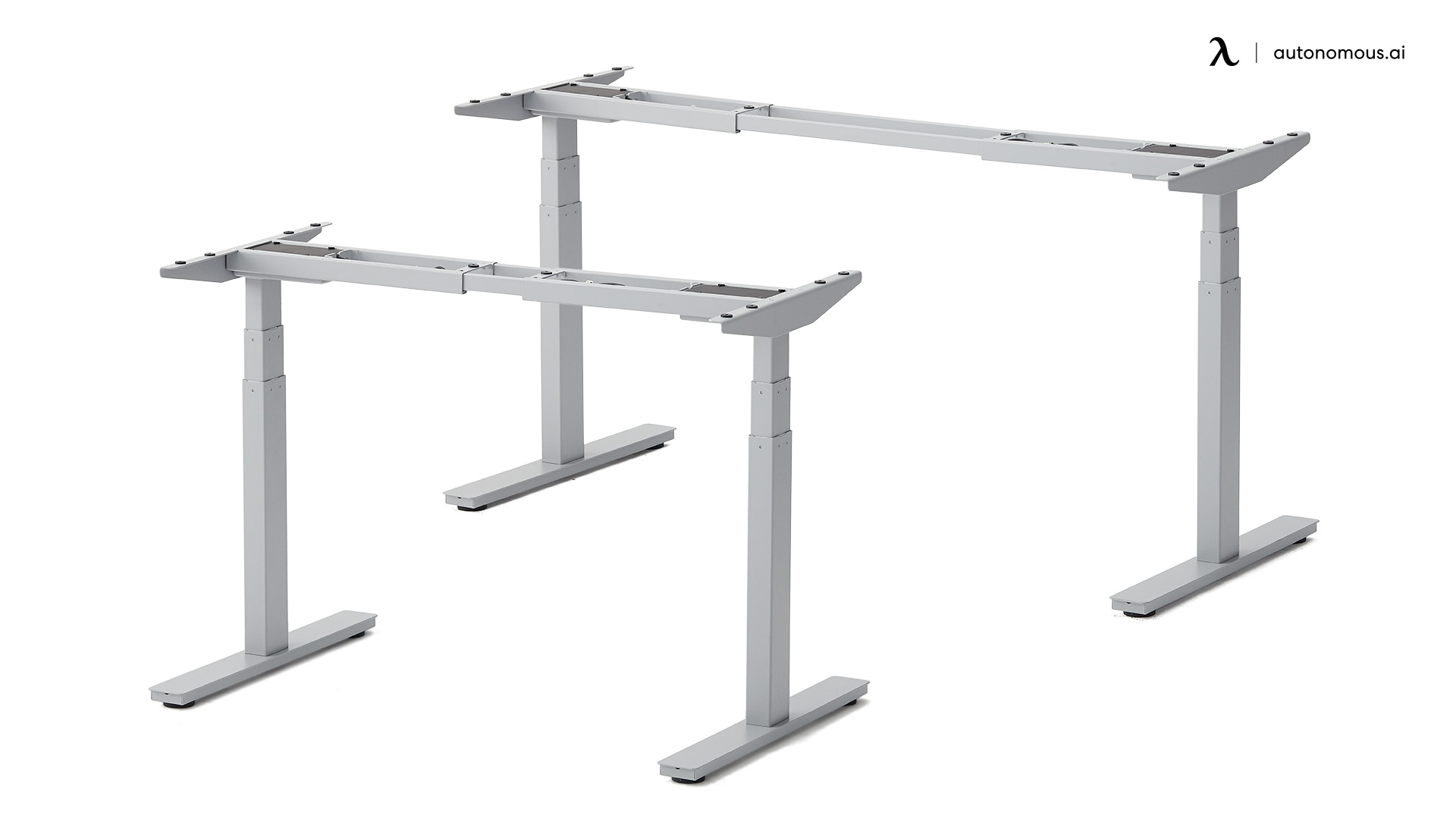 Conclusion
There are so many desks you can choose from for a grey minimalist office. You can choose a traditional wooden one or try something different like a glass top desk with a grey friend. A standing desk is also a great option for a grey office desk because you get the style and functional advantages.
Keep up with Autonomous news
Stay informed, stay inspired with our new blogs.
WRITTEN BYAutonomous
We build office products to help you work smarter.