Ergonomics or the science of establishing a correlation between human beings and the environment they work in is not limited to the white-collared. It applies to the elderly for their good health and well-being. The safety such ergonomic practices offer the elderly is of prime importance. Read on to know more about ergonomics design for elderly as well as some ergonomic tools for elderly.
The Need of Ergonomics for Elderly
Ergonomics for the elderly include minimizing the risk of aches and pains from bad postures much earlier in their life.  Such practices had started when they were otherwise living a highly active life. If the elderly do have pains and aches, the next step is to use ergonomics to ease their daily functioning, from opening a jam bottle to holding a jar, from sitting down to checking emails to preparing to take a walk. Ergonomic practices, modern office furniture, and appliances offer the elderly reduced pain and an easier life.
Studies indicate the rising population of elderly across the world. US data reports nearly seventeen percent of its population will be over sixty-five years by 2050. Similar figures for Europe and North America put this at 25%.  Surprising, isn't it?
Best Practices of Ergonomics for the Elderly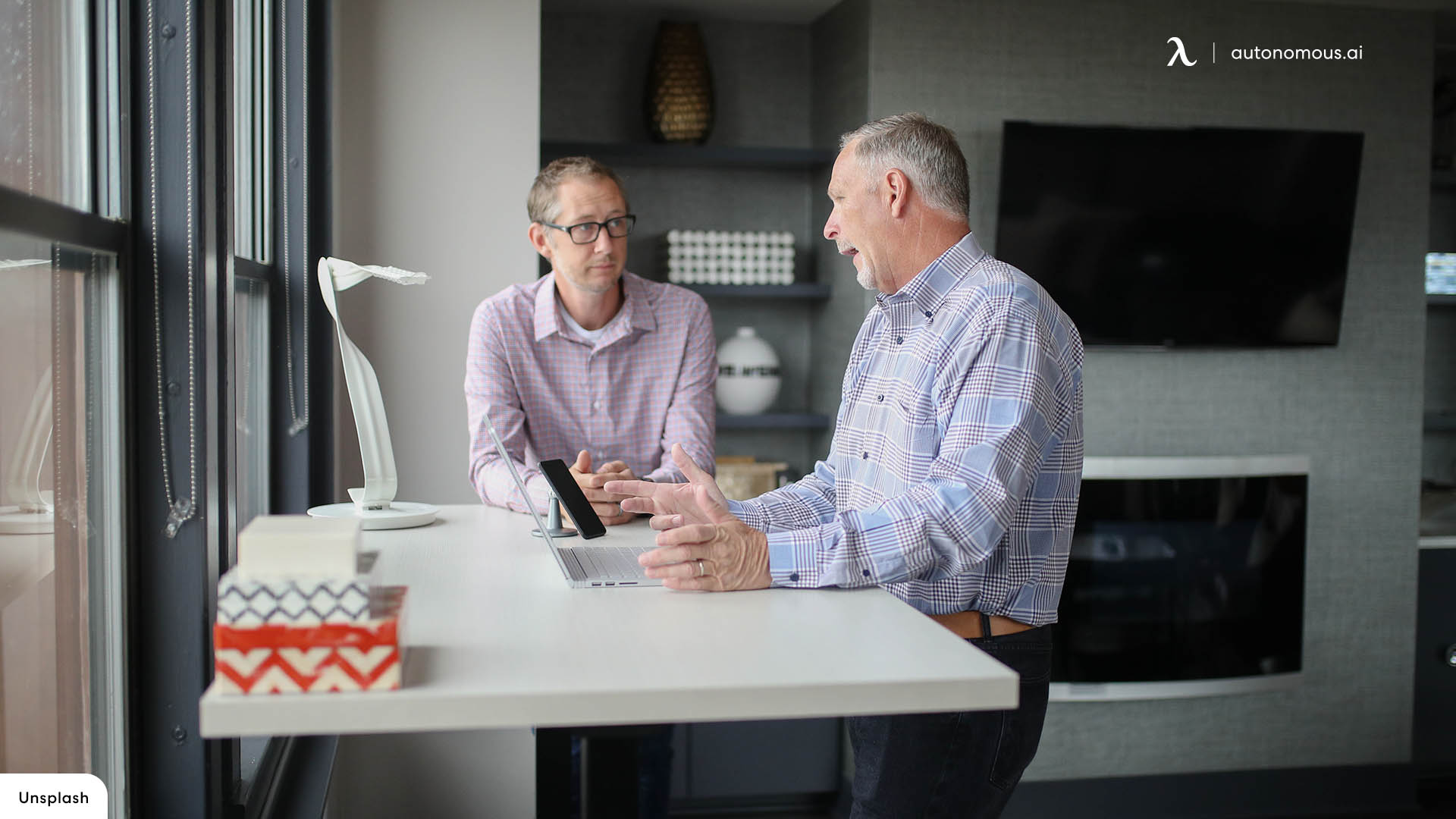 The common fact remains that the elderly need special care under the watchful eyes of caregivers.  The high amount of safety as elderly walk around, sit, stand, or use a restroom is the main focus of ergonomics.  Here are some best practices for the safety of the elderly.
1. Seating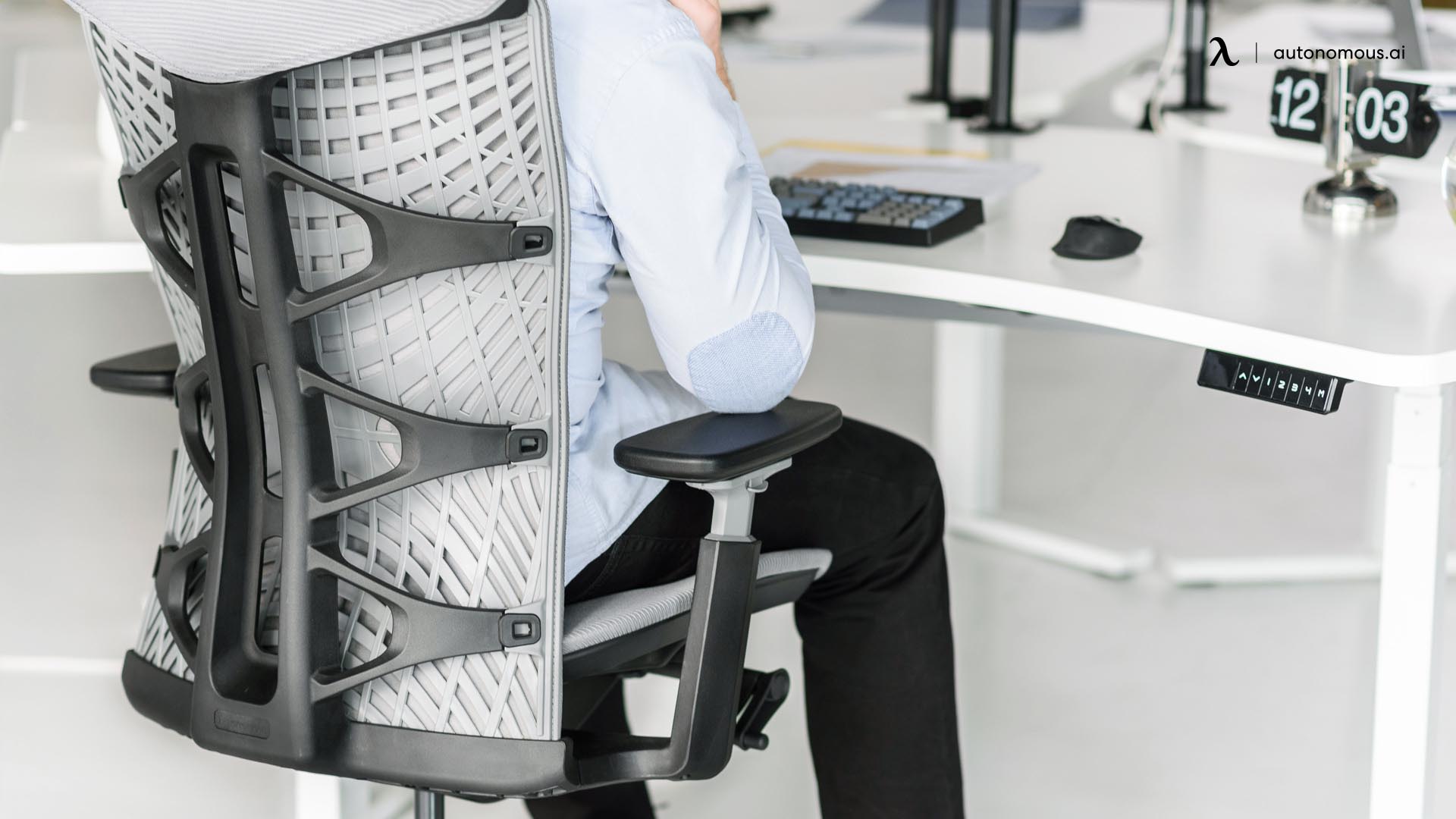 While considering seating, many elderly have the trouble of bending their knees due to arthritis or failing bones.  Seating on a regular chair or sofa becomes troublesome.
The ergonomic design for the elderly requires chairs that may be adjusted for height. This could be just like an office chair when sitting to type or write. With different users having different body types, it is important to maintain the OSHA guidelines, suggested by the Department of Labor, USA. 
An ergonomic chair for elderly needs to have a high back for firm support.  For the elderly, a high back chair is also helpful for moving within a room without any support.
The seats need to be comfortable but have firm support so that the elderly don't sink into the sofas. Getting out of such sofas can be challenging.   Armrests are definitely a plus for the elderly to rest their arms and elbows when reading a newspaper or a book.  Here are some seated exercises for seniors.
2. Walking / Movement
Ensure that any access path is free of any material that could hinder movement. From supportive flooring that is not smooth, makes walking or using wheeled support easy, passages need to be clear.
Ensure passages and corridors are well lit. Room numbers or sign boards are brightly lit for easier reading. Such signage must be placed at eye levels. 
Having a railing or a grab bar on either side of a corridor is most helpful for the elderly.  Don't be surprised to see most elderly folks refusing help. You will notice that they are trying to accomplish all their tasks themselves, as far as possible. Why? It is surely difficult for anyone to rely on someone else as they have been independent all their lives. Don't miss the same rules for assistance when walking down the staircases.  An anti-slip floor is most helpful.  As far as possible, staircases must be avoided.  Use of lifts is most welcome.
The same applies to bathrooms, using the restroom, and more. The need for a grab rail is high and important. Many elderly folks like to deny help to get up from the toilet seat as long as a grab bar is present.
3. Standing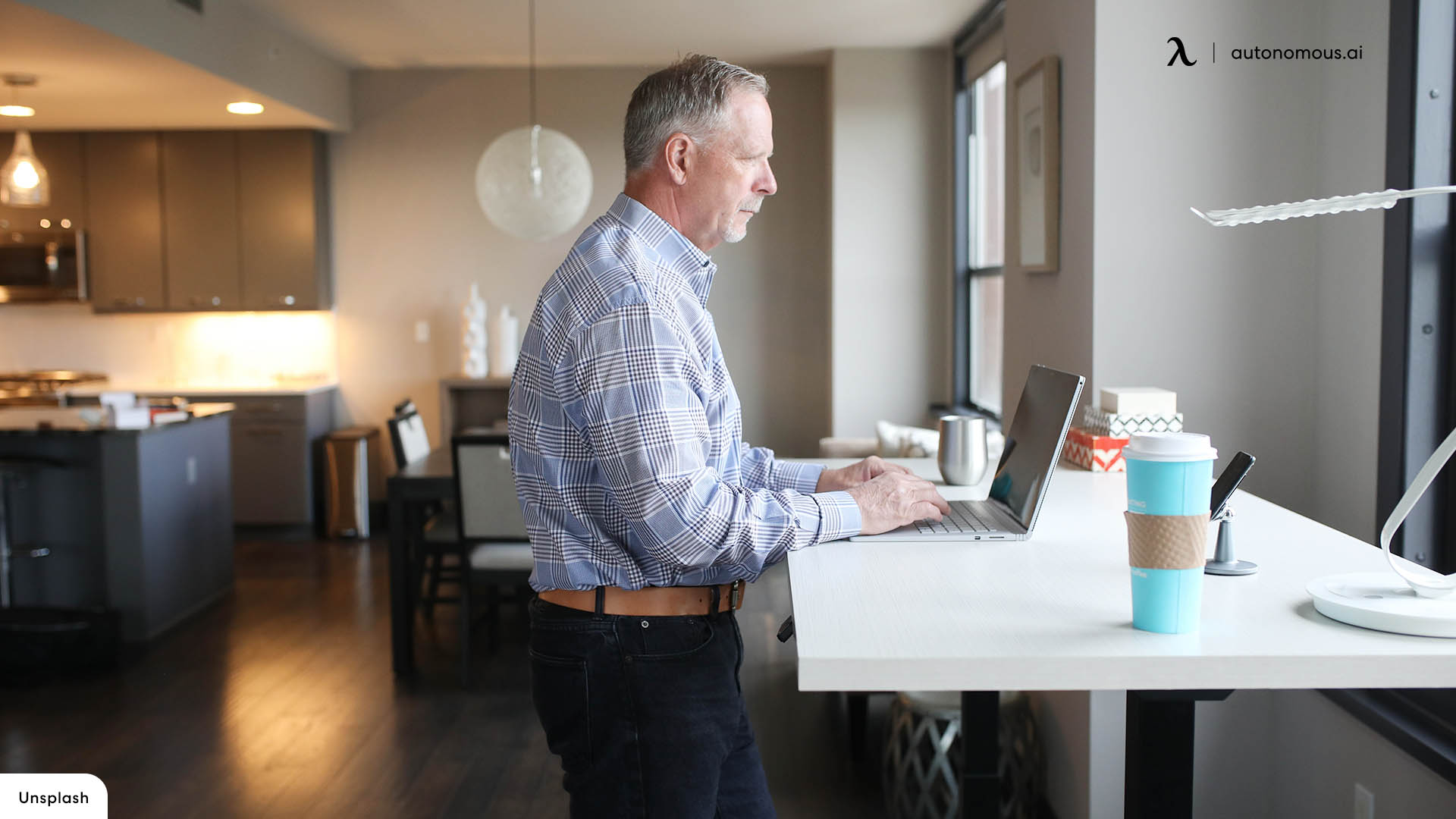 When using a computer, the use of standing desks is strongly recommended.  Why? Standing desks allow every user to either raise the desk to stand and use a system. Or they can lower it to sit and work.  You may offer a standing desk to read newspapers, use a computer system, and more.  For those elderly working on a computer, here are our views on lighting ergonomics for computer users.
You can lower a standing desk to manage the height requirement for those who like to be working sitting in a wheelchair or just seated on an office chair.
4. Holding
Remember that any ergonomic tools for the elderly need to be soft to hold. They must have an easy-to-grip handle. Such handles should be cool to hold hot pans and pans.  This will help avoid heat transmission when having a meal.   Usually, smaller tools, dining equipment that is not too heavy are helpful for the elderly.
5. Safety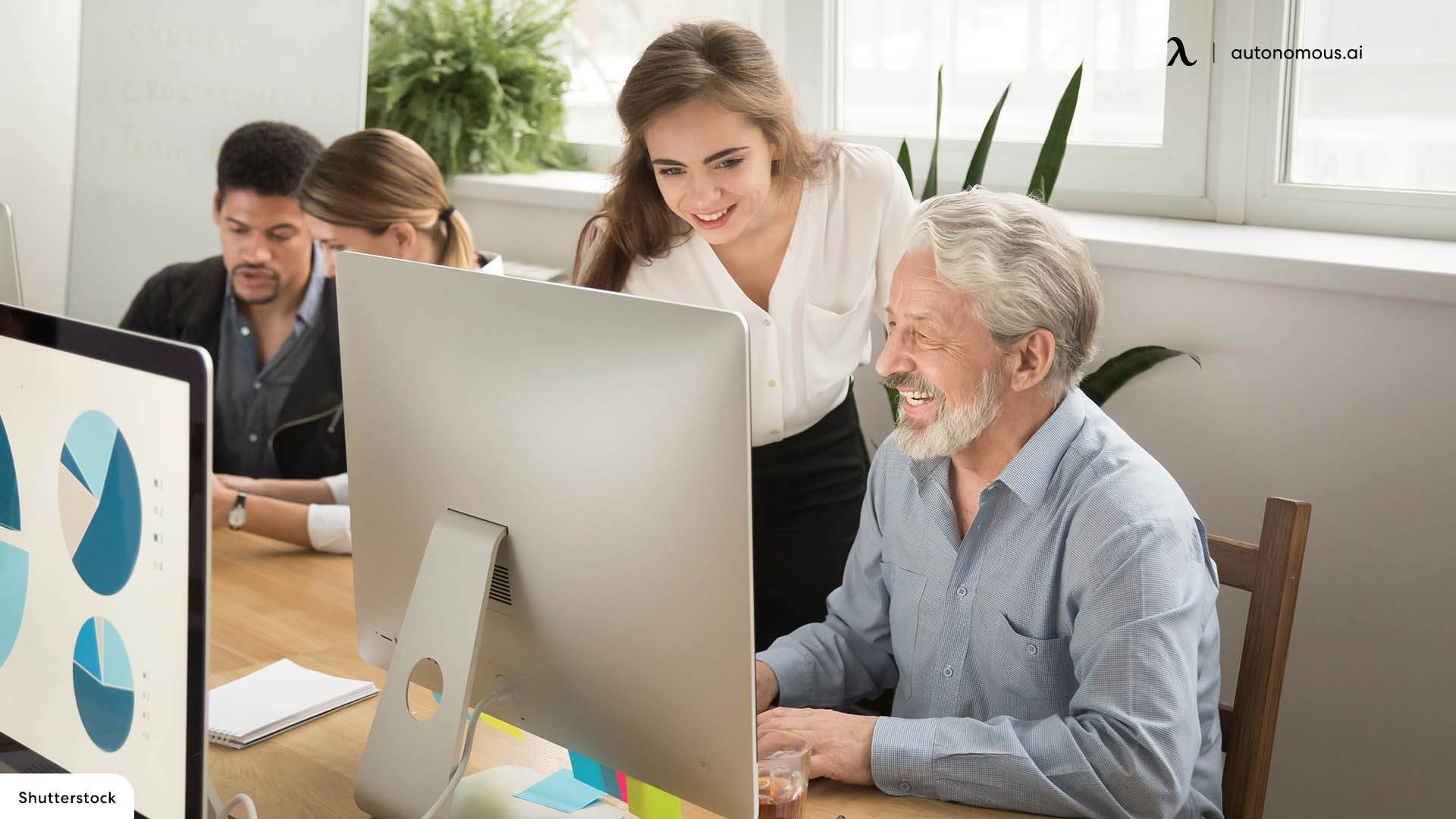 Have you read our review on ergonomic safety tips as the ergonomics for the elderly? Most furniture and other accessories must have rounded edges so that they don't hurt even accidentally.  The need for soft materials that prevent accidents is helpful.  
Avoiding slippery floors is helpful. However, such a floor should allow higher grip for those using roller-walking sticks or a wheelchair.  Floors made from rubber, linoleum, and more, are the best for nursing homes. Why? That is because both these materials are known to offer better grip for most users.  They are slip-resistant.
Most furniture needs to have rounded edges. Hard surfaces are usually avoided.  Most handles and levers are placed at waist level that can be accessed by most elderly, either in a wheelchair or otherwise.
6. Lighting
Most accidents by the elderly happen due to poor lighting. What appears as normal lights to the younger lot may be poorly lit for the elderly. Why? As you grow with age, you tend to have a weaker vision.  To avoid falls, and offer better vision, ergonomics for seniors requires that ambient lighting be stronger, especially in areas where mobility is a challenge.
Wrap-up
The need for ergonomics for the elderly is higher than for the average person. Their safety and overall health are critical when performing day-to-day activities.  Ergonomics is never limited to the age of an individual.  Ergonomics is here to provide comfort and ease in operations to each one.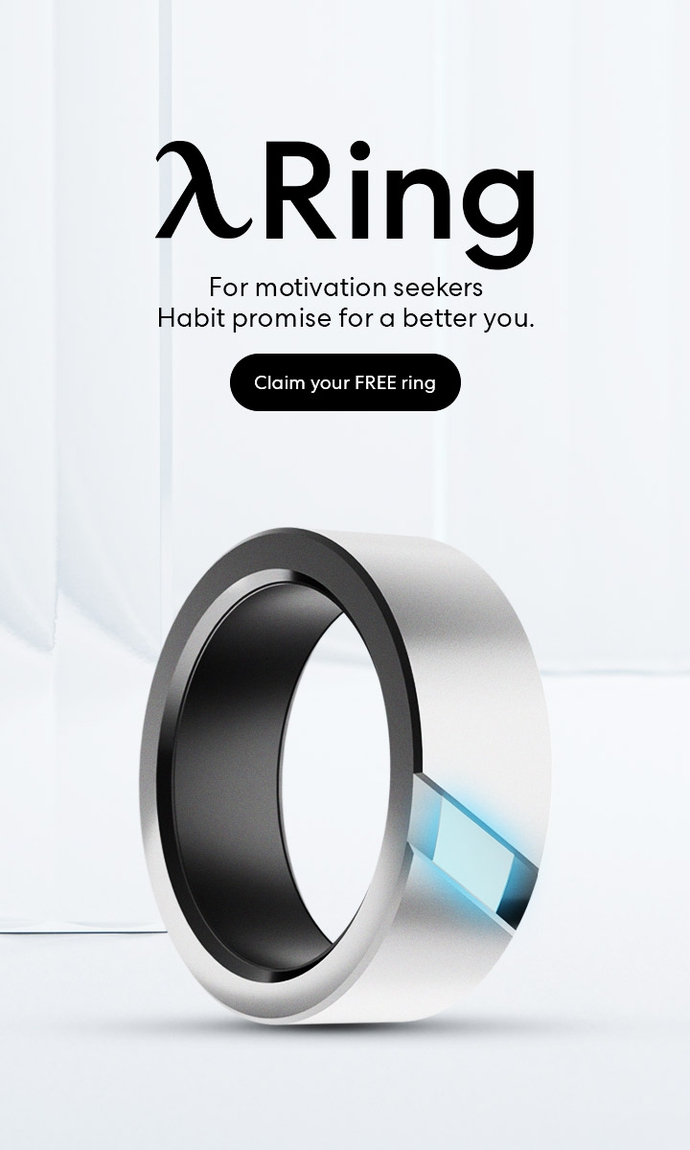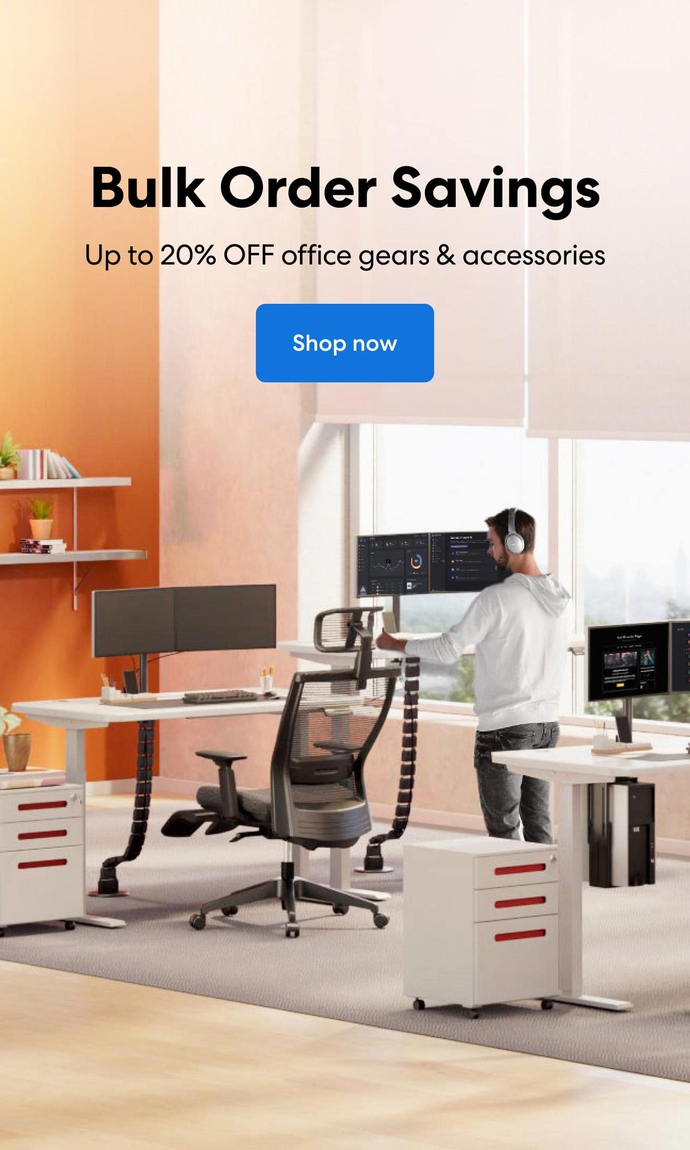 Subcribe newsletter and get $100 OFF.
Receive product updates, special offers, ergo tips, and inspiration form our team.