Putting up your own tiny house or modern cabin may be more feasible than you think. Kit homes, whether large or little, modern or classic, offer exciting options for individuals with high homebuilding ambitions.
This blog post will take you on a captivating journey exploring the allure of arched cabin unique structures and why they make for an ideal housing solution in Texas.
What is an Arched Cabin?
Arched cabin refers to a specific type or design of ADU that incorporates elements of the arched architecture. An ADU is a secondary housing unit located on the same property as a primary residential dwelling. ADUs are often used to provide additional living space for family members, guests, or to generate rental income. They are gaining popularity as a solution to housing shortages and as a means of maximizing land use.
Arched cabins, as ADUs, follow the same basic principles of other ADUs but incorporate the unique arched design. These prefab ADUs typically feature an arched roof structure, which can provide several benefits. The arched roof design offers increased interior space and a distinctive aesthetic appeal. Additionally, the curvature of the roof provides added strength and stability to the structure.
Modern living methods also include a new category, known as arched cabins. These distinct structures are gaining popularity for their exceptional design, versatility, and affordability. Whether looking for a cozy cabin in the woods or a modern backyard office space, arched homes offer many possibilities.
Let's explore the world of arched cabins in Texas, including general permits and requirements, top builders and their products. So let's dive in and find out!
General Permits and Requirements for Arched Cabins in Texas
When planning to build an arched cabin in Texas, it is essential to understand the general permits and requirements set by local authorities. Adhering to these regulations ensures a smooth and legal construction process. Here are the key aspects to consider:
Zoning Regulations
Zoning regulations dictate how land can be used within a specific area. Before proceeding with an arched home project, checking the zoning regulations in the intended location is crucial. Each county or municipality may have its zoning ordinances, which can determine whether arched cabins are permitted and under what conditions. Some areas may have specific design guidelines or setback requirements that must be followed.
Building Permits
Obtaining a building permit is typically a mandatory step for constructing an arched cabin in Texas. The purpose of a building permit is to ensure that the construction project complies with safety standards and meets local building codes.
The requirements for obtaining a building permit vary by jurisdiction but generally involve submitting detailed construction plans, paying the necessary fees, and undergoing inspections at various stages of the construction process. It is important to consult with the local building department to determine the permit requirements for arched home kits.
Foundation Requirements
Arched cabins can be built on various foundations, including concrete slabs, piers, or skids. The choice of foundation depends on factors such as soil conditions, local building codes, and personal preferences.
Complying with the foundation requirements outlined by the local building department is crucial. These requirements may specify the minimum depth and dimensions of footings, the type and thickness of foundation walls, and any additional reinforcement needed for stability and structural integrity.
Utility Connections
Consideration must be given to utility connections when planning for an arched cabin in Texas. Depending on the intended use of the cabin, utility connections for electricity, water, and sewer may be required.
It is essential to determine the availability of these services in the chosen location and understand the procedures and costs involved in connecting to the utilities. In some cases, alternative solutions such as off-grid or self-sufficient systems may be necessary, particularly in remote or off-grid locations.
Popular Sizes of Arched Cabins in Texas
The 8 ft x 12 ft arched design
There is no more compact version than this one. A hunting lodge, storage shed, jacuzzi, bathroom, or just a place to sleep out of the weather would all benefit from this structure.
The 12 ft x 12 ft arched design
This design is best for studio apartments, one-bedroom cabins with kitchens, and other modern shed house ideas, for two or fewer people.
The 12 ft x 10 ft arched design
The standard width of this model is 12 feet; this one measures 14 feet across the middle. These arched cabins are the shape of a teardrop, which can be converted into a bedroom or storage loft.
The 14 ft x 24 ft arched design
A bedroom, full bathroom, kitchen, and modest living space can all fit in this model. It can serve as a small office, art studio, guest house or just as supplemental living quarters for those with sustainable interests.
The 16 ft x 24 ft arched design
This model is ideal for families with its spacious kitchen, dining area, and living room. This arched cabin kit in Texas is ideal for groups that prefer to spend most of their time in the great outdoors but need a secure location to prepare meals and sleep. Other possible uses include a garage, boat dock cover, a larger office, a conference room, or a community center.
The ​​​20 ft x 24 ft arched design
This 20-foot arched DIY cabin design is the most common since it provides adequate family space and a comfortable loft for relaxing. There's plenty of room for a kitchen, living area, and two or three bedrooms.
The 24 ft x 32 ft arched design
This layout is perfect for homes with sizable common areas like kitchens, living rooms, and family cottages. There's enough for up to three or four bedrooms and two or three bathrooms.
The 30 ft x 40 ft arched design
This is the largest cabin design of the arched cabins in Houston, Texas. It's perfect for individuals who need additional family space and prefer to live on the ground level.
Top 3 Builders and Their Products
When building arched cabins in Texas, several reputable builders stand out for their expertise, craftsmanship, and high-quality products. Here are the top three builders and a glimpse into their offerings:
1. Texas Arched Cabins
Texas Arched Cabins is a reputable builder dedicated to creating high-quality arched homes designed to withstand the unique weather conditions of Texas. They have a strong reputation for their attention to detail and commitment to customer satisfaction.
Their arched cabins are built using top-grade materials and expert craftsmanship, ensuring durability and longevity. Texas Arched Cabins offers a range of sizes and customizable options to meet various needs and preferences. From cozy weekend getaways to spacious family homes, their cabins are designed to provide comfort, functionality, and aesthetic appeal.
2. Arched Cabins LLC
Arched Cabins LLC is a well-established builder specializing in arched cabin construction. They have various designs and floor plans catering to different lifestyles and requirements.
Their cabins are known for their versatility and adaptability. Whether you're looking for a permanent residence, a vacation retreat, or a backyard studio, Arched Cabins LLC can provide a solution. They offer customizable options for interior layouts, finishes, and additional features, allowing you to create a space that suits your unique needs.
Arched Cabins LLC strongly emphasizes customer satisfaction, ensuring a smooth and enjoyable building experience. Their attention to detail, quality craftsmanship, and dedication to creating exceptional arched cabins have made them a trusted choice among customers in Texas and beyond.
3. Autonomous ADUs
Autonomous topped our list as the best-arched cabins Texas builder for many years. The company specializes in creating innovative and functional arched cabins. They offer a range of designs to suit different needs and preferences. Autonomous is one of the best-arched cabin companies that ensures you get only the best for your living. Here are 3 of its signature Texas cabin kits.
StudioPod
The StudioPod by Autonomous is a unique arched cabin designed for creative individuals. It provides an inspiring and versatile space for artists, writers, and other creative professionals to work and express their talents. The StudioPod features ample natural light, an open layout, and customizable interior options to create a personalized creative sanctuary.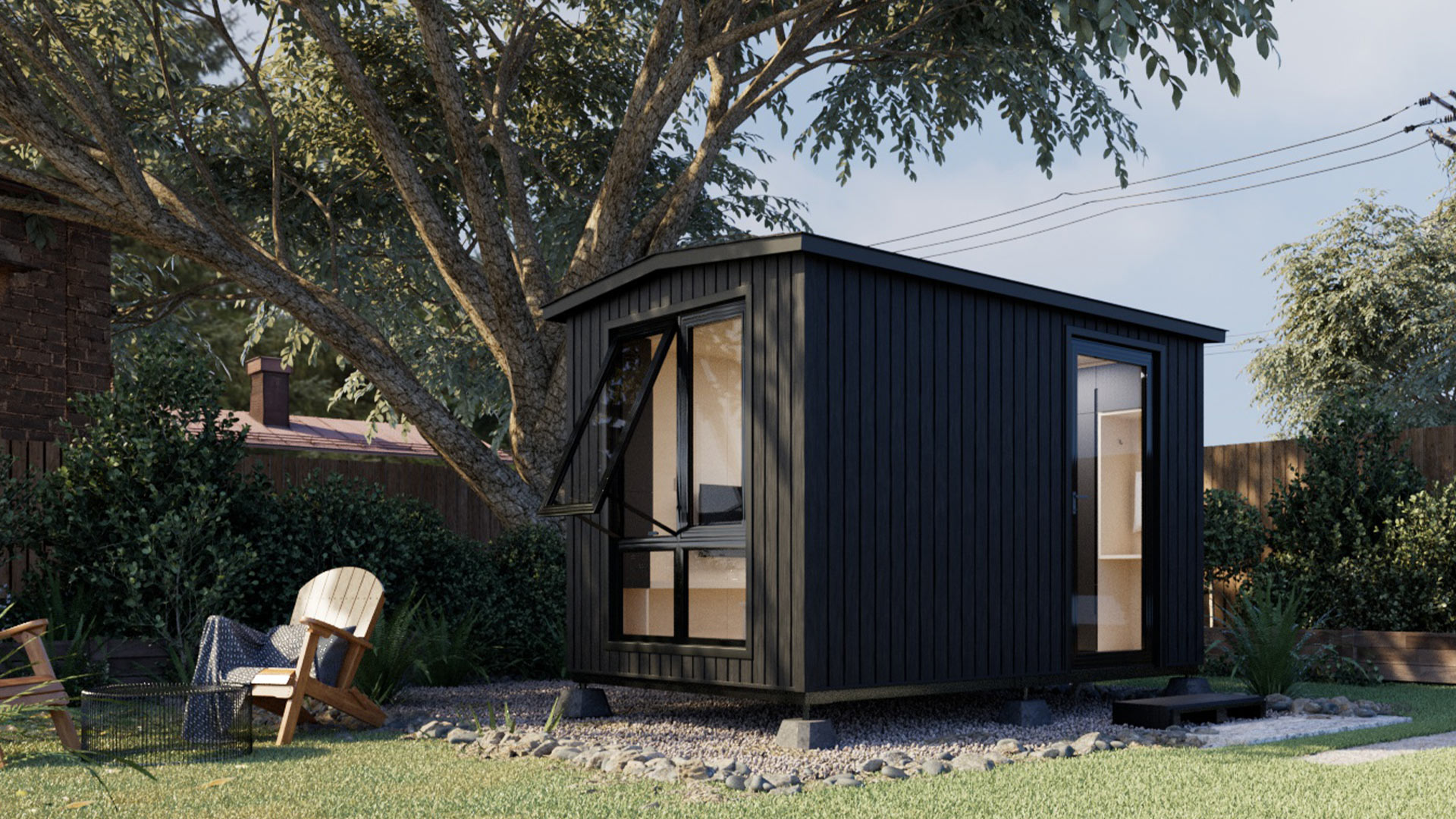 Dimension
8'4"W x 12'6"L x 9'10"H
Floorspace
105 square feet
Ceiling height
7'3"
Weight capacity
2.9 tons
Pedestal
18"W x 43"L x 7"
Window & door material
Powder-coated aluminum,  5/16" tempered glass
Material
Siding: plywood 1/2", steel frame, honeycomb paper, plywood 3/8", bitume, housewrap, vinyl siding
Roof: roof shingles
Floor: plywood
Pedestal: steel frame & wood plastic composite
Electrical devices
RCB, Wall outlet, Ceiling light switch, Ceiling light, Ventilator switch, Ventilator, Ethernet wall port, 66ft power cable with 2 connectors
Include
Optional: Cabinet, Desk, Small & Big Bookshelf, TV Shelf, Foldable Sofa Table, Convertible Sofa Bed. Always included: Electrical Cabinet
Power input
Maximum voltage : 110V AC (US standard)
Maximum current : 25A
Maximum power dissipation : 2750W
WorkPod
The WorkPod is another popular product from Autonomous. This arched cabin is perfect for those seeking a dedicated workspace. Whether you work from home or need a quiet environment to focus on your projects, the WorkPod offers a comfortable and productive setting. It can be customized with ergonomic furniture, storage solutions, and technology integration to create a functional and stylish office space.
Dimension
8'6''W x  11'9''L x 11'H
Ceiling height
6'10'' to 9'4''
Window material
Wooden frame, 5/16" tempered glass
Door material
Anodized aluminum frame,  5/16" tempered glass
Material
Siding: bitumen, housewrap, vinyl silding
Roof: bitumen, housewrap, shingles roof
Floor: plywood
Balcony: composite wood
Include
Optional: SmartDesk Connect, ErgoChair Pro+, Dual Monitor Arm, Cable Tray, Steel Cabinet, Anti-Fatigue Mat. Always included: Electrical Cabinet & Bookshelf
Floorspace
98 square feet
Capacity
2.9 tons
WorkPod Lite
For individuals who require a more compact and budget-friendly option, Autonomous offers the WorkPod Lite. These Texas cabin kits retain the key features of the larger models but are designed for smaller spaces. It is an excellent home office, study area, or guest retreat solution.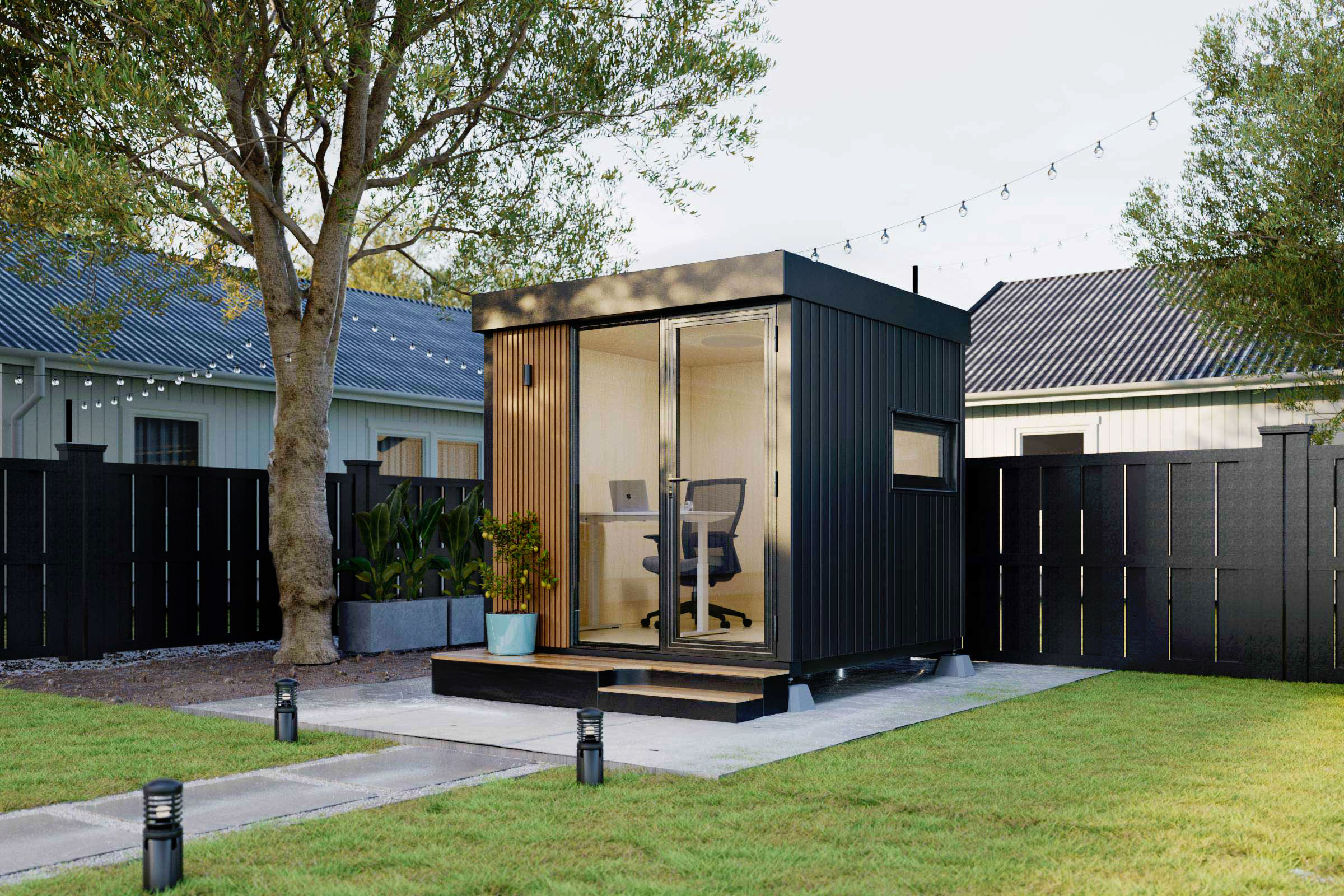 Dimension
8.7"W x 8.12"L x 9.3"H
Material
Window and door: powder-coated aluminum, 5/16-inch tempered glass
Siding: plywood 1/2-inch, steel frame, honeycomb paper, plywood 3/8-inch, bitume, housewrap, vinyl siding
Roof: metal roofing
Floor: plywood
Balcony and Pedestal: steel frame and wood plastic composite
Pedestal
24"W x 103"L x 9"H
Electrical devices
RCB, Wall outlet, Ceiling light switch, Ceiling light, Wall light, Ethernet wall port, 66ft power cable with 2 connectors
Weight capacity
2.3 tons (including Pod body)
Floorspace
80 square feet
Ceiling height
7.3-inch
Arched homes present an exciting and innovative housing alternative in Texas. Whether interested in a backyard office, a creative studio, or an autonomous ADU, these unique structures offer endless possibilities. By understanding the general permits and requirements, exploring the offerings of top builders, you can make an informed decision when venturing into the world of arched homes. Embrace the charm and versatility of these designs, and discover a new way of living that combines functionality, aesthetics, and affordability.
6 Simple Steps to Obtain Your Own Arched Cabin
Step 1: Reach out to the company
You should contact the arched cabin company in Texas first if you're interested in their cabins. Use the designated form on the contact page, and the CR team will respond to you as soon as possible.
Step 2: Look for financing
The company offers hearth financing to assist its customers in a better way. There will be no negative impact on your credit score from this "soft" inquiry. Many of their customers use a construction loan or line of credit to pay for their arched cabin rather than utilizing the company's own financing options.
Most arched cabins in Texas aren't considered permanent, so it's best to refrain from advertising that you're constructing one. However, arched cabins kits in Texas are built to last and are permanent homes. Therefore, to acquire a loan without any hassle, just explain that you're building a house out of metal for the roof and the structure.
Step 3: Acquire land
The next step is to locate an ideal spot for your arched cabin. Finding land can be difficult if you have yet to determine where you want to settle. First and foremost, be aware of any restrictions placed on the property by the HOA or other parties. Most rural areas shouldn't provide any problems, but urban areas require extra caution. However, due to the permanence of the arched cabin in Texas design, such limitations are unusual.
Step 4: Select a cabin
Next, you'll need to pick a cabin, so head to the company page to narrow down your options. You'll have a ton of possibilities, and you can pick from a rainbow of colors!
Step 5: Authorization and drafting
In some locations, you won't require a permit, but in others, you'll need architect and engineer designs that have been signed and stamped. In any case, arched cbin constructions rarely have trouble obtaining necessary permissions.
To begin, email the company the generic technical drawings and build instructions. This will allow arched cabins in Cyprus, Texas, to familiarize your local permitting agency with the concept of an arched cabin. Since their plan is typically approved quickly because it is seen as a long-term building, this might be all you need.
Step 6: Hire a professional contractor
Finding a reliable contractor is the final step. The arched cabin kits in Texas are designed to be easy to assemble for any contractor. You or your contractor can quickly and simply reach out to them via their site if any questions arise during the construction process.
You may require generic technical drawings, specifications, or a build manual to show your prospective builders while construction.
Conclusion
To become the proud owner of an arched cabin, you'll need to do more than just order a kit and follow the included instructions. It's more about embracing the minimal lifestyle of a modular ADU and enjoying the surrounding nature. Get yours now and enjoy the experience.
Video ads for product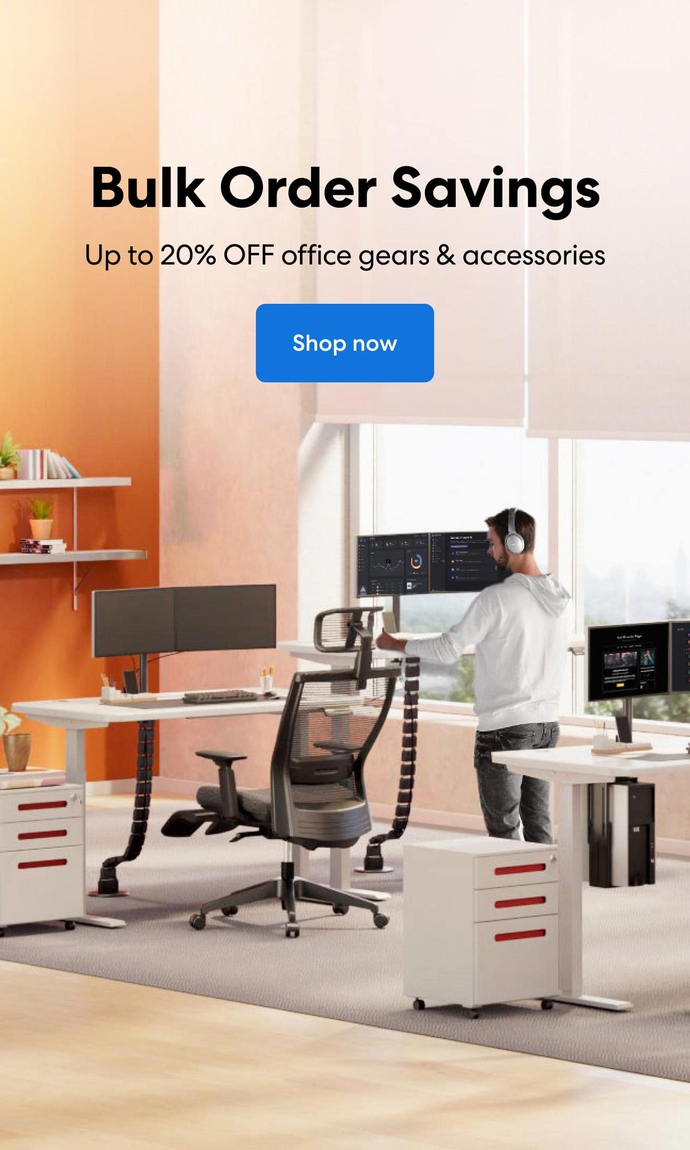 Subcribe newsletter and get $100 OFF.
Receive product updates, special offers, ergo tips, and inspiration form our team.