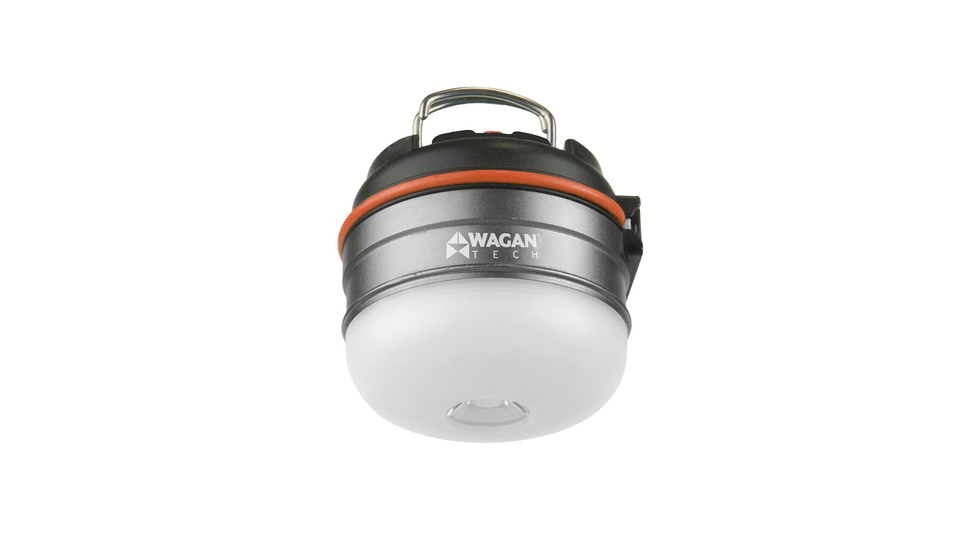 Wagan Brite-Nite Duo USB Lantern: Lantern
Buy now
Add to cart
FREE shipping Dec 08 - Dec 11. FREE 30-day returns.
Sold and shipped by Wagan
• Dimmable Floodlight and Spotlight • Rechargeable Power Bank • Charging Cable Built-in • Hanging Hooks & Magnetic Base • LED Lighting
• 1-year warranty
Our DUO will certainly light up your life. Utilizing a rechargeable LiPo battery, it is ideal for camping, hiking, emergencies, power outages, and other night-time activities. With the powerful magnets, folding hanging hooks, rubber anti-slip feet, multiple lighting modes, and multi-function design, the DUO USB Lantern will make your next adventure conveniently bright. As a Lantern The Brite-Nite Dome USB Lantern is an exceptional area light. Hanging from a tree or rope, on the picnic table, in the tent, under the hood of your car, or hanging from a backpack, the DUO is a multi-function lantern that provides brilliant wide-area illumination where you need it. With a solid 120° flood pattern and frosted lens, the DUO shines out... easily illuminating your campsite or work space. With the addition of a dimming feature, finding the "perfect amount of light" is easier than ever! As a Flashlight Producing 170 lumens on high, the DUO is an great pathway light for seeing the trail ahead of you. Dimmable down to 10 lumens, you can use the spotlight for close-up work too! How to Use 1- Press the power button once to activate the battery charge LEDs and the USB charging output port 2- To turn the Spotlight on in high mode, simply press the power button once more 3- Press the button again to turn on the lantern (spotlight will stay on too) 4- Press a fourth time for the lantern only mode 5- Press again to turn DUO off To use the dimming function: In any lighting mode, simply press and hold the power button to dim - release at any point when your desired light level is reached. Recharging the DUO & Your USB Powered Devices The DUO has a rechargeable internal battery that can be charged from nearly any USB power port: Computer USB Power Port Phone Charger Solar Panel or other USB power supply In addition to easily recharging the DUO, you can charge your USB powered devices from the DUO. Smartphone GPS Wearable device (Watch) Headphones or Power a USB appliance (like a USB Fan) When to Use Simply use the DUO any time you need light! Whether you are doing work around the house, camping, hiking, or for emergencies on and off of the road, the DUO will deliver the light you need no matter where you are! The uses for the DUO are only limited by your imagination: night time games, pathway lights, marker light, worklight, area light, under the hood light, emergency light, and a safe alternative to traditional fuel lanterns, the DUO is destined to be your best outdoor light!
Deep dive into specs