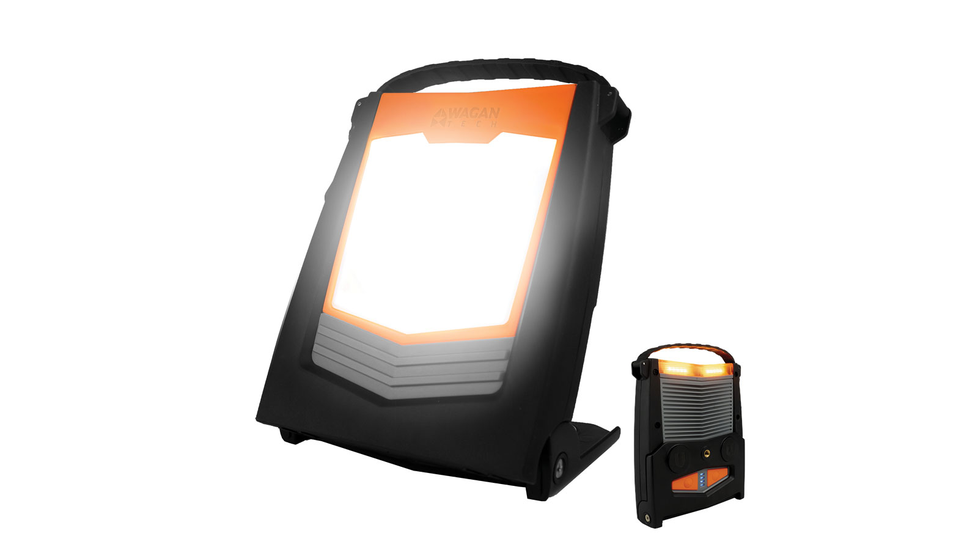 Wagan Wayfinder XL: Work Light
Buy now
Add to cart
FREE shipping Dec 09 - Dec 11. FREE 30-day returns.
Sold and shipped by Wagan
• 1000 Lumen Dimmable White LED • 3-Mode Safety Orange Light • Rechargeable Li-ion Battery • Adjustable Magnetic Stand with 1/4-20 tripod mount • Built-in Recharging Cable • Pass-Thru Adjustable Handle
• 1-year warranty
Wayfinder XL The National Highway Traffic Safety Administration (NHTSA) and Department Of Transportation (DOT) recommends every vehicle carry a flashlight and road flares. The Wayfinder XL satisfies those recommendations by providing a 1000 Lumen Rechargeable LED worklight on the front and a safety orange LED light on the reverse side. Front: Dimmable Worklight with Memory function On the front of the Wayfinder XL is a dimmable 1000 lumen LED worklight. This extremely bright white light is able to illuminate you and your vehicle; adding better visibility for passing motorists on the road. The light is step-dimmable from 1000 lumens all the way down to 50 lumens and has a memory function that turns the light on at the last brightness setting used. Rear: 3-Mode Safety Hazard Flasher On the rear you'll find a safety orange LED warning light. This light faces oncoming traffic and alerts them to your position; helping them to see you and avoid a collision. The safety-orange LED light has three modes: solid on, pulse, and flashing. Rechargeable Battery Featuring a rechargeable lithium-ion battery, the light is easily recharged from any USB charger. You'll never have to look for a way to recharge the work light as the charging cable is built-in! Features As you'd expect of any Wagan Tech lighting product, the details are what makes the device. The Wayfinder XL features a strap-type handle that is adjustable and opens up allowing the light to be easily hung. A folding stand allows the user to position the light at any desired angle, while the embedded magnets ensure the light remains stationary when placed on a metal (ferrous) surface. We also added a common 1/4-20 UNC camera thread for mounting the light to a tripod, any other camera-related accessory. Uses The Wayfinder XL is not only a road-side emergency light, it is the perfect camping and around-the-house light too! Hung from a tree or placed on a vehicle's roof, the Wayfinder XL illuminates the entire campsite. As an added bonus, using the safety orange light on the rear may help decrease the amount of insects around the light.* When working on the car or doing maintenance around the house, the Wayfinder XL is a brilliant solution to your lighting needs!
Deep dive into specs