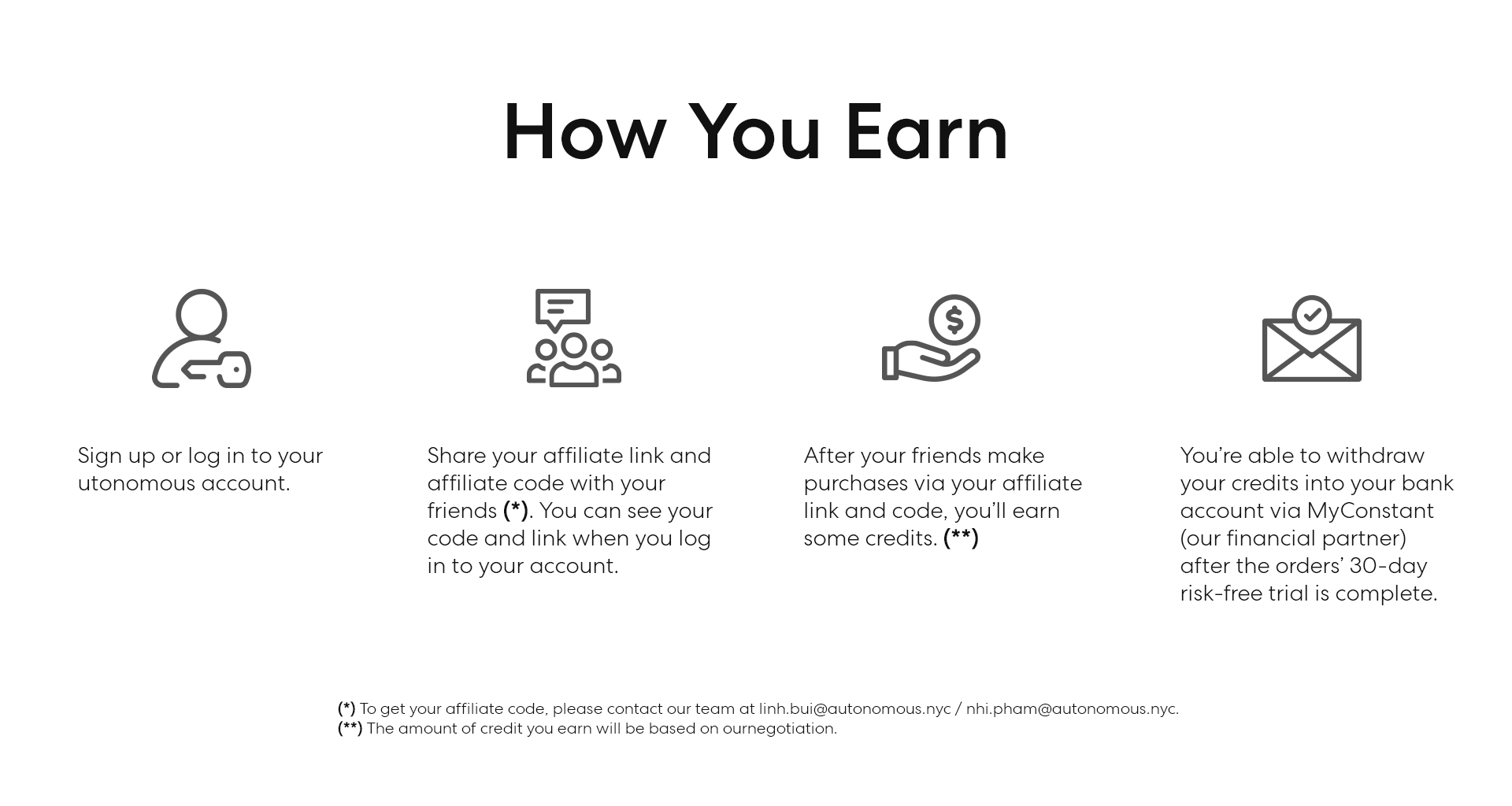 FAQs
1. When will I get my affiliate rewards?
After the initial 30-day trial period for your referred orders, you will get your affiliate rewards. As soon as your rewards are available, you'll instantly receive an email explaining how to redeem your money.
2. How do I get my unique affiliate link?
Simply sign up for an Autonomous account (or log in if you already have an account). Then, on the affiliate page, you will have 2 options: you can copy your affiliate link to your clipboard to share with your friend, or post it on your social media channels.
3. Does the affiliate program apply to discounted items?
No. Our Affiliate Program does not apply to discounted promotional items. If your friend uses your affiliate link to buy items on sale, you will not earn any credit.
4. How to get my personalized affiliate code?
5. What if someone visits the website via the link of affiliate A but then inputs the code of affiliate B?
The code takes priority and the earned money will go to affiliate B.
6. How can I withdraw my credit into cash after the orders passed a 30-day trial?
You can follow these steps to withdraw your credits into your bank account: Click here for more information.
7. Why isn't my affiliate code working?
This code can not be applied to this transaction because the referee has already visited our site via another affiliate link this week. In order to apply a code, please ask them to visit our website on another browser and apply the code at the checkout page.
8. If my friend visits the Autonomous website via my affiliate link, but uses another promotion discount code from elsewhere. Do I still receive any rewards?
No, you will not be eligible to receive any reward/commission. When referring your friends to Autonomous, make sure that you share your affiliate link together with your discount code.
9. Can I share my affiliate link &/or discount code on other coupon sites like Honey or Offers?
No, you may not share your affiliate link or discount code on any coupon sites or e-commerce platforms such as Honey.com or Offers.com. This is considered unfair, not just to Autonomous but to other referrers also, & is a direct conflict of interest with our own affiliate partners. We will immediately ban your account if you are found doing so. You will not be eligible to receive any rewards from referral orders made via this action.