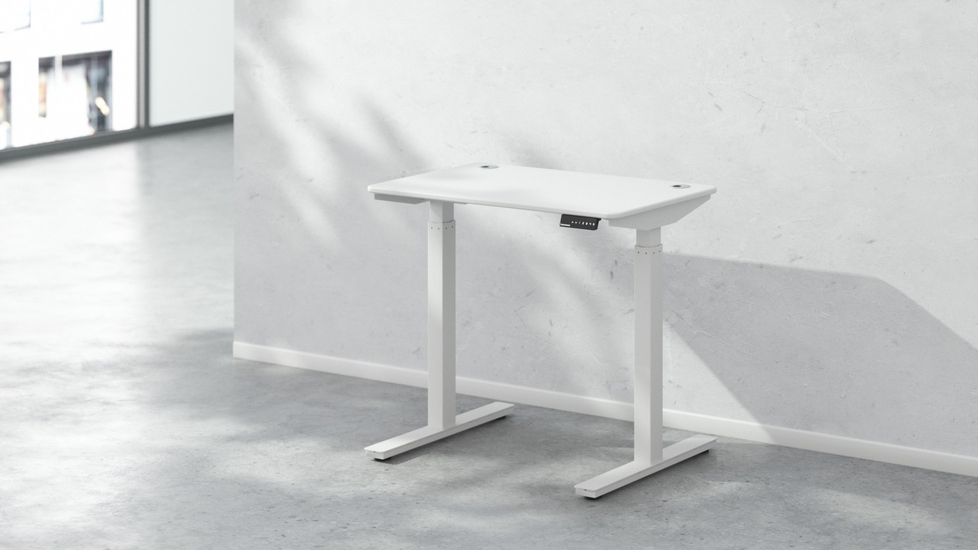 Autonomous CompactDesk Core
- Autonomous CompactDesk Core
Ships by Apr 27. FREE 30-day returns.
Sold and shipped by Autonomous.
Autonomous CompactDesk Core at a glance.
Short on space but big on movement? With an Autonomous CompactDesk Core you get the same full range of height adjustability, the same load bearing strength, & the same whisper quiet performance as its big brother. With a smaller footprint, the CompactDesk Core provides greater potential & versatility to perform in any sized space.
• Lifts 265 lbs with ease
• Solid steel frame
• Electric dual motor
• 2-stage frame
• Height-adjustable between 29.4" to 48"
• 4 programmable keypad settings
• 43"L x 24"W desktop with pre-drilled holes
• 5-year warranty
Deep dive into specs
About Autonomous CompactDesk Core
Over the last several years, standing desks have proliferated in both homes and workplaces. This is due to the fact that more and more individuals, particularly computer-based independent contractors, are becoming aware of the health advantages they may provide. There are currently many alternatives available to suit a variety of businesses and purposes. Especially now that the internet is so widely used, office workers, independent contractors, and company owners all spend a great deal of time sitting down. More and more people are opting to work from home. You must sit at a desk or hold a computer on your lap to utilize one, to solve your problems, small standing desk options are here as a solution. On the other side, prolonged periods of inactivity may eventually be detrimental to our health and happiness. In addition to causing poor posture, back discomfort, and an increased risk of heart disease and diabetes, prolonged durations of sitting are detrimental to your health in many other ways. A good compact standing desk can solve your problems.
Why Go For A Small Standing Desk?
The ability to modify a small standing desk (electronically) allows users to flexibly move between the desk's two functions depending on the circumstance. Some high authority compact desk options additionally include a memory bank of pre-programmable desk heights, allowing you to pre-set your preferred desk height and switch between those heights with the touch of a button. This mini desk will solve all your problems and office health problems as well. Although there is still much to learn in this area, new research has revealed that active working and sit-stand postures improve oxygen and blood flow to the brain. This may help to explain the rise in focus and productivity as well as the improvements in our feelings and ability to maintain a high level of energy.
Helps You Lose Fat & Keeps You Healthy
Nowadays, obesity is a widespread issue due to the use of fast food and a lack of a healthier life. Research has shown that spending a lot of time sitting at work contributes to obesity. In fact, it's thought that chairs really do kill people. Long periods of sitting not only encourage the formation of fat but also slow down your body's metabolism. Less sitting and more standing is the wellness code. So once again, having a small standing desk may definitely help to keep staff committed to the wellness code. It is recommended that someone get up and walk around every half an hour to maintain their physical and mental fitness. Standing workstations may significantly improve both physical and mental well-being.
Reduces Blood Sugar & Back Pain
After eating, a worker who prefers to get up or take a short stroll is less likely to have an increase in blood sugar. However, that is not how reality works. Employees often return to work immediately after eating, which raises their blood sugar levels. Compact standing desks may prevent these problems from arising from prolonged sitting right after meals. Additionally brought on by prolonged sitting, backaches may be treated using a compact standing desk. They assist you in changing positions at regular intervals, minimizing the negative consequences of extended sitting. Therefore, using mini desks in your office might assist the staff in overcoming back discomfort and associated problems.
For Small Spaces
Lack of room for a useful compact desk is one of the obstacles to working in a tiny office or dorm. The usual standing desk for small spaces, which is 47" to 59", will take up the whole room in your flat. Small standing desks are ideal for small spaces since they are the best option for your space issues.
Height Adjustability
It's height-adjustable, ranging from 26.2 inches to 52 inches, so you may sit, stand, and anything in between in the comfort of your desired posture.
FAQs
Don't see the answer to your question?
Can I use PayPal to pay for this desk?
Due to transaction limits, we can only accept PayPal payments from the 1st to the 15th of every month. PayPal's account policy permits us to accept a limited volume of payments per month, and with current sales volume, we normally reach our limit by the 15th.
This SmartDesk is available in the US only. We are considering worldwide availability so stay tuned for updates.
How long does shipping take?
Once your order is processed (less than 1 business day), shipping takes 3-5 business days for continental US addresses and 12-15 days for international orders.
Can you give me more information about your 30-Day Trial policy?
If you don't like your desk, we'll take it back. It's that simple and easy. You have until 30 days after delivery to build and use your desk. If you change your mind, you can then request to return the desk for a full refund (we even cover shipping!), no questions asked. This policy applies to all desks delivered inside continental U.S. and returned in their original packaging only. International orders do not qualify for this program. Please note that the returned standing desk needs to be in its original packaging. If not, we reserve the right to refuse your request.