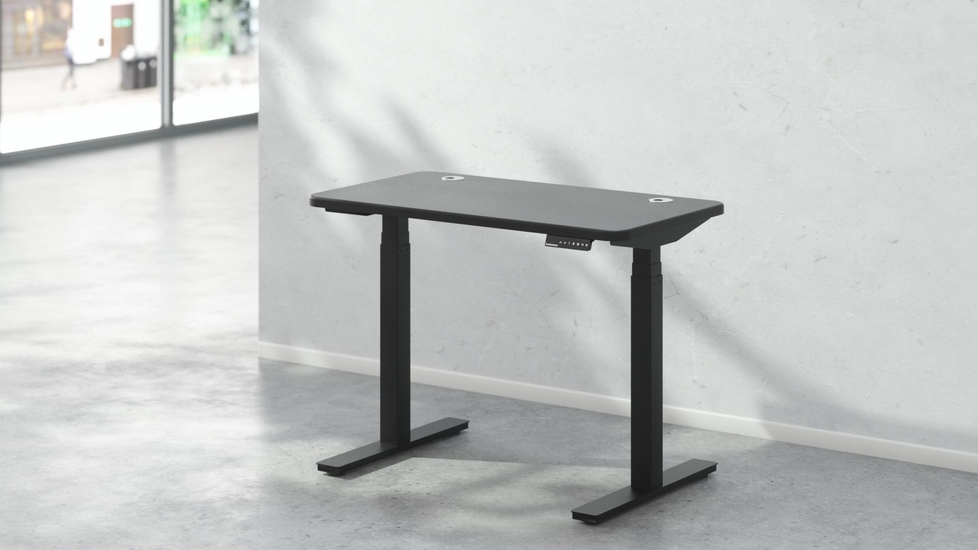 Autonomous CompactDesk Pro
- Autonomous CompactDesk Pro
FREE shipping Mar 30 - Apr 03. FREE 30-day returns.
Sold and shipped by Autonomous.
Autonomous CompactDesk Pro at a glance.
More height range & more load bearing power than the Core. The Autonomous CompactDesk Pro is perfect for anyone that's tight on space but still needs an ample size work surface for big ideas & free movement. With a smaller footprint than the original SmartDesk range, the CompactDesk Pro provides greater potential & versatility to perform in any sized space.
• Height-adjustable from 26.2" to 52"
• 43"L x 24"W desktop with pre-drilled holes
• 4 programmable settings
• Upgraded electric dual motor
• Quieter at just 40 dB
• Improved load capacity of 310 lbs
• Solid steel frame
• 7-year warranty
Deep dive into specs
About Autonomous CompactDesk Pro
Our health and happiness may ultimately suffer from extended periods of inactivity. Prolonged periods of sitting are bad for your health in many other ways, such as producing poor posture, back pain, and a higher risk of heart disease and diabetes. Your issues may be resolved with a decent standing desk. Compact standing desk options have become more common in both households and companies over the last several years. This is because more and more people—especially independent contractors who use computers—are learning about the potential health benefits of these jobs. There is presently a wide range of alternatives that may be used for various enterprises and purposes. Office employees, independent contractors, and business owners all spend a lot of time seated, especially now that the web is so commonly utilized. Working from home is becoming more and more popular. Small standing desk choices are available as a solution to your concerns rather than requiring you to sit at a desk or use a computer on your lap.
Reduce Back Pain & Heart Disease Risk
80% of individuals will have back discomfort at some point in their lives, and office employees who are sitting all day often complain about it the most. The effects of utilizing a heigh adjustable compact desk on office employees with chronic back pain have been the subject of several types of research. In 2011, the "Take-a-Stand Project"1 discovered that participants' upper back and neck discomfort decreased by 54% when they stood for an average of 66 minutes during the workday. For more than 60 years, researchers have been researching the advantages of standing at a mini desk! In a bus conductor research conducted in 1953, it was shown that standing all day reduced the incidence of heart disease-related mortality by half compared to bus conductors who sat.
Less Weight Gain & Risk Of Diabetes
A compact standing desk burns 750 more calories weekly. We all understand that eating more calories than the body uses often leads to weight gain. More than 44% of office employees claim to have put on weight since starting their current position, and 53% of those claimed to think their prolonged desk work was to blame. What if you could reduce your effort to almost nothing while working and burn calories? Although a rise in blood sugar is normal after eating, those who experience significant increases in blood sugar have a considerably increased chance of developing diabetes. Increases in blood sugar have also been connected to an overall feeling of ill health.
Increasing Productivity
The capacity to do everyday duties like typing or taking phone calls is a typical worry among individuals interested in a small standing desk. Although standing while working may take some becoming accustomed to, users of compact standing desks report no detrimental effects on their everyday activities.
Dual Motor
Its twin motor capability allows it to lift 265 lbs. at under 50 dB. While bearing its maximum weight, it moves 1.1" per second and maintains absolute stability.
Small Standing Desk Helps Save Space
Get a small standing desk since it takes up very little room and will help you make the most of tiny spaces for a better work environment if you don't have enough room for your work area or want to work from home but don't have a separate room to establish your modern home office.
Utilizing A Small Standing Desk with Autonomous
The ideal method to utilize a standing desk, according to experts, is to stand for a bit, sit, and then stand again. Several times a day, repeat this. Start by standing at the standing desk for small spaces for no more than 30 minutes at a time, many times each day. Add an hour, then as soon as you feel comfortable, add two or more hours. In order to position your body correctly, move the standing desk around to adjust properly. When you stand, your spine, neck, and head should be in a straight line. Additionally, while your wrists are level on the surface, your elbows should make a 90-degree angle. Set the computer display so that it is at eye level. Put on relaxed footwear with either no heel or a little heel. For added support, stand on a padded mat.
FAQs
Don't see the answer to your question?
Can I use PayPal to pay for this desk?
Due to transaction limits, we can only accept PayPal payments from the 1st to the 15th of every month. PayPal's account policy permits us to accept a limited volume of payments per month, and with current sales volume, we normally reach our limit by the 15th.
This SmartDesk is available in the US only. We are considering worldwide availability so stay tuned for updates.
How long does shipping take?
Once your order is processed (less than 1 business day), shipping takes 3-5 business days for continental US addresses and 12-15 days for international orders.
Can you give me more information about your 30-Day Trial policy?
If you don't like your desk, we'll take it back. It's that simple and easy. You have until 30 days after delivery to build and use your desk. If you change your mind, you can then request to return the desk for a full refund (we even cover shipping!), no questions asked. This policy applies to all desks delivered inside continental U.S. and returned in their original packaging only. International orders do not qualify for this program. Please note that the returned standing desk needs to be in its original packaging. If not, we reserve the right to refuse your request.