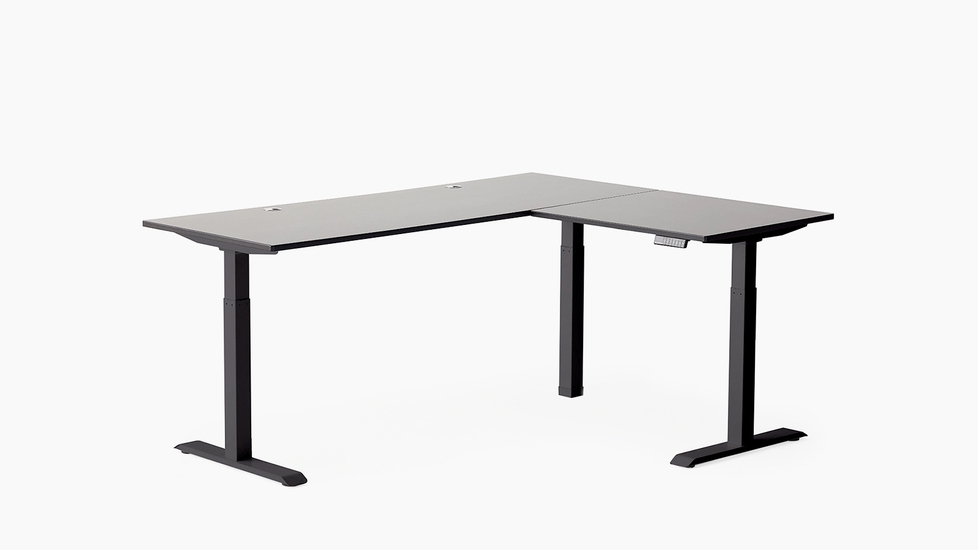 Autonomous SmartDesk Corner
- L Shaped Standing Desk
Bought by 100+ Intel employees
Shipping Mar 29 - Mar 31
Sold and shipped by Autonomous.
Shop 5+ items, get FREE GIFTS!
Limit of 1 gift/unit ordered.
Autonomous SmartDesk Corner at a glance.
The corner office. More space for your creativity, and more power for everything you've got to get done.
• Twice the space
• Whisper-quiet triple motor
• Weight capacity of 400lbs
• Solid steel frame
• Height-adjustable from 29.4" to 48"
• 4 programmable settings
• Modular segments for the perfect fit
• Every SmartDesk Corner comes with a free Cable Tray
• 5-year warranty
Deep dive into specs
Why Choose a Black L-Shaped Standing Desk for Your Office
Elegant & Modern Look to Fit with Any Workspace Design
A black L-shaped office desk is equipped with a sleek design that holds the ability to enhance the entire look of your office and provide it with a modern, elegant, and professional appearance. Many consider this black L-shaped standing desk to be an ode to minimalist beauty. However, this beauty is also equipped with kid-friendly and aesthetically pleasing features, one being the rounded corners included in the design of the black L-shaped office desk. When incorporating this black L-shaped executive desk into your office, you ensure that you look like you mean business and aids in making your workspace appear more professional and well-put-together. The beauty behind incorporating a black L-shaped computer desk into your office is that it can fit with your existing workspace design. This is largely because the design of a black L-shaped corner desk is known to be incredibly versatile and sleek. Thus, it holds the ability to work with any décor it's placed with. This makes it easier and more cost-effective to incorporate into your office without having to spend additional money on new décor to help fit the black L-shaped office desk into the existing design of your work area.
Corner Standing Desk Provides More Desk Space
One of the most well-liked features surrounding a black L-shaped corner desk is that you can utilize the space of your working area more effectively. When using a black L-shaped standing desk, you can perfectly fit the desk into your office's corner space. This aids in opening your desk area. However, you don't just get additional office space by incorporating a black L-shaped computer desk into your office space. You also get more desk space. This is because an L-shaped desk is designed with a larger desktop than traditional desks. In most cases, you're granted double the workspace to that of more traditional-sized black L-shaped standing desk options. Thus, you have more space to work with on your desktop and in your office with the inclusion of a black L-shaped executive desk.
Black SmartDesk Corner from Autonomous
High Quality Top Design to Customize Your Style
Autonomous has specifically designed all its office desks, including the black L-shaped standing desk, with the most durable and high-quality products. This has been done because the Autonomous manufacturers believe that any standing desk is a valuable investment that needs to be durable. Thus, the Autonomous black L-shaped computer desk is equipped with a high-quality MDF wood desktop. Due to this, you're offered the most durable and high-quality design when investing in a black L-shaped standing desk from Autonomous. When purchasing a black L-shaped standing desk in a variety of corner standing desk options from Autonomous, you're provided with the ability to build it the way that you want it. This black L-shaped corner desk is designed to be modular. Thus, you have the ability to mix and match the longer and shorter pieces making up the L-shaped desk. Doing this allows you to fit the desk exactly to the specifications of your workspace. Thus, you're able to gain a customizable desk without having to pay the high price commonly associated with customized office equipment. Not to mention, the assembly of this black L-shaped executive desk is pain-free and includes a simple instruction guide with all the tools and screws you're going to need to conduct this installation process. More than this, you also have access to the handy assembly tutorial video for a step-by-step visual guide that's available on the Autonomous website.
Strong Standing Desk Frame
The manufacturers at Autonomous are experts in what they do, which means that those with extensive knowledge and experience build the construction of the Autonomous black L-shaped corner desk. This impressively vast knowledge and experience aids in offering a robust standing desk frame design. The Autonomous black L-shaped office desk includes a robust triple-motorized and rock-solid SPCC steel frame for added durability. It ensures that you can transition from a sitting to a standing position effortlessly. This electric system has the ability to carry a maximum weight capacity of 330 lbs, which ensures that all of your office equipment can be held up by this black L-shaped standing desk.
FAQs
Don't see the answer to your question?
Does the SmartDesk Corner's keypad a memory keypad?
Yes. The L-shaped standing desk is provided with a memory keypad. You come to the height that suits you then select a number on the keypad to memorize this height. Next time, you just need to press the number and leave your hand free, the desk will move itself.
Which types of motor do you use for the L-shaped SmartDesk?
The motor type used for our L-shaped standing is similar to the motor used in other SmartDesk versions. Because this corner standing desk is a large one and has 3 legs, each leg of the desk is powered by a lifting motor to carry up to 330Lbs. Now enjoy your bigger space.
I see on your website the limited color options for this corner standing desk, can I buy your L-shaped standing desk in different colors or matte desk top?
Hi, due to the high production cost of the SmartDesk Corner, we only select and sell the color options that are most chosen from our customers so far. In the near future, we have not had any plan to produce other color options or matte desk top for the L-shaped standing desk. We hope you will be happy with the models we offer now on the website. We will definitely introduce more options which customers show a large interest in.
How many parcels exactly will you ship the L-standing desk in?
The SmartDesk Corner will be shipped into 3 separate parcels including 01 package for the desk top and 02 packages for the desk frame.
Which country do you sell L-Shaped standing desks in? Is it limited inside the US?
Hi, even though a lot of customers show interest with our L-Shaped standing desk, the SmartDesk is only available in the US and Canada due to the high shipping fee and taxes which can double the price of this corner standing desk.