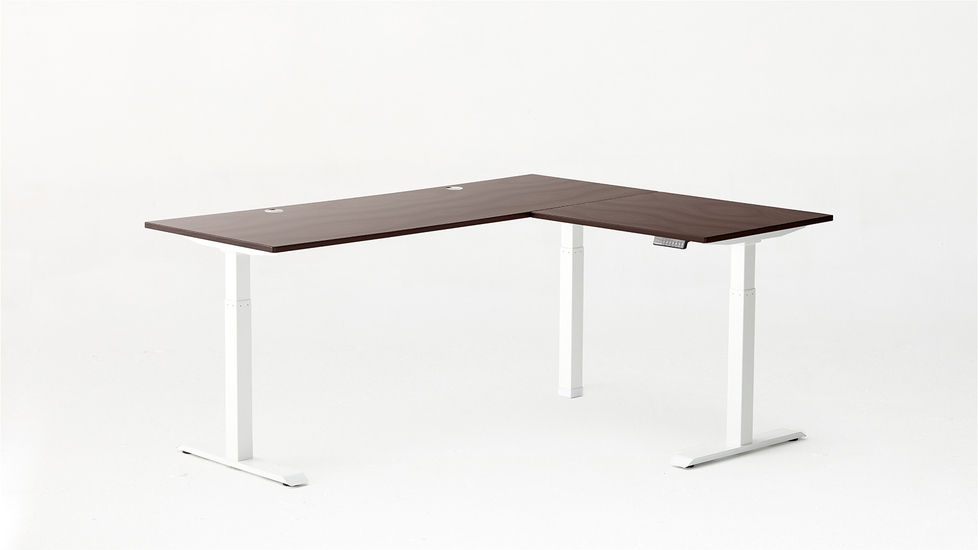 Autonomous SmartDesk Corner
- L Shaped Standing Desk
Buy now
Add to cart
Shipping Jun 08 - Jun 12
Bought by 100+ Intel employees
Sold and shipped by Autonomous.
Autonomous SmartDesk Corner at a glance.
The corner office. More space for your creativity, and more power for everything you've got to get done.
• Twice the space
• Whisper-quiet triple motor
• Weight capacity of 400lbs
• Solid steel frame
• Height-adjustable from 29.4" to 48"
• 4 programmable settings
• Modular segments for the perfect fit
• Every SmartDesk Corner comes with a free Cable Tray
• 5-year warranty
Deep dive into specs
DOUBLE SEGMENTS
2x the space.
Two modular segments, twice as spacious as our regular SmartDesks. Switch the shorter side from left to right for a perfect fit in any corner.
TRIPLE MOTOR
3x the power.
Most electric standing desks out there function on a single motor. This one has 3. You'll see and hear the difference when your battlestation is set up, and it comfortably lifts 400 lbs on its solid steel legs.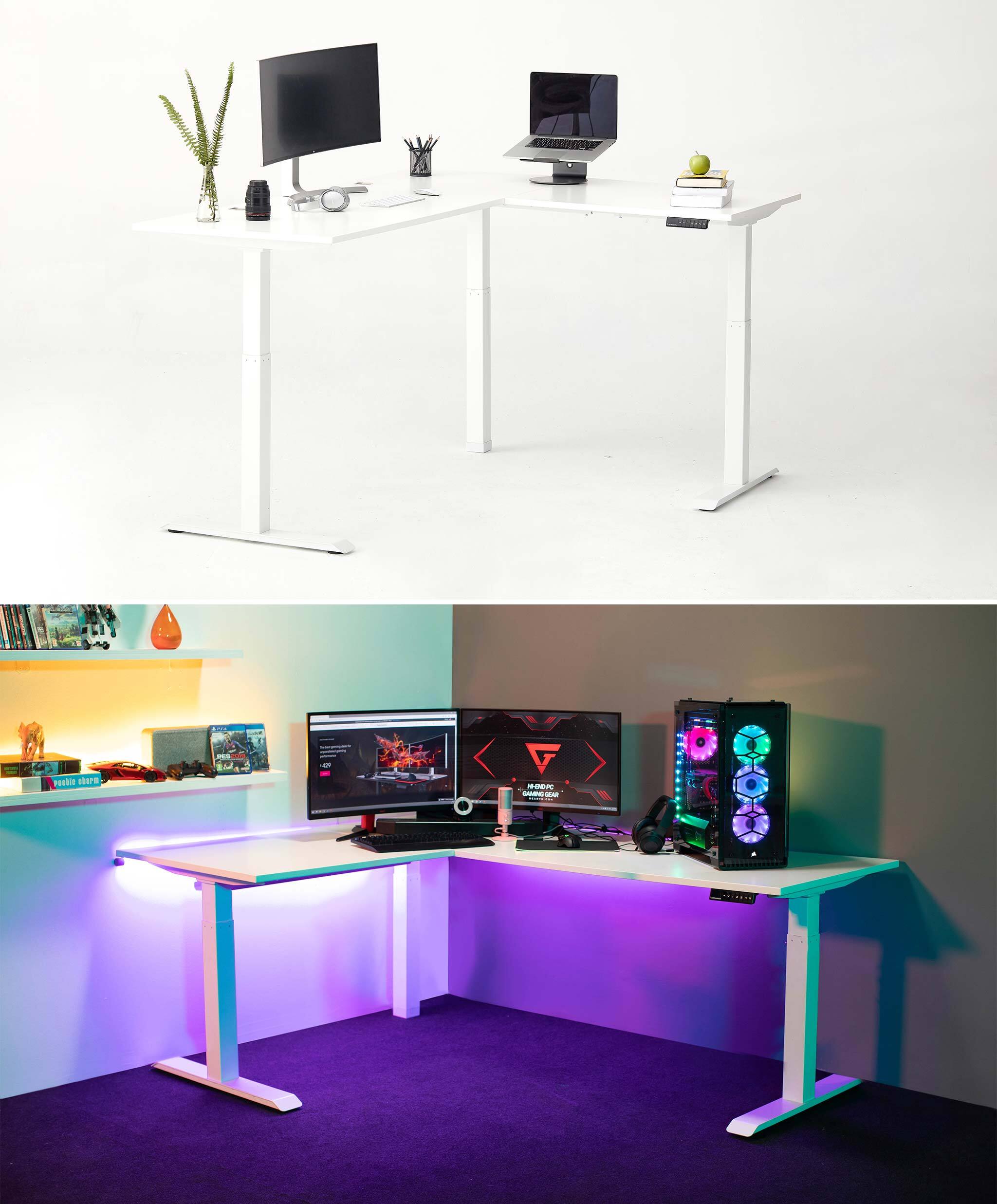 FOUR PROGRAMMABLE PRESETS
4x the convenience.
Use the responsive keypad to save your perfect positions. Then it's just one touch to automatically glide into place – whether you're on your balance board, perched on a stool, leaning back in your chair or standing in front of your monitor.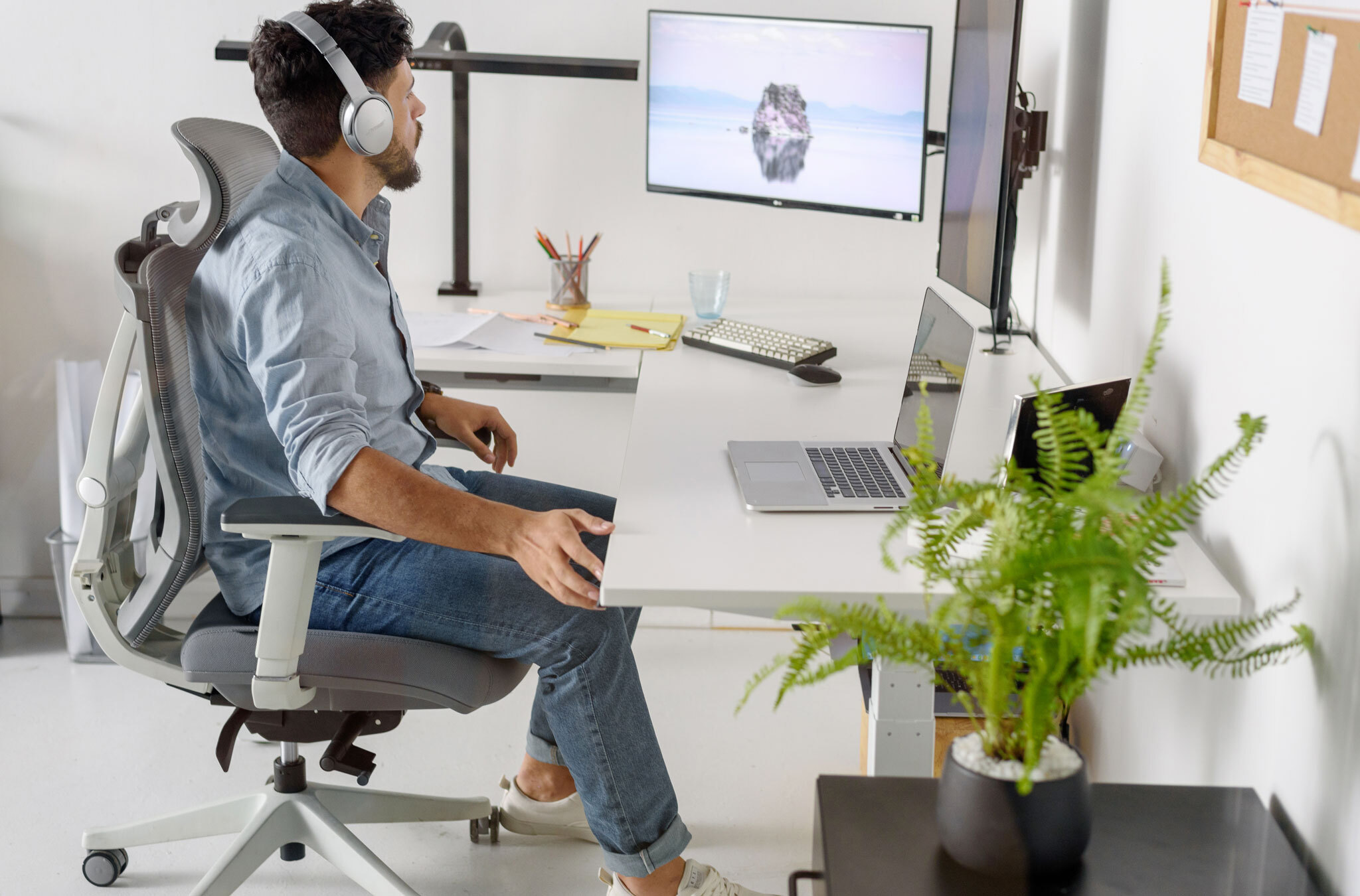 BIFMA CERTIFIED ROCK SOLID
50,000 cycles at 50 dB.
In human-speak, that'll carry you through at least 10 years of heavy use, operating at a level indistinguishable from ambient noise. And it's sturdy. Which means less than 0.5° of wobble at max height – and that's when pushed.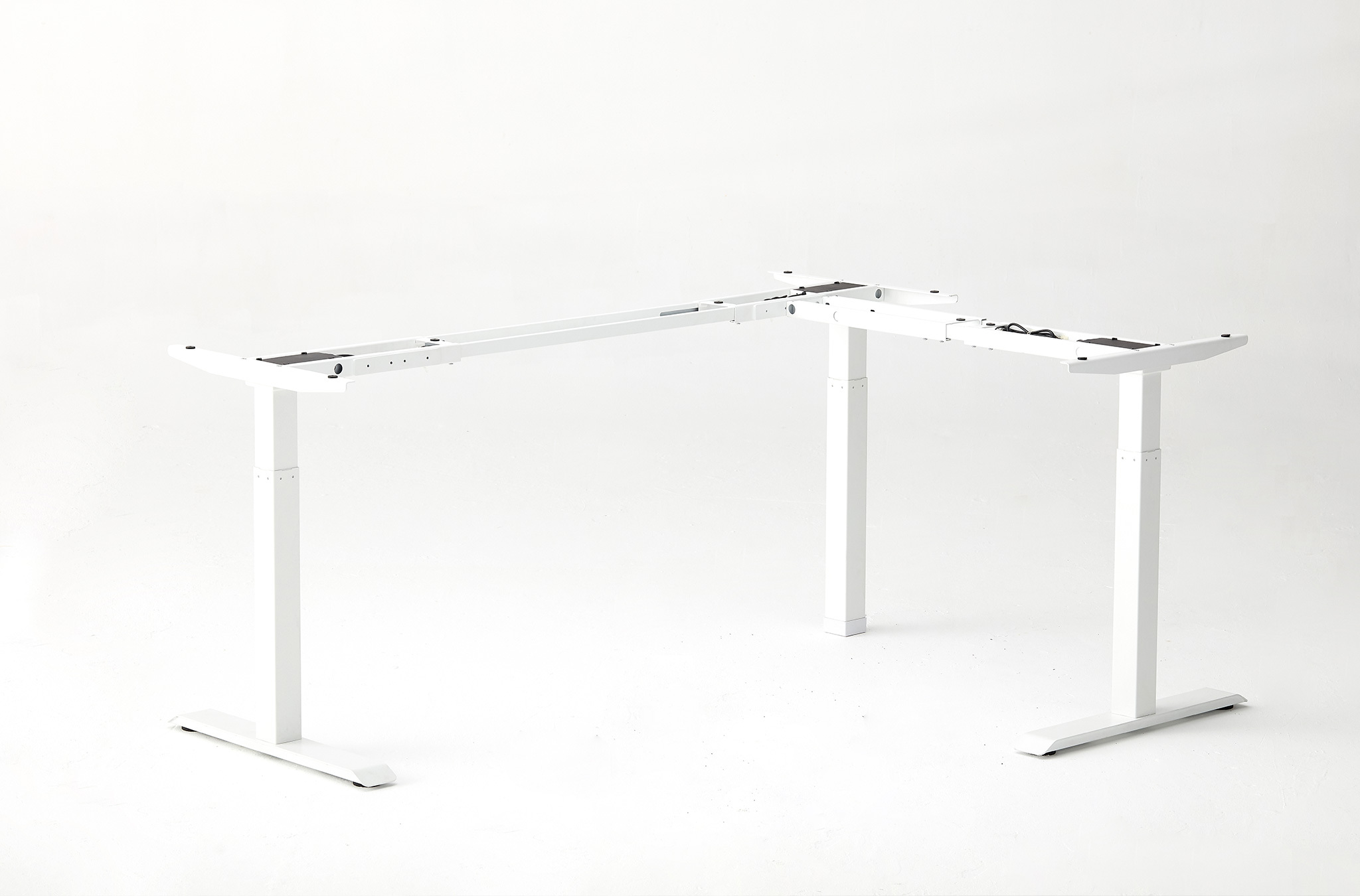 The Best Automatic Corner Standing Desk
Meet Your Future Work Hub
Make the most of your workspace with a cutting-edge, ergonomic Autonomous SmartDesk Corner! Customizable and versatile, it's designed to fit in any corner. This L standing desk gives you more flexibility and space than ever before. Whether you're an artist, a developer, a gamer, or a stay-at-home parent, this L-shaped standing desk gives you all the space and flexibility you need to maximize your potential.
Robust System
Combining a high-performance triple motor system with an anti-rust industrial steel frame, our L standing desk is virtually silent, incredibly sturdy and easy to assemble with built in triple electric motors capable of lifting up to 330 lbs.
Premium Surface Corner Desk
You get double the space with this innovatively designed corner standing desk, made from high-quality materials and sporting a sleek, professional finish. This corner standing desk is built to last with a wear and scratch-resistant finish. It's available in customizable tops with a black, white or classic walnut top. Tops are durable and long-lasting, built with heavy duty MDF wood that can withstand years of wear and tear.
Dashing Design
The SmartDesk Corner is an ode to minimalist beauty. Its rounded corners are both aesthetically pleasing and kid-friendly. Simple, safe, stunning. The frame is made from rock-solid SPCC steel, available in black or white. It lifts and lowers smoothly and silently, powered by a custom triple motor system uniquely suited to handle the weight capacity of 330 lbs.
Build It Your Way
The L-shaped standing desk design is modular, so you can mix and match the longer and shorter pieces to fit your workspace perfectly. Assembly is pain-free, with an included simple instruction guide as well as all the screws and tools you'll need. You can check out this handy setup instructional video for a visual step-by-step guide as well. Once the corner standing desk is delivered, you'll have it up and running in no time! View here
Why Buy an L-Shaped Standing Desk?
There are so many benefits to choosing the space-maximizing SmartDesk Corner. It's the most flexible and spacious offering from Autonomous, with all the high-tech features you'd expect from a height-adjustable L-shaped standing desk, including four memory settings that remember your custom heights at the touch of a button. If you're looking to buy an L-shaped standing desk and have an open corner in your office or home, you should really consider this solution to transform your workflow! It's like having a command station, with space to move and rearrange, different areas for different workflows, and best of all, you can change course and freshen things up any time you want! Here are some ways different creative professionals and gamers can use an L-shaped standing desk to their advantage.
L-Shaped Desk for Artists
Whether you're a graphic designer or sketch artist, buying an L-shaped standing desk is the perfect way to keep all your creative tools within arm's reach, without having to compromise on space. Whether you're more of a digital artist or need a spacious surface for your sketch pad and art supplies, the L-shaped standing desk has you covered. On one side of the desk, you could have your electronic gear, your color-accurate monitor, your electronic sketch pad, your keyboard and mouse, and any other electronic peripherals you might use like an iPad or a docking station for your phone. The other side can be your "analog" area, with colored pens and pencils, paints, brushes, paper, pads, and anything else you might use to sketch out your ideas the old fashioned way—or just for fun when it's time for a much-needed break!
L-Shaped Desk for Developers
Are you a developer? You could benefit from the added L standing desk space too! On one side of the desk, picture your ideal multi-monitor setup. You could have two horizontal monitors and one vertical, perfect for maximum screen space and workflow flexibility. You can keep your keyboard, mouse, touchpad, and any other peripherals you might use, like a tablet or docking station for your phone. On the other side, you could keep your mail, your files, your printer, and perhaps even a personal non-work area for journaling or reading when it's time to take a break. You can really get the most out of your workday with this developer desk setup!
Corner Desk for Gamers
Not only is the L-shaped standing desk perfect for working professionals, it can give your gaming an extra boost as well! Spread out all your gaming gear—your PC, your consoles, even your portable gaming devices—for the ultimate gaming battle station. Having a height-adjustable standing gaming desk gives gamers the added flexibility of sitting or standing throughout their gaming sessions, giving them the ultimate energy boost to stay sharp, quick-witted, and alert during intense sequences. For professional gamers in particular, the L-shaped standing desk is perfect for maximizing your potential and getting the most out of every gaming session.
Corner Desk for Working from Home
A new challenge many of us are facing is working effectively from home. If you've got a free corner, you've got a potential new workspace. The L-shaped standing desk helps you create a whole workspace, not just a desk in the middle of a room. This helps you create a distinct working area within your home so that you can more effectively keep work and home life separate, even if they both occur under the same roof. Best of all, ample desk space means you can use part of it for decorative purposes, making it even easier to blend this desk seamlessly into your home aesthetic. Its minimalist design and multiple finishes, from classic walnut wood and bamboo to sleek black and clean white, make it the ultimate customizable desk that suits any space. Best of all, it's modular, so you can rearrange the frame and table tops to fit any corner of the house.
FAQs
Don't see the answer to your question?
Does the SmartDesk Corner's keypad a memory keypad?
Yes. The L-shaped standing desk is provided with a memory keypad. You come to the height that suits you then select a number on the keypad to memorize this height. Next time, you just need to press the number and leave your hand free, the desk will move itself.
Which types of motor do you use for the L-shaped SmartDesk?
The motor type used for our L-shaped standing is similar to the motor used in other SmartDesk versions. Because this corner standing desk is a large one and has 3 legs, each leg of the desk is powered by a lifting motor to carry up to 330Lbs. Now enjoy your bigger space.
I see on your website the limited color options for this corner standing desk, can I buy your L-shaped standing desk in different colors or matte desk top?
Hi, due to the high production cost of the SmartDesk Corner, we only select and sell the color options that are most chosen from our customers so far. In the near future, we have not had any plan to produce other color options or matte desk top for the L-shaped standing desk. We hope you will be happy with the models we offer now on the website. We will definitely introduce more options which customers show a large interest in.
How many parcels exactly will you ship the L-standing desk in?
The SmartDesk Corner will be shipped into 3 separate parcels including 01 package for the desk top and 02 packages for the desk frame.
Which country do you sell L-Shaped standing desks in? Is it limited inside the US?
Hi, even though a lot of customers show interest with our L-Shaped standing desk, the SmartDesk is only available in the US and Canada due to the high shipping fee and taxes which can double the price of this corner standing desk.