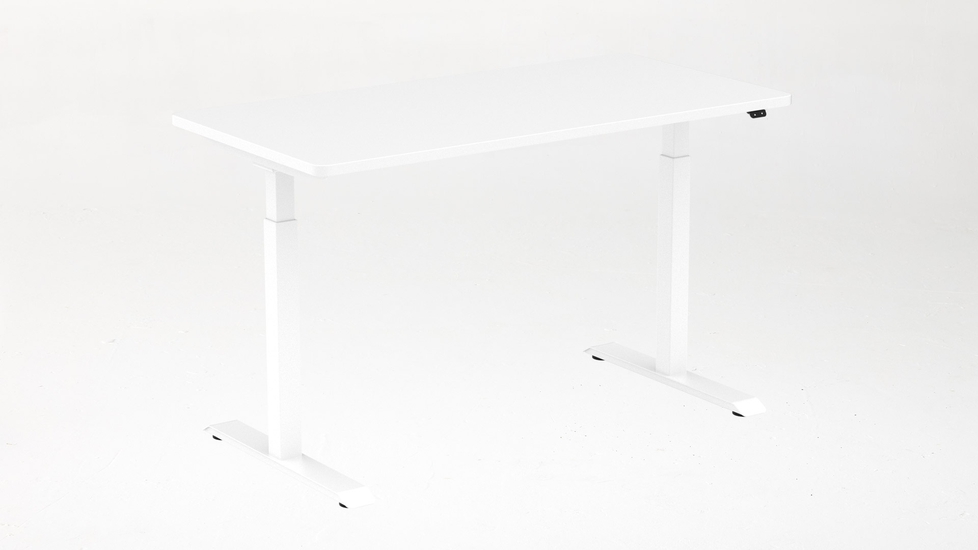 Timotion Compact Desk: Basic Keypad
Bought by 14 New York University employees
FREE shipping Mar 23 - Mar 27. FREE 30-day returns.
Sold and shipped by Aoke. Visit our store
Timotion Compact Desk: Basic Keypad at a glance.
The desk is built with a sturdy frame, a small size desktop and a minimalist aesthetic. Invest in your home office with a conveniently compact desk that will last for years to come.
• Tabletop size 47"L x 28"W x 1"H
• Height-adjustable between 25" to 45"
• Simple keypad controls
• 2-stage frame
• Top with no pre-drilled holes
• Lifts 270 lbs with ease
• Solid steel frame
• Electric dual motor
• 5-year warranty
Deep dive into specs
Timotion Small Standing Desk Is So Far The Best for Its Extraordinary Features.
Are you worried about your back pain while working in the office? We offer unique office furniture named Timotion small standing desks to help the workers get rid of bad working posture and back pain. As the name suggests, working in small standing desks for home, either you will have to stand all the time or sit on a very high stool. Standing desks are pretty popular for home offices as well and are a new introduction to the furniture market. The height can be adjusted to alternate between standing and sitting to provide a lot of health benefits to the employees. Apart from office furniture, the compact adjustable desks can be used for the gaming setup, study room, showrooms for the display of electronic items, and so on. These days, most of the small standing desks for home come with additional features like drawers with lock systems, hanging hooks, and so on.
1. No chance of obesity, heart disease & Low blood sugar level
If you want to get rid of obesity and metabolic diseases, you should stand for a while every single day. The small standing desks for home make calorie-burning such an easy task for you. A sedentary lifestyle can lead to various heart diseases. If you stand on your feet for 1 or 2 hours a day, there will be reduced or no chance of heart disease. If you stand to work for a few hours after lunch, it will diminish the chance of diabetes or high blood sugar in your body. By simply standing, you can keep type 2 diabetes at bay. Due to this reason, every office features at least one height adjustable desk where the employees can work for a while.
2. Better working posture - Better productivity
If you sit most of the day at your office, you are likely to develop back pain, hip pain, shoulder pain, etc. But, it has been seen that those who stand and work on the Timotion small standing desk never complain about these orthopedic problems at all. If you keep a home standing desks and work on it, you will never develop any long-term back pain in the future. The standing position ensures great blood circulation in your body, and it helps your brain to work in a better way. When the brain functions better, naturally, there will be better productivity. Compact sit-stand desks allow the employees to focus and concentrate more on their work. So, while working on some important project which demands a lot of attention, you should work from a small standing desk.
3. Great energy level
If you stand this much amount of time daily working, there will be proper blood circulation in your body. As a result, you will remain in a good mood. The standing working posture improves your metabolism rate as well. Those who are suffering from mental illness should get a Timotion small standing desk for their home so that they can stay in a good mood.
Compact Desk by Timotion: Basic Keypad
This compact standing desk by Timotion is quite popular in the furniture market these days. Customers love this product for its sturdy frame and small tabletop. This standing desk for small spaces features a minimalistic design, making it pretty sophisticated. The Timotion small standing desk basic keypad comes in three elegant colors such as white, black, and grey. The tabletop is available in two colors only: white and black. Designed for both home office and company office, the Timotion small standing desks are quite durable in nature.
About Timotion
Timotion refers to world-famous industry-leading actuators and supporting products providers. In addition, Timotion technology offers various custom-made, innovative products. Though this company is well renowned for its linear actuator, it makes other durable products as well. On the online website of Timotion, you will get to see Lifting columns, gear motors, control boxes, power supplies, controls, height-adjustable desk kits for small desk setups, and so on. Now that you are well aware of the Company and Timotion small standing desk, you should place an order for this furniture as early as possible so that you can avail the discounts. The standing desk goes well with any room décor these days.
FAQs
Don't see the answer to your question?
Does this desk use a regular 120 volt outlet?
Yes. Our standing desks are compatible with standard 110 volts - 240 volts outlets. All currents are automatically converted by the desk. US orders are installed with the standard two-prong plug.
I see that there is a "black box" to be installed on the underside (aside from the control panel), with power and data connection. Is this like a power strip and data plug-in?
Yes, this is the control box. It must be attached under the standing desk to use the Smart Keypad. It is connected with the Smart Keypad to control the height of the desk, (and with a power source) tells the electric motor(s) when to move up and down.
We currently ship anywhere in the USA. International delivery is on the way, we'll be sure to keep you updated!
I think I want to get a standing desk. I'm 6' 3". Is this Compact Desk suitable for my height?
Yes! The Compact Desk provides a generous height range of 28-46 inches (with tabletop). One of our team is 6'5 and uses his Compact Desk comfortably every day.
Can you give me more information about your 30-Day Trial policy?
If you don't like your desk, we'll take it back. It's that simple and easy. You have until 30 days after delivery to build and use your desk. If you change your mind, you can then request to return the desk for a full refund (we even cover shipping!), no questions asked.
Does your 30-Day Trial policy apply worldwide?
Our 30-day trial policy applies only to SmartDesk Frames delivered inside the continental U.S. and returned in their complete original packaging. International orders do not qualify for this program. Please note that the returned standing desk frame needs to be in its original packaging. If not, we reserve the right to refuse your request.
How many amps does each SmartDesk use?
Is there warranty provided with the SmartDesk?
Yes! There is a 5-year warranty for the standing desk frame, 3-year warranty for the control box and 1-year warranty for the tabletop.