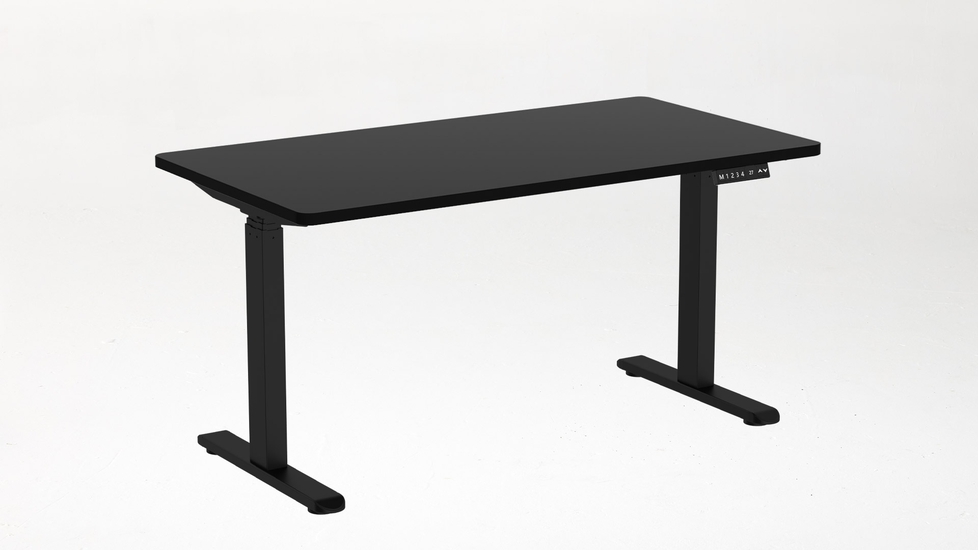 Travailler à domicile?
Sonderpreise erhalten
Compact Desk by Wistopht: Programmable Keypad
$499
$729
Transform any smaller space into an ergonomic work haven with the Compact Desk. Minimal or fully loaded, let this powerful office standing desk do all the heavy lifting for you.
Ships within 2 business days
|
Kostenloser Versand
& 30-Tag kehrt zurück
Laden Sie es Ihrem Unternehmen in Rechnung
Wir können diese Bestellung an einen Bürokontakt weiterleiten und die Zahlung in Ihrem Namen anfordern.
Sparen Sie bis zu 10%.
• Tabletop size 47"L x 28"W x 1"H
• Height range of 25" - 51"
• Lifts 265 lbs with ease
• Dual motors
• Max speed of 1.6"/sec
• Top with no pre-drilled holes
• Easy installation
• 5-year warranty
• Zahlen Sie im Laufe der Zeit mit Affirm: $47/mo
Tief in die Spezifikationen eintauchen
Häufig gestellte Fragen
Sie sehen die Antwort auf Ihre Frage nicht?
Does this desk use a regular 120 volt outlet?
Yes. Our standing desks are compatible with standard 110 volts - 240 volts outlets. All currents are automatically converted by the desk. US orders are installed with the standard two-prong plug.
I see that there is a "black box" to be installed on the underside (aside from the control panel), with power and data connection. Is this like a power strip and data plug-in?
Yes, this is the control box. It must be attached under the standing desk to use the Smart Keypad. It is connected with the Smart Keypad to control the height of the desk, (and with a power source) tells the electric motor(s) when to move up and down.
We currently ship anywhere in the USA. International delivery is on the way, we'll be sure to keep you updated!
I think I want to get a standing desk. I'm 6' 3". Is the Compact Desk suitable for my height?
Yes! The Compact Desk provides a generous height range of 26-52 inches (with tabletop). One of our team is 6'5 and uses his Compact Desk comfortably every day.
Can you give me more information about your 30-Day Trial policy?
If you don't like your desk, we'll take it back. It's that simple and easy. You have until 30 days after delivery to build and use your desk. If you change your mind, you can then request to return the desk for a full refund (we even cover shipping!), no questions asked.
Does your 30-Day Trial policy apply worldwide?
Our 30-day trial policy applies only to SmartDesk Frames delivered inside the continental U.S. and returned in their complete original packaging. International orders do not qualify for this program. Please note that the returned standing desk frame needs to be in its original packaging. If not, we reserve the right to refuse your request.
How many amps does each SmartDesk use?
Is there warranty provided with the SmartDesk?
Yes! There is a 5-year warranty for the standing desk frame, 3-year warranty for the control box and 1-year warranty for the tabletop.