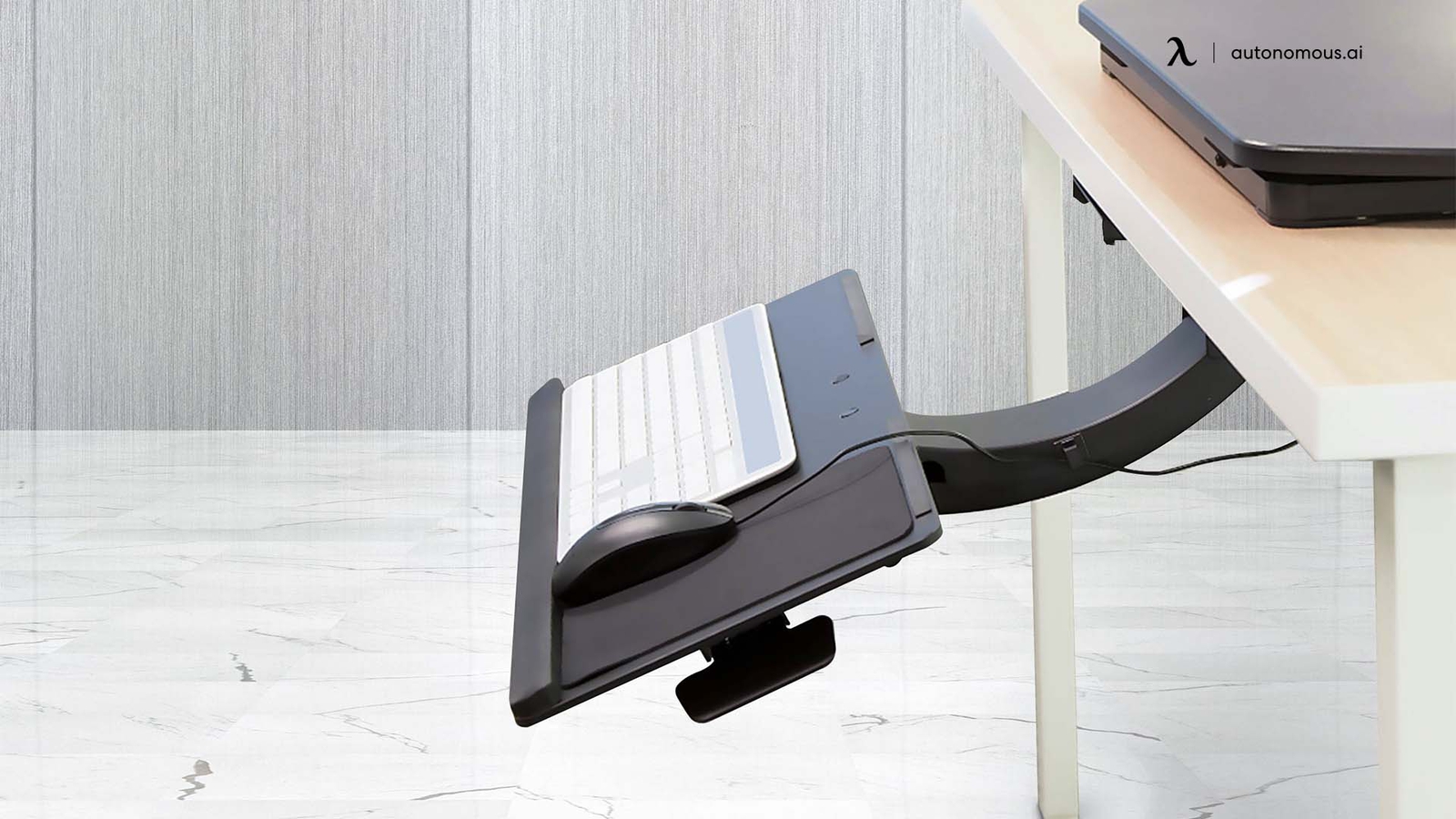 Smart Products
7 Best Space Saving Under Desk Keyboard Trays (2023 List)

Autonomous
|
Mar 31, 2022
2,359 Views
An under desk keyboard tray is often one of the forgotten pieces of the ergonomic puzzle. Not only does it provide a great place to host your peripherals, but it can offer you space-saving advantages, and make things look a lot tidier when you are not using your computer desk.  
It's certainly one of the most practical office desk accessories you can get your hands on, and it comes highly recommended. This applies whether you're using a sitting or a standing desk, as a clamp-on keyboard tray can offer tremendous improvement to the way you work and how you feel. 
This even goes beyond the context of the office too! A gaming keyboard tray is not unheard of. Gamers, especially those who are in the FPS genre, prefer to use their keyboards and mice over a controller, as they're trying to get the greatest amount of precision possible. 
Having a facility that allows them to conveniently place their keyboards as they enjoy their favorite titles is always going to be a win. There is nothing wrong with keeping your keyboard on your desktop but knowing that you have a sliding keyboard tray allows you to break the boundaries that a tabletop would impose upon you. 
Often, you find that these clip-on keyboard tray designs allow you to adjust positioning, by offering changes in height or tilt. If nothing else, it means you can get the optimal setup and position yourself adequately based on how you sit and where your screens and other accessories that you may need are. 
People also often find that they compromise their posture to stay as close as possible to their keyboards. Again, an ergonomic keyboard tray addresses this challenge, bringing the keyboard to you, as opposed to having you do things the other way around. 
Undermount Keyboard Tray Essentials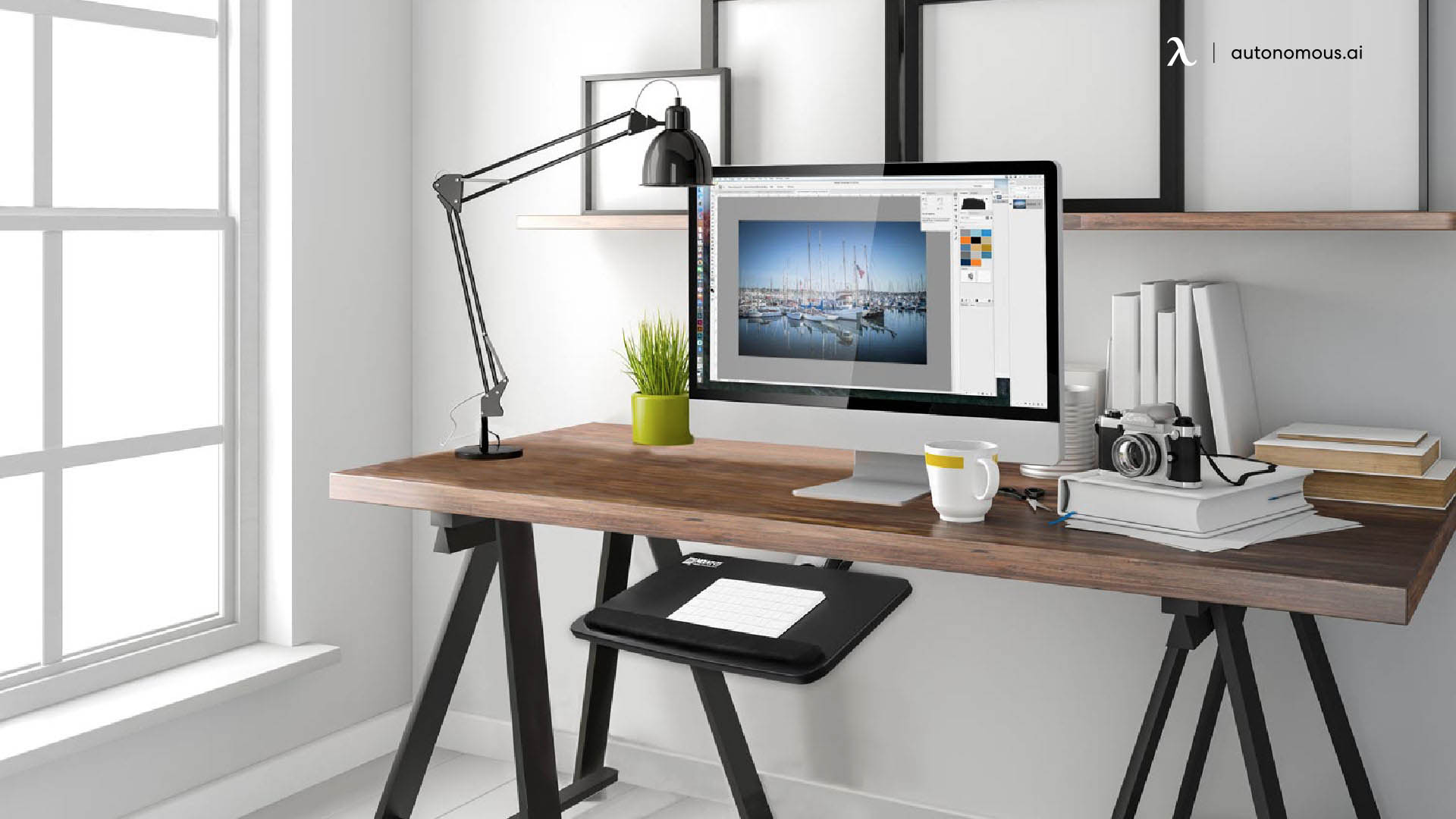 When you go hunting because you want to put a keyboard and mouse tray under your desk, you must look out for certain qualities that are meant to contribute to a better workflow for you. Several of these are below, but don't think that this is an exhaustive list. You may have special requirements, and there is nothing wrong with that. 
Size is the first factor, especially since keyboards come with different footprints. People who don't necessarily use the num keypad are more likely to prefer short keyboards, which means less space is required. 
Adjustability is next, and based on the information you got above, this should be one that you don't compromise on. Your under desk keyboard tray must conform to your needs and work on your terms. 
Stability follows, and it's essential, considering that these trays must now bear the weight of your peripherals independently. As you type and use your mouse, extra weight is being put on the unit, and you can't have a tray that's buckling under pressure. 
1. Mount-It! Keyboard and Mouse Platform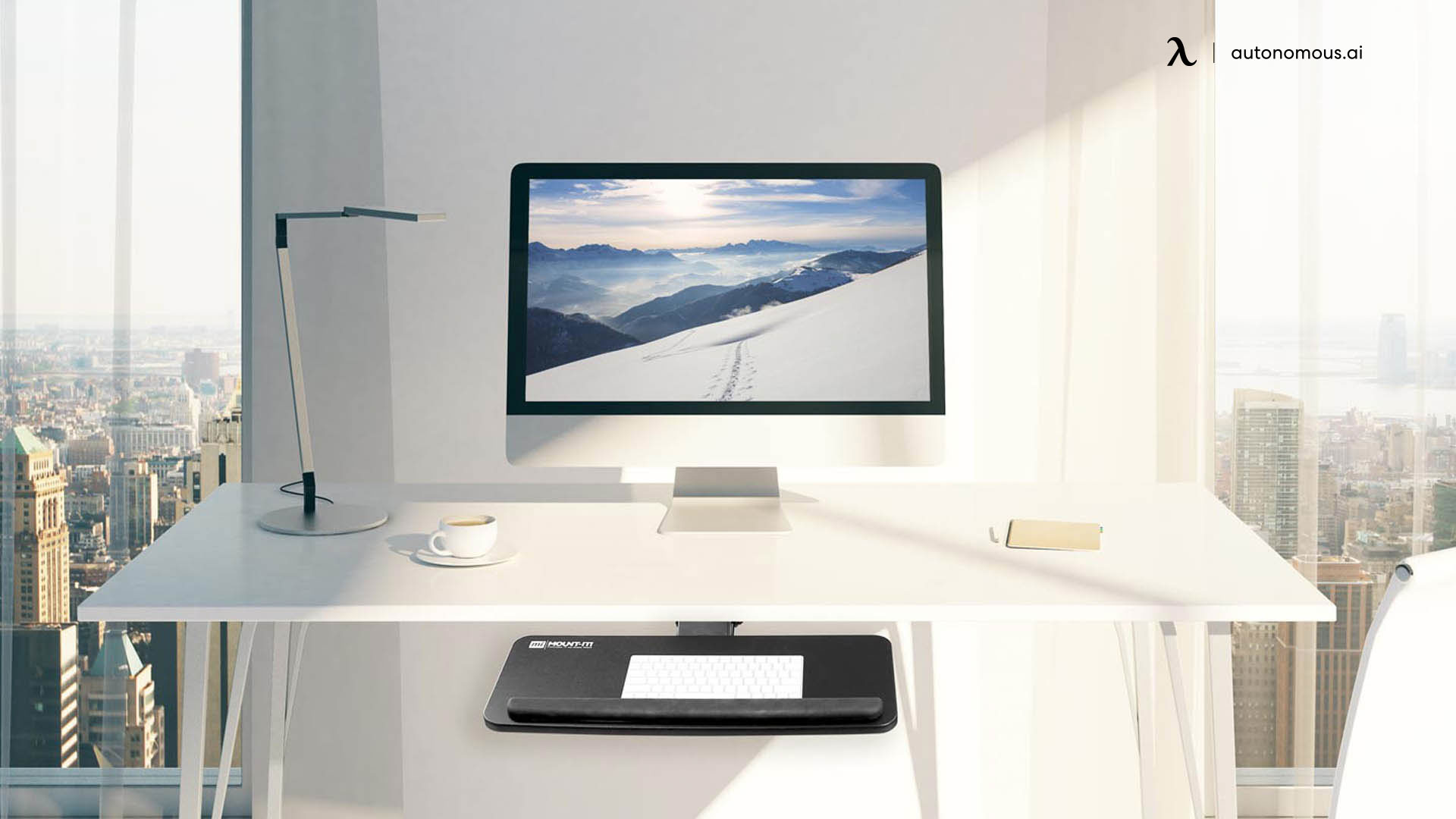 The Mount-It! keyboard and mouse platform is the first stop on the list, and it's not surprising that one of these items is coming from a manufacturer that is well known for some of the most innovative accessory designs for office spaces. 
This one is a space-saving style that's meant to be tucked away under your desk when you're not using it. It's wide enough to accommodate standard and short keyboards, as well as your mouse, bringing them closer to your body and helping you maintain a neutral posture as you work. 
It has a neat-looking aesthetic, and it should not affect a minimalist desk setup if that is what you are going for. You get 25 degrees of up and down tilt and 180 degrees of left and right swivel, allowing you to achieve optimal positioning every time. 
Note that there is a gel support wrist pad present, which provides support to your wrists, reducing the likelihood of conditions, such as carpal tunnel syndrome. 
As people have come to expect from Mount-It! at this point, the design is backed by the signature 10-year warranty, displaying confidence on the manufacturer's part and more importantly, the fact that you made an excellent purchase. 
2. Mount-It! Adjustable Angle Keyboard and Mouse Platform
Mount-It! is not done with this list just yet, as its adjustable angle standing keyboard and mouse tray now takes center stage. One of the appealing things about this design is the extent to which positioning it is effortless. 
Once you have it mounted, there is an included knob that you turn to help you adjust the height and tilt angle. Turning the knob unlocks the unit, allowing you to freely position it however you desire. Once you've reached the position you want, simply re-tighten the knob, and the platform doesn't move. 
Like the previous model, there is a gel wrist rest included, allowing you to mitigate conditions with far-reaching implications, as well as reducing the amount of soreness and strain that you must deal with.
Its design is highly conducive to standing desks, based on the broad adjustment range you get. Tilting yields a positive 15 degrees or negative 13 degrees, while swivel allows for a positive or negative 180 degrees. 
With numbers such as these, adjustable standing desks are just as supported as static ones. That's because you can achieve effective positioning at both seated and standing heights. 
Again, the typical 10-year warranty from Mount-It! is included with every purchase of one of these units. 
3. Mount-It! Clamp-on Adjustable Keyboard and Mouse Tray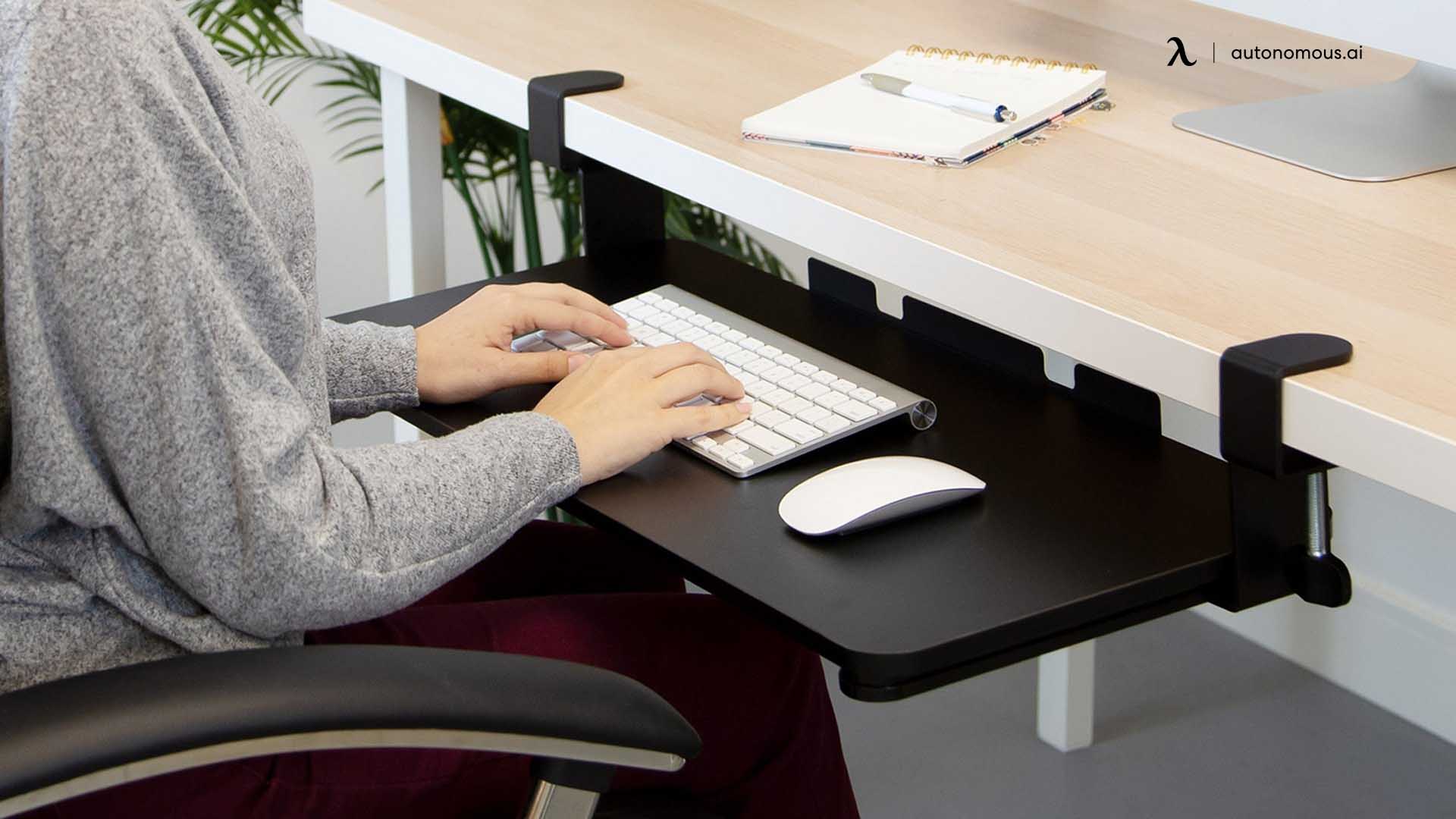 There's one final mounted model on the list, and that's none other than the clamp-on adjustable keyboard and mouse tray. It's probably a good idea to start by saying that this one is incredibly large. Don't be surprised if it dwarfs your keyboard and mouse. 
It's meant to help you adopt and maintain a neutral posture as you work, by effectively positioning your keyboard and mouse closer to your body. With the clamp-on design, it may look like the position of the unit is static, but that's certainly not the case. Feel free to push or pull the plate for any adjustments you want to make. 
One of the concerns that people tend to have when installing an under desk keyboard tray is what it means for their desks to have to drill holes in them to accommodate the mounting process.
Well, you can avoid that concern if you choose to purchase one of these since it uses C-clamps on either side to affix itself to your desk. Note that it only accommodates units up to 1.5 inches thick, so if your tabletop exceeds that, you're going to need to find a different model. 
Its large size makes it compatible with most keyboards you're going to find on the market, and as you can imagine, the setup for a clamp-on keyboard tray is no inconvenience at all.  
An elevated back rail prevents having to worry about your keyboard falling, and the spaces between said rail allows for easy cable organization if needed.  
Finally, there is a non-slip grip in the C-clamps which prevents them from moving and damaging your table, as well as smooth glide tracks along the sides of the tray, meaning you can seamlessly push it under your desk and out of sight when you're not using it. 
To absolutely no one's surprise, Mount-It's signature 10-year warranty makes a return here. 
4. HUANUO Under Desk Keyboard Tray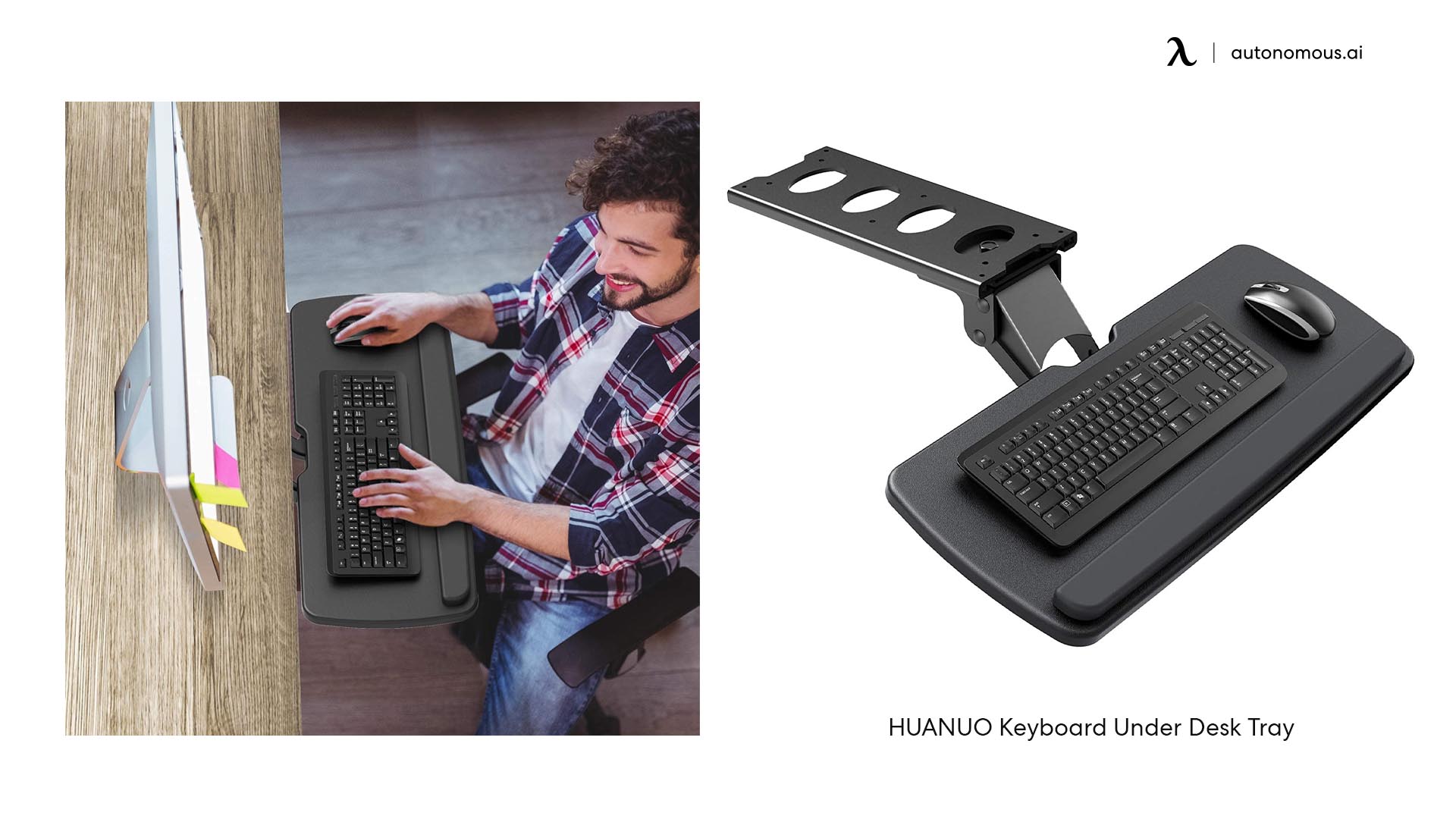 Next on the list is HUANUO's under desk keyboard design, which is best regarded for the amount of adjustability that it offers to its users. To this end, the unit bears what is known as a full-motion design, meaning that up and down tilt, as well as left and right swivel, are available in spades. 
As you'd probably also expect, you get height adjustment, meaning that the tray can be suitable for people of different heights to take advantage of a neutral posture while they work. 
A gel wrist pad is included in the design, allowing you to prevent chronic challenges and short-term pains, strains, and soreness. 
A dark wooden finish is expected to compliment your office aesthetic very well and even give a bit of an exquisite feel.  
Note that unlike some of the other models, you can never truly push this one completely out of sight. Even at its innermost position, you are always going to have about 3 inches being exposed. 
Nevertheless, this is a lot better than a tray that can't be moved at all, especially since it technically still provides some level of space-saving. 
5. FERSGO Keyboard Tray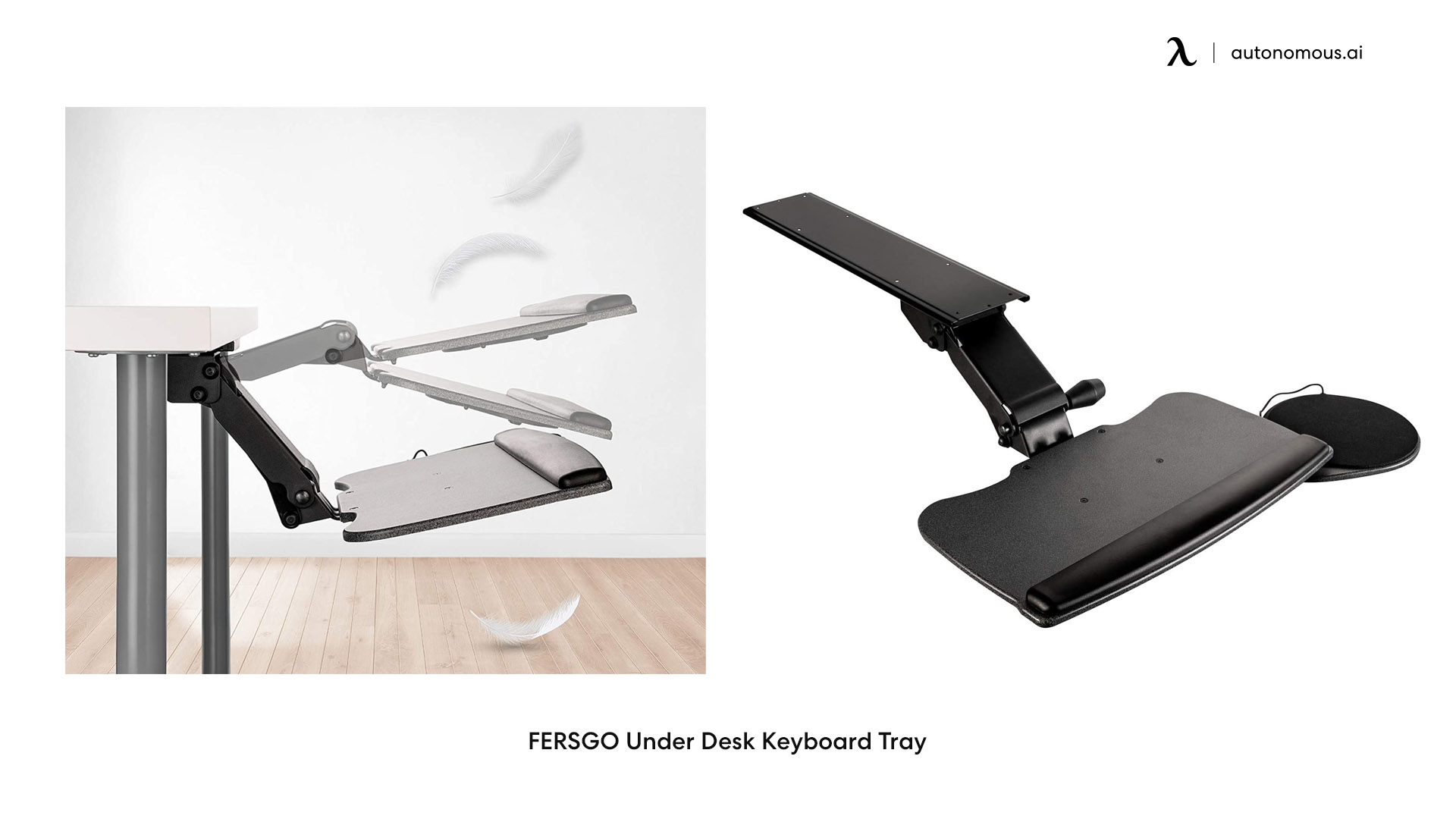 FERSGO is not necessarily the most popular name in the ergonomic office equipment world, but it must get the credit it deserves for the design being discussed here. Admittedly, this is on the pricier side of the spectrum, but you are paying for what you get with its price tag. 
Height and tilt adjustments are available, as well as a remarkable 360-degree swivel functionality. Note that it is this suited to minimalist designs or those who seriously want some space savings, as the form factor is highly compact. 
So, while those who prefer sharp keyboards should have no challenge at all, those who want their keyboards to be on the larger side of things may have a few issues with this under desk keyboard tray. 
FERSGO goes above and beyond the call of duty by having an anti-fall mouse guard and an anti-skid mouse pad. An ergonomic wrist rest is present which aims to reduce the amount of pressure and strain you put on your wrists as you get your work done. 
Note that a separate design is used here, with one section being for your mouse, and the other being for your keyboard. On the one hand, this allows for more convenient and unrestricted movement. On the other hand, the mouse tray is about an inch lower than the keyboard tray, which may feel a bit awkward for some. 
6. 3M Under Desk Keyboard Tray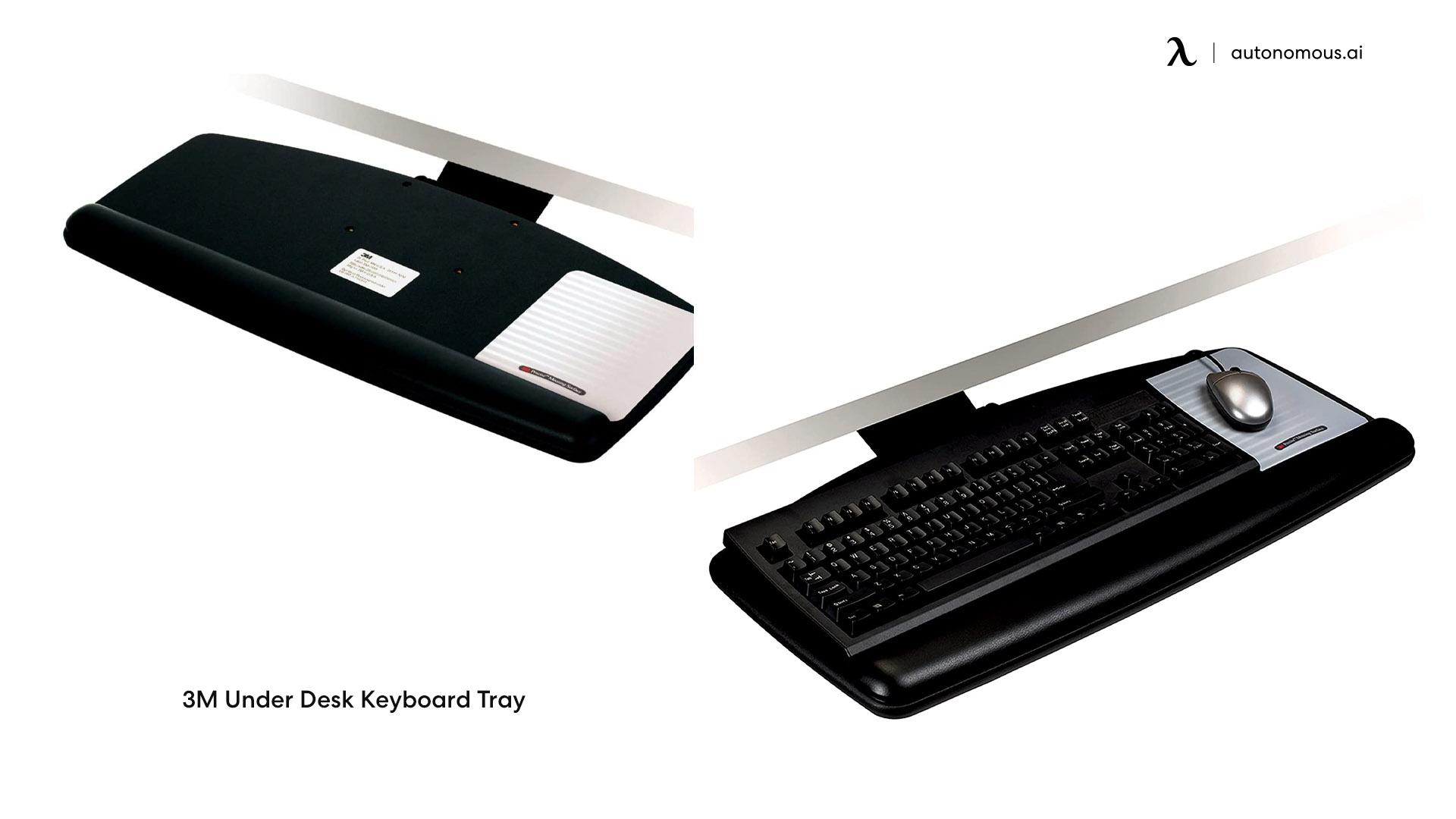 You've likely seen the 3M brand before as it provides a lot of useful office accessories. It's thrown its hat into the under desk keyboard tray market, and it just so happens that the design is quite respectable. 
Here is the second tray that features a knob design, allowing you to unlock the tray, move it to your desired position, and then tighten the knob again to lock it. 
While the tilt doesn't necessarily have the greatest range ever, a 360-degree swivel is nothing to turn up your nose at. Tucking the unit away when it's not in use is going to be no challenge at all. 
A mouse pad is also present that surprisingly features a battery-saving design. Additionally, there is a gel support pad intended to maintain continuous comfort for your wrists. 
7. Vivo Keyboard Tray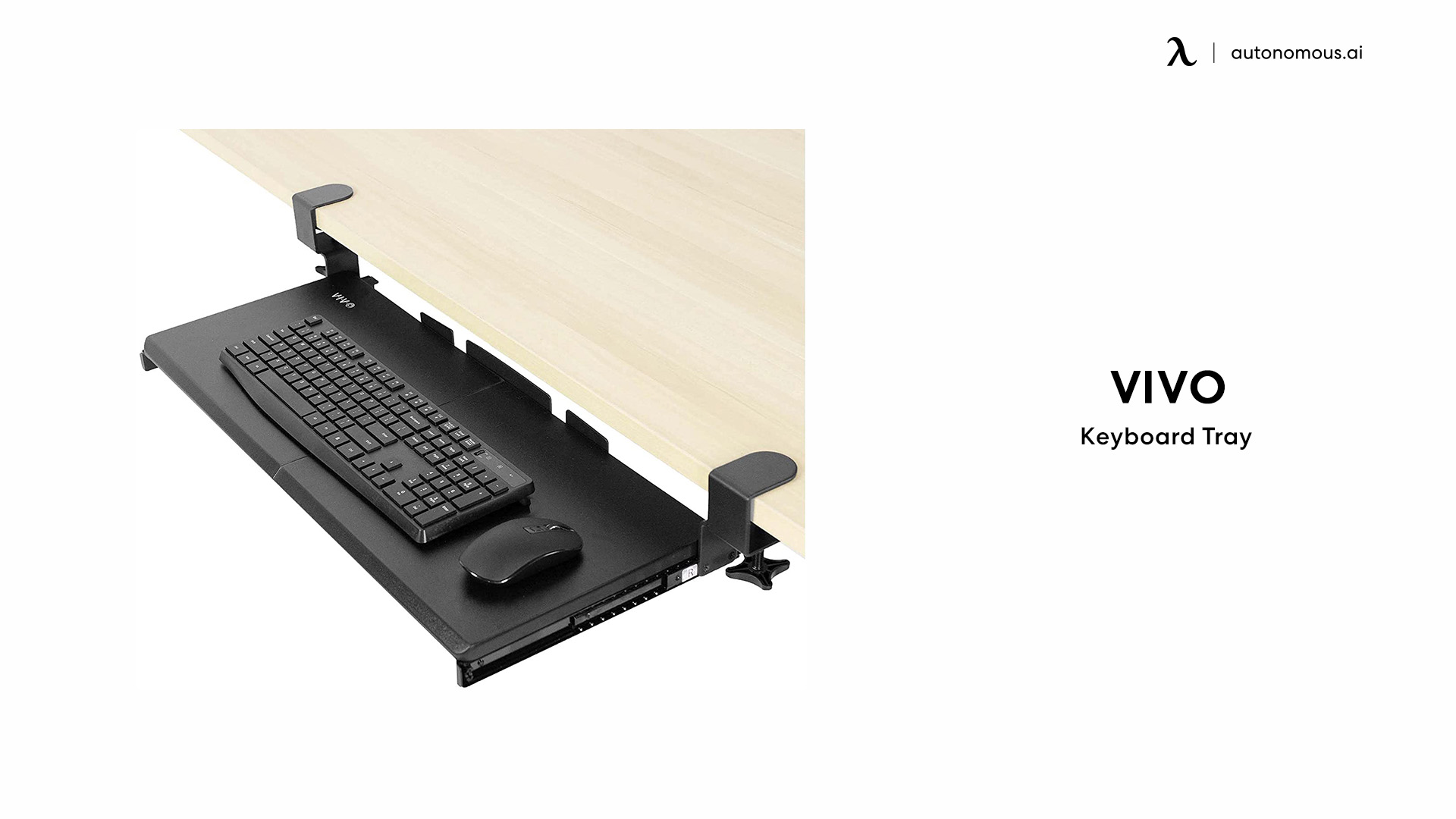 Vivo is another name that is well known in the office accessory and furniture world, and this ergonomically designed undermount keyboard tray is quite a marvel.  
It is sturdily built, has a large mounting bracket, and its smart keyboard surface is nothing short of impressive. The expected height, tilt, and swivel functionalities are present, and their ranges are remarkable.
The presence of most pads on both left and right shows a dedication to appealing to everyone, regardless of if they are left or right-handed. A wrist rest is present, allowing you to relieve whatever tension may be present in your wrists as you work. Finally, the sliding out of sight functionality is present here. 
Final Remarks
Even if you never paid attention to the idea of an under desk keyboard tray before, you should now be tremendously well acquainted with the concept after reading all you did above.
First, you got a brief introduction to the whole idea of an undermount keyboard tray, and the way it allows you to break the boundaries that your desk would impose on your peripherals. 
After that, you got an overview of some of the important considerations you want to make before investing in one of these desk accessories. 
Finally, you get a balanced spread of tray options, which should allow you to compare, contrast, and choose the one that appeals the most to your needs.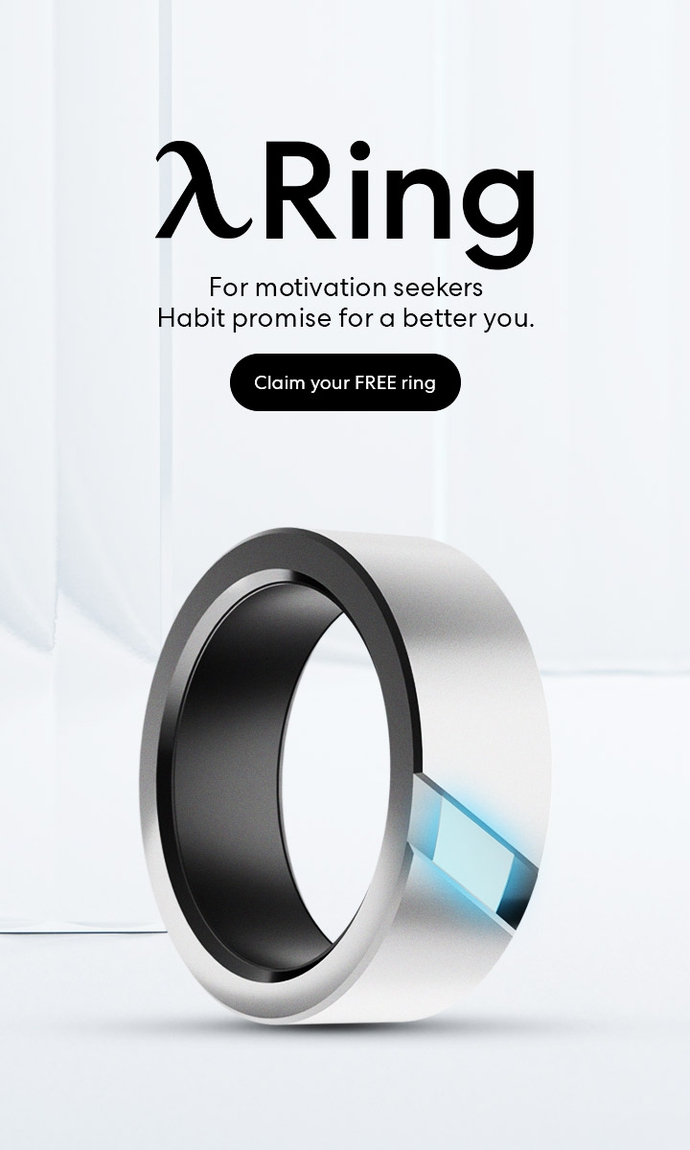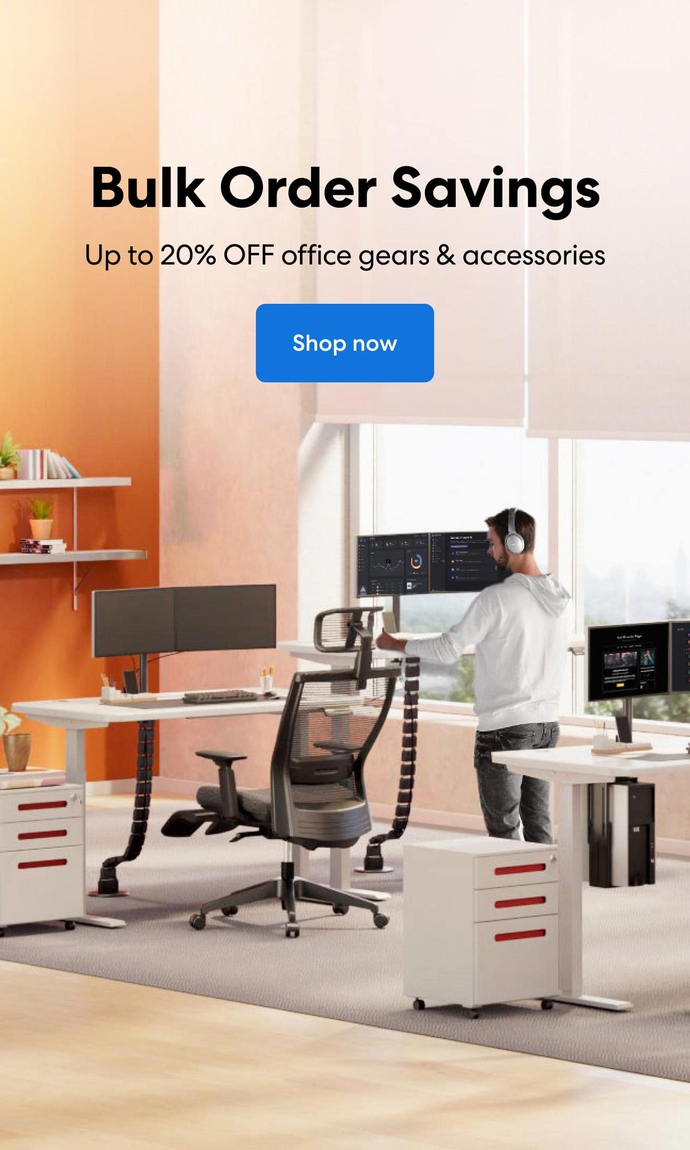 Subcribe newsletter and get $100 OFF.
Receive product updates, special offers, ergo tips, and inspiration form our team.