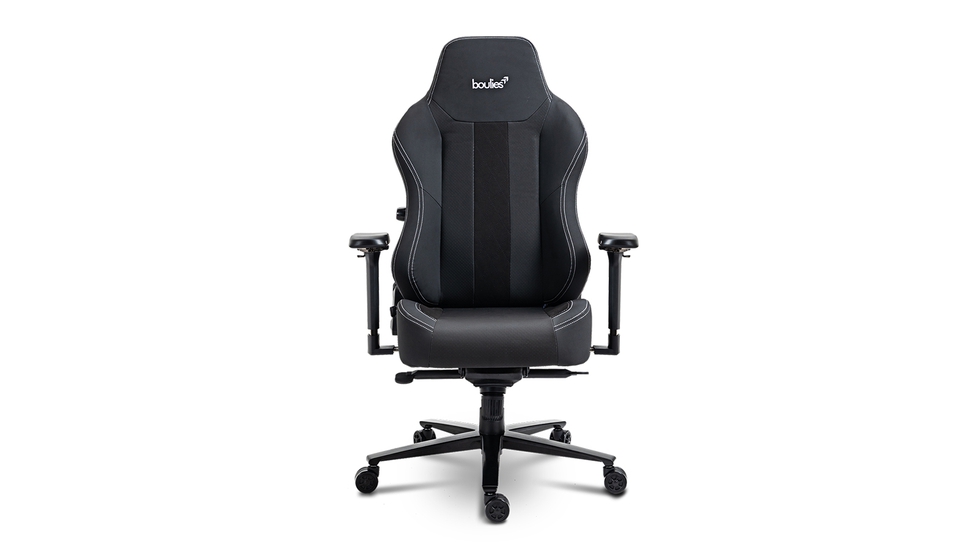 BOULIES Boulies Master Chair VER. 2022
4 reviews
Visit our store
Color:

Not available
Not available

Not available

Not available

Not available

Not available
Notify me when this item is available
Enter your email below. We'll let you know when it's back in stock.
Sold and shipped by BOULIES
• Full-length reclinable backrest with Integrated lumbar support adjustment • Adjustable and durable metal 8 ways armrests • 15° rocking function, seat tilt position lock and adjustable height • Firm and comfortable foam seat with enough support • Comfortably carries up to 300 lbs
• 2-year warranty
Our most comfortable computer gaming chair. With built-in lumbar support adjustable, master chair provide the enough support whole day working
Deep dive into specs
Features
FAQs
Specs
reviews
5.0
The purpose of gaming furniture is to enhance the user experience while engaging in said fun and enjoyment. Those who intend to make gaming a serious pastime can benefit from purchasing accessories like gaming chairs and gaming desks. As a result, it's crucial to ensure that everyone's gaming environment is as stress-free and relaxing as possible to mitigate the negative consequences of gaming. Gaming chairs are very different from office chairs. There are a plethora of alternatives when it comes to ergonomic computer gaming seats, but the top recliners in this category are regarded for being exceptionally user-friendly and providing exceptional comfort, like a Boulies gaming chair. This full recline gaming chair is widely regarded as one of the greatest ergonomic chairs for gaming, and for good reason.
Things To Look For While Buying a Gaming Chair
To what extent do gamers have expectations of their gaming chairs? It's like playing a video game in slow motion. However, he doesn't seem to know how to acquire that. Knowing what to look for in a comfy desk chair design is essential if you want to get the best possible experience when sitting in front of your computer. While it is important to keep an eye on how your gaming setup looks, you should first know which chair you will need in order to determine if it is appropriate for your gaming sessions. Numerous gaming furniture retailers, many of which make exaggerated claims, have invaded the market. This makes it quite challenging, especially for novices, to have faith in the quality and determine which style is best for them. Because of this, we've gotten together today to go over everything from square one. Your first order of business is to make a selection of gaming chairs. Next, think about what makes an ergonomically designed gaming chair worthwhile for your gaming rig. Finally, we'll go through the benefits of the Boulies gaming chair, widely considered to be among the best in the industry.
Advantages Of a Boulies Gaming Chair
Helpful for the Back and Neck
When it comes to gaming furniture, Boulies master gaming chair is designed specifically for the purpose of supporting the lower back and the natural curve of the spine is the best option. This is a great benefit when people have to sit for long periods of time. People with back problems and poor posture benefit greatly from sitting on a Boulies master gaming chair.
Better Health
Whether you're at work or playing a video game, prolonged sitting is bad for your health. Some muscles may become numbed as a result, which can lead to discomfort and weariness. In addition to being a comfortable seat, the tilt angle offered by this gaming chair reclining makes it possible for your body to move around while gaming.
The Features Of a Boulies Gaming Chair
Ideal For Work And Relaxation At Home
This gaming chair reclining now provides a whole new level of comfort for working, studying, and gaming by combining many adjustable functions, improved rich materials, and aesthetically designed. Its high quality and grade are emphasized by the muted color scheme and plush fabric, which give the piece an air of understated luxury.
Ultraflex Pu & Alumina 4d Armrest Construction
Since the aluminum alloy is used for the major internal structure now of this gaming chair 300 lbs, the armrests are solid, sleek, and long-lasting. The armrests have also been reworked to make gripping your elbow more comfortable; they are now softer. The ideal leather for gaming seats is not only long-lasting, but also plush, pliable, and polished for maximum comfort and control. The distinctive Boulies ultraflex PU leather was created using the upholstery of sports vehicles - microfiber suede - after hundreds of testing. The perforated leather design is a particular addition to make the gaming chair 300 lbs more breathable.