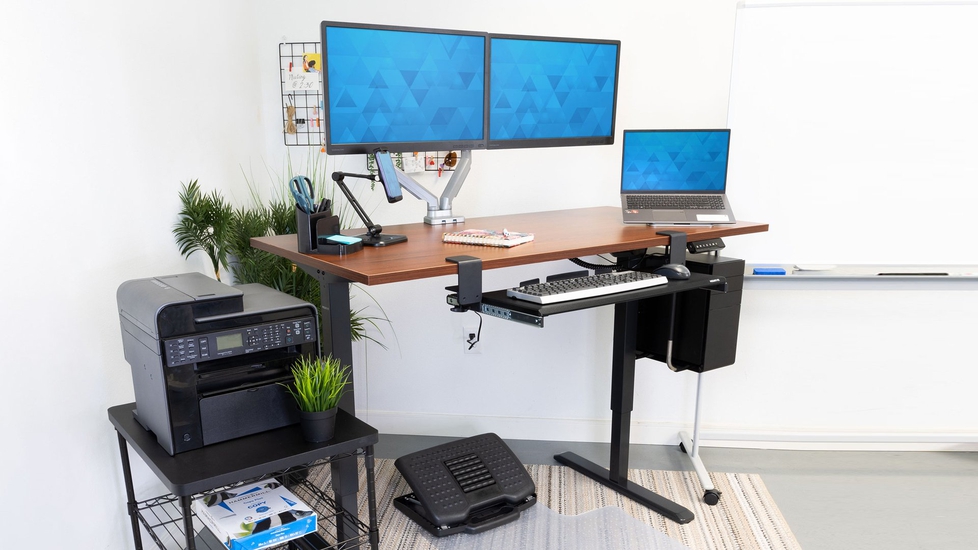 Mount-It! Standing Desk: Sustainable Melamine
4 reviews
Visit our store
Buy now
Add to cart
FREE shipping Oct 06 - Oct 09. FREE 30-day returns.
Sold and shipped by Mount-It!
• Motor: Single motor height adjustment • Height range: 29.7" to 49.4" • Width adjustment: 39.4" to 63" • Tabletop Dimensions: 59" W x 29.5" D x 1" H • Weight Capacity: 176 lbs
• 10-year warranty
The sit-stand desk with electric motor elevates your workstation anywhere between 29.7" to 49.4" - allowing you to get out of your chair without interrupting your workflow or productivity.
Deep dive into specs
Features
Specs
FAQs
reviews
4.7
Physical activity is crucial to everyone's well-being since it lowers the chance of developing chronic illnesses. Sitting for long periods of time at a desk job can lead to sedentary behavior, which can be harmful to one's health. A wide range of health problems, including heart disease and type 2 diabetes, have been linked to this kind of behavior, according to several studies, Mount-It standing desk comes to the rescue. For this and other reasons, standing desks, for example, a SmartDesk Core, have become increasingly popular as an alternative to traditional desks in many workplaces and home offices. When compared to working at a desk all day, the advantages of using a Mount-It rustic standing desk for ergonomic health reasons are innumerable. Consider a standing desk if you've ever had back pain whilst also working or are concerned about your health. Office desks are an important part of the office environment for the vast majority of savvy workplaces. This is critical, as the correct call of Mount-It sit stand desk can have a surprising impact on employee productivity. As a result, many people will settle for a desk that doesn't take into account their posture or back health, such as an old one that's been around for decades.
Why Go For A Mount-It Rustic Standing Desk
Working in such circumstances can lead to physical and mental exhaustion, which can have a negative impact on an employee's ability to perform their job duties. There are a wide variety of rustic adjustable standing desk options to choose from. Stand-up desks, sit-stand desks, and other similar terms all refer to the same thing: a desk that allows you to work, write, or draw while standing up or sitting on a high stool. It's possible to find one that's perfect for your office as well as your budget thanks to the wide range of options on the market. A Rustic adjustable desk has a number of advantages over traditional office desks, including benefits to one's mental and physical health. A Mount-it rustic standing desk, also known as a metal desk, is a metal-framed desk. As a result of the desks' hefty metal construction, they are ideal for heavy use and are the epitome of strength and sturdiness. However, here is a complete guide to proper ergonomic standing desk position on Autonomous. It is more stable due to its massive frame, which does not wobble or shift under pressure. Multi-monitor workstations and massive gaming rigs are commonplace on industrial metal tables. Here are the top ten industrial metal office desk options, as their popularity soars.
Benefits Of Mount-It Rustic Standing Desk
The Health benefits of standing workstations are debated. People's health is jeopardized because of the sedentary lifestyle that comes with working long hours on a chair. If you're an office worker, you may not have a choice in how you spend your workdays, but chances are good that you'll do the same at home.
1. Inhibits Obesity and Weight Gain
Consuming extra calories than your body can expend will always result in weight gain. Contrary to popular belief, if you expend more calories than you eat, you may also lose weight. Standing rather than sitting at your desk for eight hours a day may help you lose weight and keep it off by increasing your caloric expenditure.
2. May Help You Manage Your Blood Sugar
Another advantage of a Mount-it rustic standing desk is that it might help lower blood sugar levels. When you eat, your blood sugar levels might rise significantly. If it continues to do so, your health might suffer. The danger is much greater for those with insulin resistance or diabetes.
3. May Reduce Your Heart Disease Risk
For a long time, researchers have investigated whether or not standing is preferable to sitting. According to research from 1953, bus conductors who sit all day are twice as likely to die from heart disease than those who stand all day.
4. A Boost to Blood Circulation
Mount-it rustic standing desks also enhance circulation, which may positively impact your overall health. Standing at your workplace allows you to get more oxygen into your body than if you were sitting down. While working in an upright posture, blood flow to your hands and feet increases dramatically.