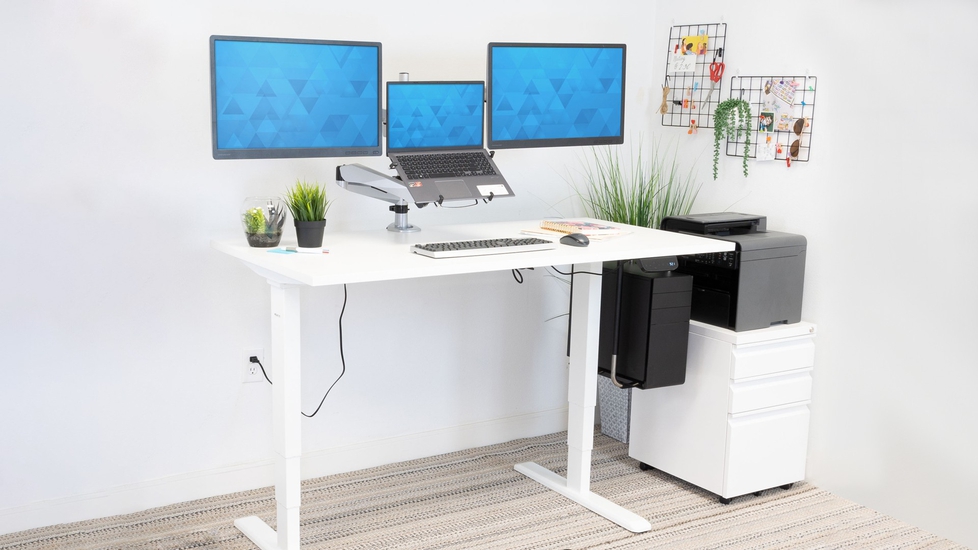 Mount-It! Standing Desk by Mount-It!: Touchscreen Keypad
Buy now
Add to cart
FREE shipping Dec 06 - Dec 08. FREE 30-day returns.
Bought by 1+ Zylo employees.
Sold and shipped by Mount-It!
• Motor: Dual motor height adjustment • Height range: 25.4" to 51.4" • Width adjustment: 39.4" to 63" • Tabletop Dimensions: 59" W x 29.5" D x 1" H • Weight Capacity: 275 lbs
• 10-year warranty
MI-18067 is a complete desk with a Touch control panel that lets you go from sitting to standing with ease.
Deep dive into specs
Standing desks are the most popular alternative for remote employees. Now that so many parents are homeschooling, they've become vital for children to feel comfy and remain focused and productive during the school day. To get the most out of your workday, you'll want to be able to alternate between a white electric sit and stand desk. Many office employees spend more than 9 hours a day hunched over a desk, which has been dubbed the "new smoking." According to several surveys, almost 85% of employees report being working at an uncomfortable desk. This is particularly the case for people who are unable to shift positions throughout their working day, dual motor adjustable desk comes to the rescue. In recent years, the use of white electric sit stand desk has skyrocketed among businesses concerned about employee health and well-being. In the event that you fail to set up your dual motor electric standing desk correctly, you run the risk of causing yourself more pain in the long run.
Why Go For White Electric Sit Stand Desk
Setting up such a dual motor electric adjustable standing computer desk effectively is worth the money and effort. So, in order to help you and guide you about these dual motor electric standing desk, we've put together this buyer's guide. Here are 9 true health benefits of a standing desk on Autonomous. Although a dual motor standing desk design is much more costly and complex than a conventional office desk, they offer many outstanding advantages. The ability to change from a seated to a standing posture with ease is one of the most common and well-liked features of a Mount-It white electric sit stand desk. Being able to transition from sitting to standing may perform wonders on your health. Firstly, you may lower the amount of time spent sitting each day without affecting your job progress. This delivers a broad variety of advantages, such as better productivity, posture, and mood, while eliminating frequent aches and pains from sitting at your desk all day.
Advantages Of Having A White Electric Sit Stand Desk
A sit-stand desk for the workplace may improve your workspace's comfort and support in general. Moreover, they are also known for standing desk touch screen features and are fitted with superb aesthetics. These may assist you to construct a more elegant and professional-looking workspace. Creating such workplace environments increases efficiency and productivity for greater performance in the office. We recommend SmartDesk Core for all your needs. Starting with a white desk is usually a good idea because of the color's ability to inspire creativity. To begin with, the brightness of white quickly enlarges a room. Secondly, it is flexible to whatever color scheme or design sensibility you wish to pursue. In a nutshell, Mount-It white electric sit stand desk workstations are stylish, smart, and adaptable. Because so many furniture designers start with white as a basic color, we have a plethora of alternatives when it comes time to decorate!
White Color Psychology
The colors around them influence a person's perception and behavior. It's critical for company owners and managers to be aware of the influence that color may have on both the views of their staff and the perceptions of their target consumers. And sure enough, several studies suggest that colors have an influence on how buyers view companies. Colors that suit the personality of your business make people more inclined to buy. Colors may alter people's concentration, vitality, and productivity. Do you or fellow team members feel lethargic at work or have difficulties concentrating? A color makeover may be the answer if your surroundings are mostly beige or gray. Adding a splash of color to your office may give your staff and clients a much-needed energy boost. Research demonstrates that all-white walls make staff more error-prone. However, white may also inspire creativity and offer a feeling of space. Depending on how it's utilized, white as an accent color may muffle or enhance bright colors' vibrancy. Incorporate white as an accent wall or in workplace design to generate equilibrium.