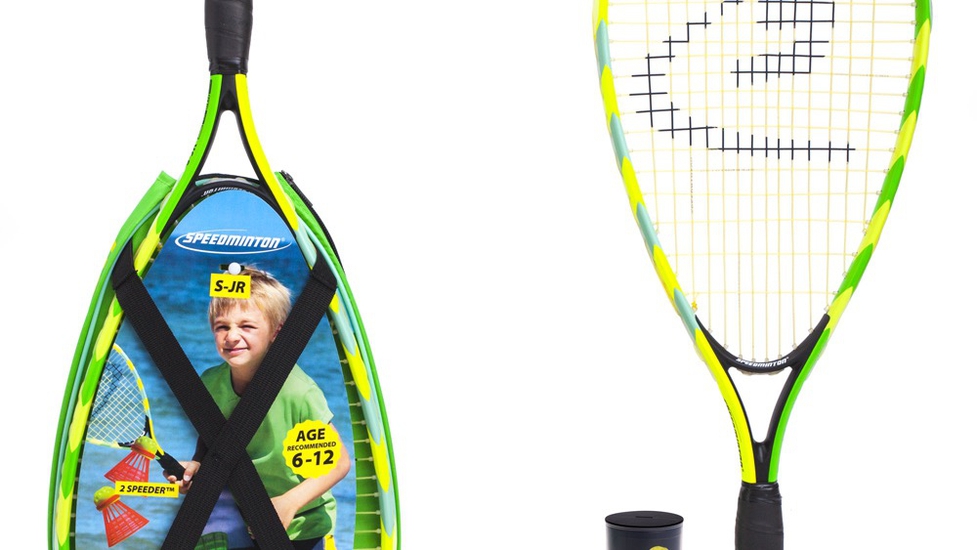 FREE shipping Mar 27 - Mar 29. FREE 30-day returns.
Sold and shipped by Speedminton. Visit our store
• SPEED BADMINTON: The innovative racket sport, now called cross Minton, allows play without a net, and is the perfect alternative to beach ball, spike ball and badminton for the whole family for beach, park or backyard. • JUNIOR SET: The Speedminton set, especially for children from 6-12 years and distances of 5-20m. • RACKETS: 2 durable, shorter, original Speed Minton speed ​​badminton junior rackets made of high-quality, lightweight aluminum in a bag with carry strap. • SPEEDER: 2 FUN Speed Minton birdies, perfect for beginners, children, playing with less space or for training purposes. • ORIGINAL: Speed Minton is the leading manufacturer of cross Minton / speed badminton equipment as well as official equipment supplier of the ICO (International Cross Minton Organization).
• 6-month warranty
Speed badminton / crossminton is the innovative outdoor game alternative to tennis, spike ball, badminton and beach ball for the ultimate leisure fun for the whole family on the beach, in the park and garden without any net. The Speedminton Junior speed badminton Set has been developed especially for children from 6 to 12 years and shorter distances of 15-50ft. The two original Speedminton rackets made of durable aluminum, weighing only 5.5oz, are perfectly adapted to the needs of children. Compared to badminton rackets, the Speedminton rackets are shortened to allow easy handling. Compared to tennis rackets, the speedminton rackets are much lighter with the isometric racket head increasing the striking area. The Speedminton rackets in combination with the Speedminton birdies (two FUN Speeder) ensure lots of fun indoor or outdoors. Speedminton offers various as accessories including Cones and Easy Court Basic. Original Speedminton birdies, called Speeders, are produced exclusively in Germany using high-quality, robust and recyclable high-tech plastics from Switzerland. Content: 2 Speedminton Junior Rackets 2 FUN Speeder 1 pocket with carrying strap
Deep dive into specs
About Speedminton Junior Set
Children and adults both can take advantage of the excitement and enjoyment that comes from playing with rackets. It's also a fantastic exercise that helps with both fitness and hand-eye coordination. Racket sports are a fun and effective method for kids to sharpen their coordination and movement skills.. If you are slo looking for a fun pair of rackets, we recommend you get the Speedminton Junior Set. Racket sports are enjoyable and beneficial for adults of all ages. It is beneficial for different reasons, including physical fitness, mental health, and social interaction. It's a wonderful opportunity to spend quality time with your kids and have a quality time. Make sure you have the proper gear before picking up a racket for a game. This involves using a ball with the right size and bounces for your ability level and a racket with the right size and weight for a particular skill level. Make sure there is enough room to move about and no obstacles in the way of your game. We recommend the Speedminton racket as one of the best ones.
About Speedminton
Fast and exciting, Speedminton racket is a combination of badminton, squash, and tennis. In this game, you use a special shuttlecock called a "Speeder" that is constructed of tough plastic and can be hit with a racket or your bare hands. Anyone of any age or degree of expertise may join in on the fun, whether it's indoors or out. Speedminton emphasizes adaptability in all of its offerings. Tennis is a versatile sport that may be played on grass, sand, or concrete, and in a number of configurations. There are a number of variations on the core game of Speedminton set that are both entertaining and challenging, such as Crossminton, which is like beach volleyball but is played on a larger court with a smaller racket, and Funminton, which is a simple but enjoyable game to play in the backyard with family and friends. Speedminton also provides several different kinds of equipment, such as cones and Easy Courts Basics. The original Speedminton birds, known as Speeders, are made in Germany utilizing Swiss high-tech polymers that are reliable, durable, and recyclable.
Speedminton Junior Set
For the best in netless family fun at the beach, at the park, or even in the garden, go no farther than speed badminton, often known as crossminton. The Speedminton Junior Set is made for younger players and shorter courts (between 15 and 50 ft). However, the Speedminton Junior Set is very light weighted and made of aluminum. They are shorter in size as compared to those of normal tennis or badminton rackets. The Speedminton Junior badminton racket is also better than other rackets because of the larger hitting surface, which results in more fun during the game. It doesn't matter where you are playing, indoor or outdoor, you'll have a great time with the Speedminton Junior Set. It can be one of the best back to school gifts for kids.
What To Consider When Buying A Badminton Racket Set?
Type Of Racket
Badminton rackets can be broken down into three categories:beginners, intermediate, and advanced. Cheaper and having a larger sweet spot, beginner rackets are simpler to strike the shuttlecock with and are ideal for learning the sport. Intermediate rackets are more difficult to use since they are more costly and have a smaller sweet spot. The rackets with the smallest sweet spot and the most cutting-edge technology are the advanced rackets.
Weight, Size & Grip
Light, medium, and heavy weights are all available in badminton racket sets. A light racket may be more convenient to use, but it won't provide the same punch as a heavier one. More power and stability comes at the expense of increased difficulty in handling and swinging a heavy racket. Small, medium, and big sizes are all available for a badminton racket set. While smaller rackets are more convenient to use, they lack the power of their larger counterparts. The larger the racket, the more power, and stability it offers, but the more cumbersome it is to swing and control. Small, medium, and large grip sizes are all available for badminton rackets. Although smaller grips are more manageable, they lack the power of their larger counterparts. Bigger grips are trickier to use, but they're also more powerful and stable.
FAQs
Don't see the answer to your question?