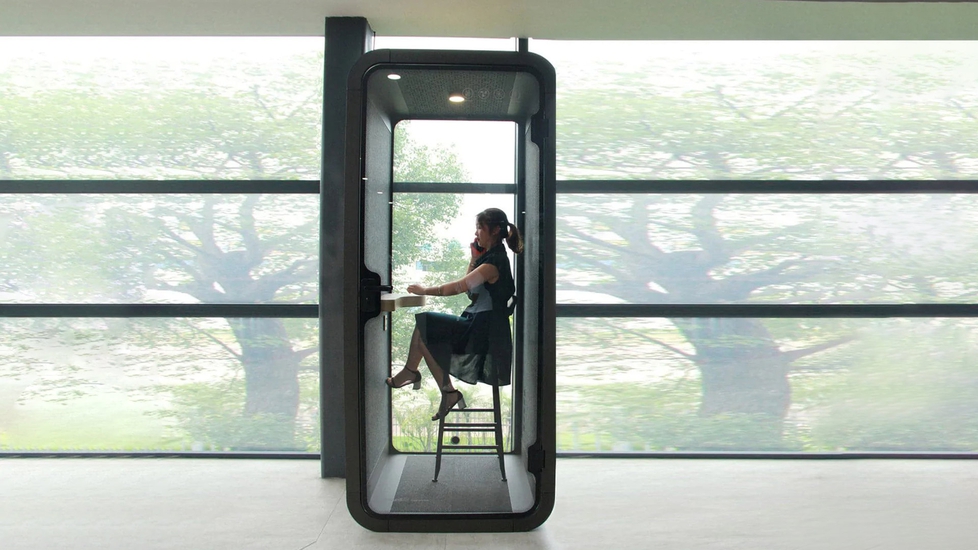 Shipping Apr 07 - Apr 10
Sold and shipped by Thinktanks. Visit our store
Thinktanks 1 Person Pod en un coup d'œil.
• Fully assemble.
• Focused collaboration: Created for 1 person to inspire distraction-free outdoor focus.
• Equipped with essentials: Outfitted with the tools you need to work—outlets, USB chargers etc.
• Soundproofing: Designed with the highest quality, acoustic sound panels to keep noise inside the pod (think meetings, phone calls, and video conferencing).
•
Terms & Conditions
• 3-year warranty
Plongez-vous dans les spécifications
FAQ
Vous ne voyez pas la réponse à votre question ?
What are the terms & conditions (T&C)?
Do you offer any warranty?
Yes, we offer a Full 3 Year Warranty on all of our Thinktanks and stand behind our product's durability and structural integrity.
Can you easily disassemble the office conference rooms?
Yes you can! They are designed to be assembled and disassembled very quickly.
What type of power do the pods require?
Your new Thinktanks rooms need to be plugged into a standard 110V outlet. This is the outlet and voltage found almost everywhere.
Do your office booths have a fan system?
Yes, the rooms have an automatic advanced cooling system that will keep you relaxed during longer meetings.
What type of glass is used for office conference rooms?
The doors and walls are made from impact resistant, extremely durable tempered safety sound glass.
Are the rooms eco-friendly?
Yes, our rooms are Eco-Friendly. We source from local suppliers and continually research to find the most eco friendly materials available on the market. The booth is 70% recyclable.
How soundproof are the pods?
The speech level reduction (DS,A) of Thinktanks is 30 dB measured according to ISO 23351-1. You will not be able to understand what people are saying inside the pod when you are standing outside, though you may hear a muffled sound.
How does shipping charge work?
We charge flat rates depending on customer location.
What is the shipping lead time?
Phone Booth (1-2 Person)
Standard Shipping = 30-60 days (due to high demand)
Conference Room (2-4 Person)
Standard Shipping = 30-60 days (due to high demand)
Conference Room (4-6 Person)/
Standard Shipping = 30-60 days (due to high demand)
Every Pod arrives in a flat packed shipping box for your convenience.
**Thinktanks is not directly responsible for shipping delays due to the COVID-19 pandemic and will therefore not refund orders due to such delays. Government regulations may delay orders by weeks to months in these uncertain times and buyers are cautioned to order at their own risk.**
What is the average assembly time?
S (1 Person) = 2 hours
M (2 Person) = 2 hours
L (4 Person) = 3 hours
XL (6 Person) = 4 hours
The units are assembled with a simple hand tool that is provided with your order. For safety, we always recommend two people for building any unit. We do offer installation as a service.