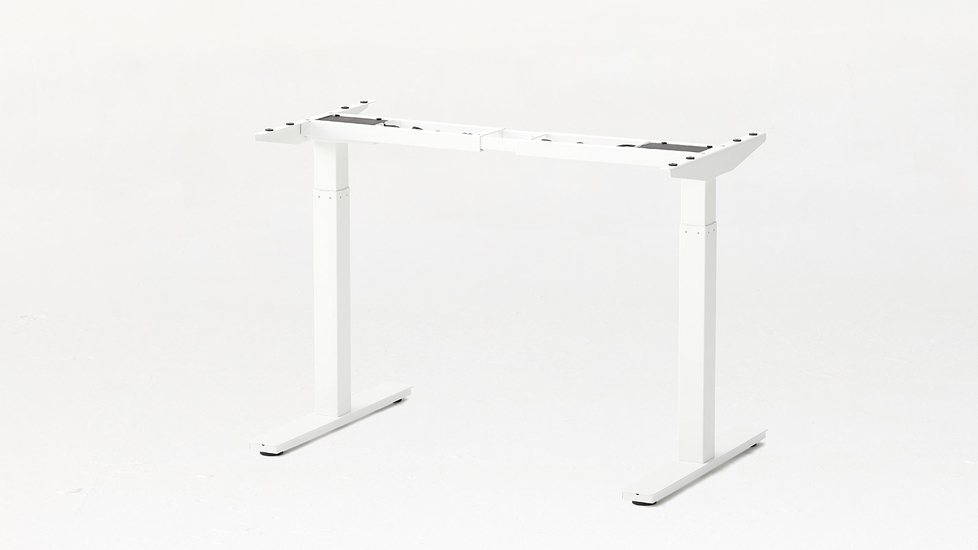 Autonomous SmartDesk Frame
- DIY Standing Desk
$399
Livraison gratuite et flexible
Acheter maintenant
Ajouter au panier
Livraison gratuite May 31 - Jun 02
Bought by 100+ Vifah employees
Vendu et expédié par Autonomous.
Autonomous SmartDesk Frame en un coup d'œil.
Laissez-nous faire le travail de base. Associez votre bureau personnalisé à l'un de nos cadres en acier réglables en hauteur.
• Choisissez parmi les cadres Core, Pro et Corner
• Pour des besoins différents en termes d'espace, de hauteur et de capacité
• Tous sont actionnés par des moteurs électriques silencieux
• Tous les cadres sont en acier massif
• Clavier programmable
• Réglable en longueur pour s'adapter à tous les bureaux
• 5-year warranty
Plongez-vous dans les spécifications


SMARTDESK FRAME
Pour tout type de bureau.
Chaque cadre SmartDesk est réglable. Pas seulement en hauteur, mais aussi en longueur. Ils couvrent une large gamme de 40" à 73" pour garantir une adaptation parfaite au bureau que vous avez - ou à celui que vous êtes sur le point de créer.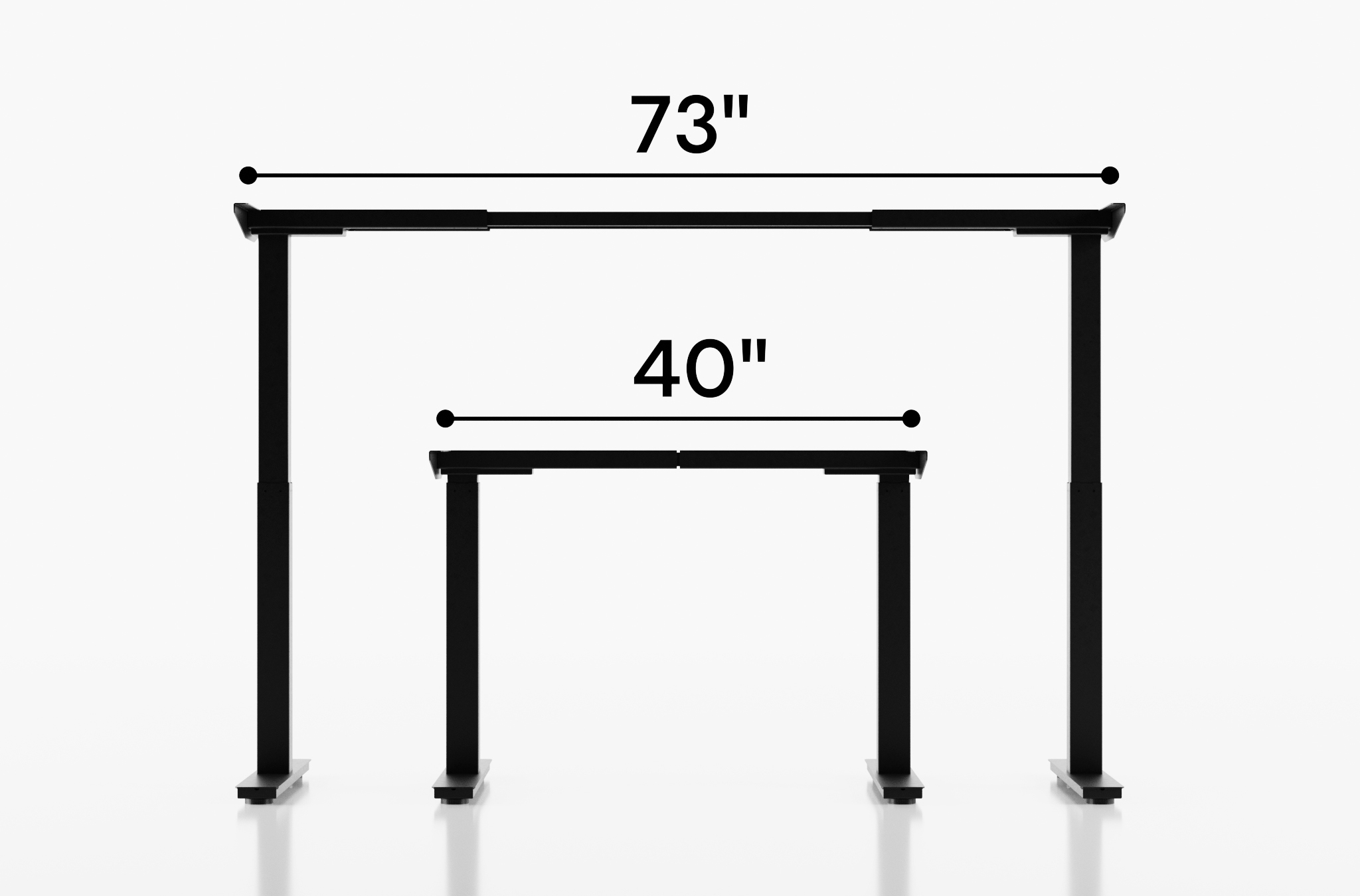 3 OPTIONS
Votre façon de faire est la bonne façon de faire.
Il y a un cadre pour tout le monde. Vous êtes grand ? Vous avez beaucoup d'affaires ? Optez pour le cadre Pro. Vous avez besoin d'espace et de flexibilité ? Prenez le Corner. Vous ne recherchez que l'essentiel ? Vous allez adorer le Core.
ASSEMBLAGE FACILE
Lancez-vous en quelques minutes.
Tous nos cadres ont été conçus pour être simples. Ils sont donc très faciles à assembler et chaque paquet comprend tous les outils dont vous avez besoin pour commencer. Vous serez opérationnel en un rien de temps.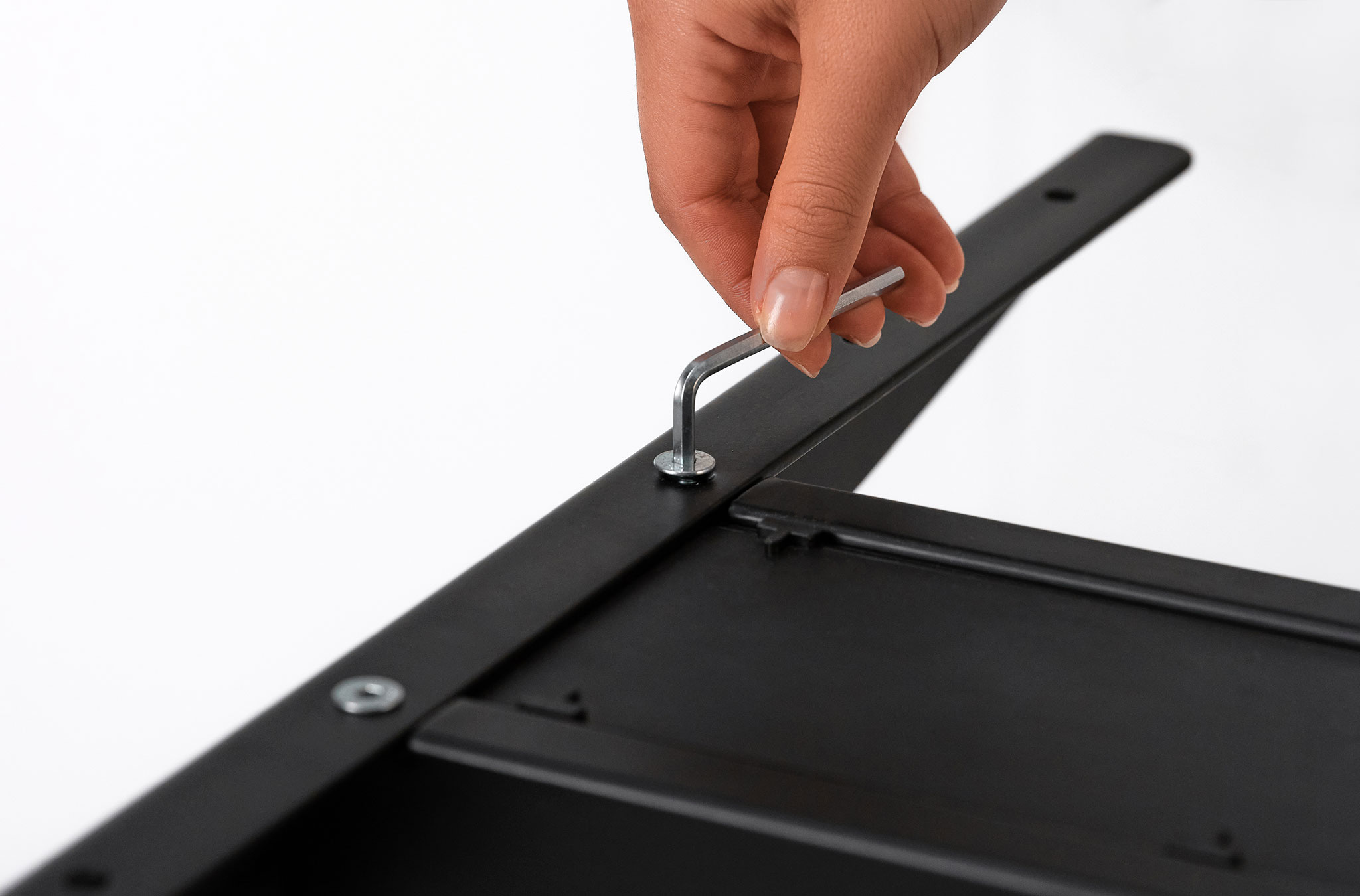 CERTIFIÉ DURABLE
Construisez sur des bases solides.
La durabilité et la sécurité de chaque cadre ont été vérifiées par BIFMA, UL et EMC. Chacun a été rigoureusement testé pour supporter au moins 10 ans d'utilisation intensive. Il ne vous reste plus qu'à choisir celui que vous préférez.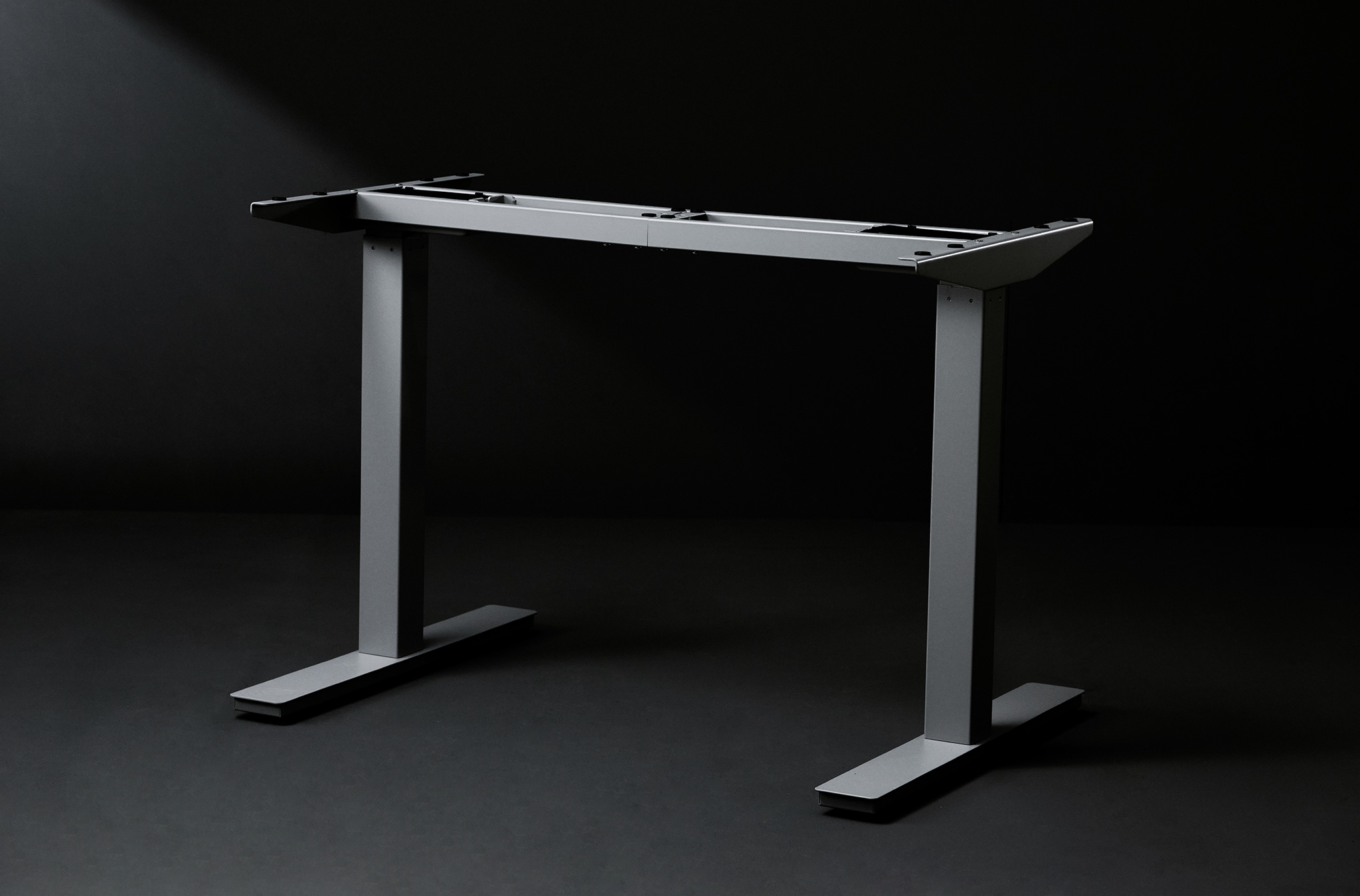 Now more than ever, there's a wide array of options for building your ideal workspace, whether you work at home or you've begun transitioning back to the office. Some people prefer an all-in-one package—just unbox it, set it up, and you're good to go. But the downside to this approach is that you're not getting a personalized space, and for creative types who like to do things differently, this is less than ideal. That's why the SmartDesk DIY Kit is the standing desk do it yourself option for anyone who wants to take control and create a unique, beautiful workspace that you actually look forward to using! With the DIY standing desk, you can attach any desk top you like while enjoying all the benefits of an electric standing desk from Autonomous. Still, it can be a challenge to know how to go about building your own DIY standing desk. With this blog, you'll know everything you should consider before you buy DIY standing desk tools. Plus, you might pick up a little extra inspiration along the way. Read on to find out more about how you can create your own DIY adjustable standing desk.
Common challenges when building your own DIY standing desk
For the inexperienced, building your own desk can have its challenges. It's good to be acquainted with these potential scenarios so you can be prepared to tackle them should any of these common problems arise. For starters, having a wobbly foundation can be a dealbreaker for any DIY standing desk. If your frame lacks the strength to support the custom tabletop you've chosen, you'll be stuck with a desk that shakes and wobbles every time you use it. In the worst case scenario, the desk could collapse and potentially cause damage to your valuable office equipment. Before you buy, always check the specifications to ensure your standing desk legs have sufficient weight capacity for your diy standing desk top.
Another common issue is building a standing desk that can't be adjusted easily. Convenience of adjusting your desk is critical if you plan to alternate between sitting and standing frequently throughout the day. Though inexpensive manual options exist, it can be difficult to manually adjust a desk loaded with all your office supplies—and again, if your adjustment goes wrong, all your gear could end up crashing down on the floor. Be sure to opt for an automatic, motorized standing desk frame for optimal convenience and functionality. Finally, though we may have an idea of what our final outcome will look like, some DIY standing desk ideas are better imagined than in reality. Even if you have a solid foundation for your desk, it could just end up turning out just plain ugly. To ensure your custom desktop shines, it's best to go with a minimalist standing desk frame that will serve as a foundation without any clashing aesthetic.
Elements to consider when choosing a DIY adjustable standing desk frame
Now that you know what potential problems you could run into, here are some key features you should consider when choosing the right standing desk frame for your DIY standing desk:
Height range & Ease of movement
This is crucial, and it depends on your body type. If you're taller or shorter than average, you'll need a DIY adjustable standing desk that can accommodate a broader height range. To check, sit and stand with your arms bent at a 90 degree angle, which is the optimal ergonomic position for sitting and standing. Take those measurements, and compare them to the specifications of the standing desk frame to ensure it can lift and lower to the correct height for you. Manual standing desks are a pain, so it's good to get a desk that you can easily adjust up and down. Consider investing in a standing desk frame that has a motorized solution to make lifting and lowering all your expensive, heavy office equipment an absolute breeze. Especially if you'd like to alternate frequently between sitting and standing, ease of movement is a must.
Weight & Working surface
How much weight can your standing desk legs support? This is a critical element that you should test by weighing the desktop you intend to use, as well as all the equipment (computer, monitor, peripherals, printer, decorations, etc) you plan on keeping on your desk. Then, check to make sure the standing desk frame you're choosing has enough weight capacity to suit your needs. You may only need space for the basics, or you may have a lot of equipment you use at any given time throughout the day. Avoid feeling cramped and cluttered by making sure you choose a standing desk frame that can accommodate the size of the surface you need in your workspace. And remember: when in doubt, give yourself more space, as you won't regret having extra room on your desk, even if it's rarely used.
Easy step-by-step assembly for your DIY standing desk
If you're new to assembling your own DIY standing desk, we've put together a simple, easy-to-follow step by step instruction process for you. Just check out the blog here and follow along and you'll have no trouble getting your DIY standing desk put together in no time.
Craft your own unique workspace with the highly customizable Autonomous SmartDesk Frame
If you're looking for the most simple and reliable solution for your DIY standing desk frame, look no further than the DIY standing desk frame from Autonomous. With all the convenience, features, and minimalist aesthetic you get from a full SmartDesk, this sturdy frame will have you working on your beautiful custom desktop for years to come. The powerful dual electric engine is whisper quiet, so you'll have no trouble lifting and lowering your desk frequently without bothering your housemates or coworkers. You'll also have a keypad with four preset memory settings, so you can set custom heights that lift and lower to the exact right position every time, with just the press of a button. It's a super convenient way to ensure you're always working comfortably and ergonomically. The DIY SmartDesk frame is powerful, capable of supporting up to 300 lbs of weight. This makes it ideal for any professional or gaming setup that requires the use of lots of heavy gear. You could even use it to take a nap, though we wouldn't recommend this! Best of all, for designers, this desk frame is minimalist and complements your aesthetic perfectly without clashing with your custom desktop, whether it's an artistic design or a custom cut of wood for that classic, sophisticated feel. Check out the SmartDesk DIY standing desk frame from Autonomous and get started on your very own custom workspace today!
FAQ
Vous ne voyez pas la réponse à votre question ?
What is the recommended length & width of the top for the DIY Kit?
The desk top you choose should be within the range of 45 - 80 inches long and 26 - 32 inches wide.
Ce bureau utilise-t-il une prise de courant ordinaire de 120 volts?
Oui. Notre bureau debout est compatible avec les prises standard 110 volts - 240 volts. Les deux courants sont automatiquement convertis par le pupitre. Pour les commandes vers les USA, les prises sont installées avec la fiche standard à deux broches. Pour les commandes internationales, nous convertissons le plug en fonction du type utilisé par le pays de destination.
Je vois qu'il y a une "boîte noire" à installer sur la face inférieure (à du panneau de commande), avec une alimentation et une connexion de données. Est-ce que cela ressemble à une barrette d'alimentation et à un plug-in de données?
Oui, c'est la boîte de contrôle. Elle doit être attachée sous le bureau pour pouvoir utiliser le clavier intelligent. Il est connecté au Smart Keypad pour contrôler la hauteur du bureau et à la source d'alimentation pour indiquer au (x) moteur (s) électrique (s) quand monter ou descendre.
Livrez-vous dans le monde entier?
Nous faisons! Nous avons déjà expédié dans plus de 60 pays et nous comptons toujours! Veuillez sélectionner votre pays pour le paiement localisé et le traitement approprié des prix, des droits et des taxes.
Quelle est la charge maximale que le cadre peut supporter?
Le cadre édition Business peut soulever jusqu'à 135kg.
Le cadre de l'édition Home peut soulever jusqu'à 135kg.
Je pense que je veux un cadre de bureau debout. Je mesure 1,92m. Devrais-je obtenir un cadre à un ou deux moteurs?
Allez avec le cadre de bureau permanent à double moteur qui peut monter jusqu'à 132cm (avec le haut). Une de nos équipiers mesure 1,98cm et l'utilise confortablement au quotidien!
Pouvez-vous me donner plus d'informations sur votre politique d'essai gratuit de 30 jours?
Si vous n'aimez pas votre bureau, nous le reprenons. C'est aussi simple et facile. Vous avez jusqu'à 30 jours après la livraison pour monter et utiliser votre bureau. Si vous changez d'avis, vous pouvez alors demander à retourner le bureau pour un remboursement complet (nous couvrons même les frais d'expédition!), Sans poser de question. Cette politique s'applique à tous les bureaux livrés aux États-Unis continentaux et renvoyés dans leur emballage d'origine uniquement. Les commandes internationales ne sont pas admissibles à ce programme. Veuillez noter que le bureau debout retourné doit être dans son emballage d'origine. Sinon, nous nous réservons le droit de refuser votre demande.
Combien d'ampères chaque bureau utilise-t-il?
Le bureau est de 110 à 240 volts. 50-60 Hz. 
Combien pèse le colis d'envoi?
Les spécifications du paquet sont les suivantes:
Boîte avec le cadre (Éditions Business):  Longueur (109cm) x Largeur (33cm)  x Hauteur (25cm) x  30kg environ
Boîte avec cadre (édition Home): Longueur (109cm)  x Largeur (33cm) xHauteur (23cm) x 29kg environ
Quelle est la garantie sur le bureau debout à monter soi même ?
Les cadres de l'édition Business bénéficient d'une garantie de 7 ans. Les cadres de l'édition Home bénéficient d'une garantie de 5 ans. En cas de problème, nous réparerons rapidement le bureau, gratuitement, ou enverrons un nouveau bureau debout directement chez vous.
Je suis entrain de construire un plateau pour le bureau debout a monter soi meme que je viens d'acheter. Quelle dimension doit avoir le plateau?
Pour les bureaux des editions Business et hybrides, le plateau de votre table doit être compris entre 99 et 277cm de long et 53 et 167cm de large.