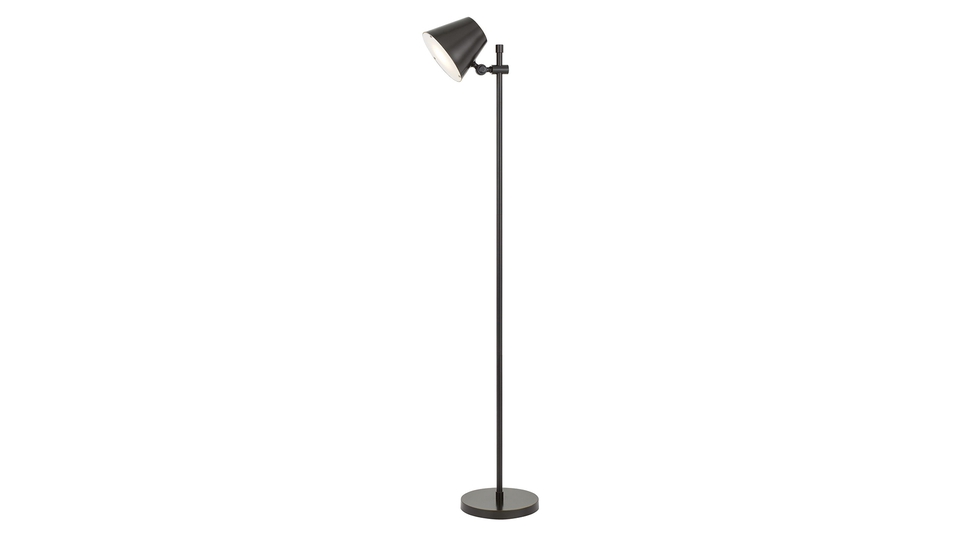 Benzara Industrial LED Floor Lamp
Notify me when this item is available
Enter your email below. We'll let you know when it's back in stock.
Sold and shipped by Benzara
Benzara Industrial LED Floor Lamp at a glance.
Emblaze your existing interior space with this chic industrial style floor lamp. With energy/cost saving LED lighting and convenient adjustable head.
• Industrial floor lamp
• Adjustable lampshade
• Energy saving 12W LED bulb
• Matte all-black metal finish
• Quick assembly
Deep dive into specs
Metal floor lamps are a common muse of the modern world. People love to adorn their interiors with these nice inventions and enjoy the overall peaceful ambiance. As far as the importance of lighting is concerned in the workplace or study settings, many modern best floor lamps live up to the standards. They provide ample lighting needed, but they also make up for many great living room office ideas, both efficient and aesthetically pleasing. There are many industrial adjustable floor lamps and other kinds of adjustable floor lamp for reading in the lamp market. But you need to pick the one that matches your needs. Whether it's a part of your office lighting ideas or more elaborate office accessories, a need for reading time or light for a study place, there are many types of floor lamps to choose from. Some key considerations before buying an adjustable head floor lamp and the Benzara floor lamp as the best choice for you.
How to Choose the Best Adjustable Floor Task Lamp
Metal floor lamps are great; they are modern and unique. Unlike requiring a separate table, they don't need a place to be kept as they are extra compact. For people who love a little modernism in their homes, an adjustable floor lamp is a great choice. Here are some key factors to consider before buying a floor lamp.
1. Adjustability - Size - Height Range
Adjustability is a virtue because then one lamp can suffice for multiple functions. An industrial adjustable floor lamp that offers adjustability can be used for work or even complex jobs at the table. Such floor lamps also work great with a standing desk. Look for a reading or task floor light if you want a lamp with adjustable features. These lights include movable poles that allow you to alter the lamp's height to meet your needs. The taller the light source, regardless of the style of metal floor lamp you choose, the lighter will be spread over the space. Also, keep in mind the other lighting sources in the room since the appropriate height for a floor lamp should be the same as any table lamps in the room. A typical floor lamp will stand between 5 and 6 feet tall (1.5 to 1.8 meters). Lamps 7 to 8 feet tall (2 to 2.4 meters) are available, but they are more difficult to come by and should be reserved for large spaces with high ceilings.
2. Purpose
While you might think all lamps serve the same purpose of providing you the light to view, the different types of lamps work differently. This is because various tasks demand varying focus and intensity of light. Hence, the most common type of floor lamp is an ambient lamp, which offers light to a large area without regard for direction or emphasis. The lamp and its lampshade allow light to disperse and offer indirect illumination throughout the space. These metal floor lamps are best used in living rooms or sitting spaces, and they are usually placed in a corner or at the back of the room.
Why You Should Buy Benzara Floor Lamp
If you like modernism combined with functionality, then the Benzara floor lamp is the right choice for you. It is both cost and space-efficient, thanks to its modern, sleek design that can fit anywhere besides the bed or the couch. For starters, the design of Benzara floor lamp is a great appeal as it is an all-time classic and has a touch of vintage into it. The tall lamp allows you to play with the adjustability in two ways. Firstly you can adjust the height to match your need level, and secondly, you can tilt the lampshade to get the light where needed. Another noteworthy feature of this Benzara floor lamp, as mentioned before too, is the cost-effectiveness. The 12-watt energy-saving light bulb is enough to provide you with a smooth and fresh ambiance but also is smart enough to keep your electricity bill to a lower level. The bulk operated on low energy consumption, which is a plus point since you will use this Benzara floor lamp for all your needs. Moreover, users also find this lamp extra easy to assemble, which adds to the product's portability. The lightweight is also a plus point, especially if you need to move it around the house. The 30 inches power cord also ensures it works away from the power switch too.