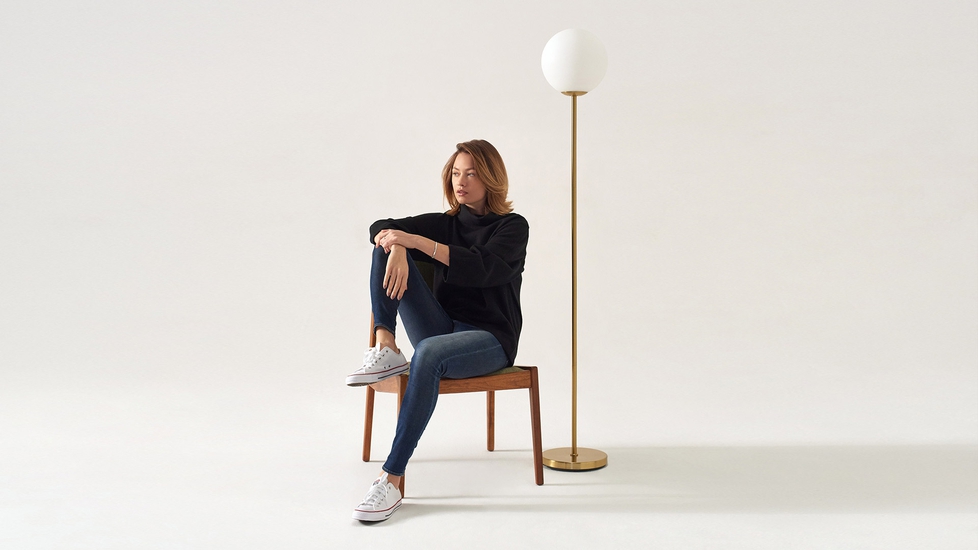 Brightech Luna LED Floor Lamp
38 reviews
Visit our store
Buy now
Add to cart
FREE shipping Oct 05 - Oct 09. FREE 30-day returns.
Bought by 1+ Google employees.
Sold and shipped by Brightech

Price Match Guarantee
Brightech Luna LED Floor Lamp at a glance.
The Luna is the perfect fit within any modern home. Includes a powerful LED 800 lumen bulb that will light up any room or communal living space.
• Modern design
• Energy efficient LED bulb
• Weighted metal base
• Color temperature: 3000k
• Foot pedal switch
• Smart Home compatible
Deep dive into specs
Features
Specs
FAQs
reviews
4.9
Brightech Luna Floor Lamp – Keep your room illuminated and stylish
If you're looking for a good modern floor lamp, the Brightech Luna Floor Lamp has arrived to illuminate your rooms and keep them as stylish as ever. This is a brass floor lamp with powerful illumination properties and a good style. As a LED lighting option, you can be sure that it will maintain your room illuminated without consuming too much power or producing high amounts of heat. Furthermore, its modern design will match your room perfectly. The Brightech floor lamp has become one of the best-sellers by the brand due to its style and functionality. However, there is more to this Luna LED floor lamp than what you can see.
What is a brass floor lamp?
Floor lamps come in different shapes and are made of diverse materials. Still, all of them comply with the same functions, which are illumination and decoration. Brass floor lamps are no different, although they can be a better option than other metals for multiple reasons. Brass has excellent properties that make it the perfect material for office floor lamps. It is quite common nowadays, but most people often overlook some of its characteristics. Here we describe why brass is an excellent material. It is extremely resistant to corrosion and damage by other sources. That is why it is utilized in marine equipment. It maintains its beautiful finish over time. Thus, your modern LED floor lamp will continue functioning and looking as good as always throughout the years. Brass has antimicrobial action, which means it disinfects by itself. This phenomenon is known as the oligodynamic effect. These characteristics make brass floor lamps an exceptional option for any space, be it a living room or an office.
LED Lighting
The brash finish is excellent by itself, but the incorporation of LED lighting makes it all better. LED illumination is characterized by being cost-effective and long-lasting. Considering that brass is quite resistant, you can be sure that this lamp will be around for quite a long time, approximately 20 years! LED lighting is extremely energy-efficient. While incandescent light bulbs convert about 90% of their energy into heat, most (if not all) of the electricity that a LED light uses goes toward the illumination. Thus, LED lighting is not prone to overheating or any other problem that typically happens with incandescent light bulbs.
Why you should choose Brightech Luna Floor Lamp
We've already described some of the benefits that come with the Brightech Luna Floor Lamp. However, this minimalistic lamp has more features in store that make it an excellent acquisition for any space. You can connect the modern LED floor lamp to your smart home. It is compatible with Alexa, Apple Home and Google Home. Thus, with a smart outlet, you will be able to control the lamp regardless of where you are. The weighted metal base will keep it steady and in the same place. However, it is still lightweight enough for you to move it easily around the house if you want to change its location from time to time. The light bulb has a color temperature of 3000k. Luna LED floor lamp illuminates within a 360º radius, making sure that a wide area remains illuminated and that no spaces are left in the dark. You can also turn it on or off with the integrated foot pedal switch. All of these features, plus the benefits of brass and LED lighting, make the Brightech Luna Floor Lamp the best lighting solution for any room. If you've been trying to find some good office lighting ideas, you don't need to look anymore – everything you ever needed is included on this brass floor lamp.
About Brightech
Brightech is a company dedicated to the creation of designer lighting. Their products are both functional and stylish, allowing you to decorate your room in the best way possible while keeping it appropriately illuminated. The brand aims to provide the general population with lighting solutions at affordable prices. Thus, don't be scared of their elegant designs. This company has over one million clients worldwide, and they're slowly expanding their business to every corner of the world. Many people rely on their lamps to keep their spaces illuminated and good-looking regardless of the atmosphere.The Brightech Luna Floor Lamp is one of the best lighting solutions. The inclusion of LED lighting and brass in the same product makes it even better.