Smart Products
Top 20 Modern Floor Lamps for Your Living Room Decor

Autonomous
|
Feb 28, 2023
4,400 Views
Remote workspace design is often evaluated in terms of the more prominent furniture elements. These include an office standing desk or the various smart office accessories that may either beautify the space or improve the user's quality of life. Modern floor lamps for the living room should be in the conversation too, but they rarely are. 
Even if you look beyond the floor lamp topic, how many ergonomic discussions make a big deal out of lighting? Unfortunately, this area doesn't get the focus it deserves, though when handled properly, it can lead to some of the most calming and productive work sessions ever.
If you only think of a floor lamp for living room as a random piece of furniture, let this be the last day you do so. There are decor and functionality elements to the discussion, both of which are incredibly supportive in providing lighting for computer workstations. 
The aim today is to clue you in on some of the best designs on the market. That way, you get one step closer to transforming your workplace into a definitive ergonomic experience.
18 Best Modern Floor Lamps for Living Room
Lighting may have a big influence on our moods and how we feel at home and don't forget that the perfect lighting can make everybody in a room appear wonderful. Or not if it's done badly! Have you ever observed how brilliantly everything is lit when you're in the grocery store? It's bright, flat lighting ideal for supermarket shopping, however, we don't want that in our houses.
However, we don't need to light up the entire home; instead, we would only like to occasionally generate subtle pools of lighting. Because they generate a grainy lighting appearance, floor lamps instantly give ambiance to a place, which is crucial because it creates visual variance. This contrast of highlights as well as lowlights contributes to a cozy atmosphere.
Aside from providing light, a modern floor lamp for the living room also serves as a creative, central focus in a room. They are often just the thing that has helped to level off many diagonal lines, such as the dining room table, side table, and sofas. A contemporary floor lamp could also be used to 'fill the gap' in the back corner of a room instead of artwork. As a result, it's critical to think about a lamp that appears excellent both on and off.
It's a winning combination in-home design paradise when the appropriate floor light meets the ideal armchair. Even if in a large open area, a chair and a floor light create a cozy study nook. If you're contemplating a refurbishment or new construction, it's a good time to think about adding a floor box power source deep into the flooring to put in a floor light in an open concept environment. Here are some of the best floor lamp options you can choose from:
1. Brightech Swoop LED Floor Lamp
This is one of those living room floor lamps that proves you don't need a hefty price tag to achieve great quality. Brightech managed to make this one incredibly affordable, though the build quality is not too far off from some of the more expensive models available. 
It has a unique asymmetrical design that is guaranteed to bring an exclusive flair to your decor and have visitors asking you about it. Beyond the use of eye-popping curvature, the presence of black and gold accents reinforces the premium feel.
The sculptural floor lamp features an adjustable shade, allowing you to take control of its directional orientation. An LED is bulb included, which is rated at 9.5 watts, making for a very energy-efficient style of operation. Though it's going to save you some money, the 800-lumen bulb provides the brightness you need and should last you up to 20,000 hours before a replacement is necessary. The footswitch inclusion is convenient icing on the cake. 
For those who like the idea of a minimalist workspace layout, not all contemporary floor lamps can work for you. However, the Swoop floor lamp is just what the doctor ordered. It blends well into mid century, farmhouse, retro, industrial, and vintage aesthetics. 
2. Benzara Industrial LED Floor Lamp
This is a good option for stand lamps for living room. Like Brightech, Benzara also has a standout design with this industrial model. It is also rated as one of the best floor lamps in the market. While it's not as cheap as the previous entry, it certainly isn't as expensive as some of the other models discussed. There's a simple and elegant style about it, allowing it to easily integrate into any remote workspace layout.
This Benzara stylish floor lamp for the living room with an industrial design can be the focal point of any space. The word "industrial" is not just fluff here. While it is well suited to those who may be working from a remote space, others who would like to use it in an organizational context should have no issues. 
This Benzara floor lamp is another model with an adjustable light shade, which is very convenient for exercising control of the beam's direction. Based on the amount of natural light available and your positioning, you may want to adjust the unit every so often.  
There is a 12-watt LED bulb included, which translates to an energy-saving design. You can also decide between yellow lighting vs. white lighting according to your preference. The lifespan you get is staggering, as you are going to be enjoying over 50,000 hours. Any traditional light source, when compared to this Benzara design, would be costing you as much as 80% more on your electric bill. 
Assembly of this contemporary floor lamp is also incredibly quick, so you can get up and running as easily as you'd like. 
3. Sphere Floor Lamp by Brightech
This is one of the best floor lamps for a living room designed to turn eyes with its stunning appearance. The Brightech Sphere draws attention and illuminates your house with its beautiful brass finish, glazed white glass, and two durable LED lamps. This is both a work of art and a useful light fixture! It also has a brass toggle switch to control the bulb's intensity and create an immediate ambiance. Its warm, lovely glow makes any space seem welcoming and at ease while making the most of available light.
4. Lamp Depot Frame Floor Lamp
The Lamp Depot Frame Floor Lamp is a great choice for anyone who wants to add a stylish and functional lighting fixture to their home or office. Its unique design and warm lighting make it an eye-catching addition to any room. An LED light that modifies brightness based on its surroundings would make your room appear amazing. This contemporary floor lamp is modern and sleek; it can be controlled by the provided remote or an app on your mobile.
5. Logan LED Floor Lamp by Brightech
Brightech's contemporary and stylish take on the arc-shaped lamp with black detailing. The Logan contemporary floor lamp is a sophisticated addition to any room with its metal arch, black marble base, and beautiful linen shade. The Logan floor lamp will bring sophistication and refinement to any environment with its lovely brass finish and magnificent black marble foundation.
6. Dessau Arch Floor Lamp in Satin Nickel
Arnsberg's Dessau lights illuminate your spaces with useful, customizable task illumination. The streamlined design works well with a variety of decor types. Glossy silver and glossy brass finishes are available. This arch floor lamp uses the 3000K color calibration adjustable LED light. With unique Optic Semiconductors, outstanding OSRAM SMD LEDs are used.
7. Full Spectrum LED Floor Lamp by Artiva USA
The Artiva USA floor lamp has an unmistakable attraction. Its graceful arching arm, which stretches over and works almost like a chandelier light within the center of a lounge room, creates volume despite its modest footprint. This also comes with additional hangers for hanging your coat or other items.
Each room can benefit from the addition of the Artiva PRO-VISION Natural Daylight LED Floor Lamp. Its full-spectrum 5000K illumination is ideal for reading, drawing, and other hobbies; the best part; it only consumes 12 watts of power.
8. Lamp Depot Triangle Floor Lamp
The Triangle Floor Lamp has a stylish, cutting-edge LED light that comes in 8 different color temperatures. There are ten different dynamic lighting modes available in this colorful floor lamp. Each may be combined with a unique color temperature to create the perfect atmosphere for your gathering.
9. Dessau Turbo Swing-Arm Floor Lamp
This stylish floor lamp for the living room complements many interior design trends. It includes a flexible arm that allows you to focus the light wherever you want, making it simple and unobtrusive. This is a wonderful choice for locations that may multitask during the day, including your WFH room, because the swing arms are height-adjustable. This is almost more of a work light than a light fixture, owing to its round shade and movable arm.
10. Luna LED Floor Lamp by Brightech
The Brightech lamp, with its frosted cover and thoughtful design, provides an old-school streetlights and subway sign vibe to your living room. The Luna is one of Brightech's best renowned and recognizable lights, and it looks great in any modern building.
The Luna will brighten up any space with its strong integrated LED 800-lumen bulb, stylish brass design, and stunning glazed fluorescent bulb. This modern floor lamp for the living room is a classic with its simple beauty of a brass rod, limestone base, and dazzling opal glass cover.
11. Dessau Turbo Double Floor Lamp
Tilting lamps are great for tiny living areas if you want a floor light that has a modest size but yet commands attention. There are several possibilities available, but keep in mind that if they don't have a stable base, they may quickly collapse over. The Dessau Turbo is a more durable variation of this classic design, with a solid base as its main selling feature. It would aid in the stability of the lamp, but this also looks excellent when placed in an open modern living room. This light is difficult to surpass because it comes in two finishes and is reasonably priced.
12. UFO 73''H Super Bright LED 5-Arched Floor Lamp
This is one of the best standing lamps for the living room. It is a unique choice for a contemporary floor lamp, particularly if you're lighting a reading nook. It comes with a streamlined, inconspicuous appearance with five built-in Led bulbs, which can be changed with a touch. Its customizable design allows you to direct light to your books or desk, making it an excellent choice for living areas, bedrooms, or businesses.
13. Isobel Floor Lamp
It's hard to get a read on where to place the Isobel Floor Lamp on the scale of traditional to contemporary styles. The aesthetic of the shade automatically makes you think of the 80s, but the base and the neck tell a different story entirely. 
It has a very unusual look, which is likely to generate quite a bit of attention and comments. The unit's visual is not super loud, but you may want to look elsewhere if you want living room floor lamps that can settle into a minimalist workspace layout. 
The resin neck's twisting style is the center of attention, as there is almost nothing like it. The woven and drum shed complements it quite well, and the light source does not overdo things in any way. 
One of the best applications of such a design is as a charm bringer. In other words, some workspaces don't have much to offer in charm. The only option is to add a piece that brings quite a bit of its own. The Isobel Floor Lamp can play that role tremendously. 
14. Pottery Barn Morton Floor Lamp
The modern floor lamps for the living room discussed on this list tend to have standard minimalist designs. However, if you were to imagine what a traditional lamp looks like, the Morton from Pottery Barn would likely show up in your head somewhere. 
As early as you could identify what a lamp was, this is very likely what you saw. Still, it's important to remember that simple does not necessarily translate to boring, so don't feel as if you cannot accessorize your home office setup with this kind of design. The main challenge is ensuring that your aesthetic supports the lamp before you purchase it. 
Transitional, Cali-cool, and coastal decor styles work best with this unit, so it comes highly recommended If any of those describes what you are working with. The shade consists of textured linen, while the sturdy base features pale rubberwood. 
15. CB2 Big Dipper Arc Brass Floor Lamp
This CB2 design sits in the middle of the park where the price is concerned. It's certainly not as cheap as some of the lower-cost units discussed, but it's not even close to the prices on the higher side of the spectrum. 
Nevertheless, no one can take away the fact that it's one of the most unique. Modern floor lamps for the living room with an arc style are not the most common in the world. However, you tend to find that desk lamps are very popular for their arc designs. 
The unit features a hardwood composition with a cotton shade and a metal base. Not only do these materials complement each other, but they also contribute to a high level of durability. 
The arch is over 6 feet high, which should not be a problem for any seated person. 
Even if you're standing at your desk, your workspace should be low enough to take advantage of the light's full potential. The footprint is not overwhelming, meaning smaller rooms can take advantage of it just as well as the bigger ones can.  
Full dimmer functionality is very appreciated, allowing you to modify the light's intensity upon request. As far as finishes go, CB2 offers this unit in both nickel and brass. 
16. Restoration Hardware Slimline Task Floor Lamp
You're getting a modern floor lamp design that is very slim and very visually appealing. For those who are willing to deal with a somewhat hefty price tag for something that stands out without screaming too loudly, Restoration Hardware has you covered. 
The great attribute here is that even with such an eye-popping design in isolation, the moment it becomes a part of an existing workspace, you never find that it calls too much attention to itself. The orientation of the stand and head allow it to fit perfectly over a sofa arm if you'd like to use it as a reading lamp. 
Don't let that give you the wrong idea though, as it is still very much suited to use at your computer workstation. The shade is adjustable, allowing for 30 degrees of movement to each side. Additionally, the inclusion of a dimmer switch means that you can adjust the intensity of the light to fit in better with whatever amount of natural light is available. 
If you want to get a bit more creative, instead of using the existing dimmer, you can take advantage of this lamp's compatibility with a wall dimmer for a more streamlined experience. 
17. Muuto Leaf LED Floor Lamp
The price of this modern floor lamp for the living room is no joke, but if you are willing to pay for it, the job is going to get done right. One look is all it takes to realize that this design is appealing to those looking for living room floor lamps to slot into a minimalist layout. 
Strangely enough, when you look at the lamp from a profile view, it's going to be hard to shake the feeling that you are looking at a very large white golf club. However, it's that plain aesthetic that allows it to do its job in "plain concealment." 
There isn't much loudness and hype around the visual it brings, yet it manages to be one of the more beautiful options out there. Artistic is one of the simplest ways to describe it, which sounds like the exact kind of lamp you want in your remote workspace. 
As you would expect, the leaf-shaped shade can be angled in various directions for controlled beam focus. 
18. Flame Mosaic Bronze Downbridge Arc Floor Lamp
This is one of the stylish floor lamps for the living room in the market. While not the most cost-effective of the standing lamps for living room needs on this list, this one manages to be incredibly functional. The jury is out on the use of orange throughout, as it is said to be a nice touch of color without attracting too much attention. 
Be that as it may, it's not hard to imagine that there are several contexts in which this kind of color choice could easily clash with the aesthetic. If you don't have that challenge though, then feel free to pick it up. Other options such as gray and navy may be better suited to a wider range of visual styles. The only challenge there is that sense of uniqueness begins to fade away. 
It's the orange and bronze styles of this modern floor lamp for the living room that feel like the right step in a unique direction. The head of floor lamps for living room may worry you, but there is nothing to be concerned about, as it is designed for great coverage, thanks to the presence of wide-area light emitters. 
The ability to adjust the intensity of the lighting is also a plus, as this is the best way to compliment natural light sources beyond changing direction altogether.
19. CB2 Aristocrat 3 Globe Floor Lamp
While this CB2 modern floor lamp design does its job well, there is not anything too special to say about it from a visual standpoint. The angled frame does provide some interesting living room office setup options to help you focus your light source, especially with the adjustable shade for tighter directional control. 
The slim neck and small diameter do provide an advantage, as you often find that very small places make it challenging to throw in a floor lamp. This one, however, can support just about anywhere you may want to put it.
20. Ashton Tall Floor Lamp
It's the next of the modern floor lamps present, and it's the only one on the list that has the unique distinction of a double bulb design. It certainly knows how to garner some attention for itself, but one look is enough to tell you that you cannot fit it just anywhere. 
Even with its slim matte black design and smoked glass shades, it's hard to turn your eye away from such a standout composition. If you don't mind, then feel free to get your hands on one. The lighting this modern floor lamp for the living room provides is very subtle, and you're going to find that it supports natural sources incredibly well. 
Should you opt for a modern or glam style, that may be where the Ashton Tall Floor Lamp fits in best.
Buying Guide for Floor Lamps For Living Room
Determine the function of the floor lamp
While shopping for stylish floor lamps for the living room, it's important to think about the specific task at hand. Is it for functionality (like reading) or form (like decoration)? The ideal floor lamp for your requirements will depend on the intended use. There are a variety of lamps designed for specific tasks, and you can combine them based on your needs and budget. A contemporary floor lamp, for instance, can be purchased for aesthetic purposes in addition to functional ones (such as those used for reading).
Analyze your space
Before making any major purchases, consider how much room you have for them. Even if it's beautiful, a huge ceramic lamp could be too big for your living room. Therefore, ensure that there is adequate space on the floor and around other pieces of furniture if you plan to buy stylish floor lamps for the living room.
Verify the level of illumination
Depending on the use of your bulb, the contemporary standing lamps' light output will vary. As many different kinds of bulbs are used in floor lamps, the wattage and brightness can vary widely from one light to another. Although the light output of floor lamps is often greater than that of table lamps, this varies greatly depending on the type of bulb being used in each. So, determine the type of brightness level you want before purchasing to ensure satisfaction.
Check the base material
The longevity and artistic quality of floor lamps are determined by the material used for their bases. As a result of their strength, reliability, and endurance, wood and solid metals are the most recommended. Therefore, always choose a contemporary floor lamp with sturdy light construction.
Style of the lampshade
A lamp shade is typically included with floor lamps. The details of the lamp shade are not fixed and can be altered to meet your personal needs, and the shapes can be square, rectangular, or rounded.
Spherical lamp bases work well with most curving floor lamps, while the ideal lamp shades for straight lamps are square or rectangular-shaped. Additionally, you can choose the rounded one for easy lamp shade cleaning.
Existing furnishings and layout
Buying modern floor lamps for the living room without considering how well they complement the existing design is a bad idea. Many floor lights have bases made of brass, wood, marble, and even color. Choose floor lamps that are a perfect color and style match for your existing room.
Final Remarks
Even if other people continue to, hopefully, you are never going to underestimate the importance of ergonomic lighting again. Additionally, you have been taken on a tour of the best floor lamps money can buy. Put any of them at the center of your desk lighting ideas, and your remote workspace is never going to be the same again.
Floor lamps could be used as a solo illumination solution to highlight a specific area in space or conjunction with other lights from the very same series. They go with any light source, from beautiful ceiling lights to table lamps. They also assist in neutralizing strong lighting by harmonizing the room's luminance.
A well-chosen floor lamp can make even the darkest nook in a room into an attractive spot for reading, relaxing, or working. So, select one of the best modern floor lamps for the living room and upgrade your living.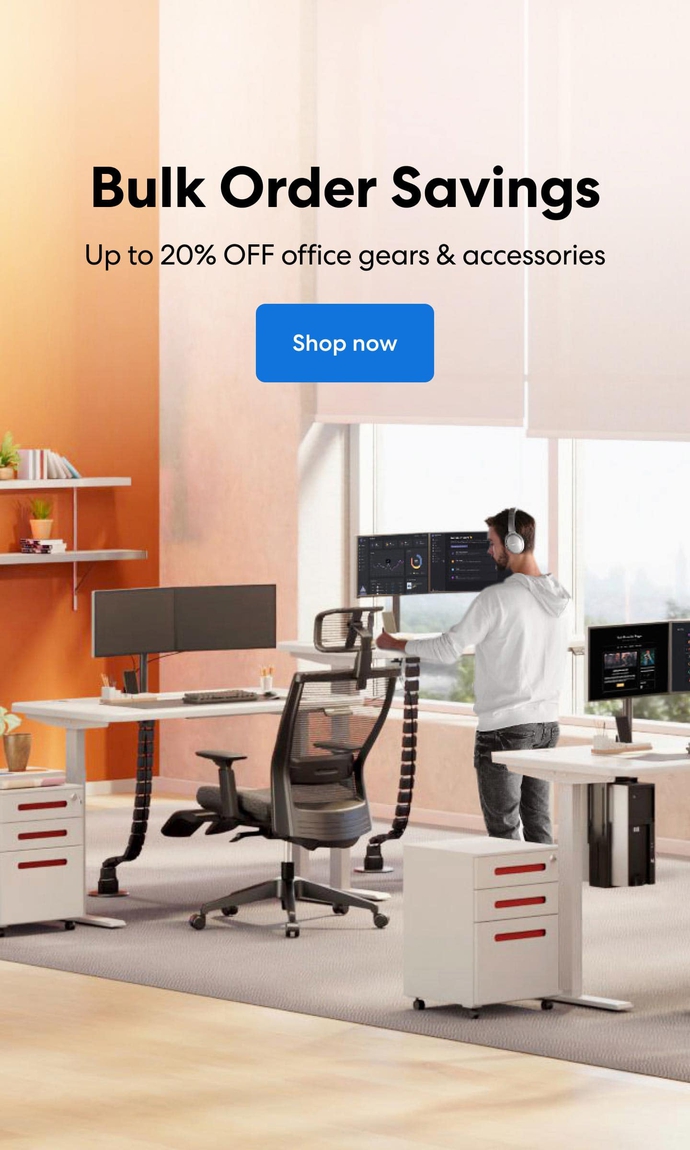 Subcribe newsletter and get $100 OFF.
Receive product updates, special offers, ergo tips, and inspiration form our team.