Workplace Inspiration
Living Room Office Design with Creative Ideas
5,781 Views
Whether you are a freelancer or a remote employee, you need a proper workspace at home. Sometimes, you may feel there isn't enough space for a home office to work from home. This isn't always true. You'll be surprised to know that a living room office is just what you need.  
If you're thinking about how to go about it, here are some creative ideas for your living room office layout.
How to Create a Productive and Creative Living Room Office Layout
Rearrange Your Living Room
You have to start by rearranging your living room furniture to make space for your office. First, push the sofa against the biggest wall of the room. If possible, push it to a corner. Then, move any extra chairs and tables away from the room. This will create a lot of space in the room and make it feel airy.
Then, you can start setting up your office. You can place your desk and chair in front of the living room window. This will give you a nice view and some fresh air. As a result, your office will look open and relaxed.
Make Use Of The Nook Area
This is a very smart interior office design and living room office idea. Have you ever wondered what to do with an unused nook? Well, you can easily set your workstation in this area. This place will be great as it is already separated from the rest of the room by a partition.
Set up a small desk and a comfortable chair in this area. If the nook has a window, it'll be awesome! Even if it doesn't, you can put a small plant on your desk or put up a hanging plant.
A Living Room Office Behind Your Sofa
You can do this if you have a huge living room and an open floor plan. Just do an ultimate desk setup against the unused area behind the biggest sofa. This will give your desk some support. Then, you can place a small table lamp along with a comfy chair to complete the look.
Make sure that this arrangement doesn't obstruct any movement in the living room.
Bookshelf Boundary Office
If you have a big bookshelf in your living room, you can use it to your advantage. First, move your sofas and chairs a little to make some room. Then, place your bookshelf in such a way that it separates the space from the rest of the room.
Then, set up your workspace in this area. It's a cool home office design trend, as it separates your office from guests, loud TV shows, or pesky kids in the living room area.
Standing Desk Workstation
Sitting on your bum all day may cause serious problems such as back and shoulder pain. That's why standing desks are becoming so popular in this WFH age. It's because these desks let you stand while you work. Plus, they are compact, and you can easily fit one in your living room.
So, to set up your home standing desk workstation, clear out some space in any corner of your living room. Then, place your desk, chair, and other essentials. For the chair, you can opt for a tall stool that will go well with your home standing desk.
If you're planning to buy a standing desk, you can go for an adjustable desk. This desk allows you to move it up and down, at your convenience. Otherwise, you can buy a fixed-height standing desk.
Use Forgotten Spaces
When you're looking to set up your living room office, you have to use the neglected areas. There may be some space between your tea table and the window. The space underneath the staircase is also great for setting up a workspace.
Just make sure that you clear the area and remove any unnecessary furniture from these spaces. And within no time, your cute little home office will be ready to rock!
Optimize In-Built Work Areas
Yes, you read that right. There are many spaces in front of your eyes where you can just start working. For example, there may be a proper height of standing desk, right beside your sofa. You might also find a flat desk-like space on a wall cabinet.
If you're tight on space, you can use these areas of your living room to set up work. All you have to do is remove any curios or books kept in these spaces. This way you'll have a fully functional living room office, which you can set up and remove whenever you want.
Utilize Pass-Through Spaces
If you're running out of living room desk ideas, check out empty pass-through spaces leading to doors and hallways. You can easily sneak into your home office in these spaces. If there are bookcases here, place your desk beside it to create a separation from the rest of the room.
Get A Foldable Desk
You can always use a foldable desk if your living room is too cramped up. If you like an ergonomic home office, you'll find plenty of high-quality furniture. Using small and portable office furniture will let you move your living room office anytime you want.
Use Windows And Balconies
Don't forget the balconies or spaces in front of your big windows! If you want a living room office that is bright and airy, you can set up shop in these spaces. For lovers of a more natural office design, keep a potted plant on your desk to make it look wonderful.
Creative Ways to Hide My Office Desk in Living Room
Setting up visual boundaries
When you have a room divider in your home, you can move it from one room to another, work from anywhere in the house, or fold it up and store it when you're not using your living room office.
Decorative accent pieces are also great living room desk ideas to improve the appearance of a room, and they can easily add style and function. Create a cozy office space in a large room by adding a screen or installing a room divider.
You might want to consider other living room office ideas: like hiding your office area with a large piece of furniture. Couches, bookcases, and desk plants can act as walls so that the chaos of a busy day is hidden from view.
Transform a nook or corner
In addition to closets, kitchen pantries, and living room nooks, many other spaces around the house could act as an office. Converting a closet into an office space has the advantage of letting you hide it away when you do not feel like thinking about work.
This living room office combination nook or corner may need to be remodeled by removing doors and elevating your desk high enough to accommodate books, binders, shelving, and you. Also, ensure that the closet or the nook has enough depth to accommodate a desk.
Files, printers, and scanners should be placed on the floor and doors closed. Shelves should be able to accommodate office cubicle decor if they fit. In addition, verify that lighting and work equipment are connected to the appropriate electrical outlets.   
Install curtains
If you want to keep family members and guests away from your workspace, you can use curtains. There is a huge selection of drapery options for any home office makeover! Whether you want soft and subtle or bold and vibrant, there are plenty of options.
That is, of course, just our opinion for home office upgrades. Consider using drop cloth curtains to replace closet office doors by looking up closet door alternatives online or on social media. - Use the empty area under the staircase.
Opt for built-in furniture
If you want to integrate furniture into your home office organization that serves multiple functions, just grab a stool and place it on a shelf in your pantry or closet. Nevertheless, we suggest that, in the long run, you think about installing a built-in wall unit.
Behind the sliding glass doors, you can easily hide an office from view, and the space will look aesthetically pleasing when not in use. The space is transformed from an area meant for work to one meant for relaxing and spending time once the sliding doors are closed.
Use the empty area under the staircase
You can turn this area into a useful workspace if it goes to waste. First, build out the area with a desk and some storage, depending on its size. Then, you can incorporate it into your living room without taking too much away from the existing living room design. Because of its small size, the area under the stairs can be tricky to paint, so choose soothing colors.
Easy Living Room Office Ideas for You
Bohemian Living Room Office
Infusing our homes with colour, texture, and life is the essence of bohemian décor is one fun living room office layout. It takes inspiration from exotic, tropical destinations. Choosing natural materials like bamboo or rattan for your furnishings is a great way to make your home feel alive. You can also use ethnic textiles and unique objects to decorate your home. International styles are often infused into Boho decor. The decor is characterized by spirituality, individuality, and joy.
Colorful and Plush Living Room Office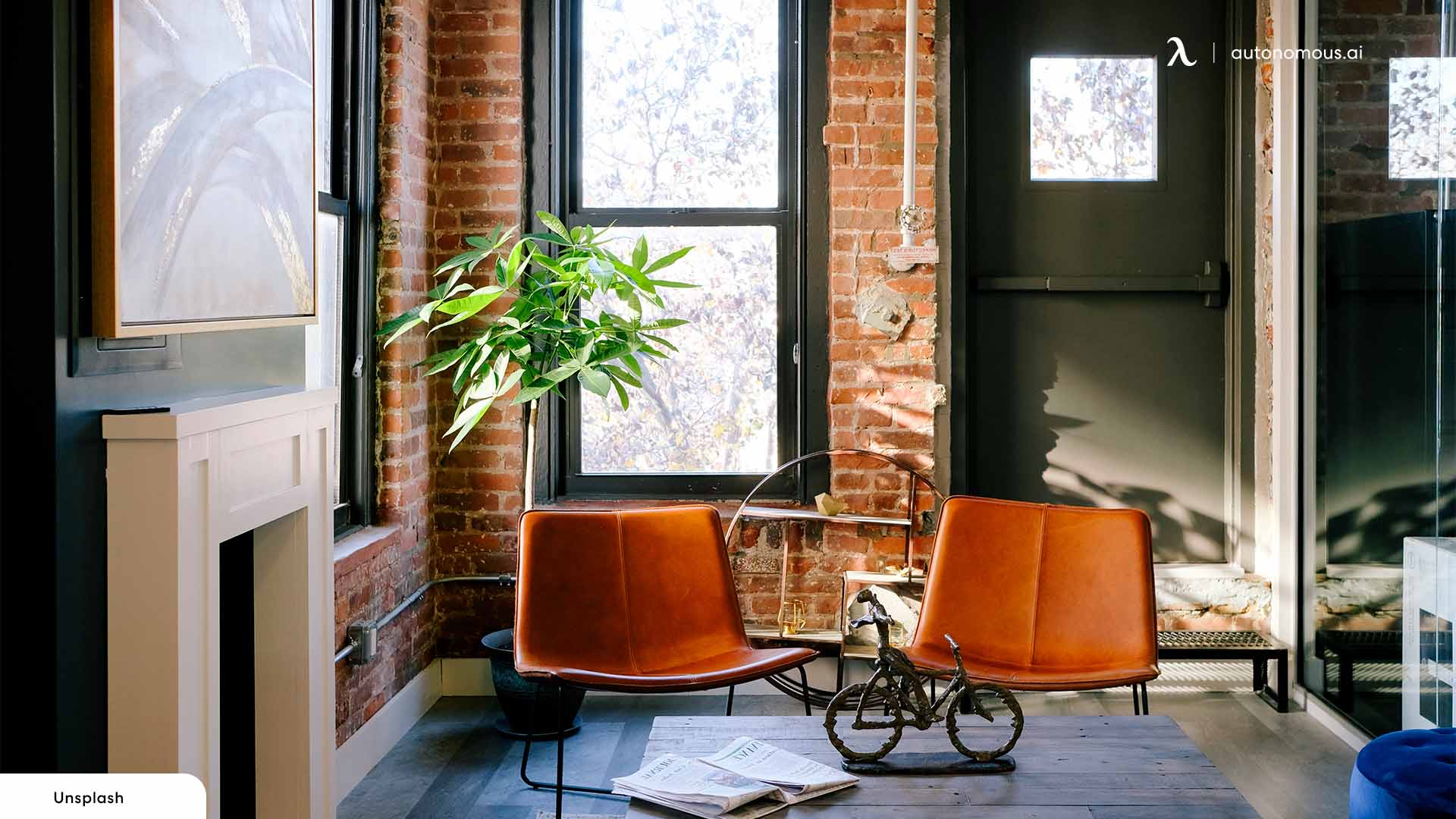 If you want your living room office to function well, you must ensure that your areas blend while maintaining their distinct functions. For example, violet is associated with elegance, royalty, and grandiosity. Purple floral patterns set against beige furnishings and walls create a pleasant contrast in this home. Beige drapes and granite flooring blend well here.
Artistic Living Room Office Space
This method is not only more stylish than the conventional approach but will also keep the office from getting in the way of your personal life and vice versa. Simple furniture changes and tweaks to the existing layout can help you achieve this. If you're planning on buying office furniture, try to match it with the style of the rest of your room.
Mid-Century Modern Living Room Office
This mid-century modern living room creates a serene, calming, and timeless feeling using neutral colors and a combination of caramel and wood tones. It would be nice to contrast the leather sofa in the living room with an ivory geometric area rug.
Additional comfortable seating can be provided by placing wood-frame armchairs. Finally, you have a space with clean lines, tapered legs, and a cabinet with ample storage space that balances well with the overall living room design. You can even use it as an extra table if you want by tucking it behind your couch so you have ample workspace.  
Glass Living Room Office
Natural settings with a beautiful appearance are created by the integration of glass walls in living rooms. For those looking to create a natural and bold living space with a dynamic feel, glass living rooms are an excellent choice. If combined with soft colors and subtle decor, glass living rooms create a natural atmosphere and stand out as one-of-a-kind spaces.
Contemporary Living Room Office
It is important to remember that Contemporary Living Rooms cannot be very showy in their design. As long as you have dark colors too, you don't have to have only light colors. You can make your room more contemporary by pairing black with white or black with red. Use curtains where privacy is needed and blinds and shutters where you need extra light.
Summing Up
At the end of the day, your living room office combination will depend upon the space in the living room. You might have to do a lot of furniture rearranging before you carve out the necessary space for your workstation. Keep this useful guide handy whenever you want to create your ideal workspace.
Subcribe newsletter and get $100 OFF.
Receive product updates, special offers, ergo tips, and inspiration form our team.
WRITTEN BYAutonomous
We build office products to help you work smarter.