Workplace Inspiration
Essential Checklist for Your Office Interior Design in 2023

Autonomous
|
Oct 14, 2022
2,214 Views
Offices and workplaces are second homes because most of the population spends most of their time in places outside of the house. It becomes necessary to customize and organize your office and workspace to escape boredom and a monotonous lifestyle. Moreover, as we all know, a company's progress is directly proportional to its productivity. Therefore, you must change the workplace or office interior design. 
It might be surprising to know that the interior design for an office space can be a determining factor in raising productivity. Here is a complete guide on the interior design checklist, along with the best 15 creative interior office design ideas. 
Essential Checklist for Office Design Ideas
Before diving into the interior design checklist, you must undoubtedly define the goals with the intention of which you are deciding to make the change or customization of your office space. Here are a few primary goals that every company or business should keep in mind: 
Create an enticing impression on the visitor

Establish a space that boosts the productivity of the employees

Create an integrating environment for the employees 
You can have different goals as per your needs and motives. 
Here is a list of essential checklists for office interior design that you must consider before moving into the planning of your interior office design ideas: 
1. An Inspiring Workspace
Workspaces should always be full of energy, positivity, and inspiration. This helps increase productivity and enhance motivation to do the work. A simple, achievable task can be done quickly without giving it much thought. You just have to choose from bold color schemes in addition to plenty of home office accessories. 
A creative modern office design increases the tendency to collaborate and share among employees. Creating an inspiring workspace should always be the priority in the interior design checklist. 
2. Comfortable and Appropriate Furniture
The next item in the office interior design checklist is the use of appropriate furniture and home office accessories, including desk accessories, hanging monitors, LED desk lamps, tc. Comfortable furniture pieces are very important because you spend most of your hours at work. 
Having a piece of furniture that provides no support or discomfort might not be a wise choice. Instead, the furniture should offer excellent back support and maintain a good posture of the body.
Reclining chairs, monitor stands, proper desks, ergonomic chairs, standing desks, etc., are some must-have furniture to create a suitable modern office design.
3. Adequate Storage Space
Another priority is the plan for adequate storage space. Proper space is a necessity for any workspace to store files, papers, documents, and other stuff. It wouldn't look good if someone visits your office and finds everything just lying around clumsily. 
The more cluttered and messier your workspace is, the more you will lose interest in your work. You will spend more time searching for a particular paper or file than doing the job you were assigned. 
4. Natural Light
A clean office workspace requires proper light to enhance the positivity in the room. The next item for the office interior design checklist is natural light. It is significant to define a good workspace quality that can enhance productivity by improving the performance of the employees. 
Nowadays, large floor-to-ceiling windows are in trend, creating an incredible and stunning workspace. Furthermore, natural light has beneficial effects on both mood and health of the employees. 
5. Greenery
Greenery has gained importance owing to the deteriorating environment and rising global warming. Plants can be a great way to reduce stress and refresh the mood of employees. They also add liveliness to office spaces by creating a positive impression on the brain. Therefore, creating an excellent workspace is one of the top priorities. 
15 Creative Office Interior Layout Ideas
The interior office design ideas do not have to be a massive transformation. However, a few changes, like the office seating arrangement, a change in color scheme, and a few inexpensive additions, can do wonders. The key to creating an extraordinary office interior design is to put your resources to the best use possible that is less time-consuming, less tricky, and can easily present the culture of your company. 
Here is a list of 15 creative interior office designs to renovate and revamp your workspace: 
1. News Studio
This interior design setup is for companies and departments involving collaboration with ample space for discussions. Multiple meetings are the reason to think about studio kind of interior office design ideas, as not every time a conference room will be available for the purpose. 
A news studio will be less time-consuming and maintain the workflow. Such spaces do not need room dividers or cubicles. Moreover, the standing desks are cluttered together to create a conference-type environment. However, comfortable seating arrangements should be maintained. 
2. Library Archive
The library archive type is the next unique interior office design setup in the list. This is ideal for those office spaces where the employees need quiet time to maintain a high focus without unwanted interruptions. A lot of storage space is the key to setting up this interior office design, in addition to a simple and calming color scheme. Group cubes should be divided into the individual workstation to maintain the aura. 
3. The Artistic Attic
This interior design for office spaces can create a really inspiring, colorful, and cheerful temperament. It is an ideal setup for those offices and workspaces where the employees are indulged in highly visual and creative work. 
The color scheme should be such that it represents enthusiasm and encourages ideas flow. Print and frame graphics can also add to the inspiration of the employees. Whiteboards can be valuable to the space to promote ideas and allow easy discussions. 
4. The Ablaze Office Space
This setup can be an excellent choice for those with a small budget yet need to revamp their workspaces. You can quickly achieve this interior office design by simply putting out light bulbs, LED lamps, etc., with natural light. 
With the help of windows and partially open spaces, natural light could easily be accessed in the office space. It tends to create an aesthetic, natural ablaze, and energized environment that can make a small office into a comfortable working space. 
5. Budding Spaces
Budding spaces can be easily achieved by creating a casual aesthetic look, as these office spaces need an area of free thinking and work habits. Cafe tables, couches, bean bags, easy-to-move laptop desks, reclining chairs, etc., can add to the flexibility of the space. 
The key to creating this space is maintaining as much flexibility and mobility as possible. Hence, flexible surfaces should be installed for tablets, laptops, and other files. 
6. The Innovative Workspace
This setup is highly preferred by those working on project ideas and management. The workspace is revamped in such a way that it allows the flow of opinion and represents the culture you would want to present to the clients.  
Furthermore, it can be designed in such a way as to create ample meeting space and also give way to easy project discussion. You can place wipe boards, idea banks, and half-open meeting spaces to allow easy sharing of ideas and easy contribution of the employees to the project. 
7. Culturally Diverse Office Space
This interior office design setup is chosen by those office spaces that want to offer their employees a customizable workspace. If you pick this setup, you could revamp your office space with fabulous flooring, modern desks, and customizable work panels. This would give liberty to the employees and provide a home-like environment. 
8. The Revivified Office Space
The focus of this design is reviving the mood of its employees, making it an excellent choice. Work stress and anxiety are common in workplaces. Hence, it is on the company to design the workspace to maintain energy and refresh the mood, which will ultimately result in enhanced productivity. You can achieve this by adding eating or break spaces, spiritual or motivational frames, posters, or cozy couches and bean bags. 
9. Provocative Workspaces
This setup can be an excellent choice for inspiring and motivating your employees. You can add inspirational graphics, posters, and frames to your workspace, which can be pocket friendly. Provocative workspaces will work wonders in dealing with the psychology of employees by encouraging them, empowering them, and enhancing efficiency at work. 
10. Choreographed Office Spaces
Choreographed office spaces are for workspaces where teamwork is a priority. Studies show that information processing, meeting, deductions, and information management become easier when working in teams, as it helps to create better ideas and output. Hence, making choreographed workspaces is an appropriate choice. Putting up such office spaces depends on the advice of every employee that is a part of the team to maintain a harmonious environment. 
11. Interpretive Workspaces
Next in line are the interpretive workspaces and offices that are designed to encourage out-of-the-box thinking. The workspaces comprise numerous small rooms for quick meetings and discussions to interpret and analyze the demand of the client. In addition, the rooms can have specific themes as per their domain to represent the motive and culture of the business or company. 
12. Progressively Blooming Offices
A progressively blooming office is curated in the list with the idea of giving space to those companies involved in learning or adapting to the work or non-work-related environment. It is an easily affordable interior design idea for office spaces. Whiteboard can be set up with foldable chairs and tables around it in a semicircle to discuss and hold important meetings. Moreover, dry-erase paints could be used on a few walls to allow the employees to represent their ideas. 
13. The Societal Offices
Another in line is the societal offices. This interior office design idea for office spaces is unique and usually chosen by those businesses or companies which require frequent interaction and discussion in their work. It is better to have a socially responsible environment-based workspace than to occupy conference rooms frequently. 
You can opt for this office interior design by simply rearranging the seating arrangement in addition to incorporating desks at a suitable eye-level height along with other stuff that encourages the office conversation at ease. 
14. The Modernized Chic Offices
This is a unique interior design idea for office spaces, as it combines retro and modernistic approaches. Such office interior designs are specifically chosen by those with ample office space and can afford a budget on the costlier side. 
The ambiance and visual appeal are prime motives of this setup. A thriving polished vintage and modern blend often create a serene and calming working environment. 
15. Lively & Naturalistic Workspaces
Last but not least is a greener approach toward a sustainable environment. This office setup not only creates lushful greenery with pure air quality but also adds an enticing and peaceful atmosphere to your workspace. 
You can simply use potted plants, hanging vases, or climbers to add a realistic and natural look. Greenery not only helps maintain a sustainable environment but also maintains the health and mood of the employees. 
Conclusion
You must keep certain factors in mind if you want ideas to renovate and revamp your interior office design. Firstly, you should be aware of your office's culture to create interior office design ideas that accurately reflect your culture and perception. Secondly, the office interior ensign should be articulated in such a way that boosts morale and creates inspiration for your employees. Lastly, the more realistic and minimalist you are in your interior office design ideas, the more reciprocation you will be to the clients. 
The essential checklist for office interior designs detailed above must be kept in mind before initiating the interior design project. In addition, the above mentioned 15 creative interior design ideas for office spaces are curated for you based on demand, domain, and necessity.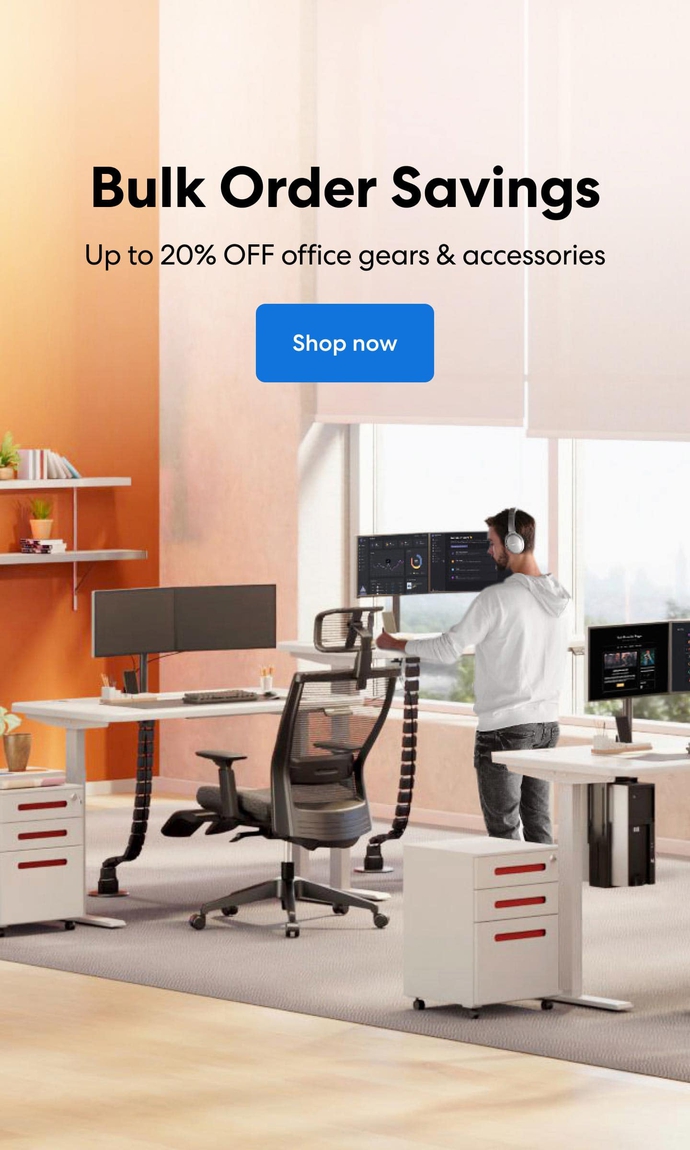 Subcribe newsletter and get $100 OFF.
Receive product updates, special offers, ergo tips, and inspiration form our team.