Workplace Inspiration
Office Interior Design in Black and White Tones
694 Views
The modern office interior designs are all about art and aesthetics, which helps you have a pleasant work experience even if you have a small office. The black and white office interior design is something that inspires anyone who is a fan of minimalism and aesthetics. Therefore, knowing the unique ways of setting the perfect blend of black and white tones is considered an art.
People often think that black and white are too mainstream, and everyone goes for this combination, making it less unique. Nevertheless, if you are aware of the right black and white office decorating ideas, giving a unique look to your office will not be difficult.
We know that creating a spellbinding, timeless black and white office is not an easy task for most of you. That's why we have shared some black and white office decorating ideas in this article. In addition, you will also find the brief details of the necessary items that you will need in a black and white office, so stick with us for a while.
Black and White Office Decorating Ideas/Samples
Begin With the Walls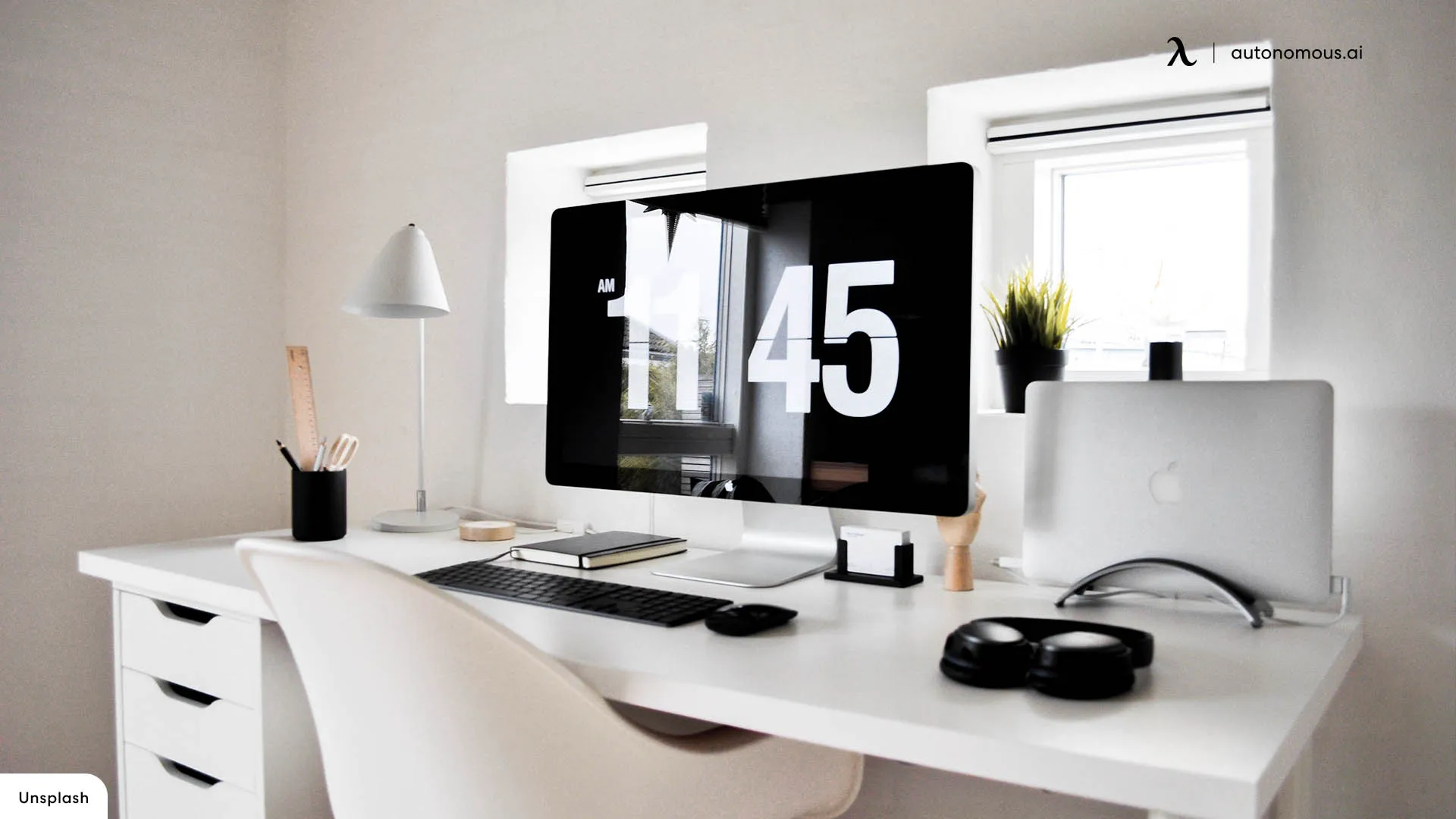 If you wish to create the classiest black and white office, you should begin with your office walls. The office walls are the quickest to renovate if you have decided on the theme. You can think of pasting a geometric black and white wallpaper on your office walls. Secondly, putting up black and white frames symmetrically on your office's backdrop can be a thoughtful way of introducing aesthetics to your office.
Create Balance Between Office Elements
A balance of colors between your office furniture is as important as it is to choose any design sample. You can only achieve the perfect blend if you know how to create a good balance between furniture color, flooring, and walls.
Choosing a black standing desk and coupling it with a black and white office chair when you have a monochromatic rug and black and white walls is a considerable choice. Nevertheless, you can think of creating a combination of white office furniture with traces of black tones as well.
An Office with Black Ceiling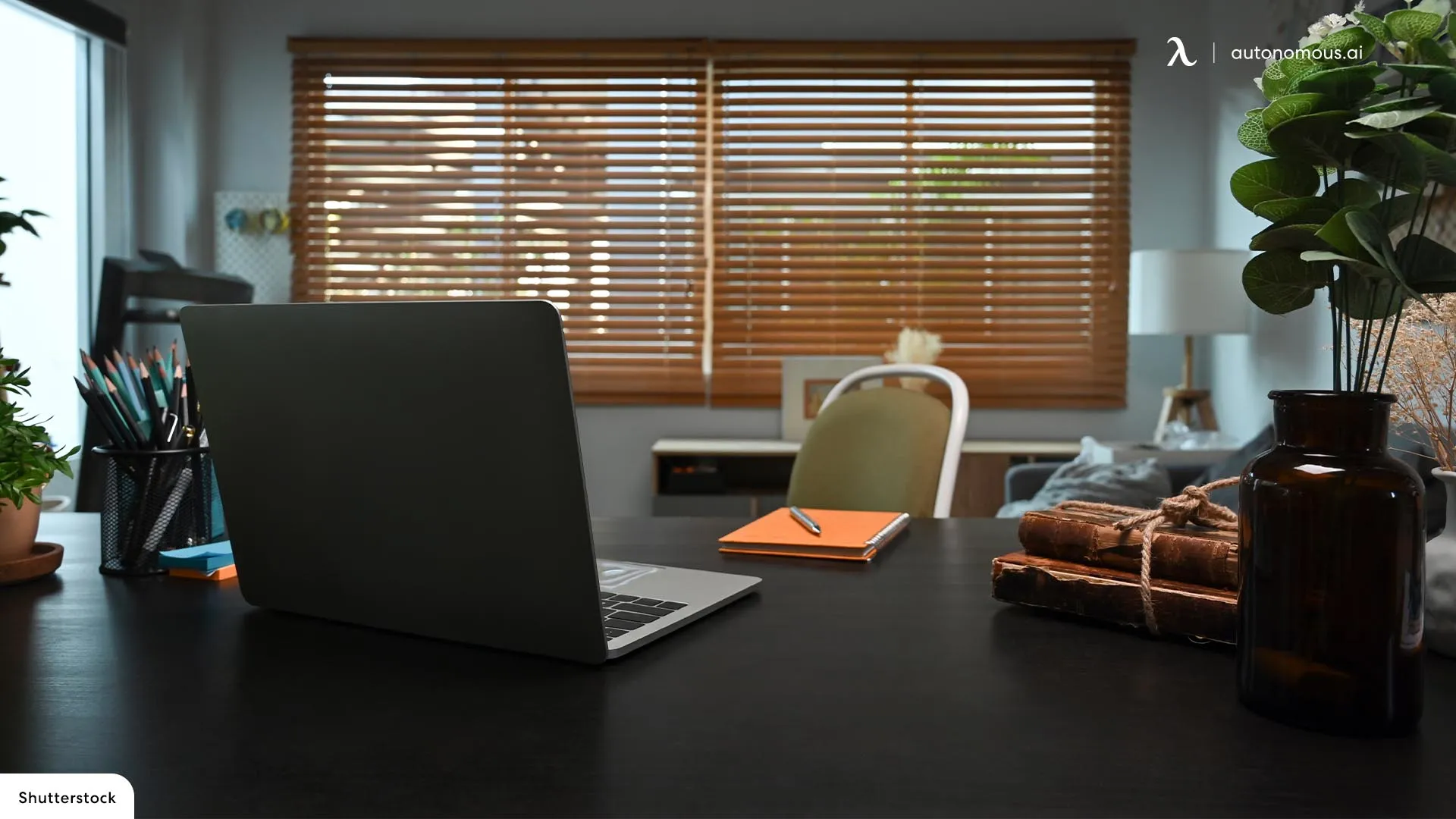 If you have a larger home office that looks over spacious, you can think of painting the ceiling black. Dark-colored ceilings promote a cozier environment, especially when your room is bigger than usual. Think of a couple of such colored offices with dark-colored furniture and a black and white shaded rug to create the perfect blend of colors.
Monochromatic Office
Monochromatic offices and minimalist office designs are usually seen going hand in hand. If you are a fan of minimalism, you should plan to create a monochromatic office. This means you will have to stick with a single color, may it be black or white, when picking up your office furniture and peripherals.
You may think of placing a black corner lamp to enhance the color's effect. As far as the walls are concerned, they will be white in this setting. An intelligent approach would be to put up some monochromatic artwork around the room.
Never Stop Yourself from Adding the Seasonal Colors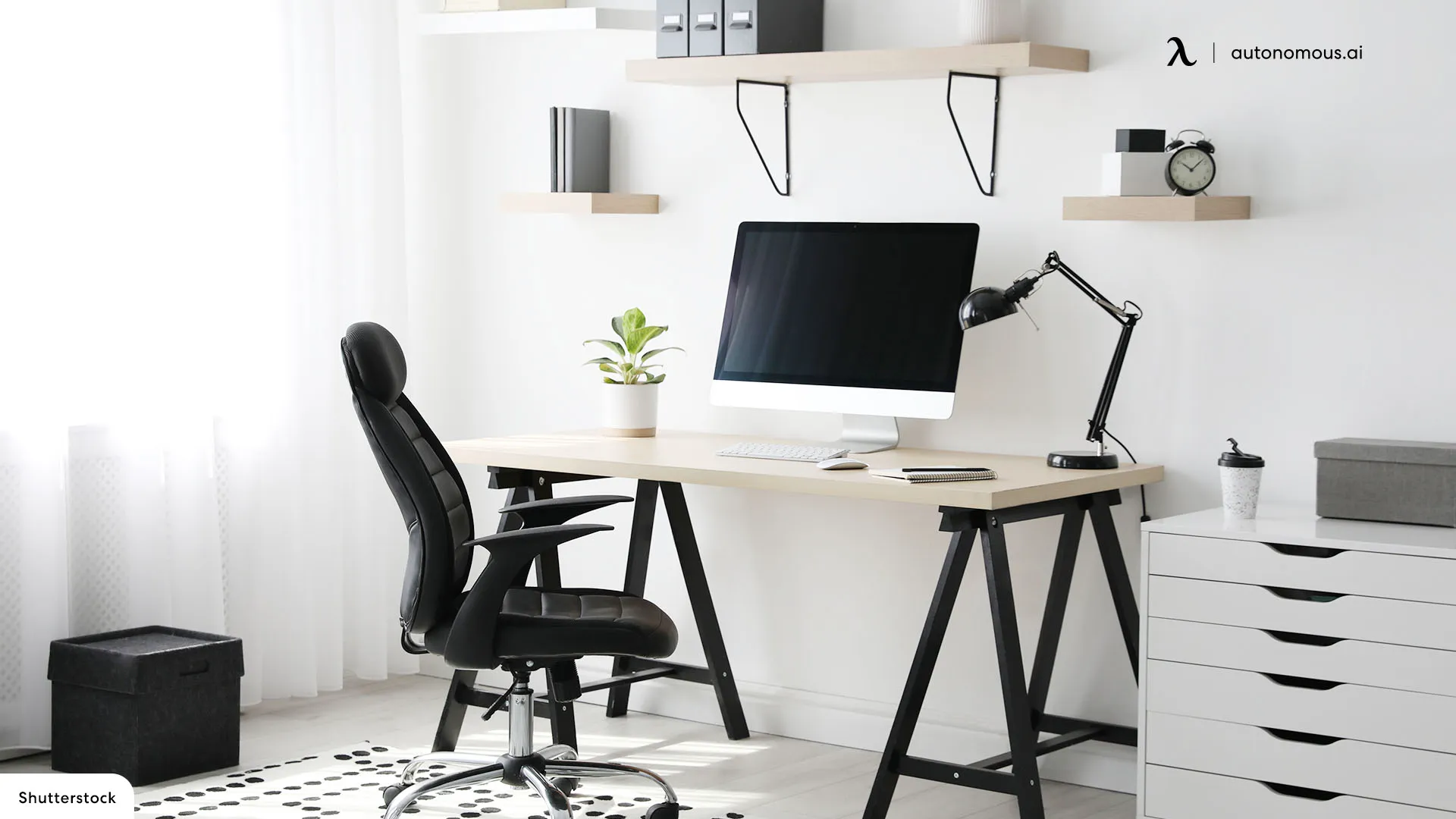 Although we are talking about black and white office interior design, you should never limit yourself to these two colors only. An office that only has black and white hues may tend to look mundane with time. Therefore, adding a splash of bright seasonal colors is a great way to change this look.
An All-Black Office with a Blend of Bright Colored Furniture
A unique way of blending seasonal colors with black and white office interior is to add some bright-colored office furniture. If your office is entirely black and white with a black desk and chair and a black and white patterned rug, consider investing in a red-colored sofa and placing it in the corner of your office for clients and guests. Such an addition will look attractive and grab the user's attention.
Necessary Items in the Black and White Office
Now that you are aware of the best black and white office decorating ideas and samples, it's time to learn about the necessary items that you must have in your black and white office. Here is a list with a brief description for each one to help you best.
Office Chair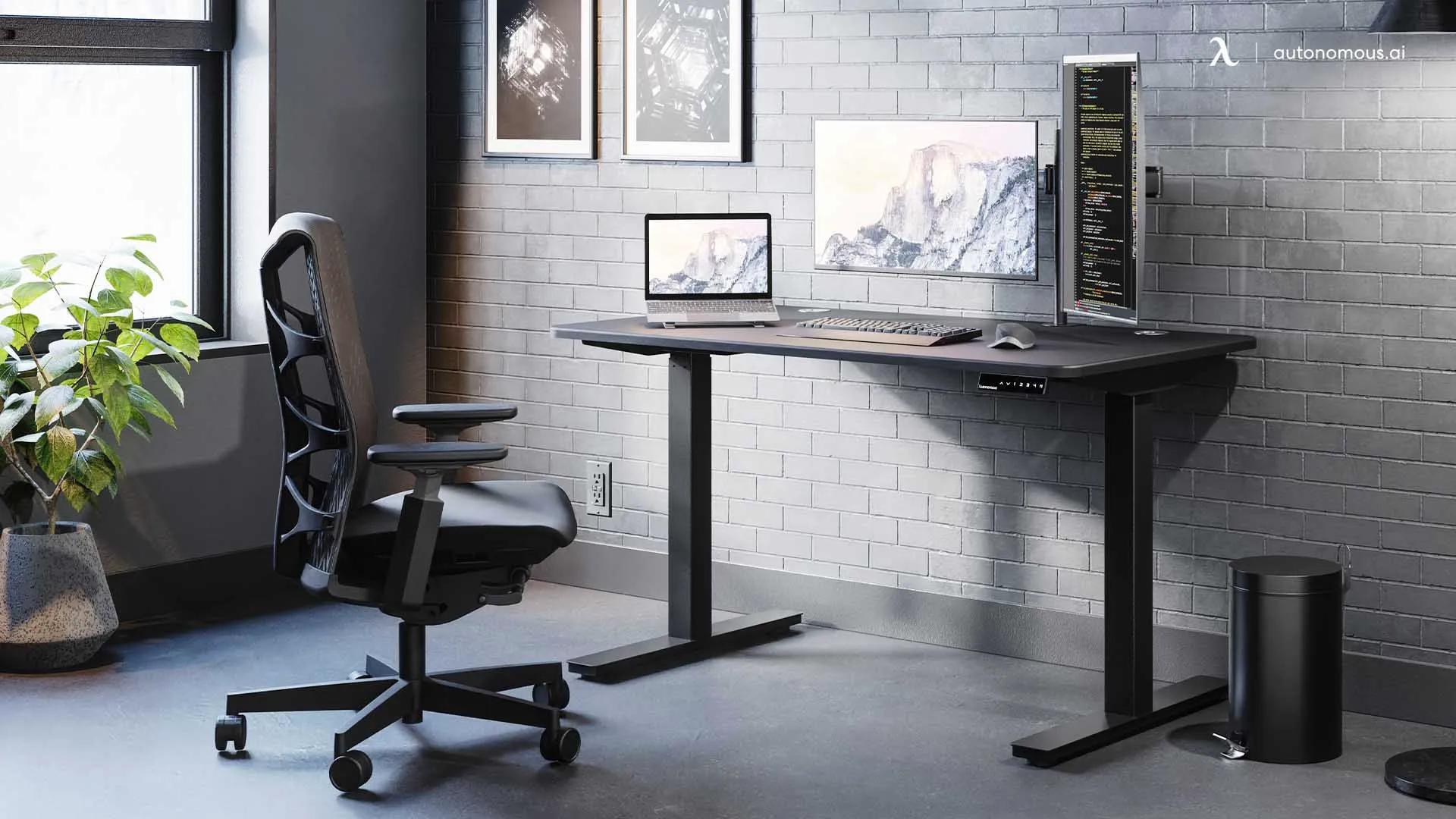 Choosing a suitable office chair is one of the vital tasks when planning a black and white office interior. Since we have decided to stick with black and white in terms of office furniture, choosing a black reclining office chair would be ideal. Nevertheless, choosing the chair color is subject to the balance that you have decided to create. Your choice may vary between a black ergonomic office chair and an ergonomic white office chair. The good news is that both colors are available at the Autonomous.
Standing Desk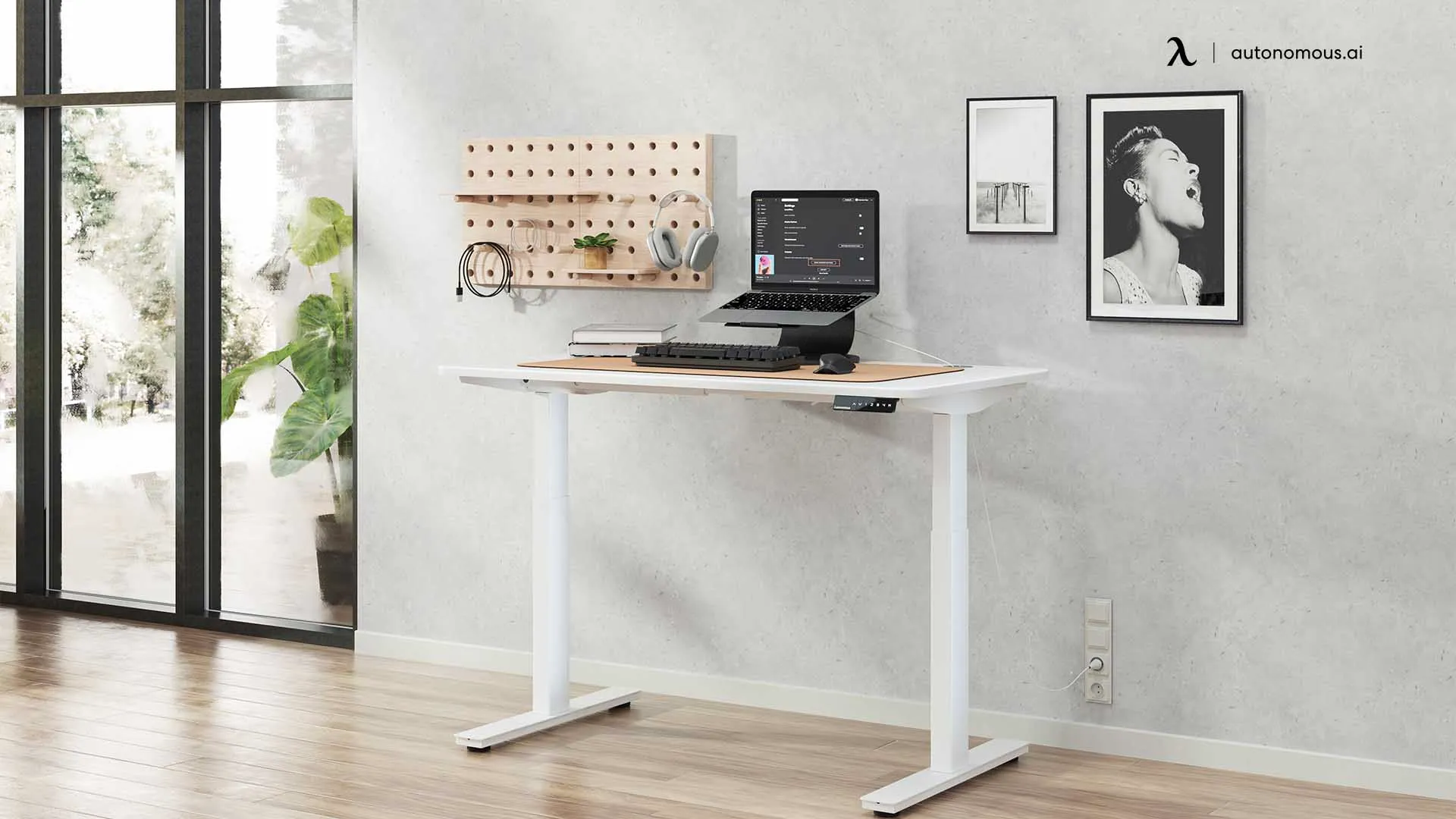 Next comes the standing desk. We even discussed standing desks when we were discussing different design samples above. The standing desks are ergonomically designed to offer you a healthy work experience; that's why it is ideal to go for them.
Desk Lamp
The desk lamp is vital for a black and white office because you need adequate lighting in your workspace that helps you stay active and productive. We have multiple stylish desk lamps available at our store.
File Cabinet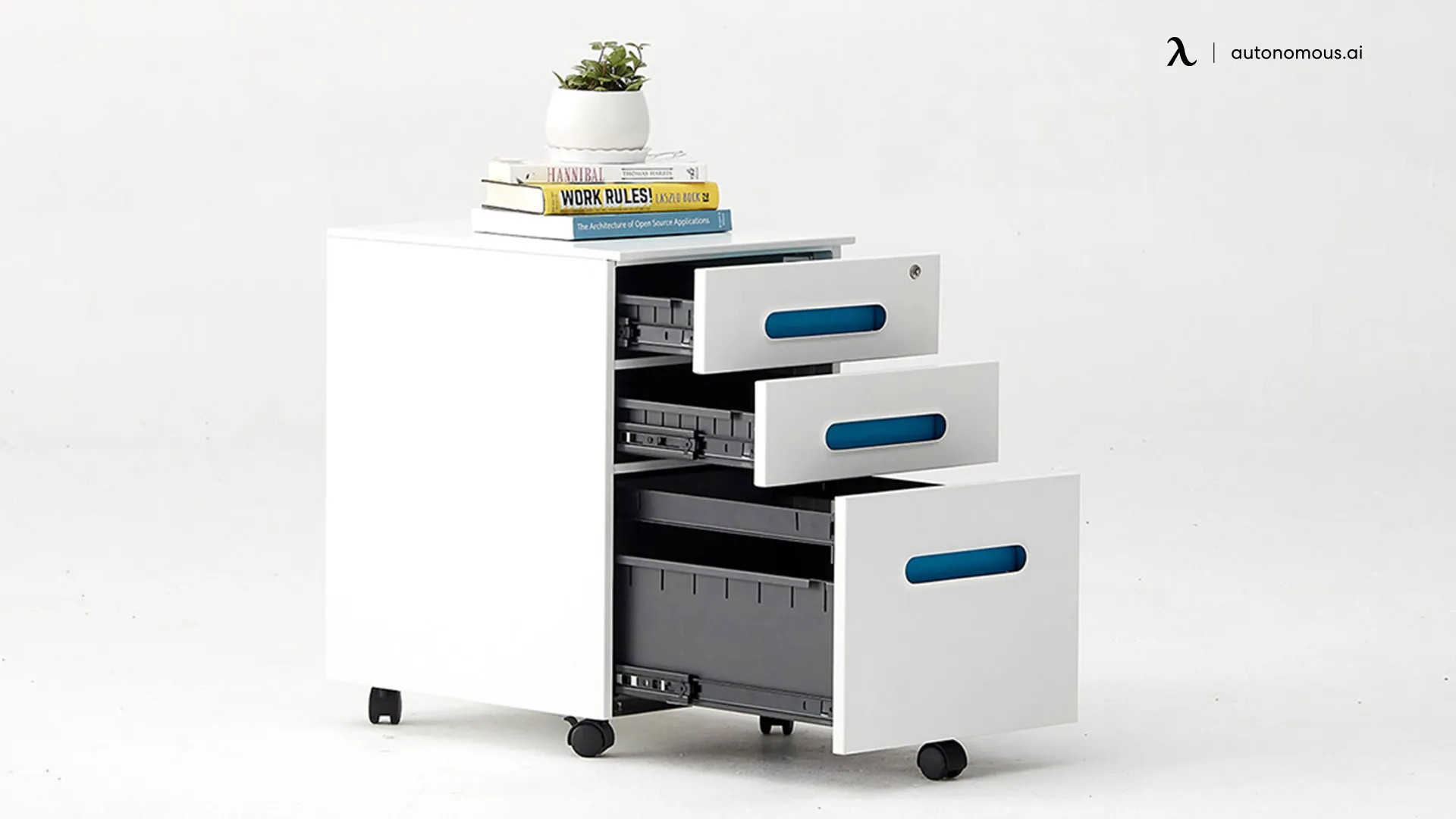 A file cabinet is important to increase your desk space. If you don't have one, your files and other paperwork will linger on your desk, adding to the clutter. So, think of investing in a couple of them to manage paperwork.
Cable Tray
Cord clutter is something that no one likes and is considered the greatest hindrance in the way to creating a minimalist desk setup. The issue related to cord clutter is best solved when you have a cable tray. The cable tray is placed under the desk to carry all cords that would otherwise linger on your desk.
Ergonomic Peripheral Devices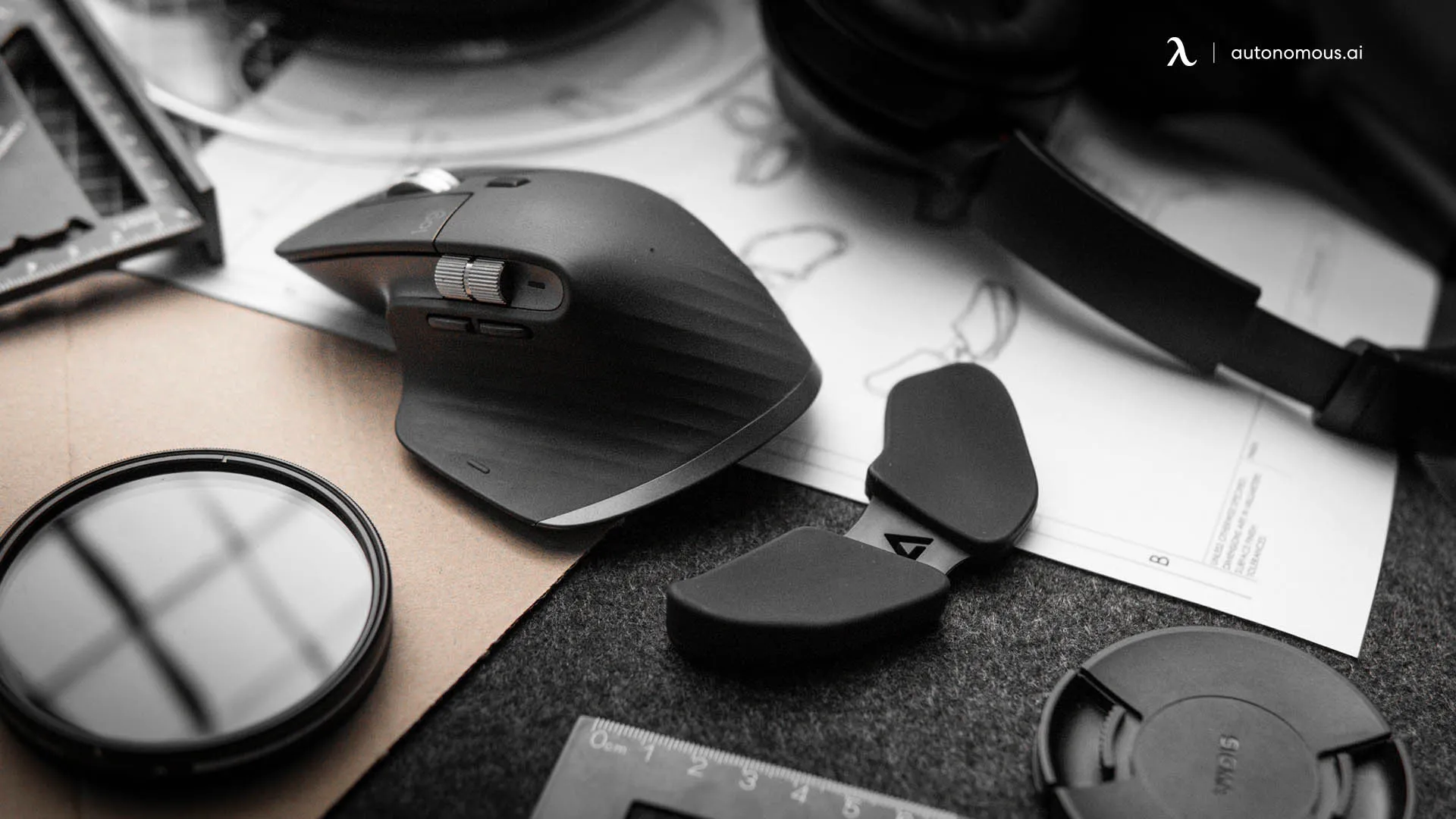 Lastly, investing in ergonomic peripheral devices like a Bluetooth mouse or a split keyboard is as important as anything else. The good news is that these accessories are also available in our online store. So, it won't be wrong if we say that your desired office accessories are just a click away and all you need to do is make your move to create the best black and white office interior design today.
Hey, you have special pricing through your company.
Get exclusive rewards
for your first Autonomous blog subscription.
WRITTEN BYAutonomous
We build office products to help you work smarter.