Smart Products
Top 15 White Desks With Drawers You Will Love in 2022
950 Views
Productivity blossoms in the right environment and with the right desk. Many people favor white furniture, as it can make an office appear less busy and provide a greater sense of space. White desks with drawers look cleaner, are more modern, and are less likely to clash with the other furniture in your home office. There is a reason that there are so many desks that come in the color white. Below, 15 white desks with drawers have been explored.
Top 15 White Desks With Drawers for Your Minimalist Office
1. SmartDesk Connect Pro – White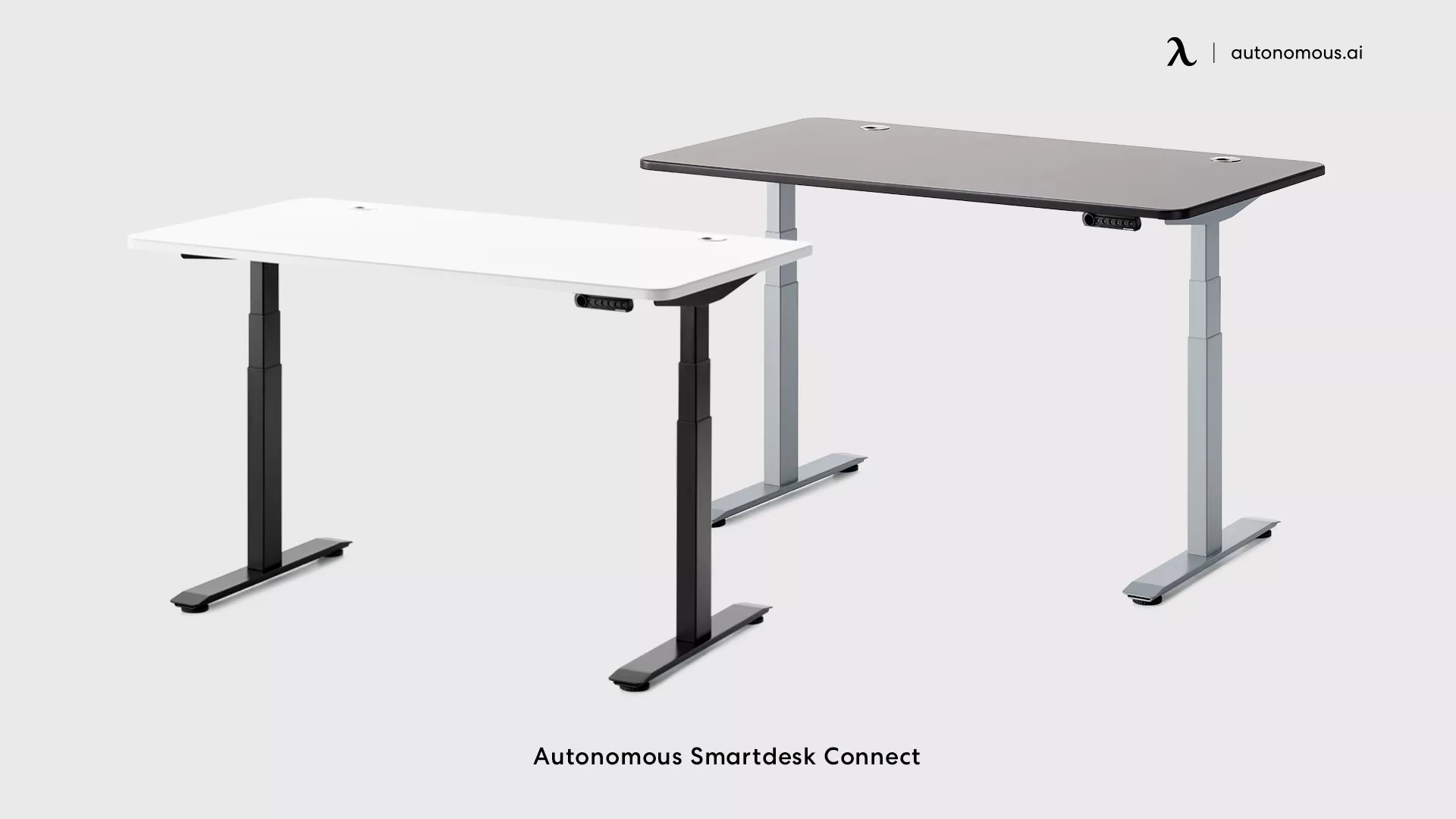 The only thing better than a standing desk is an adjustable standing desk with drawers, more specifically, white office desks with drawers. Not only does the SmartDesk Connect Pro by Autonomous provide its buyers with the benefits of ergonomic furniture, but it keeps you organized by providing you with not just one but two drawers for all your office-related bits and pieces.
Utilize this white standing desk with storage if you are wanting a decent all-white desk for your home office. With features that react to the surrounding environment, integrated drawers for additional storage, and a convenient app with controls that are intuitive and fine-tuned, this desk ticks all the boxes for features you would want in a white office desk with drawers.
If you are looking for white computer desks with drawers for your home office, then you are most likely working from home, and if this is the case, Autonomous will provide you with special pricing on your new standing desk when you join its Employees Purchase Program. With an offer this good, everyone wins!

2. SoBuy FWT16-W White Desk
A modern and stylish white storage desk that was designed with practicality and functionality in mind is the SoBuy FWT16-W White Desk. It has a simple frame and two shelves, which you can choose to assemble on either the right or the left side; moreover, this desk has an angular design, and this distinctive style is all the rage.
Made from MDF chip wood finished in a smooth white, this white storage desk makes for a desk that is good value for money and is an affordable desk likely to win the hearts of its buyers.
3. EUCO Computer Desk – White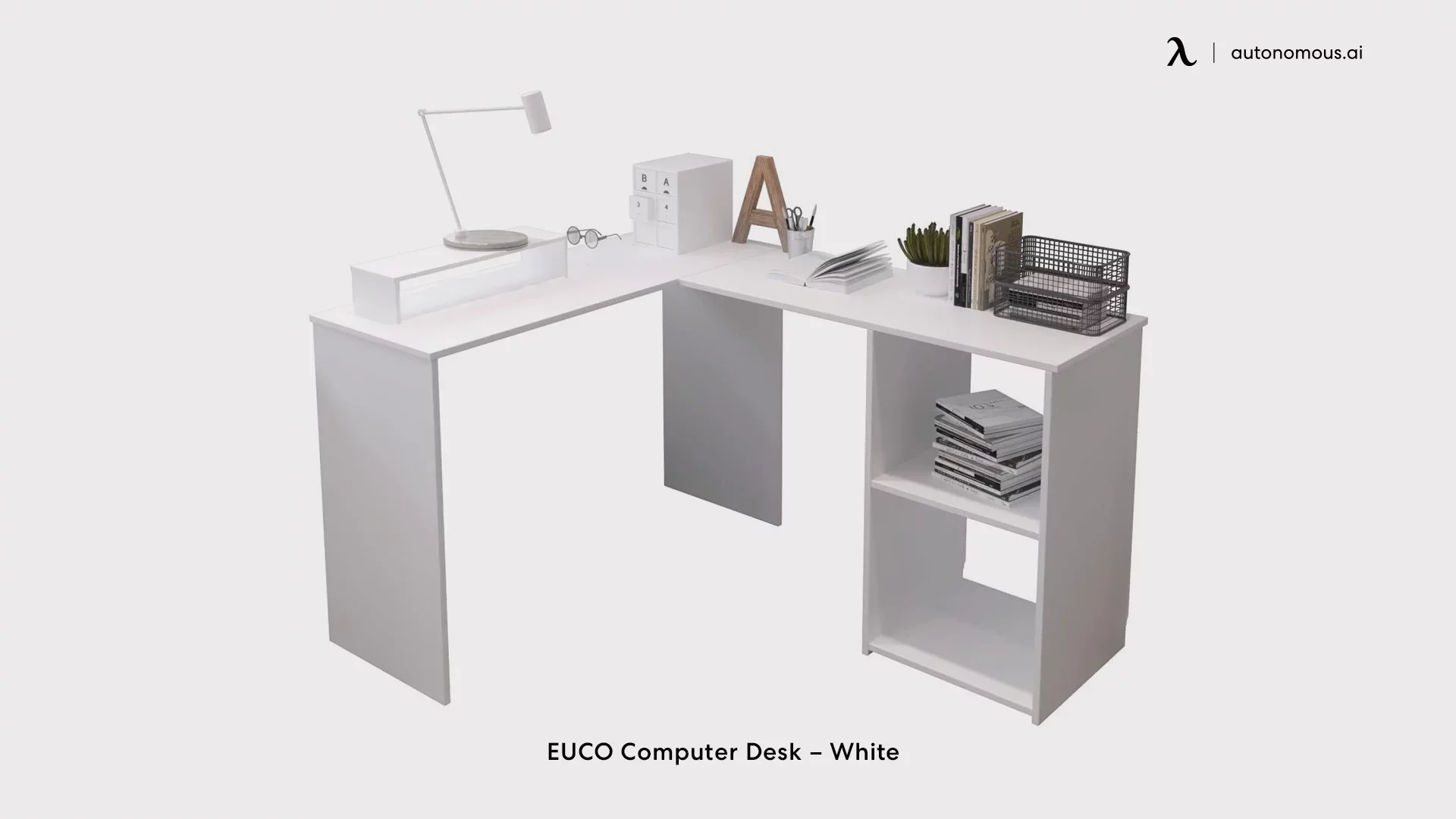 The EUCO Computer Desk is a white-desk setup that is not only functional but flexible too. With an incorporated turntable joining two separate desk parts together, it allows the desk to be rotated. Yes, you read correctly, this white executive desk has a shelving section that can rotate 360 degrees. Better yet, you are also able to configure it in a straight line or in an L-shape. The anti-slip protective tips are there to protect your floor when you rotate it left, right, or around and around.
Its eco-friendly particle wood board also makes this white storage desk wear-resistant, waterproof, anti-scratch resistant, and super easy to clean, even though it is white. You are also not required to be Bob the Builder when needing to assemble it.
4. Yaheetech White Computer Desk
The Yaheetech White Computer Desk is compact, but for a small desk, it sure comes with a lot of storage. You no longer need to imagine a white table with drawers when there is one with a sliding keyboard tray, a raised shelf, two shelves, and a small desk drawer.
While it is delivered flat packed and requires assembly, when the desk is eventually all up and running, it is one durable desk, offering the utmost protection against liquid corrosion and scratches with its melamine finish.
5. Maestro 25 White Desk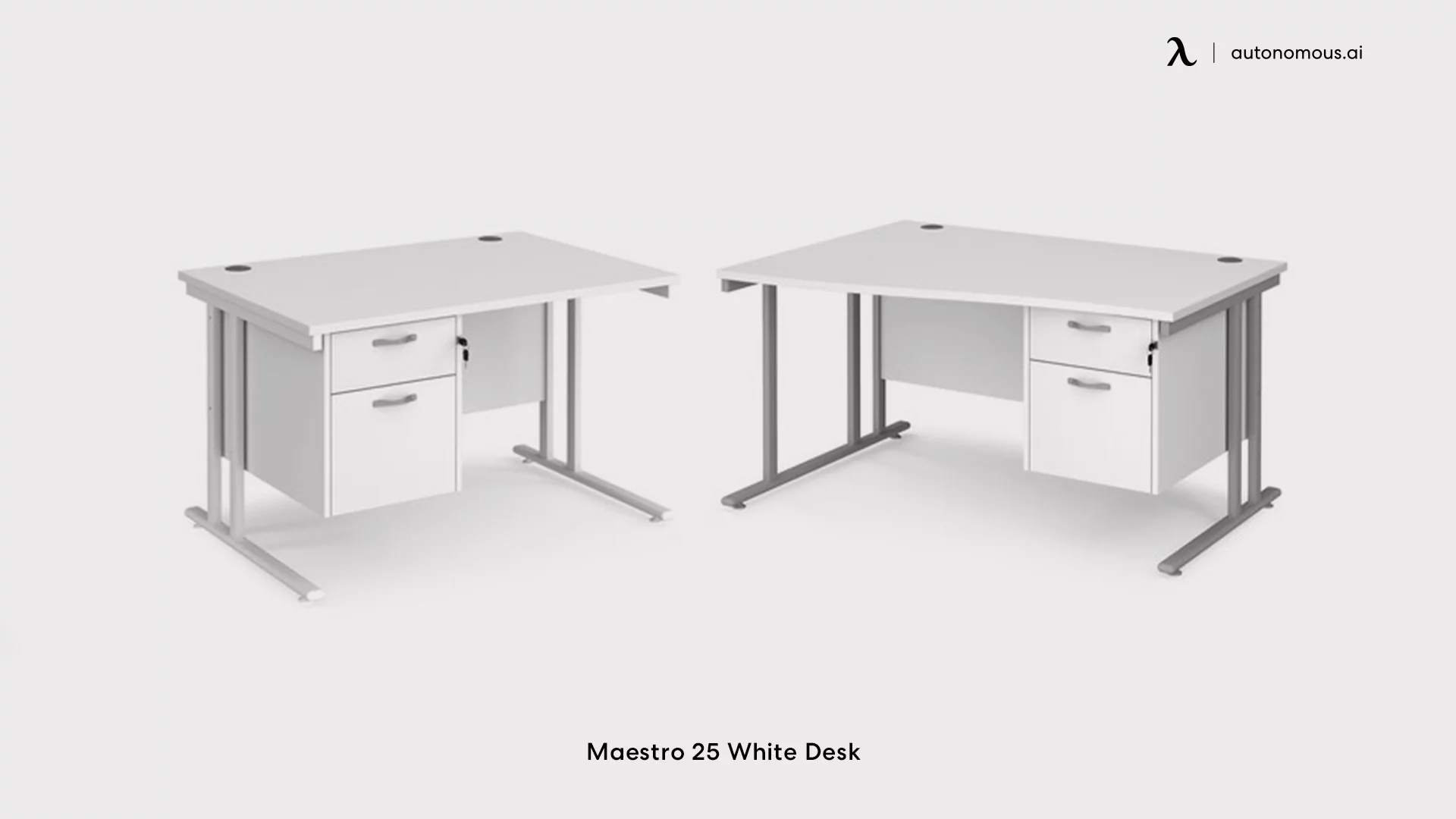 A white desk with drawers made in three widths, the Maestro 25 White Desk is one large white office desk with drawers, and if the size is still not according to your liking, it comes with a desk height pedestal unit, meaning that you can extend the surface area of the desk.
Its L-shaped design makes it a desk suitable for corners, and its cantilever frame allows for a lot of legroom. With two tidy holes for cable management, three lockable drawers, and one filing drawer, all in all, the Maestro 25 White Desk makes for a great white computer desk with drawers. There is no doubt that it belongs in the corner of your home office.
6. Yo-Yo Desk 90 Standing Desk – White
Back to the ergonomic office furniture pieces, the Yo-Yo Desk 90 Standing Desk is a desk designed to sit on top of an already existing desk, allowing users to switch between a sitting to a standing desk throughout their workday with a simple and smooth height adjustment. Now, before you begin to say that the Yo-Yo Desk 90 Standing Desk has no drawers, there is a loophole.
While the ergonomic piece of office furniture itself may not have drawers, the desk is placed on top of those, and this will account for the storage that you are acquiring along with your white desk. The non-slip silicone frame pads protect the desk underneath from any sort of damage, and the Yo-Yo Desk 90 Standing Desk can hold up to 33 pounds on the top level and a keyboard on its lower level.
7. Ikea MICKE Desk – White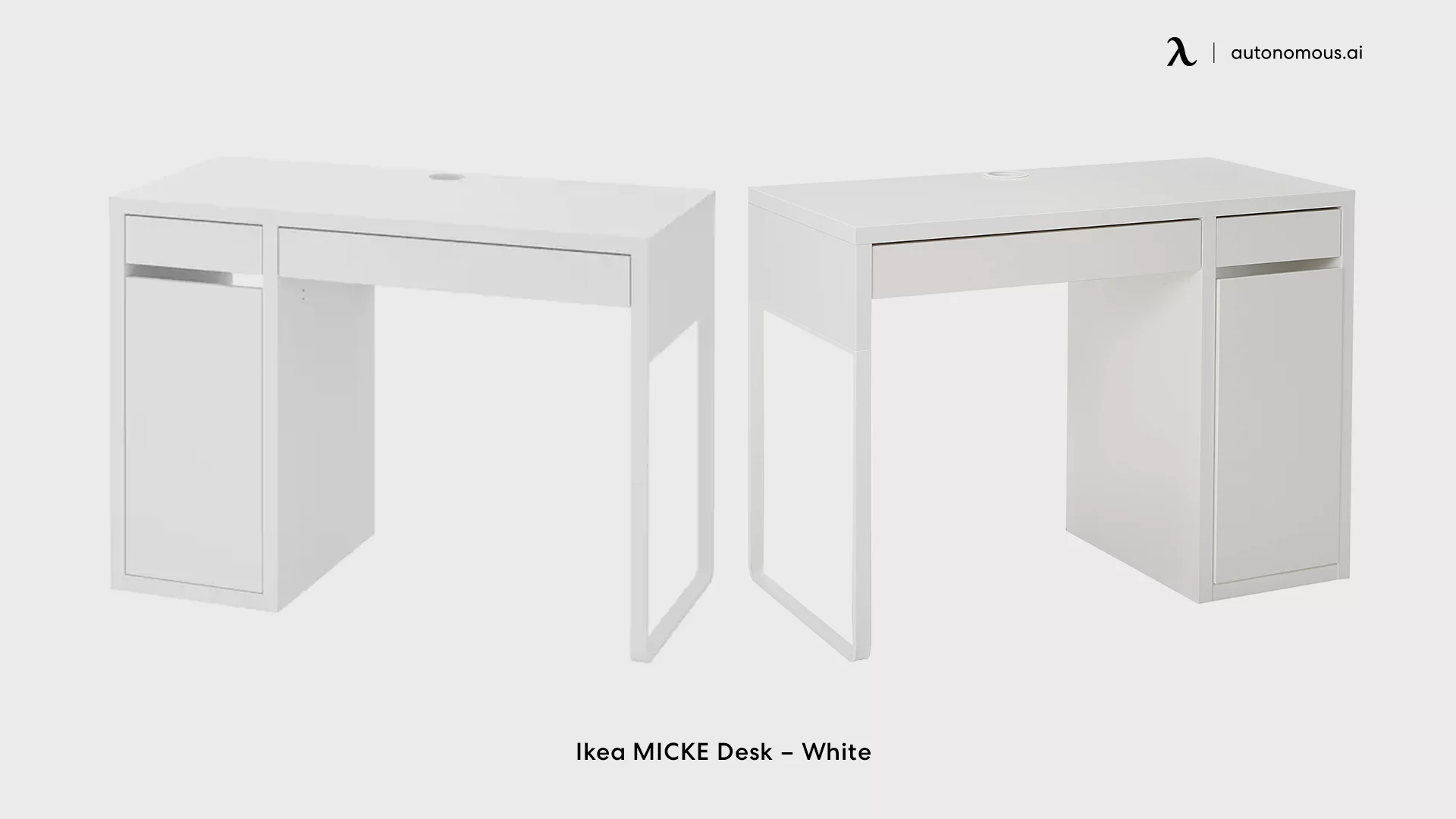 Another affordable alternative is the Ikea MICKE Desk. With its simple and clean design, this white storage desk can be placed just about anywhere in your home or office. It doesn't even need to be against the wall, as it features a finished back as well. The absence of handles is what gives the Ikea MICKE Desk its modern design and minimalistic feel.
This white office desk with drawers features a desktop with a cable outlet hole in the middle for the tiding of cables. It also features built-in stops that prevent the drawers from being pulled out too far, and it features a cupboard that splits into three shelves, with two loose shelves being able to be positioned at literally any height. What more could you possibly need from this desk other than the desk itself?
8. Compact Desk by Wistopht – White
What about a digital desk for the more advanced places? The Compact Desk by Wistopht has got you covered; this is an adjustable standing desk with a drawer and features a tempered glass top, along with a digital display of touch control keypads.
While it could be used specifically for show purposes, the glass top surface of the Compact Desk by Wistopht also has a built-in wireless charger for everyday use. Buyers are also offered peace of mind for five years, which is the length of the warranty attached to this white storage desk.
9. Kings Brand Home Office Desk - White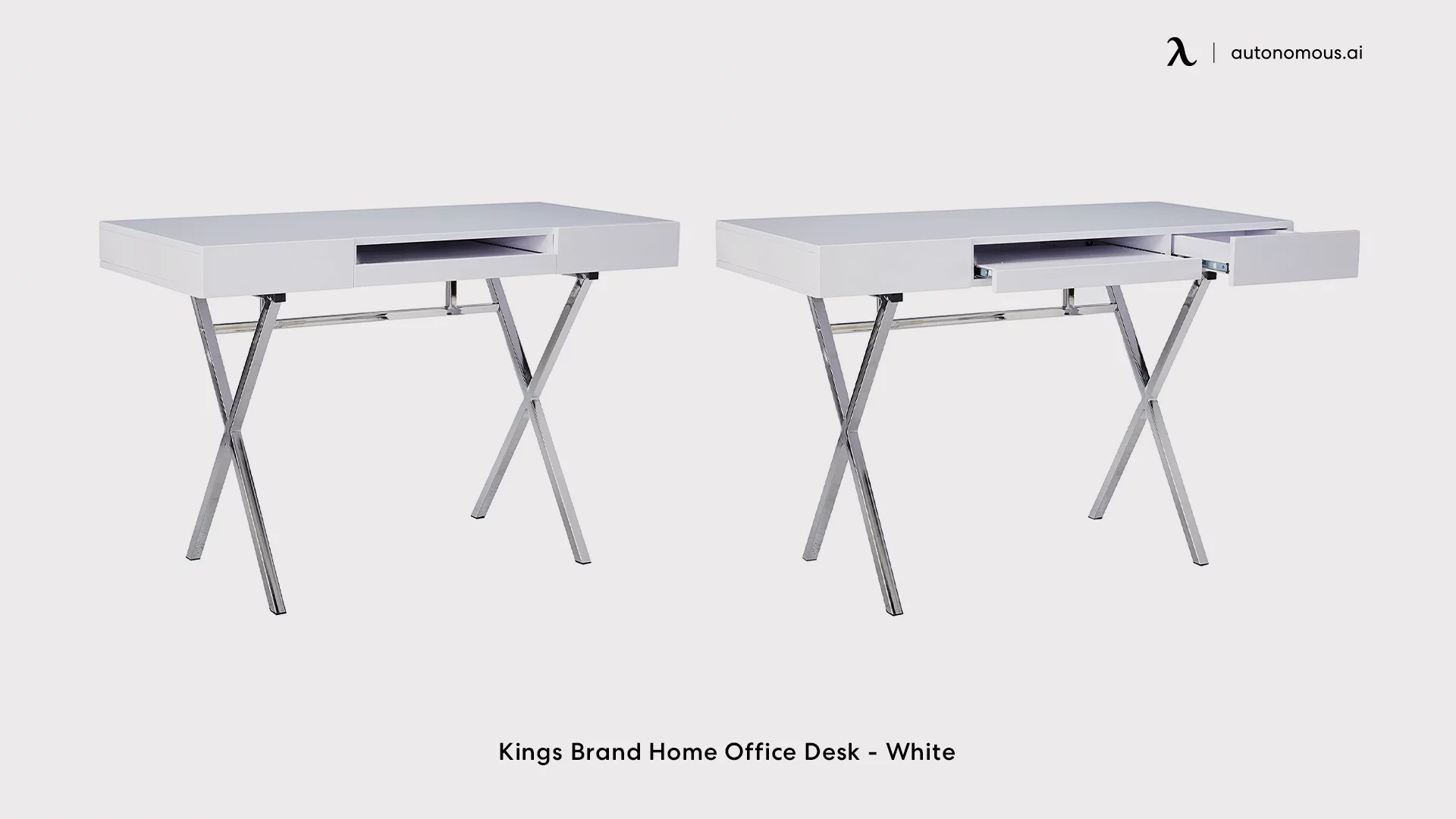 A perfect depiction of elegance and class in a home office workspace is the Kings Brand Home Office Desk with its featuring drawers and shelves. This is a small white desk with drawers with a chic design that had contemporary office workplaces in mind when it was being designed.
The cross-legged structure of the desk offers buyers wonderful stability, and the white accent paired with a chrome finish makes the Kings Brand Home Office Desk a timeless design piece. If this list is able to find this desk fit for a home office setup, there is no way you won't find it just as suitable when you buy it for your office and put it to use.
10. Argos Home Malibu Three Drawer Office Desk - White
A nifty and nice white desk with drawers, the Argos Home Malibu Three Drawer Office Desk is a cleverly streamlined concept that has all the benefits of an everyday desk and more. More because it actually has a hidden store, a three-shelf open unit, which is within reach underneath this white desk.
Let's also not forget its large surface space, its three-drawer pedestal with easy glide drawers, and its bright white color with shiny nickel knobs. Buy this white table with drawers, roll a chair underneath, and you literally have everything you need to get down to business.
11. Habitat Pepper One Drawer Desk - White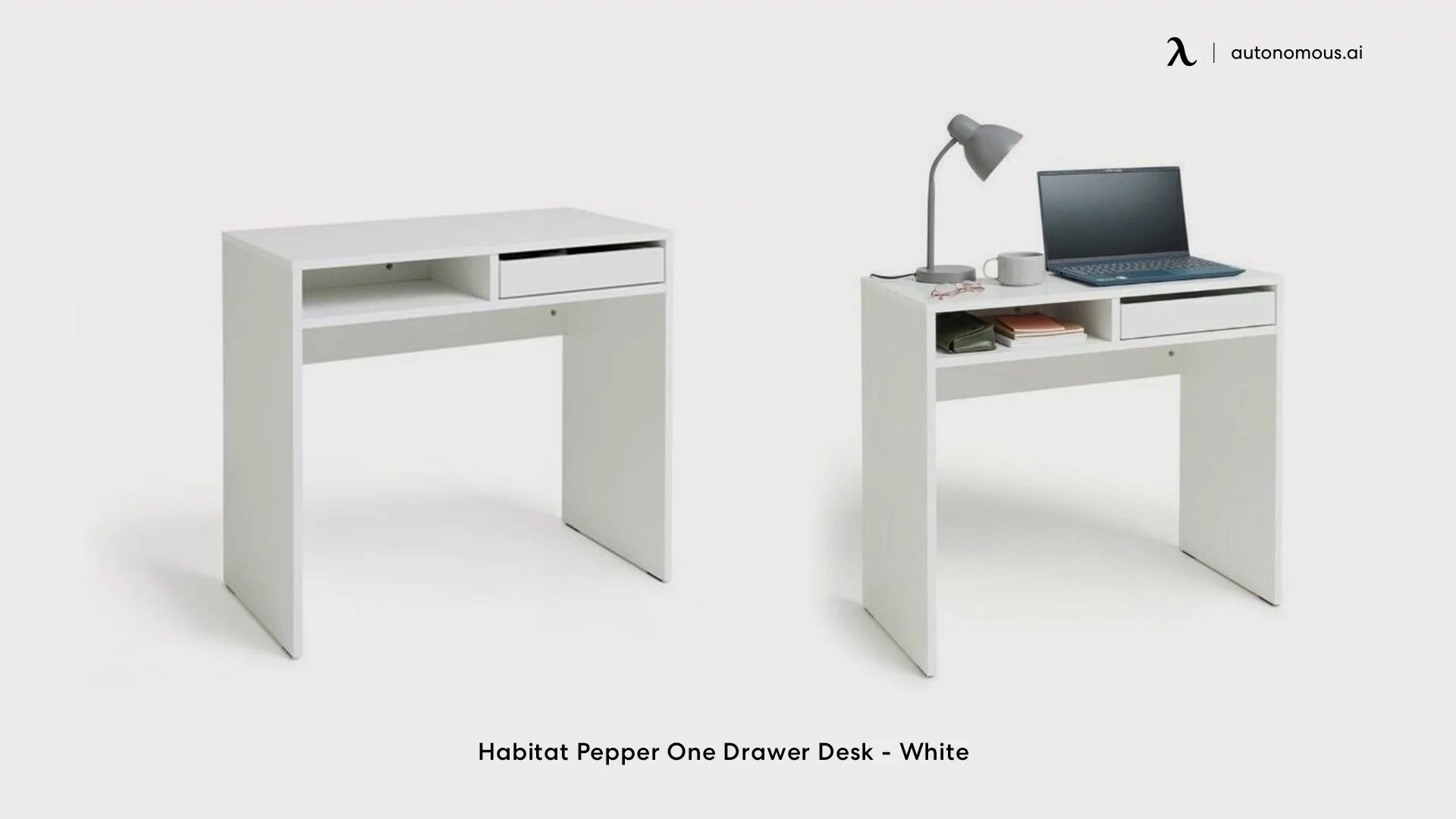 Are you working from home and perhaps tight on space? The Habitat Pepper One Desk Drawer is your solution. This white desk with drawers is small and compact, measuring only 31 inches in length. As small as it may seem, it still provides ample room for a laptop and a phone charger on your work surface.
Top desk clutter can also be easily tidied away in the one easy-glide drawer, and the under-desk shelf is the perfect place for storing current papers and office essentials that you need on hand or within reach. The Habitat Pepper One Desk Drawer was manufactured and designed ready for business; it would be a shame to not put it to good use in your home office.
12. Argos Home Lawson Office Desk - White
The Argos Home Lawson Office Desk shines not only in a viable white storage desk kind of way but quite literally shines thanks to its catching white glossy look. It is perfect for smaller home offices or any other small space in your home and comes equipped with two handy cubby holes, a cupboard for paperwork and files, and an adjustable shelf for other office accessories.
If you're a sucker for angular simplicity or a minimal look, then the Argos Home Lawson Office Desk in white is a desk that is most definitely worth your consideration and your money, should you happen to love it so much that you purchase it.
13. Virtuoso Horizon Gaming Desk – Blue and White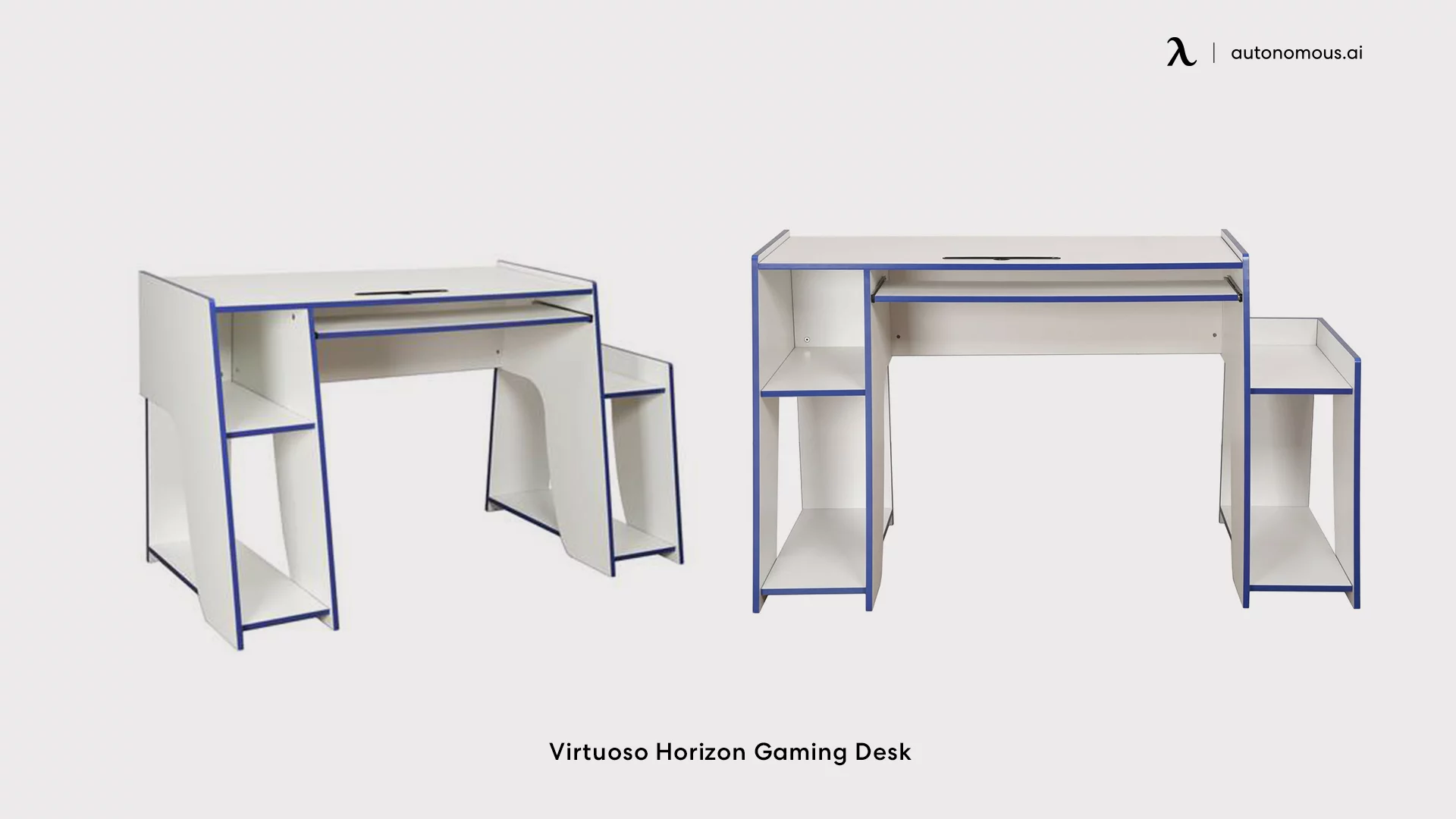 If you happen to be a serious gamer, you have not been forgotten about. A white desk with drawers in this round-up is the Virtuoso Horizon Gaming Desk, and it was designed specifically to enhance a gamer's gaming experience by being a desk that can act as a workstation or as a multi-use play.
Combining a stylish look with ergonomics and storage functionality, this desk has it all. It features a large desktop space suitable for two monitors, a tablet holder, and a smartphone; it has a sliding under desk mouse and keyboard tray, PC tower shelves with ventilation, and open large storage shelves, all in a main white color with blue piping. Does anything else need to be said?
14. Habitat Pepper Corner Desk - White
The Habitat Pepper Corner Desk can be described in four words as a genius corner desk. Fitting space-savingly into a corner in your home, you are giving yourself all the room you need without forfeiting all the space you have.
It features a curved desktop under which you can slide a chair underneath and four convenient shelves on which you can store any office equipment. Consumers also love the handy whiteboard that is included for post-it notes, but then again, who doesn't love the idea of never missing a deadline again?
15. Argos Home Marble Effect Two Drawer Desk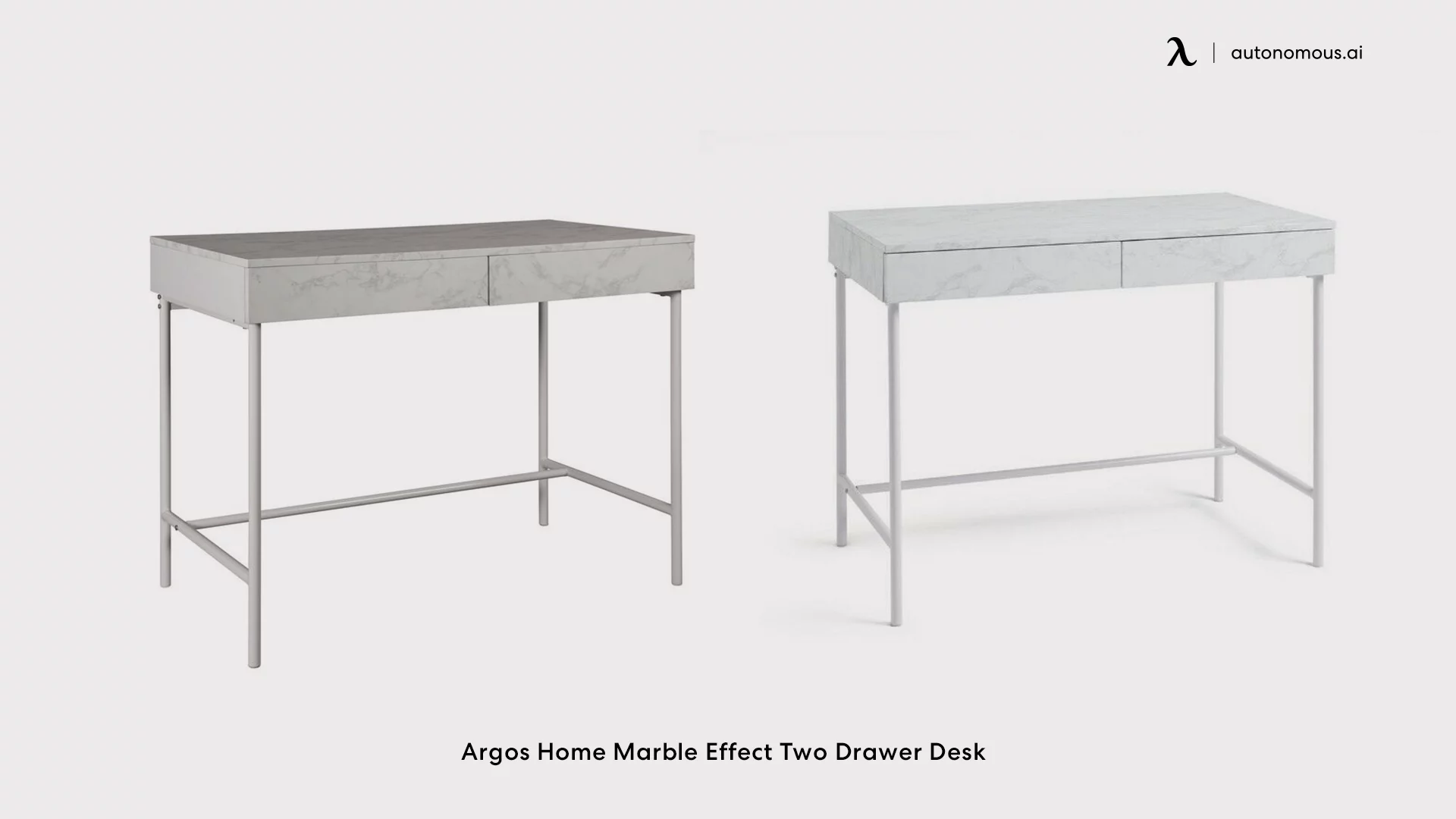 The last white table with drawers is the Argos Home Marble Effect Two Drawer Desk, and the subtle vintage flair of this desk could not go unnoticed. Two practical storage drawers complement the desk's ample worktop, where papers, books, and stationery can be stored with ease. By being able to pair well with just about any décor style, this white desk with drawers will work wonders in your home office. A productivity booster that is effortlessly on-trend and very easy to assemble should not be ignored.
The Bottom Line
Perch your laptop or PC on any one of these 15 white storage desks, add some decorative flourishes, put away your paperwork, and just like that, you have the perfect personalized home office space, and it is all thanks to this round-up of the 15 best white desks with drawers in 2022.
Hey, you have special pricing through your company.
Get exclusive rewards
for your first Autonomous blog subscription.
WRITTEN BYAutonomous
We build office products to help you work smarter.