Smart Products
15 Modern White File Cabinets for A Modern Office
522 Views
A modern white file cabinet allows suitable storage and is a simple solution to avoid clutter in the workplace. Using a file cabinet with wheels is the most ergonomic change you can make to your workspace because it allows easy movement, reduces storage time, and gives a quick under-desk storage option without any permanent change. This article will enlist the best modern white file cabinets for ergonomic workplaces.
1. Autonomous Filing Cabinet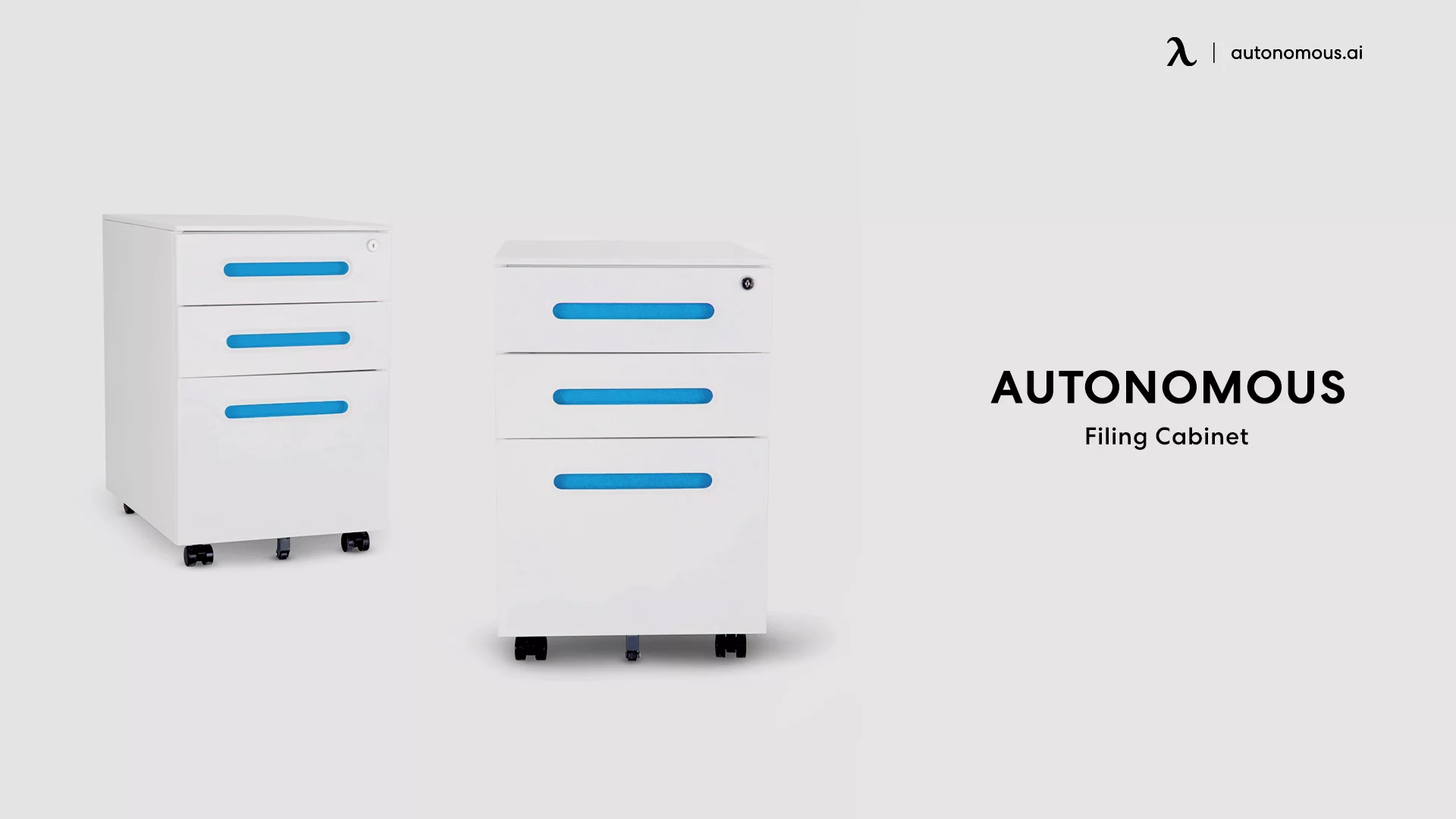 When boasting a basic design proudly, we have a winning candidate. This under-desk cabinet, known as the simple filing cabinet from Autonomous, is versatile, user-friendly, minimalist, and long-lasting – to name a few qualities. It comes in four colors, including the cool gray, which is the most popular considering its universal computability. You can also pick sky blue, neon green, and maroon options for a louder look in your home office.
2. Slim Cabinet by Wistopht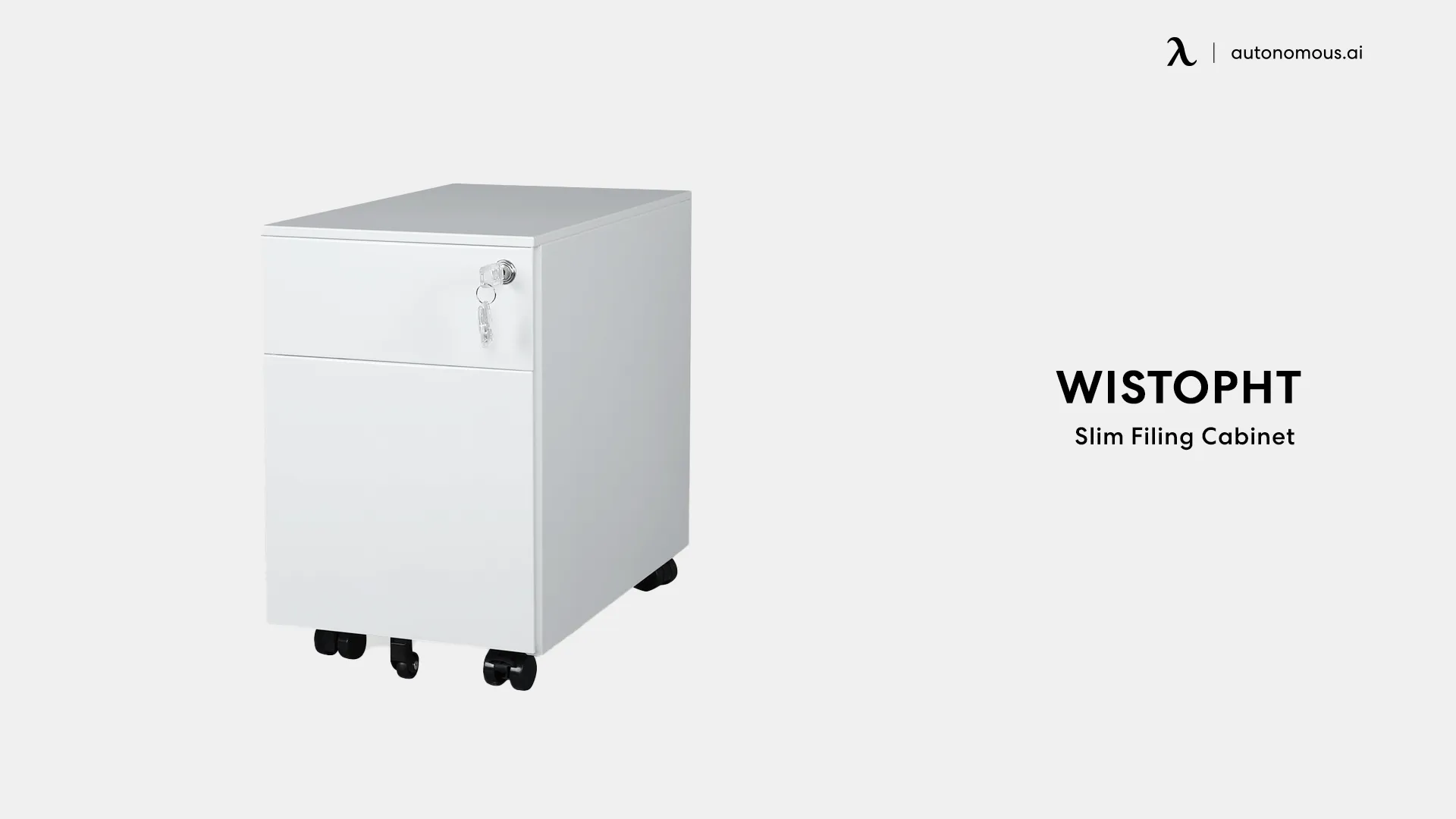 Slim designs are popular today because modern offices are all about space efficiency and ergonomics. This white file cabinet with drawers is a slim file cabinet with a spacious design. Even though that sounds contrary to its design, it is ergonomic, allowing maximum storage space with minimum weight and footprint. The cabinet has two drawers compatible with most office storage space considering the diversity in space. You can also lock it for safekeeping and move it freely under the body wheels.
3. 2 Drawer Cabinet
A 2 drawer file cabinet can never be a wrong pick for busy workspaces because they provide a universal storage solution. And same is the case with this Autonomous x Wistopht filing cabinet made suitable for modern home office design. It is portable due to its wheels and compact design. It can be locked to keep your essentials safe, and the tiny design allows it to slide under the desk. It might be a bit pricier to some, but you can get a good deal via the Autonomous employee purchase program.
4. Devaise Filing Cabinet
The three-drawer wood file cabinet from Devaise has a storage cabinet, open storage areas, and file drawers. It is intended to keep the equipment, paperwork, files, and other materials for your home office organized. It comes in a natural wood texture and finishes and is an ideal pick for a white oak file cabinet.
5. Office Dimension Filing Cabinet
This four-drawer filing cabinet has label holders and a core-detachable lock so you can quickly identify the contents inside. Precision ball-bearing suspension ensures smooth file glide in the drawers. This vintage cabinet contains 30% recycled materials.
6. Northread 2-Drawer Filing Cabinet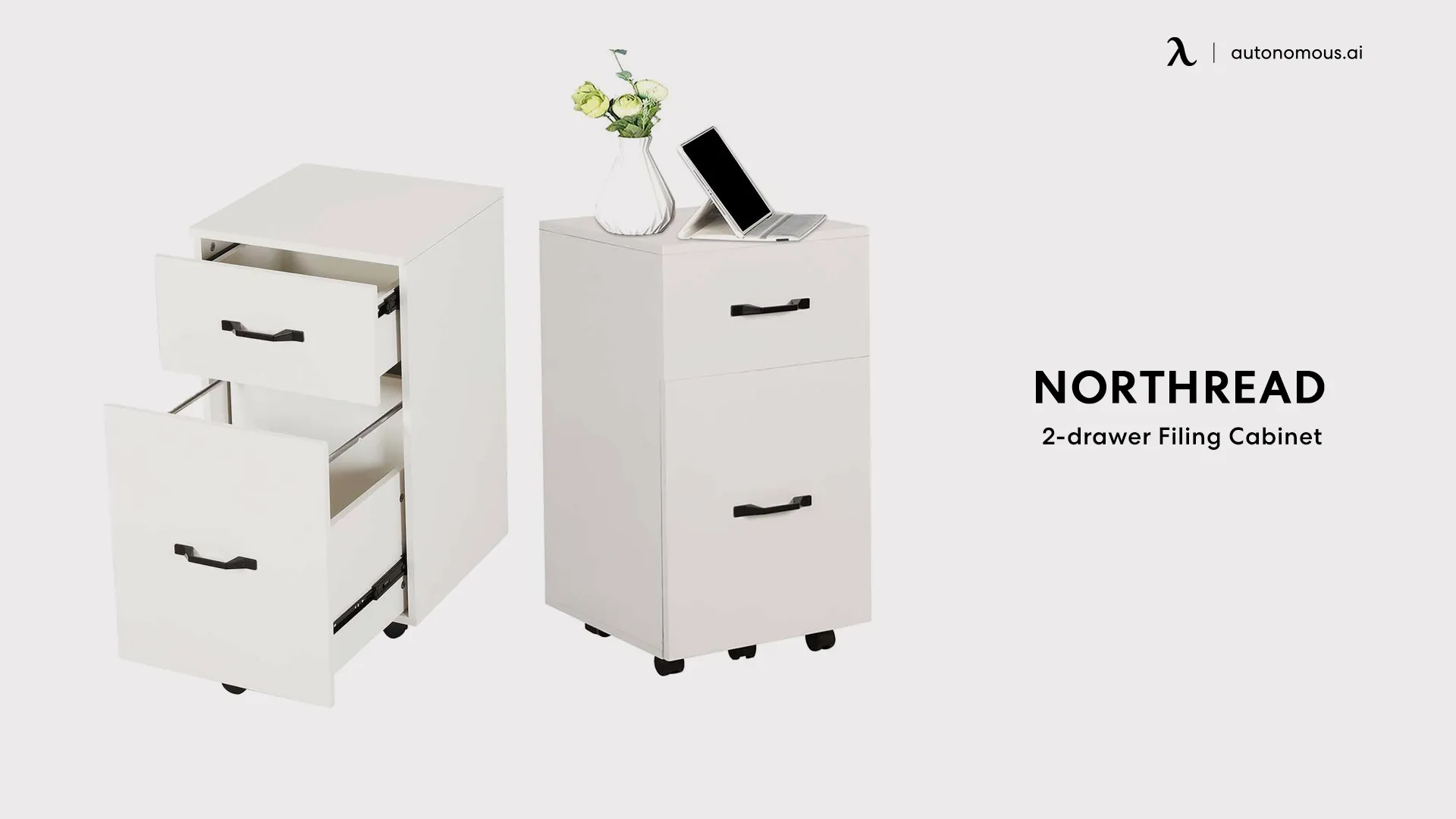 If you are looking for an elegant white vertical file cabinet, then the Northread vertical filing cabinet is popular among users for many reasons. This filing cabinet allows you to move it under the desk or even put it on display loudly because the design is suitable for both. It has two large drawers with a symmetric design, and you can easily ensure maximum storage, and even large documents fit in effortlessly.
7. Scranton and Co Filing Cabinet
Not the tiny ergonomic design one would like, but this cabinet is slim, so it can slide beside a large piece of furniture and cover up that remaining ugly space beside the wall. The modern white file cabinet has four large drawers with a smart design, and you can also lock them for maximum safety.
8. Hirsh Filing Cabinet
For extra sensitive documents, use this Hirsh industrial filing cabinet designed with a top-notch security level. It has two high drawers with 18 inches capacity. This cabinet can withhold heavy gadgets from documents as well. The wheel casters allow easy movement, and you will also find built-in tracks for file assortment.
9. Northread Aesthetic Filing Cabinet
Get your hands on this another aesthetic pick from Northread, which is tiny and cute but smartly spacious. The Northread Aesthetic filing cabinet has a lock suitable for everyday use, and the mobile pedestal allows easy movement despite the load inside the cabinet. The powder-coated steel keeps it new and fresh for years, and the humanized design allows reliable and quick storage.
10. Yitahome Filing Cabinet
The metal filing cabinet from Yitahome is an excellent option for offices with limited space because it provides lots of storage space in a tiny package. This file cabinet boasts remarkable agility thanks to its four casters, which can rotate 360 degrees. This file cabinet, unlike many others, is reasonably quiet, and the completely extendable drawers include an integrated sliding rail that makes it easier to open and close the drawer smoothly and with little effort.
11. Bush Lateral Filing Cabinet
This modern white file cabinet is perfect for any living environment thanks to its exquisite white wood-style finish, X-pattern accent, and bronze hardware. A 30-by-20-by-30-inch unit comes with two drawers that may be used in various ways to handle letters and legal files.
12. Lorell Soho Filing Cabinet
This vertical cabinet with three drawers makes it simple to store letter-sized files and can be used alone or in conjunction with other storage options. The unit is lightweight, made of steel with chrome drawer pulls, and the top two drawers lock. It works nicely with hanging folders.
13. Northread Slim Cabinet
A white rolling file cabinet meets most of the design requirements and this one offers even more options. You can find the gray and black colors, which are ergonomic and meet all the ergonomic standards skillfully. Thanks to the wheels installed at the bottom, the cabinet is movable, and the 5-year warranty makes it a highly popular product among users.
14. Cyra Filing Cabinet
Suppose you're looking for a home office or an office where design matters, this sideways filing cabinet by Cyra is a gorgeous addition to any space. It has a modern design that is depicted by the X pattern on drawers as well as a sturdy leg construction which makes it durable even on uneven surfaces. The soft self-close drawers in the Cyra file cabinet include full-extension ball-bearing slides for a smooth opening and closing.

15. Lorell 18 Inches Filing Cabinet
Two of the four drawers of this Lorell file cabinet are lockable. They are designed to hold stacked letter- and legal-size documents, office supplies, etc., and have a three-quarter drawer extension. This 30 x 21 x 18-inch black metal cabinet has easy-roll rollers. It can fit beneath the majority of regular desks and workstations.
Hey, you have special pricing through your company.
Get exclusive rewards
for your first Autonomous blog subscription.
WRITTEN BYAutonomous
We build office products to help you work smarter.