Workplace Inspiration
20 Japanese Office Design Ideas for Minimalist Workspace
4,765 Views
Japanese interior design and architecture use a very serene approach. Its style expresses itself through love for order, balance, and natural beauty. You can emulate this style in your Japanese office design ideas.
Once you start following the Japanese culture, you will invite Zen into your lifestyle. Therefore, if you want to bring harmony and peace into your office, use a minimalist Japanese approach. For your convenience, we have listed below twenty Japanese office design ideas for your workspace.
1. Elements of Nature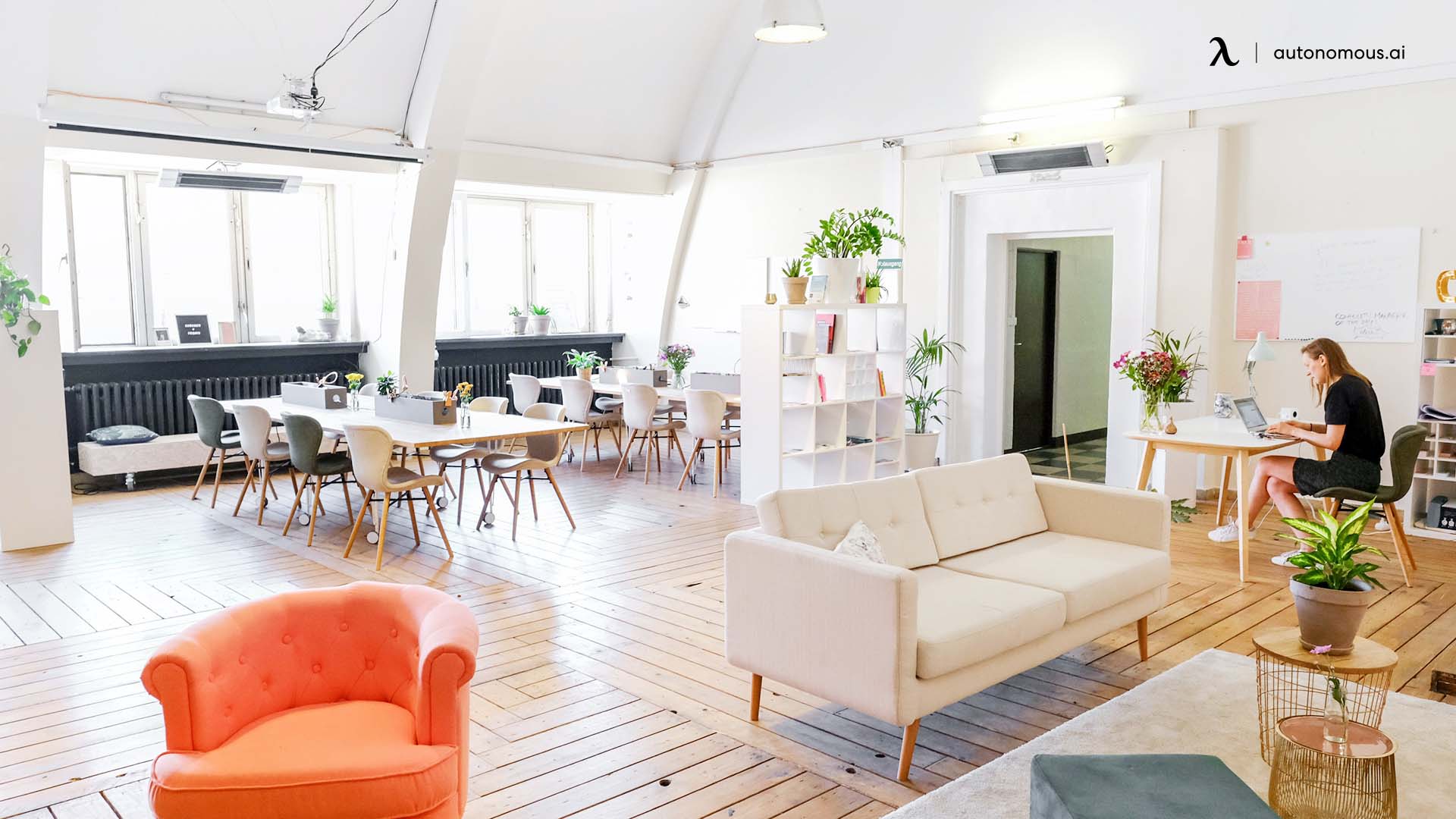 Japanese culture has a lot of respect and love for natural elements. You can use bamboo and bonsai in your home office to add a touch of Japanese culture. In addition, you can go for simple, green, and natural floral arrangements. An expansive Japanese window can further help you to keep natural and serene views while working.
2. Japanese Style Screens or Sliding Doors
Shoji is a traditional Japanese screen. It consists of fine and subtle translucent paper within a wooden frame. In modern Japanese office décor, they use glass panels inside the wooden grid. You can incorporate this style by replacing a wall with a glass sliding door.
3. Bamboo and Wood Japanese Design
Japanese love using wooden textures in their homes. Some of them use natural wood. On the other hand, western versions of red pine, maple, hemlock, and cypress have become popular. Hence, you can include Japanese-style wooden smart standing desks, doors, and walls.
4. Japanese Entryway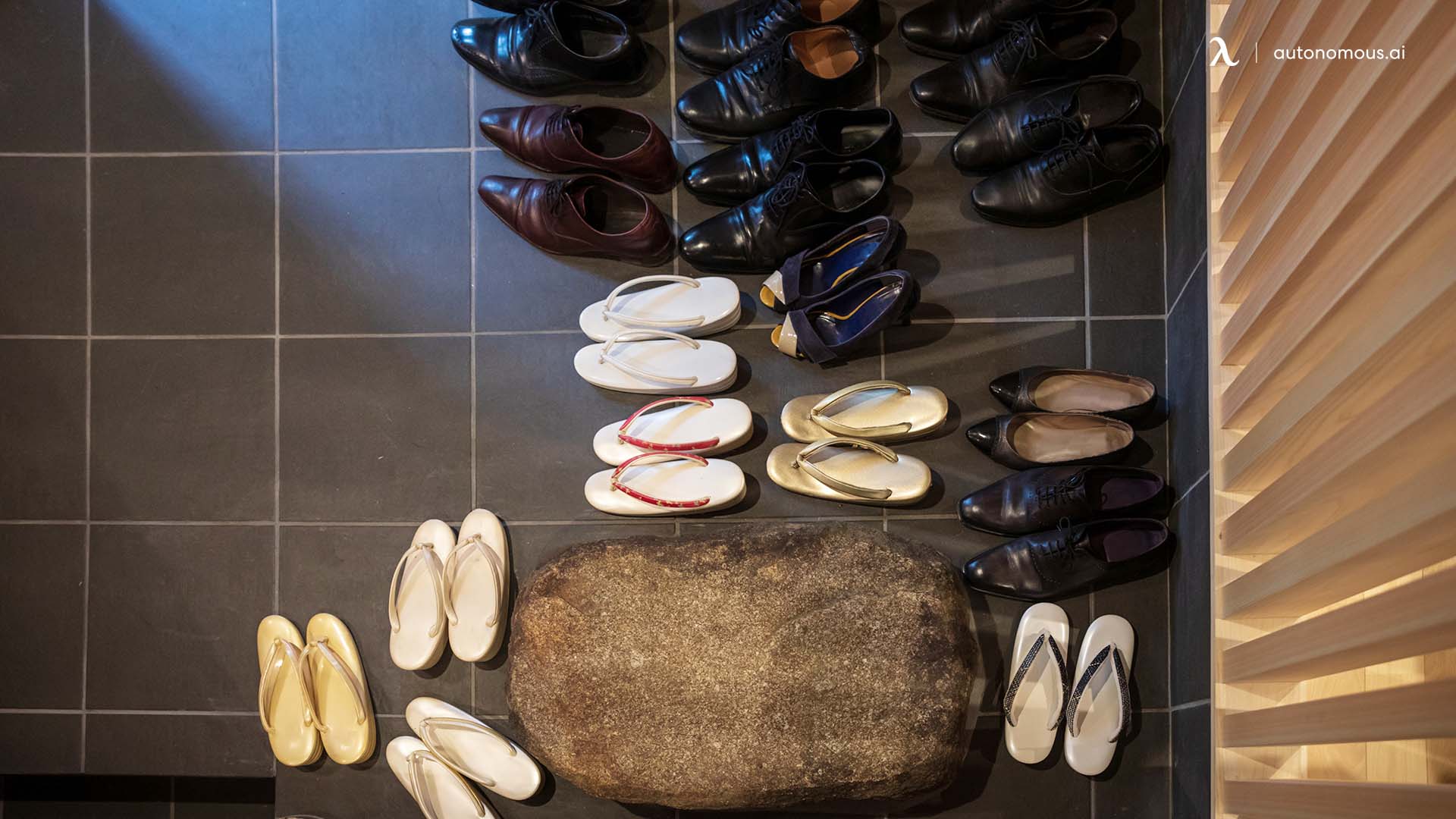 Genkan is another name for Japanese entryways. Visitors remove their outdoor shoes and wear indoor slippers. For your Japanese office design, you can use stone tile floors. A getabako or cabinet will store the shoes of your visitors and give them a warm welcome.
5. Japanese Furniture Style
Japanese furniture is low near the ground. You can mimic this aesthetic design with a low ergonomic chair and side table. You can use these to have an intimate meeting with your colleague. You can also go for ErgoChair from Autonomous.
6. Natural Lighting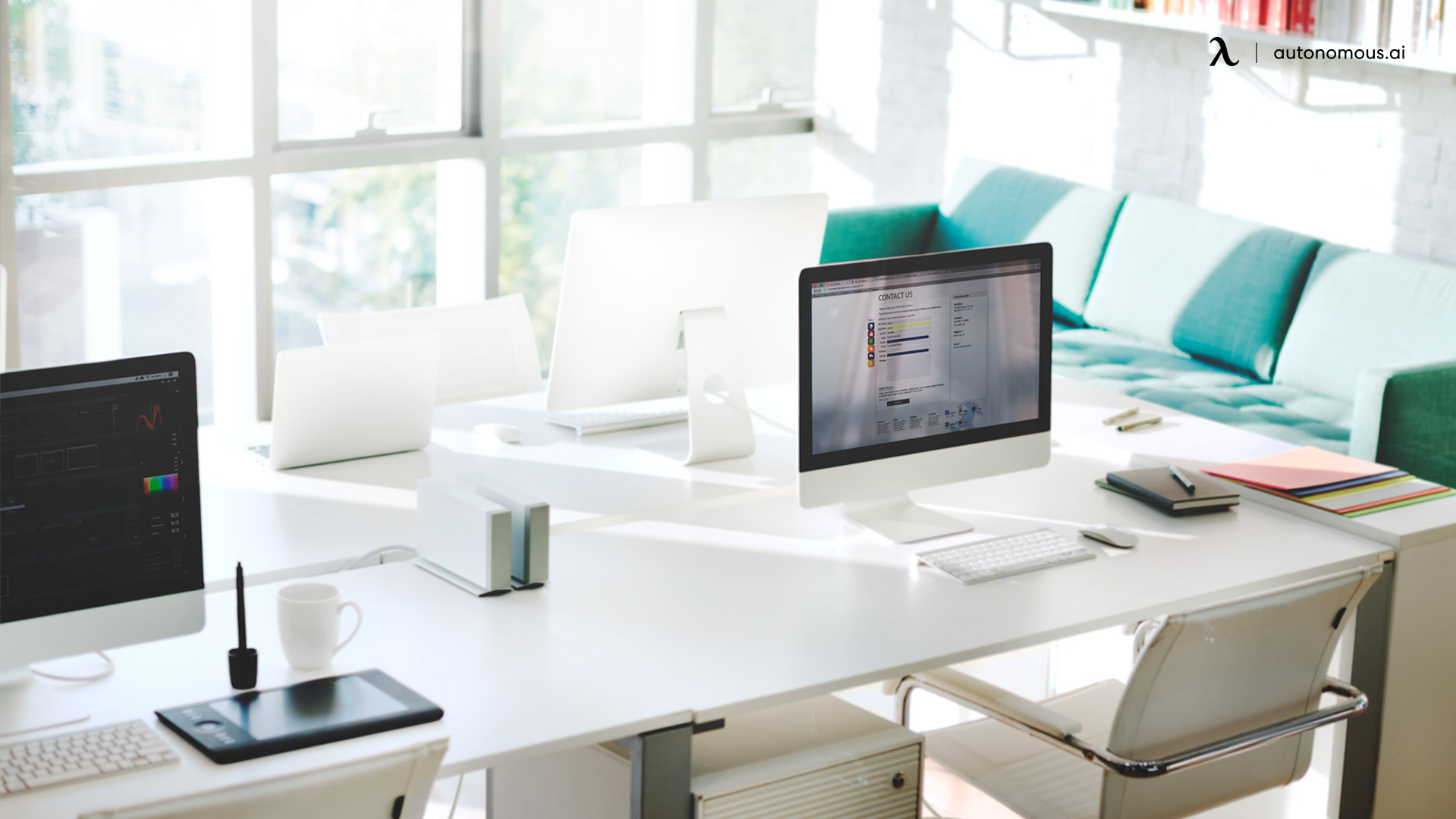 Avoid heavy draperies when applying Japanese office design. In order to bring natural lighting, you can use ceiling openings like skylights. You can also go for a sheer curtain or a simple bamboo shade.
7. Earthy Colors
Another way to use the Japanese natural style is to repaint the walls. For that, you can choose earth colors and tones. This will enable you to get rid of any stress and have a calm environment for your workspace.
8. Decluttering
You can invite tranquility and peace into your office with the Japanese method of decluttering. To achieve this, you can eliminate all the unnecessary objects which you no longer require from your Japanese office space. This process of decluttering will relieve your anxiety and enable you to keep things that you actually need without overcrowding.
9. Japanese Office Design with Minimalist furniture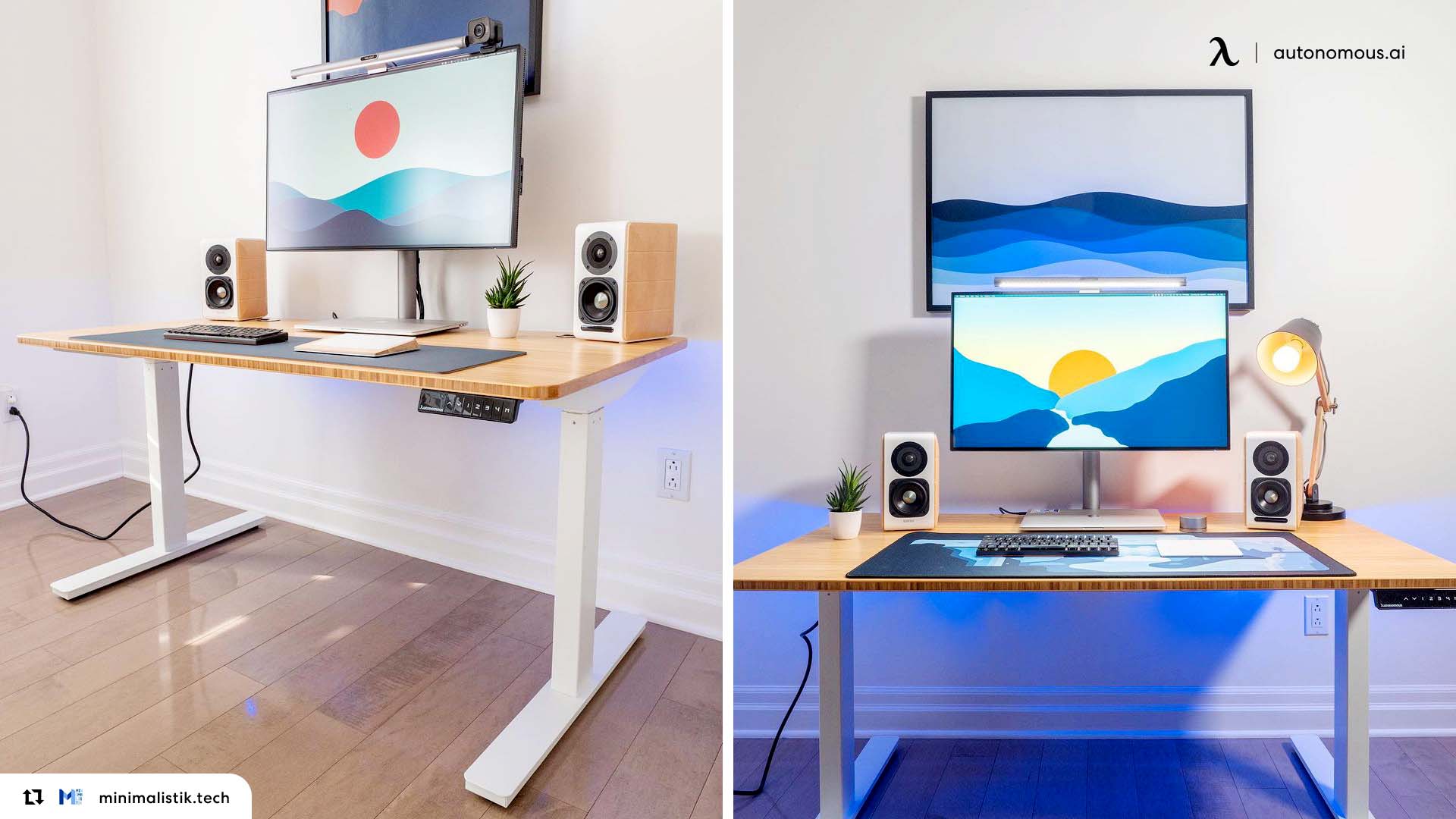 A Japanese interior Zen design will help you opt for minimalist home desk setup, simple furniture. Therefore, pick something that does not have any excessive ornamentation or design. And remember, a Zen office design is all about subtlety.
10. The perfect balance of "Ma"
Japanese principle of "Ma" will allow you to balance the available spaces. There is another concept of Negative Space that helps you to get rid of bad vibrations. For this, you have to leave an empty space for providing visual balance in your Japanese office building.
11. Neutrals and white walls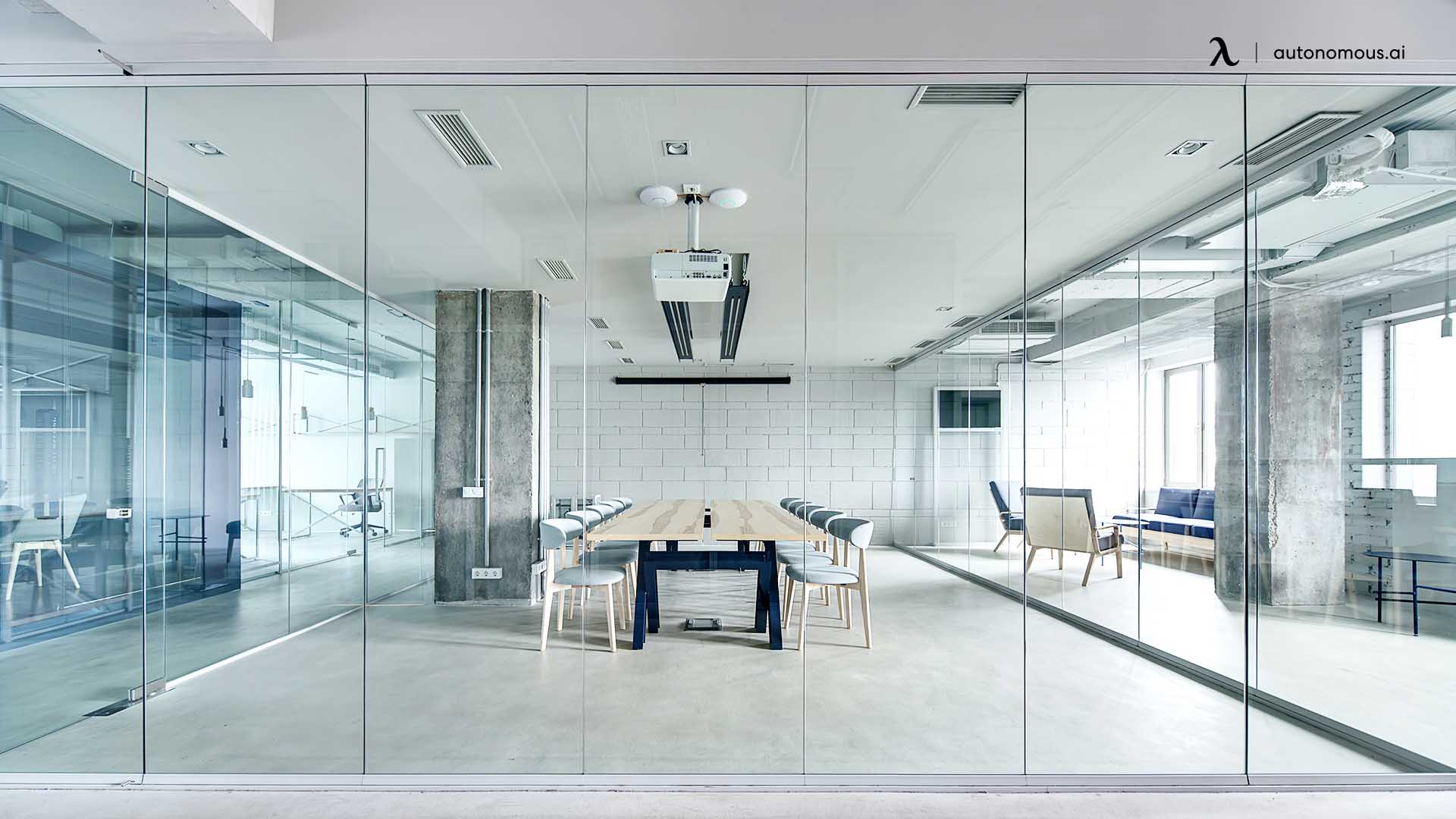 Neutrals and white dominate the concept of minimalism. You can use this to keep your room bright. Moreover, it will also remove negative energy.
12. Modern Japanese Design
Japanese design remained non-conforming, original, and authentic during Western expansion. Hence, it represents individual aspirations. So, feel free to apply modern Japanese Design while adhering to your preferences.
13. Japanese Textiles
The Japanese curtains and blinds complement the interior designs. It usually has pictures of hieroglyphs, cherry blossoms, and chrysanthemums. Japanese replace tablecloths and carpets with bamboo napkins and straw mats.
14. Japanese ornamentation style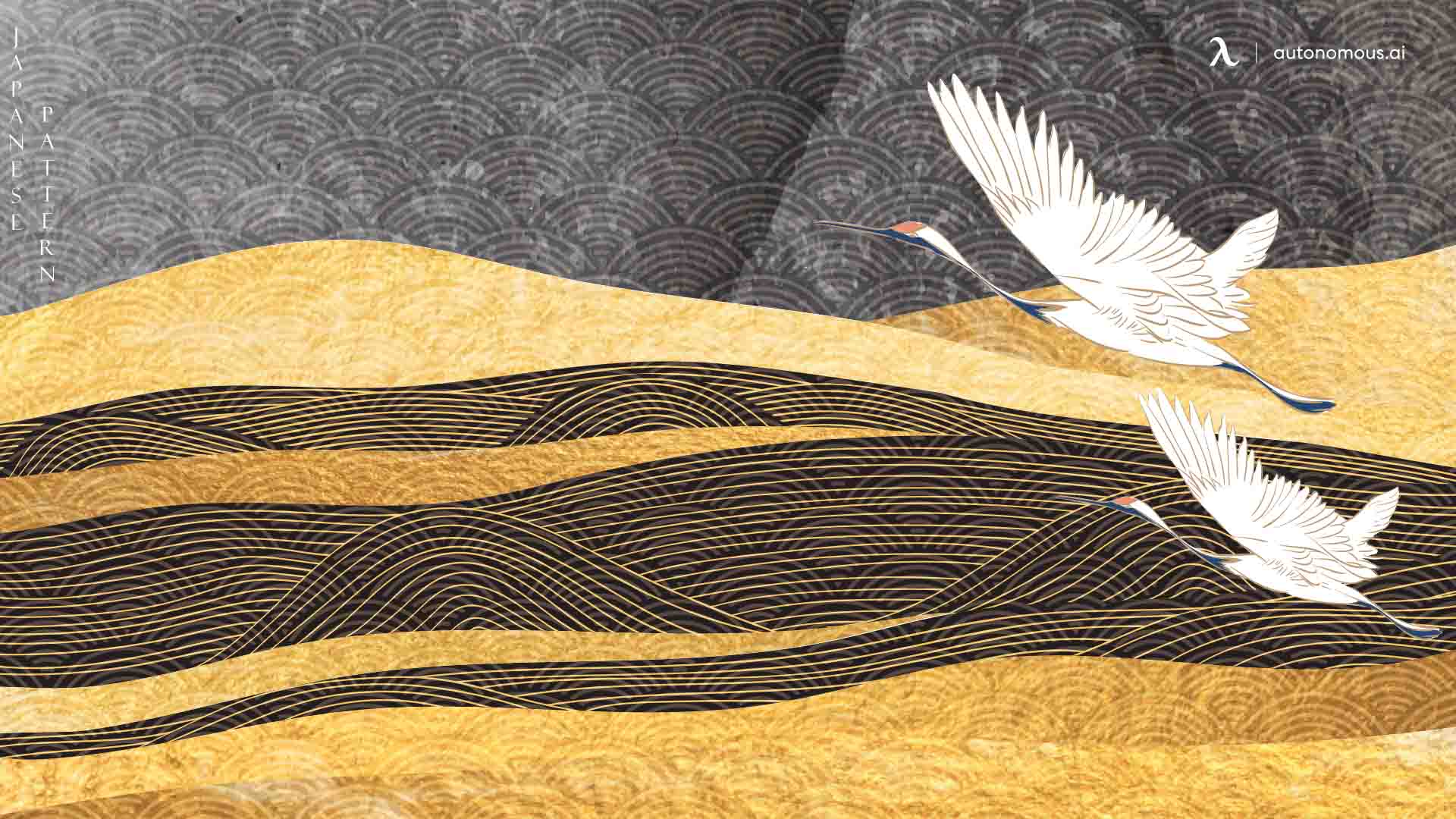 For ornamentation, the Japanese use a painting or haiku. You can go for ceramic pots, pottery, and vases. On the floor, you can use bamboo, rattan, and wood planks.
15. Japanese decoration ideas
To decorate your office with a Japanese style, you can use traditional prints. They depict fearsome samurai and women wearing kimonos. Japanese wallpaper has an image of autumn leaves and blossoms which can make your office look lively.
16. Natural Harmony
Abundance of light, spacious rooms, and natural beauty can enhance the natural harmony of your workspace. This will give you the freedom to explore the natural environment. Moreover, you will have peace.
17. Japanese Business Interior Design
Japanese interior design makes your business and workspace more inviting. The greenery keeps the environment positive. Besides, your surroundings will be more relaxed.
18. Japanese Office Design with Small quarter
Japanese living and work quarters are usually small. But, Japanese design tricks can make your room bigger. So, you can use this smart design to incorporate a minimalist design.
19. Japanese open spaces
You can consider an open floor plan and adding mirrors to your walls. Besides, you can go for overhead lighting and lamps with the presence of natural light. All the above things will enable you to open up your workspace.
20. Natural Materials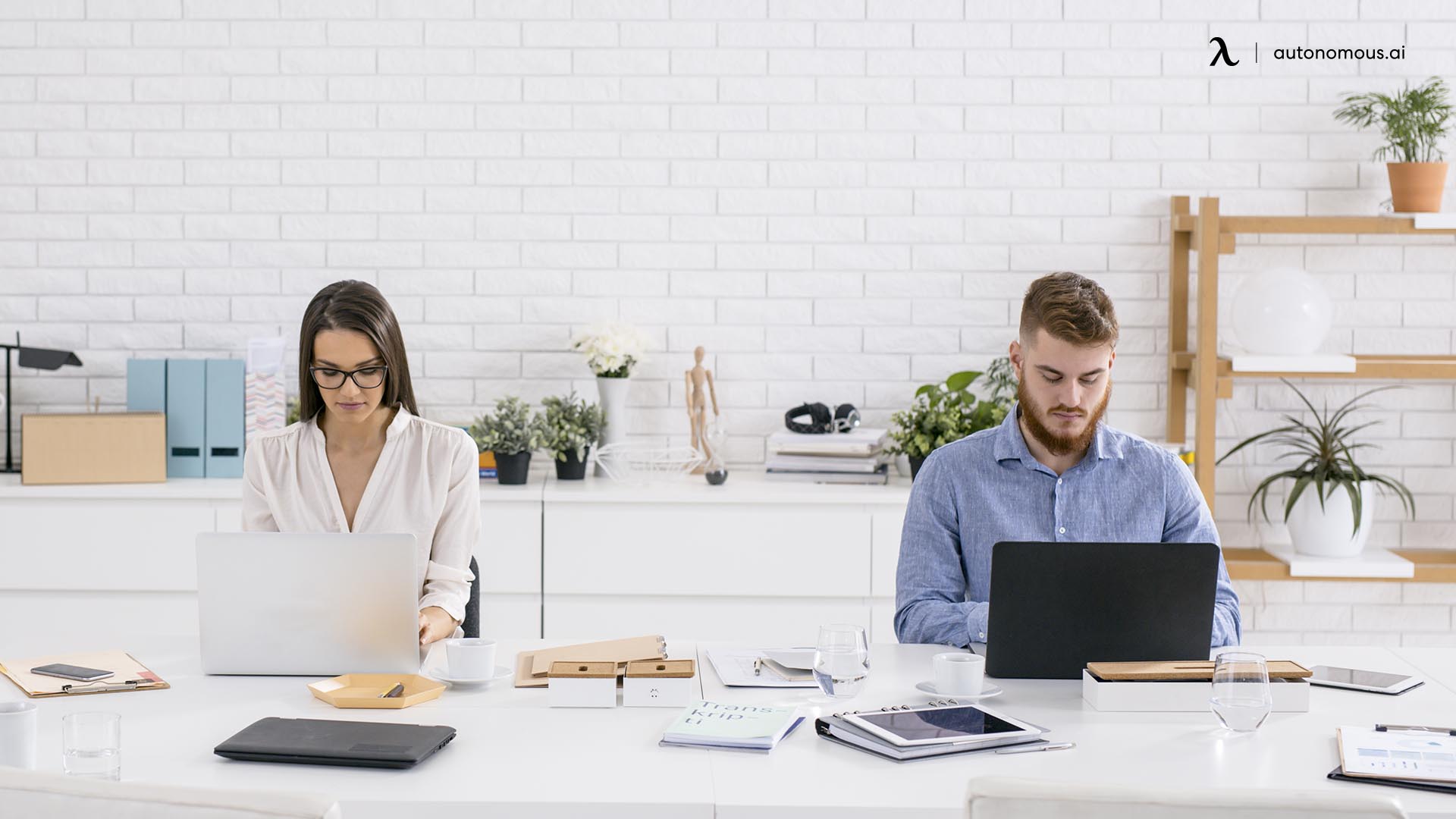 For natural decorations and furnishings, you can use silk, fine wood, rice paper, and straw mats. This will help you remove patterns that will clutter your office visually. Tatami mats can further accentuate the natural aura of your office.
Conclusion
Japanese office design and style will enliven your workspace. In addition, it keeps the minimalist in you happy with its natural and simple designs. It further helps to eliminate any negativity, anxiety, and stress with its calm environment. Our office improvement ideas will help you achieve this unique Japanese style while maintaining your uniqueness.
Subcribe newsletter and get $100 OFF.
Receive product updates, special offers, ergo tips, and inspiration form our team.
WRITTEN BYAutonomous
We build office products to help you work smarter.