Workplace Inspiration
13 Effective Office Design Ideas for a Small Business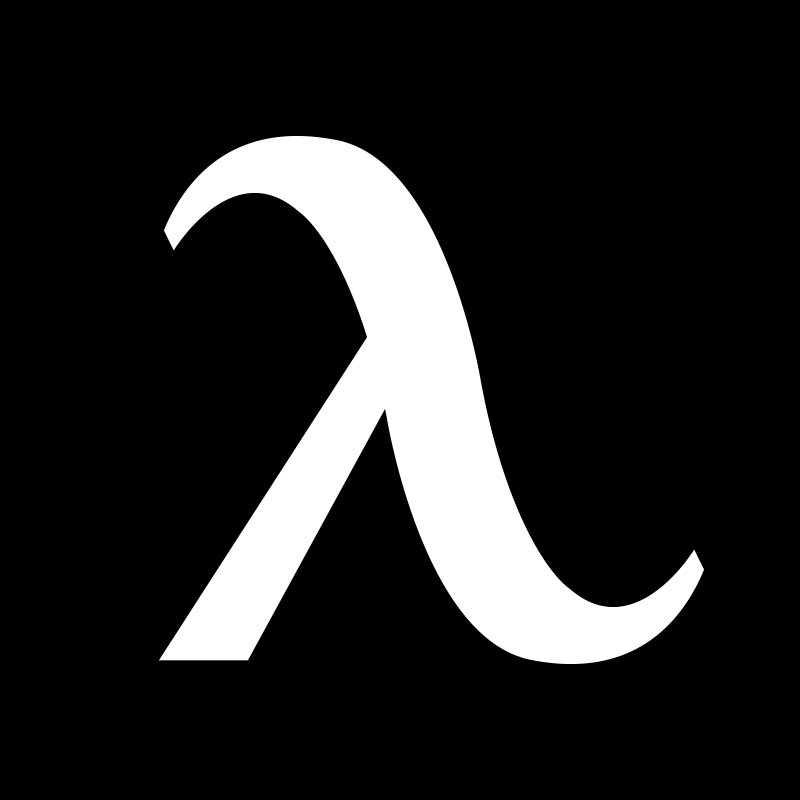 Autonomous
 | 
Mar 28, 2021
Whether you work in a traditional office with a modern office design, on the road, or from a home office, the setup your workspace has, can impact your productivity either negatively or positively. Many small business owners understand what sharing a workspace feels like when too many persons are in a small area. A comfortable work environment is important if you want to keep your productivity levels high. That's why exploring creative and efficient office design ideas for small business can be so profitable.
Is your small business office design conducive to your workers' needs and objectives? Is your electric standing desk crowded so much that you are not able to function effectively? It would be wise to consider a new office interior design that could fix all your problems. Now, you may be wondering if a small business owner, such as yourself, can embark on this great task. How can you balance the scales between making the office feel like yours while considering the needs of your employees?
Small Office Ideas for Work with Inspiration and Productivity
Your office is more than just the place you show up on Mondays through to Fridays and clock in and out of. Of course, this default schedule doesn't apply to everyone. In any case, the office represents you, your employees, your brand, and your positive work culture. Some insights, inspiration, and research can be extremely useful in transforming your current office space into the kind of work environment that allows employees to feel creative and productive.
Thankfully, you do not need to hire an expensive interior decorator and spend a wealth of money to make your small office presentable. Some small corporate office design ideas are easy to implement and can transform everything, making the workspace more fun, creative, and professional. Here are 14 small corporate office design ideas to assist you in the decision-making process.
1. Embrace the Space as It Is: Work Together
Having an open-plan office is an effective way to take full advantage of a small office area. It removes boundaries and fosters creative conversations and thinking among team members. You can achieve this design by pairing desks together and facing each other in groups of two or four. Team members can discuss thoughts and ideas freely, build closer and healthy work relationships, and feel unified.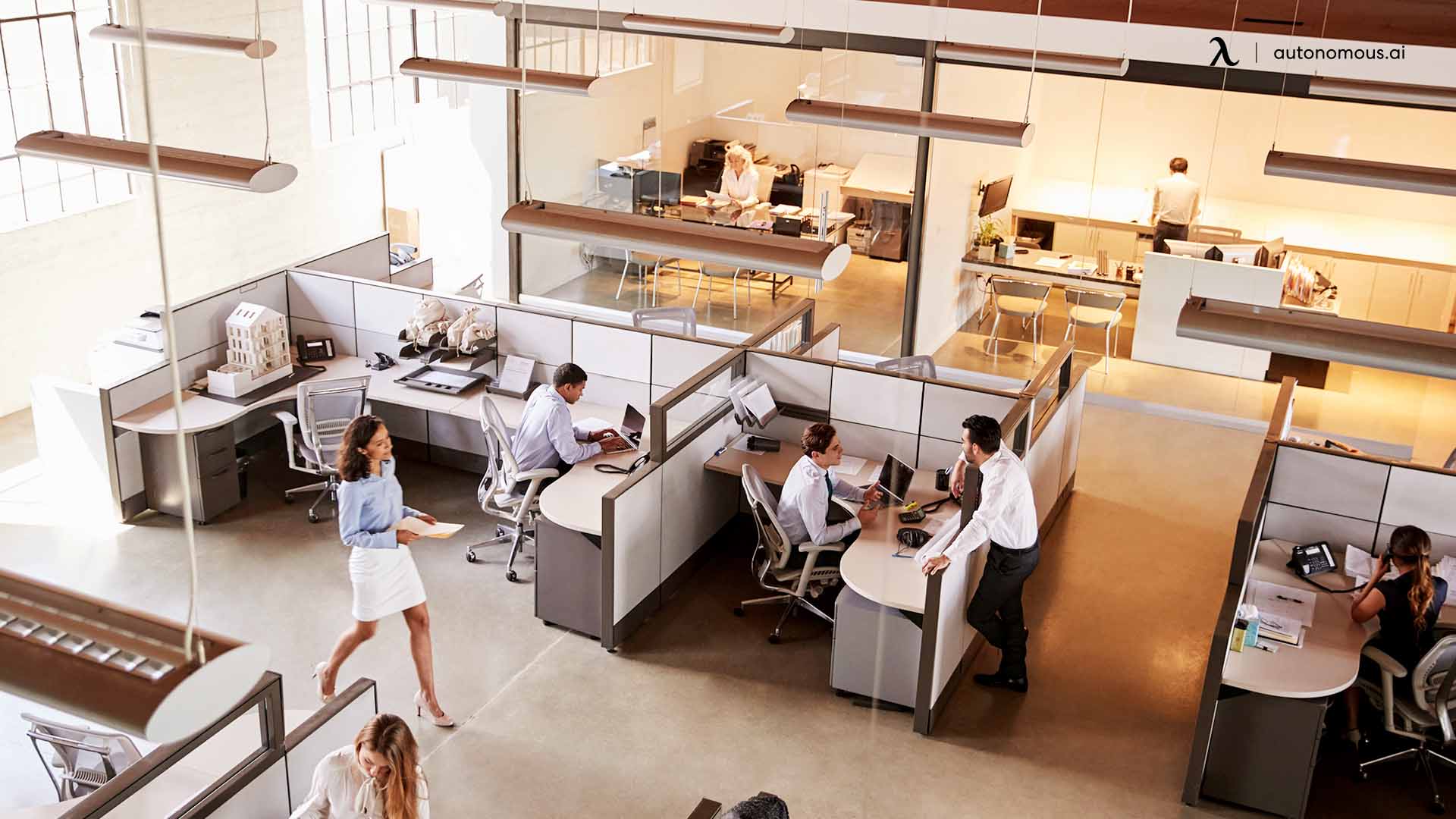 Ensure you have a clear path around and through the office floor, leave the main thoroughfares free from obstacles, and allow room between desks for each ergonomic office chair. Group like-minded co-workers, especially if they have similar roles.
The boundaries of other design choices do more than just prevent free-flowing conversation and critical thinking. When the office space is too small, these boundaries use up valuable floor space, which means what was already a small area is made to feel even smaller.
2. Office Design Ideas for Small Business: Use Furniture to Free up Space
Many of the best small corporate office design ideas focus on furniture, as furniture takes up the largest space in the office. Consider going simpler and smaller. Replace large and bulky furniture with standing furniture to maximize space and lessen clutter. Minimalist furniture can have a huge visual impact without using up all the space that its counterparts would. If you're going to do a bulk office furniture order, pay attention to the furniture you're choosing.
Use geometric tables that offer the same number of seats as old-fashioned rectangle ones. Doing so brings team members closer and promotes better collaboration. Another option is to forego some of the standard office furniture. Here, you would be demolishing cubicles and getting rid of big filing cabinets by going paperless or moving them off-site. Having less furniture around gives employees more space to work and be productive.
3. Small Office Ideas for Work: Refrain from Using Labels in the Workplace
Trying to keep the office flexible is a good idea for office design ideas for small business. If you only have a few employees working various hours in a small space, you can play around with a flexible design that makes individual workspaces more conducive to multiple tasks and activities. Having free chairs, desks, and spaces that are flexible means more potential areas for chats, meetings, and briefings.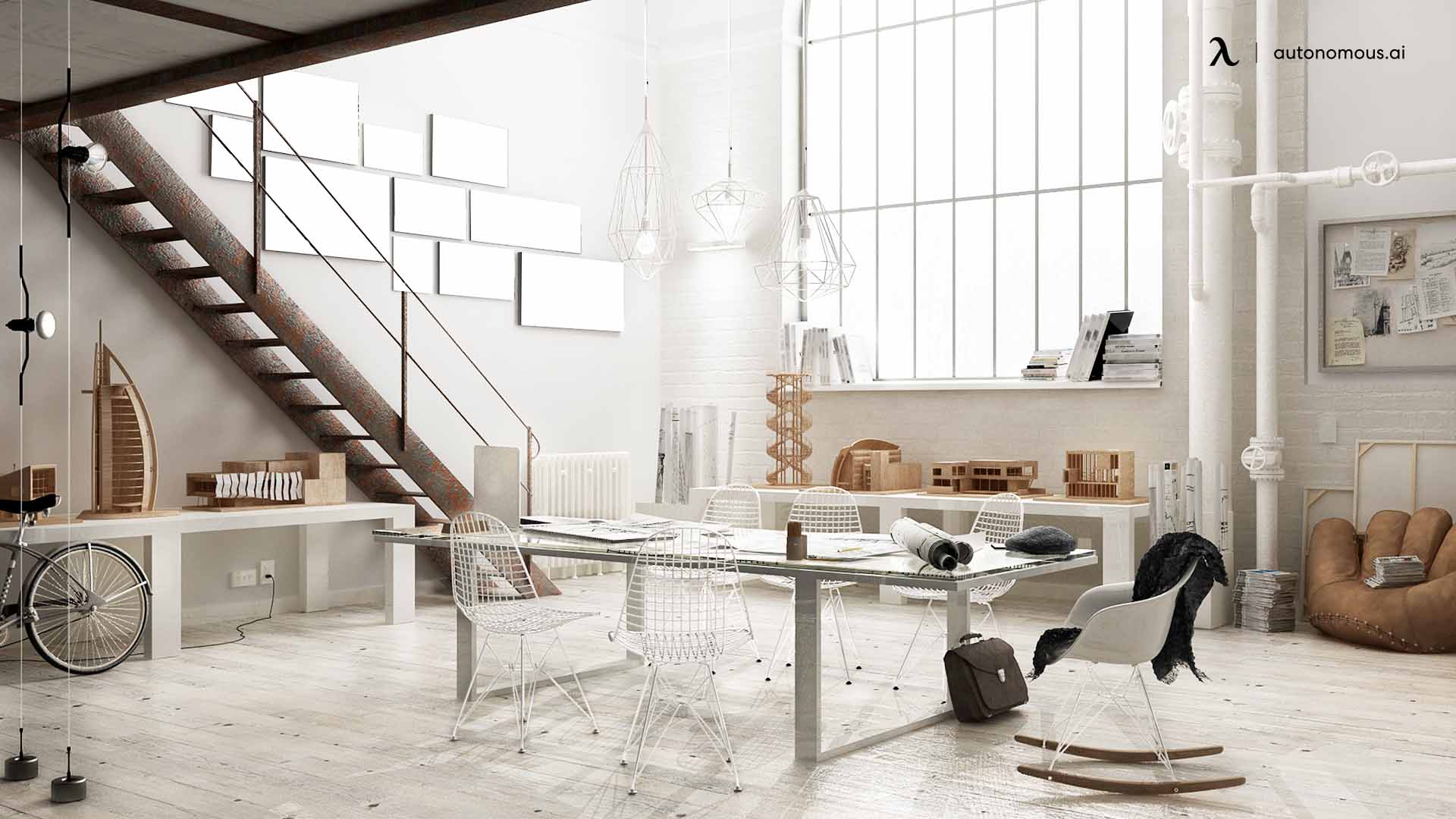 Convert boardrooms and conference rooms into a general area for meeting or into a lounge. Clear out storerooms and transform them into media rooms, private rooms to take calls, or whatever room or area works for the team and can stimulate high levels of productivity, job satisfaction, and equality.
4. Office Design Ideas for Small Business: Incorporate Nature
Letting the natural sunlight in, having live office plants such as peace lilies, devil's ivy, cactus, bamboo, palm, snake plants, and other natural elements can create a healthy environment for you and your employees. A biophilic design offers many benefits, including increased productivity and creativity levels, better personal well-being, and it even helps to brighten up the office.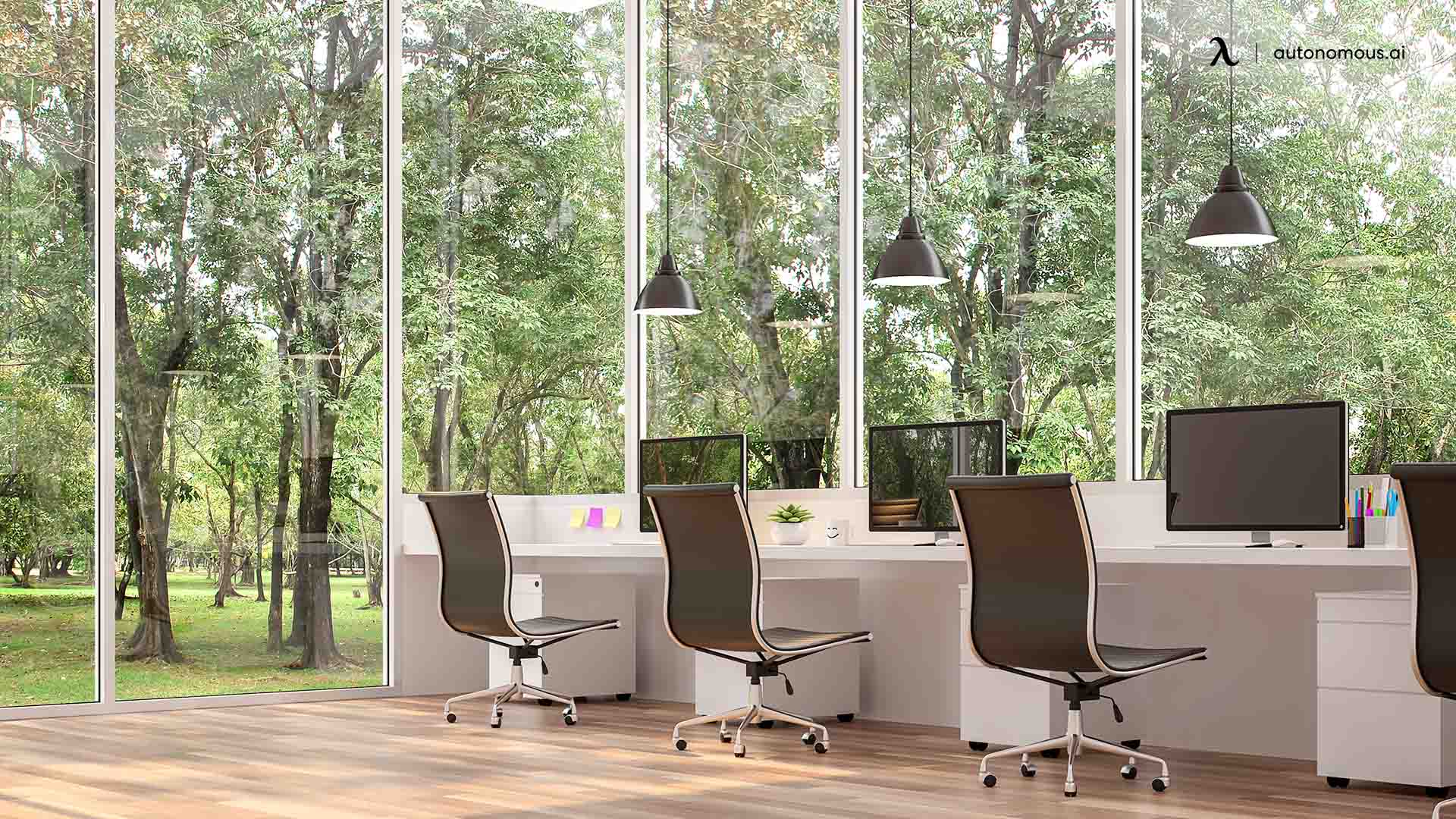 Adding a glass divider is an elegant yet simple way to create a space for meetings or work without forgoing the natural sunlight. Having panels that are portable offers flexibility for change. If you are in a beautiful area, it's a great way to showcase the lake, trees, and breathtaking views.
5. Incorporate Employee Satisfaction
Though you have a small workplace, employee personal space is important. Ensuring staff members have at least a single outlet. If space is there for more, that works even better. Even in a limited space, taking such an initiative speaks to the consideration of overall well-being productivity maintenance in the office. Transform space that is underutilized into safe office spaces, mediation corners, or even a gym.
Updating or adding a kitchen area or lunchroom with a kettle, microwave, and coffee machine is also another splendid idea. Add a television, and you can even encourage healthy eating by having healthy food options. If it's too much on the company budget to provide lunch options, then use posters and other methods to encourage healthier nutrition.
Try adding a notice board for posting and bonding with jokes and riddles throughout the day. Employees display more attentiveness and work more efficiently when their inputs are considered and incorporated into the office design ideas for a small business. This goes double when they are made to feel like their holistic health and development are company priorities.
6. Small Office Ideas for Work: Décor
Decorating your small office can go a long way in showcasing your personality. Imagine adding art to your workstation like walls filled with artwork and mounted accents break-ups. Hang light decorations from the ceilings to help with dimensions and introduce a few plants for a vibrant and natural look.
Your decorations and fixtures can reinforce your brand. Using your company logo and colors in the office design is a creative way to represent your business. Doing so can drive employee pride and communicate to the wider public that you are here and here to stay. Décor does not have to be too dramatic or overwhelming. It requires nothing more than a subtle extension of the reputation you have built.
Humans are visual creatures after all, which is why it is often said that a picture paints a thousand words. What kind of image are you painting with your office décor?
7. Get a Virtual Assistant
Having a speech recognition virtual assistant is such an incredible idea for office design ideas for small business that everyone can use is such a modern steal. It is a wireless system that can schedule appointments, make calls, play music when requested, search for insights and respond to research questions, and it can even control the temperature.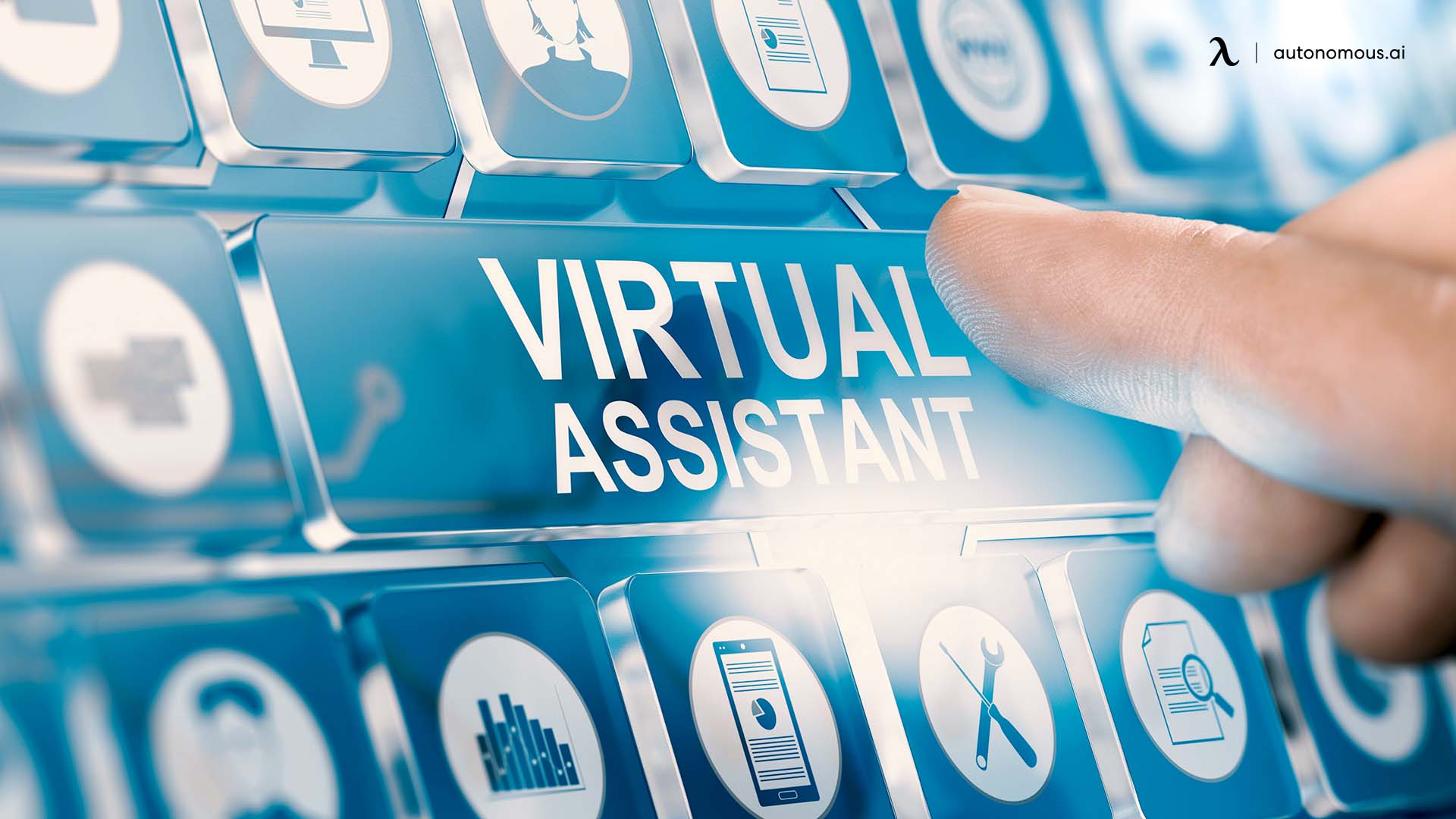 Amazon Echo comes highly recommended in this regard, and if you connect it to the company Amazon account, you can use it to order supplies and equipment for your new small business office ideas.
8. Brightening Dull Furniture
Office furniture is known to be dull, depressing, and unappealing with colors of tan, gray, and black. Brightening your existing modern office furniture to match a vision of intriguing art and bright colorful walls is simple but effective. Any space can benefit from a statement cushion or pillow and a burst of color which are inexpensive ways to bring about vibrancy.
Colors can be used to make your office a welcoming place by strategically stimulating creativity, healthily increasing the heart rate and productivity levels, and generating calmness.
You may want to start by bringing more hues of blue into the mix. Blues are some of the most mentally stimulating colors around, which makes them perfect for an environment in which you want your employees to perform.
9. Use All the Office space
There is no harm in using every inch of the space you are paying for. If there are empty forgotten areas and corners, think about ways to use them. Whether by acquiring a pair of silent electric bikes, a standing desk, a small library, or even an aquarium. Anything that works for the team can enhance employee morale and add personality.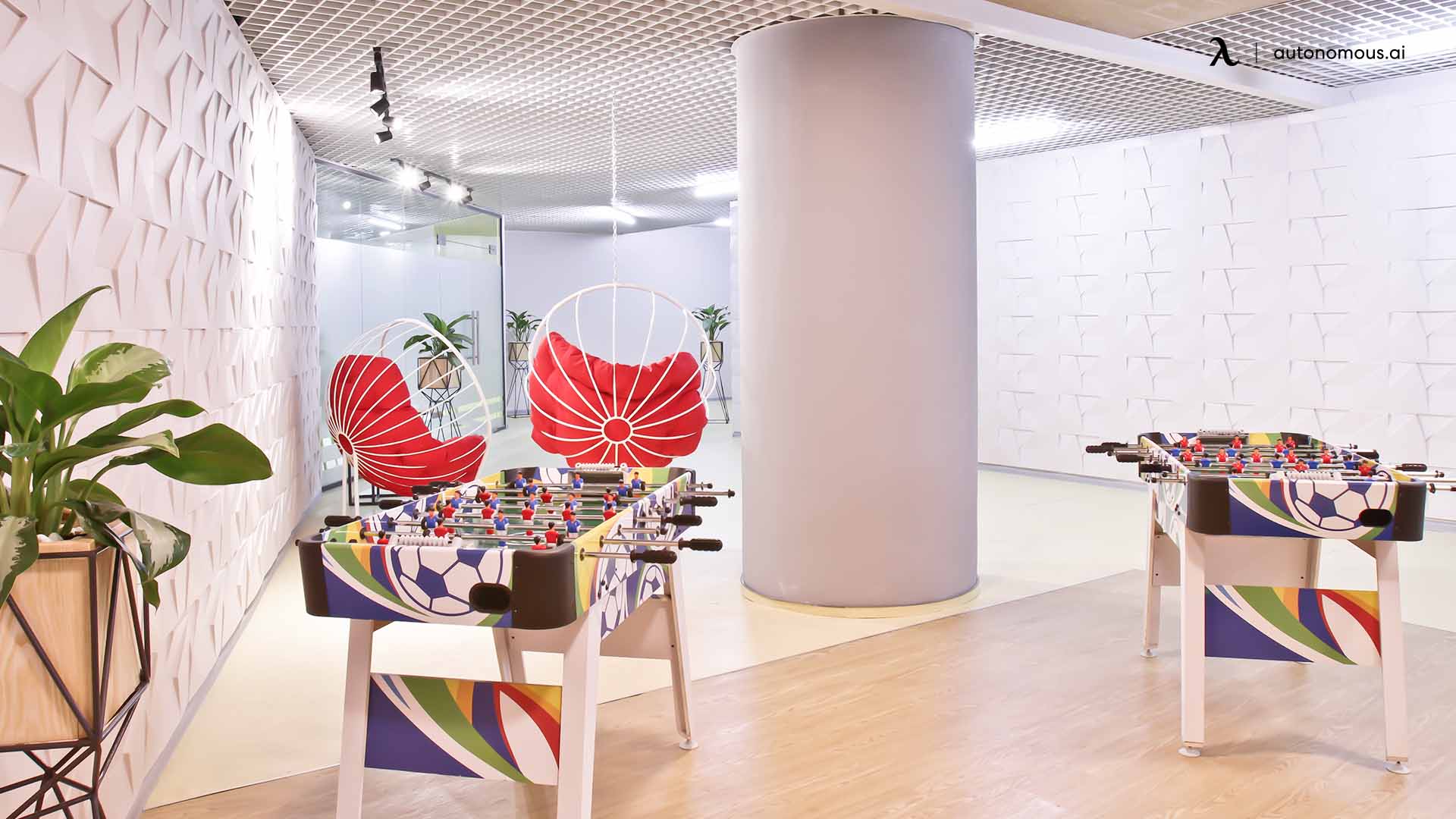 Also, remember that the space was small, to begin with. If you don't effectively use it all, you feed into an illusion that the space is even smaller than it is.
10. Declutter
Sometimes your office may appear a lot smaller than it is, and it's not because you chose not to use some space. The real problem is that the usage allocation wasn't the most effective, to begin with. This is the right time to declutter and rediscover the space you once had. You need only retain the furniture and office equipment that are needed and are used daily.
One of the small office ideas for work is that try storing some items off-site and shredding old documents and files that are no longer of use to your organization. Wherever you can, donate, dump, sell or recycle items. Even without repainting or over-the-top decorations, this is enough to give your small office a facelift, transforming the look and feel by making it appear clean and new.
11. Change the Status Quo
Change can come even if you're dealing with something that always worked or was normally done in a specific way. Your small business office design does not have to conform to the traditional office layout. You can change things to suit you and your employees better.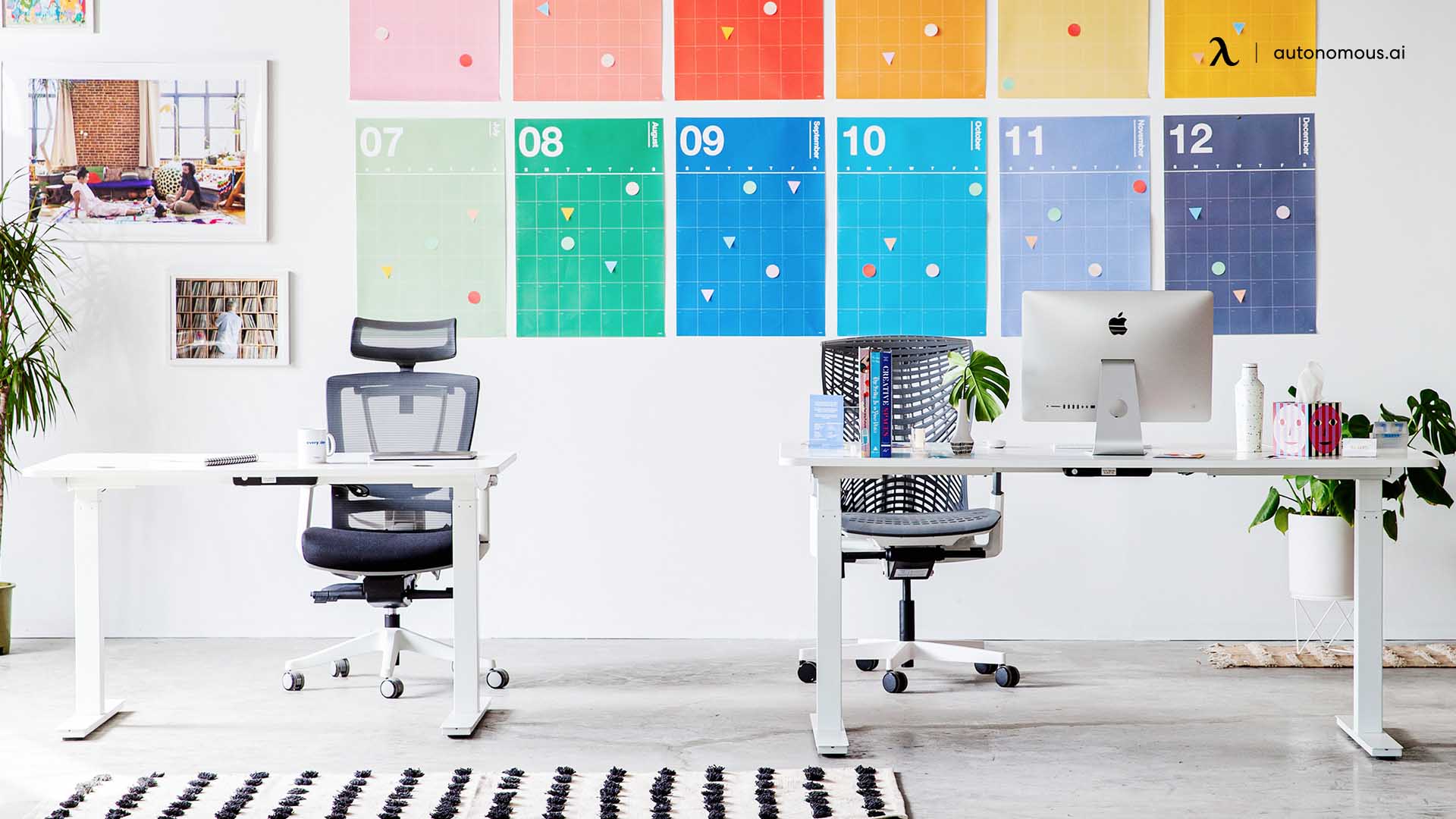 In an era of technology, having one huge desk per person can just be overkill, depending on the type of business you are running. This principle also holds for having multiple cabinets and shelves of paper and files. Your office must conform and be in alignment with your objectives and goals and assist in achieving that.
12. Create Zones
Depending on how things flow in your office, you may have areas with low and high activities. Discover ways to improve those areas for better transitions and flow for your office design ideas for a small business. Creating zones or switching up areas and converting the spaces can improve employee productivity and efficiency.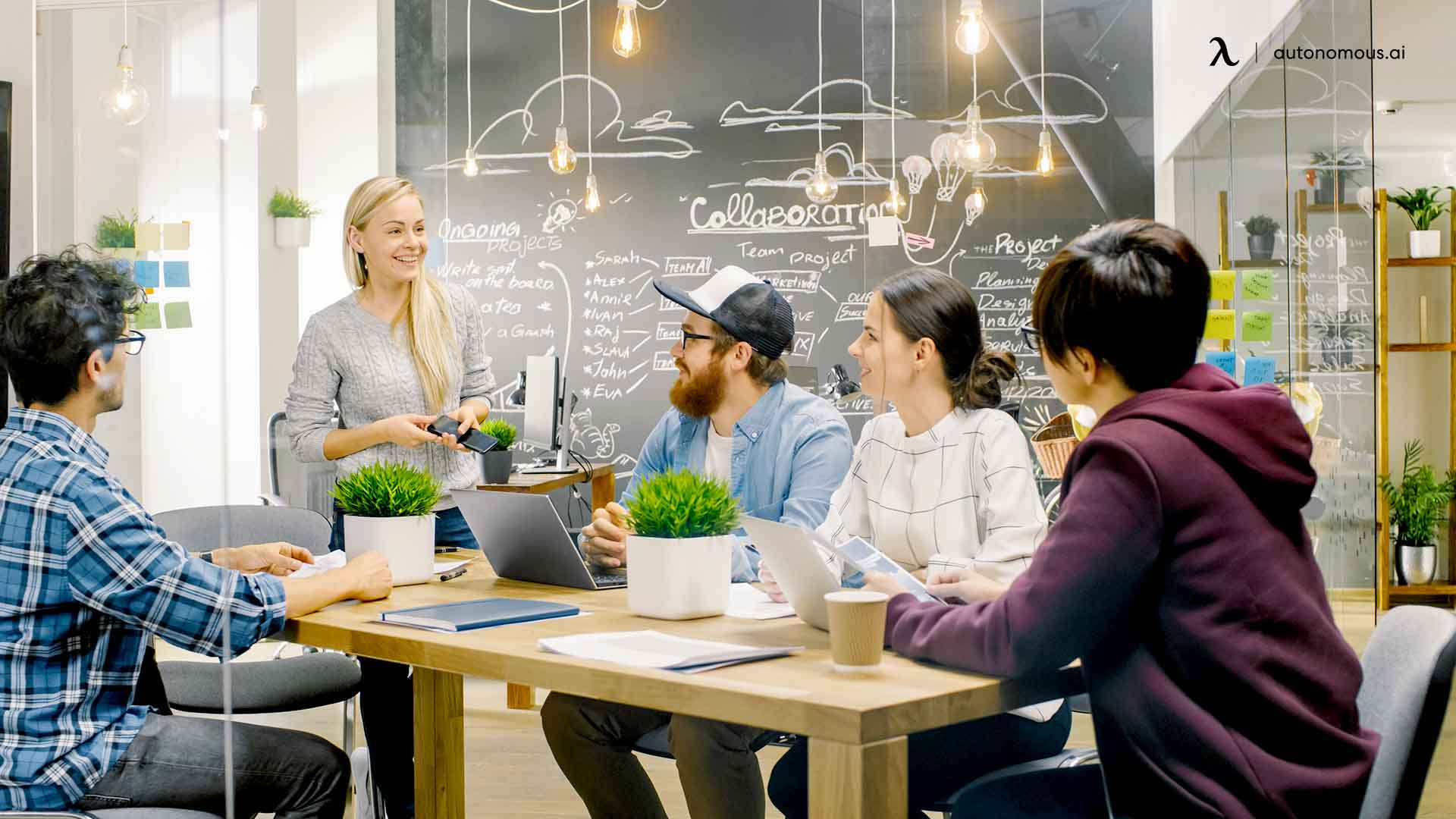 Well-planned office layouts increase the overall workflow, add energy to the setting and reduce chaos. Bottlenecks are also a huge problem that small businesses contend with and creating zones can go a long way in helping you to fight against the issue.
13. Reevaluate Your Office Design
Rearranging your furniture can have a significant impact on the dynamic of the business and necessary to consider when building office design ideas for small business. Walk through your office on a busy day and pay close attention to the flow of things to find out what works and what needs adjustments.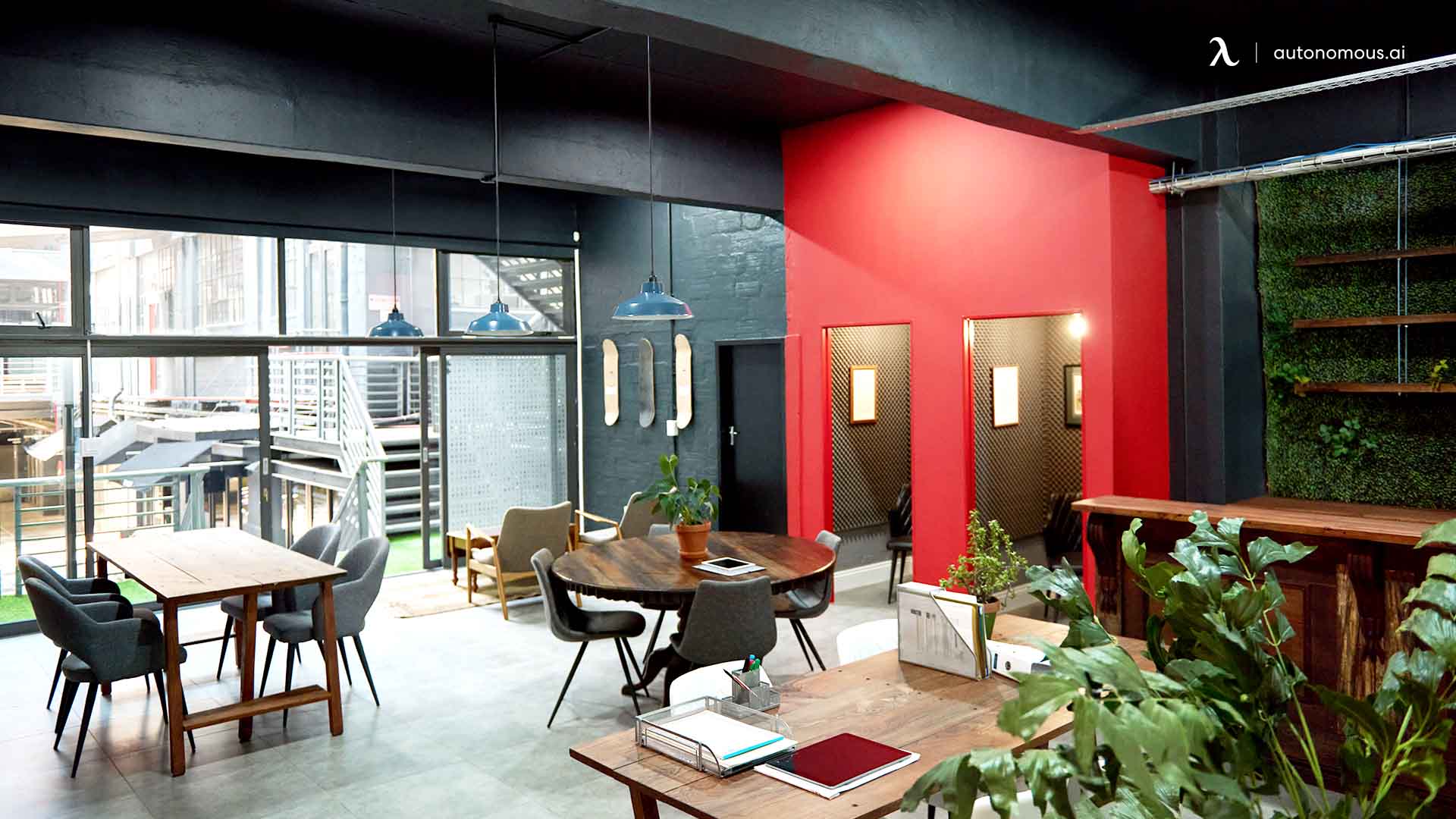 Ask yourself a few questions, such as "do we need a reception desk?" "would the employees benefit from a communal workspace that can promote collaboration?" Find your answers and think of ways to implement the useful insights and eliminate the ones that fall on the less helpful side of the spectrum.
Conclusion
Do not allow a small office workspace to discourage you from having a successful one. While the walls cannot grow any wider, making the space bigger utilizing one or two of these office design ideas for small business can have your office feeling bigger than ever. Feel free to take it beyond one or two if you wish, so you can bring numerous solutions and improvement into your company dynamic with office design ideas for small business. The possibilities for small business office ideas are plenty but the main guiding principle is to ensure the office design you create captures the business goals and vision. Unlocking the potential of your office boils down to the opportunities and your ability to make the most of what you have. From decorations and different seating arrangements to nature and color scheme, every part of it matters when space is restricted.
Hey, you have special pricing through your company.
Get exclusive rewards
for your first Autonomous blog subscription.
WRITTEN BYAutonomous
We build office products to help you work smarter.
Coming at You Live from Autonomous' Social Media!