If equipment and technology are consistently evolving, there is no way you can remain stagnant and expect to meet targets adequately. In that case, not only would you be competing with other people who have superior office equipment, you'd also be competing against your existing setup. It sounds like it's time for some home office upgrades, doesn't it? 
This is not the place to apply the adage "if it's not broken, don't fix it." Instead, this is the kind of context in which you want to always remain ahead of the curve. Your home office makeover setup is not the kind of thing that you just set and forget. So, it's time to have a look at some home office improvements that can truly set you apart in the world of work. 
Why Do You Need Home Office Upgrades?
Just now, you got a high-level interlude about home office makeovers. Still, you may think that there are no specific reasons for you to do so. That's not necessarily the case, and this should prove it to you. 
First, there's the matter of home office furniture. Research continues to prove that what used to be normal in the workspace could potentially be reducing your lifespan. That sounds serious, doesn't it? 
Time has also proven that there are more efficient ways to achieve certain tasks. For example, when the internet was still in its old ARPAnet days, the post was incredibly common. However, the internet has vastly developed, and email, alongside other electronic communication methods, has taken center stage. 
Post offices have not been eliminated, but their usefulness has drastically decreased. The medium was even given the title of "snail mail," which indicates what the world thinks of its capabilities. 
So, if there are better and more convenient ways to go about things, would you not want to take advantage of what could be the new home office setup? 
The Definitive Home Office Upgrades List
Are you working remotely during the COVID-19 outbreak but intend to return to the office, at least a small part, after the virus has passed? Many people are unsure how long their remote office situations would remain due to the epidemic and are therefore unsure how much effort, energy, and expenses they should consider in their home office upgrades.
It's critical to have the correct equipment for maximum efficiency in your best office upgrades when setting up a home office. Knowing some basic home office updates will help you establish a more focused atmosphere, becoming increasingly important as more employees choose to work from home.
Users can buy various cool, funny, and practical items for your home office. Nevertheless, before you become too committed to setting up a new home office, try making a few basic and affordable improvements to your current system.
Yes, you saw that title correctly. Whether it's must have office accessories or add-ons to make your life just a tad easier, this is indeed the definitive list of home office improvements. By the time you are finished reading, the reasons should jump out at you.  To assist you in beginning your path to efficiency in your home office makeover, we've compiled a list of critical home office modifications that will help you in your home office improvements while also creating a balance between work and life.
1. Ergonomic Chair
The ergonomic chair is going to be kicking this home office upgrades list off, and its doing so is very appropriate. This is one of the two pillars of a home office update setup. Even years in the traditional office have proven that a good chair is a part of the design. 
The question though is, why settle for a good chair when you can have a great chair? That's why the Autonomous ErgoChair is here for you. Available in three variations (based on the extent of functionality you want), You can choose what fits you best. 
Ergonomic principles would dictate that a good chair should have several features that not only promote proper posture, but also allow for adjustability. 
Take an office chair element, such as an armrest, for example for your best office upgrades. It is designed to give moments of reprieve to people who may have been typing for some time. The problem is that you could pick the first 10 office workers you see, and they may have 10 vastly different body types. Ergonomics has never been a "one size fits all" kind of deal. 
The adjustability allows you to mold your equipment, and by extension, your environment to your unique needs. To this end, the Autonomous ErgoChair offers various layers of adjustability in areas such as the lumbar support, backrest, seat height, armrest, and even the angle of recline. 
2. Sit-stand Workstation
This entry may seem a bit odd considering that the chair t just discussed under the previous heading forms a part of this home office improvement. Still, one can say it doesn't count because the electric standing desk sits at the center of a sit-stand setup. 
This is not only the centerpiece of any high tech home office composition, but it also allows you to take advantage of recent discoveries that are all about ensuring that you are a picture of health. Low back pain and the other myriad of issues that a sedentary lifestyle brings are a thing of the past with the right desk in your office. 
Which one is the right one, though? Well, as Autonomous knocked it out of the ballpark with the ergonomic office chair, it manages to outdo itself in the standing desk world. Meet the Autonomous SmartDesk series.  
Available in Core, Pro, and Corner variations, it's all about working how you desire for your home office upgrades. As a remote office worker, you may find that the SmartDesk Core is more than enough to handle whatever requirements you may have. however, feel free to kick it up a notch with the SmartDesk Pro, and watch the features (including the warranty) improve. 
If your only available space is in a corner, you know that most office desks don't work so well, since you essentially lose the portion that is closest to the walls. That's not the case with the Autonomous SmartDesk Corner, though, as its L-shape allows you to capitalize on all the space available. The best part is you can adjust the long and short sides as you wish, meaning you can fit it into any corner of any room. 
At this point, your desk and chair have been selected. So, why not add some smart office accessories to sweeten the deal? 
3. Monitor Arm
The monitor arm is next on the list and truly gives that futuristic look to your home office upgrades. Autonomous offers this too, and you are likely going to wonder how you ever survived without one.  
What does a monitor arm do? The basic idea is that it's affixed to the back of your desk and suspends one or more screens in the air. With the monitors no longer standing on their bases on a desk, you get a couple of advantages. 
The first is the flexibility of placement. Typically, adjusting the height of a monitor would be dependent on how far off its base it can slide. Now, you have monitor arms that go much higher, which offer a wider range of positional placements. 
Additionally, the component that holds the screens in place can be rotated. This feature makes it super easy to align your monitors using portrait or landscape orientation. 
4. Anti-fatigue Mat
The idea behind sit-stand sessions is for you to keep your body in motion. After all, the human body was meant to keep moving. However, during the standing phase of your sessions, you may notice that you begin to experience challenges, such as fatigue and joint pain. 
While incorporating standing as a part of your workday is both recommended and admirable for home office updates, there is still the fact that you were probably not used to doing so before you heard about the implications of continuous sitting and decided to make the switch. 
What that means is that standing is very new to your body, and it needs to adapt. However, even the said adaptation sometimes doesn't prevent you from facing these unfortunate side effects. Of course, the reason is the fact that you may be standing in a single position, and the lack of motion is the issue at play. 
What are you supposed to do instead, then? Well, that's where an anti-fatigue mat from Autonomous can be a big help. When you hear movement, it doesn't have to be as pronounced and as large as you may think. Micro movements are enough to meet the body's requirement, and the mat encourages these with its gentle 2" incline. 
You can stand on it with any kind of footwear without worrying about any damage to you or the mat. You are getting anti-slip, abrasion-resistant SBR, high tensile PU and vegan leather with tear resistance, and a weight capacity of up to 330 pounds. This is all complimented by an incredibly convenient one-year warranty. 
5. Filing Cabinet
Filing cabinets have existed for a very long time in any new home office setup. That may be enough to cause you to wonder how such an item falls under the category of home office upgrades. However, you need to think about it beyond its traditional uses of maintaining files and providing an indexing system. 
No longer do contemporary desk cabinets feature only large drawers that are suitable for filing documents away. The Autonomous filing cabinet is a testament to this progression in design, as it features one large drawer at the base with two smaller ones above it. 
The idea is for it to hold more than just files. If you do have filing to do, then feel free to use the lower drawer to achieve this. Alternatively, you could capitalize on it for any number of uses. The other two drawers are also there for you to use in any convenient manner. You could store accessories, documents, and even spare electronics in your home office upgrades. 
The design by Autonomous is very convenient and you can place it under your standing desk or to either side of it. Either way, you should ensure that it becomes very easy to reach. The three-drawer design comes with customizable dividers, an anti-rust finish, lockable drawers and wheels, and a weight capacity of 275 pounds. The build quality is also incredibly sturdy as it is made from solid steel.  
Of course, the flat surface atop the filing cabinets also doubles as a more informal form of storage. You usually find that remote workers such as yourself place items, such as books and even potted plants atop their cabinets. 
6. Cable Tray
Here is another of the best desk tech accessories to have in your home office upgrades. A cable tray solves one of the most nagging problems assembling a PC on a desk always seems to have. This is that of cable management. 
The world is not yet at a place where PC parts, such as a system unit and monitor work on wireless technology. Even the components that do have wireless variations are often foregone for those with cables, because of the more reliable data transmission. 
Unfortunately, there is often a mess of cables at office desks that create a look that is all but an eyesore. What can you do about this? Well, if you had something to bring all the cables together and neatly run them, you may find that this is no longer a problem. That's what the Autonomous cable tray allows you to do. 
There is no drilling required, and installation is barely an inconvenience. Though it's only meant to hold cables, it's still built from solid steel and can accommodate a weight of 35 pounds. If you get even remotely close to 35 pounds of cables, you need to be given an award for whatever desk setup you have. 
There is enough space for you to put in a power strip and multiple cables. You also get a one-year warranty, and the tray is compatible with all Autonomous desk models. 
7. LED Desk Lamp
Never underestimate the importance of lighting in your home office update setup. Natural light is great, but it is not always available in a proportion that is conducive to a healthy visual as you work. That is where artificial lighting can help to balance things out. 
This only works, however, if your light source is adjustable where both brightness and color are concerned. The amount of natural light present is not fixed, which means you are likely going to have to adjust your light source as things change. 
The Autonomous LED desk lamp is perfect for the home office upgrades with its four color modes and five brightness levels. It uses a minimalist design, which helps you to maintain that classy look of neatness on your desk.  
Apart from the adjustability of the light, the arm is also adjustable for proper positioning. 
After all, you don't want a harsh focused beam pointed downwards, as this can contribute to vision damage over time.
8. Standing desk converter
Standing Desk Converter by Mount-It!
With this solid standing desk converter in your home office upgrades, you can work quickly and comfortably whilst sitting in a chair. It's automatic, which means it doesn't need any drilling or complicated setup. This adjustable keyboard and mouse stand has a wide base for increased stability.
Electric Monitor Riser by Mount-It!
With this motorized standing desk converter, you can change from sitting to standing up straight in moments. It also allows you to re-establish your equilibrium and maintain a healthy and enjoyable work atmosphere. Unlike certain other manual tabletop workstations on the marketplace, you won't have to raise your workstation. Our powerful motor raises the deck in a matter of seconds.
9. Computer tools
Keyboard and Mouse Platform by Mount-It!
You can tilt, spin, and lift this keypad slide to just the right position for you when using it. You may adjust the cupboard to a more ergonomic position for your wrists! You can easily work in a comfortable situation with the gel wrist pad with this keyboards box.
Topographic Desk Pad by Deskr
The topographic mouse pad is made of high-quality materials. The Great River Valley image on the table pad adds to the appeal of this set. The Colorado Riverbed is represented by the wide vein that runs first from top to the velour desk cover, while the other lines symbolize the Great Canyon's varied elevations.
Carpio Ergonomic Wrist Rest by Deltahub
The Deltahub Carpio improves arm alignment by lifting your forearms by 1.2 cm and avoids harmful extension by first strengthening wrist to palm tension. The blood is pumped freely throughout your palm by a V-shaped hole in the center.
Leather GaN Charger by VogDuo
You'll be capable of charging all of your gadgets rapidly thanks to the quick charging mechanism and USB Type C charging port.
Under Desk Computer Mount by Mount-It!
You should need this item in your home office upgrades. Your PC unit can be positioned out of the way on the base of your hardwood table. This configuration brings your computer's base closer to your monitor, making it easier to connect.
Ergonomic Keyboard for PC by Matias
This PC keypad helps improve typewriters' comfort and confidence by providing a variety of keystroke modifications, including center tenting, a considerable tilt to bring up the front of the qwerty keyboard above the rear end, and split left and right sides so that each side can be in a perfect position and angular acceleration for the user.
Laptop and Monitor Stand by Mount-It!
This versatile pole-mounted laptop desk stand and monitor mount is excellent for a variety of applications thanks to its adjustable length and adjustable arms. It's a laptop or display-adjustable desk stands with tilt and rotational options. Both arms have cable management features to aid in the organization of wires.
10. Health tools
ThermalComfort: Personal Climate Control
A range of cushions and chair rests are available to assist you to enhance your sitting posture with your home office upgrades. These thoughts came from several Autonomous ThermalComfort Personal Temperature Control testimonials we found online. Pillows like this can provide added lumbar support warmth and can sometimes knead your back to reduce pain while you're sitting.
ErgoStool
It's a height-adjustable stool that you may use with both standing and reclining desks. It also includes diagonal borders to keep blood flow in the legs from being obstructed. The solid weighted platform of this ergonomic stool allows for greater flexion and extension, which aids with core and spine stability.
Indoor Cycle by Ovicx
According to your body mass and acceleration, a thirty-minute bike workout can help you lose anything from 100–150 calories. If our consumers want to get the benefits of indoor cycling exercises, we recommend buying a quality bicycle. An excellent alternative is an Ovicx indoor cycling bicycle, which would have been ideal for your at-home training.
Foldable Walking Treadmill C2 by WalkingPad
It's simple to fold entirely in half. Thanks to the gliding rails at the base, you can easily maneuver it in or out of the limited region beneath the table, sofa, or bed. Using the incredibly precise pressure gauge in the stepping platform, you can control it at high, medium, or slow rates.
FAQs
Question: What are the requirements for a home office?
Answer: A PC, a desk, and a seat are required in every remote office. We also suggest looking at the home-based office space basics mentioned above with a minimalistic yet efficient workstation at home.
Question: What is the best way to work from home?
Answer: To work remotely, you'll need a job that doesn't require you to be physically present. It should not be an issue if you're an entrepreneur. If you operate for a corporation, inquire if you may work remotely for a day or two per week at first. For remote jobs, digital work is usually the best option.
Question: Is working from home more efficient?
Answer: Numerous studies published in the last few months have found that productivity is higher when working remotely than when working in an office. In general, people who work remotely waste fifteen minutes less each day, work one extra day per week and are 46 per cent more efficient.
Final Remarks
There you have it! Seven amazing upgrades that you can bring to your home office to help you create the new home office setup possible. These upgrades all contribute to greater productivity and making the principles of ergonomics work for you. What more could you ask for?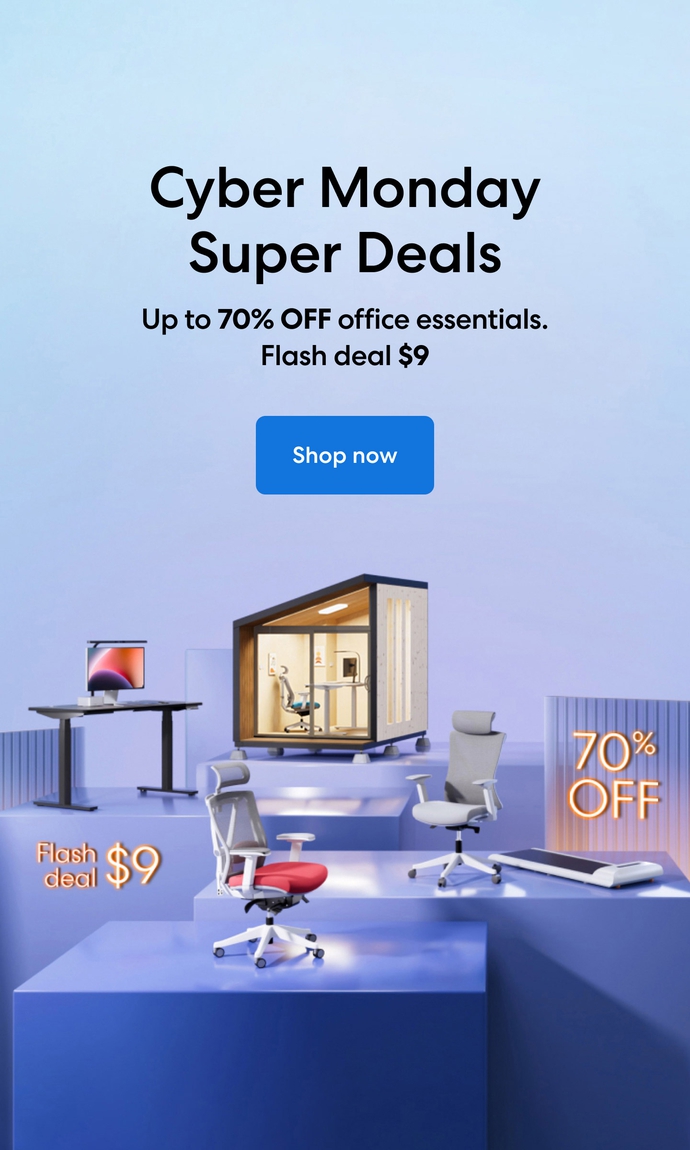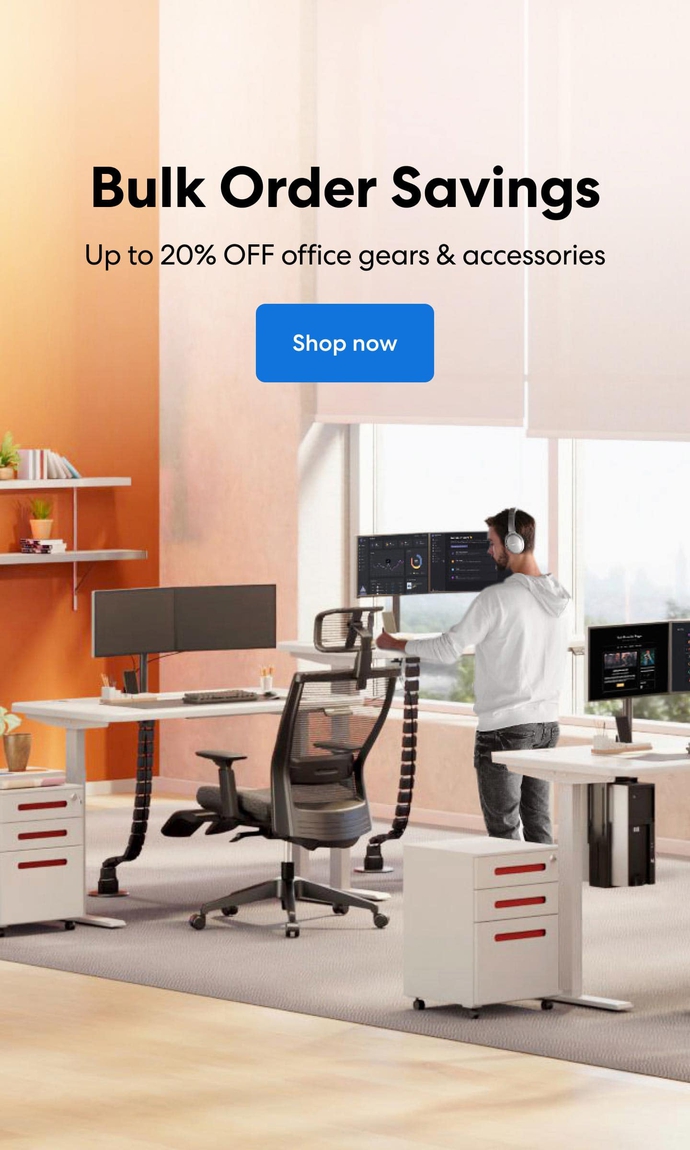 Subcribe newsletter and get $100 OFF.
Receive product updates, special offers, ergo tips, and inspiration form our team.