Workplace Inspiration
10 Inspiring Ideas to Makeover Your Home Office for Productivity

Autonomous
|
Oct 13, 2021
1,937 Views
Are you working from home? If so, what is the nature of your home office makeover? When you are working from home, you need drive and motivation. Your workspace should be gorgeous and as professional as possible. 
Create a conducive work environment by getting a proper home office renovation. The office decor and accessories chosen should motivate you to work. There are several home office setup ideas you can use to make your home office tick. 
You are in luck; this piece looks at ideas to inspire your home office makeover for productivity. These classy tips and tricks help in understanding what you need for your home office. Your home office is about to become your favorite room at home. 
Many articles show the before and after office makeover ideas. Better yet, other factors exist that help to makeover a home office that promotes productivity. Read on to find out more about these ideas and how to go about giving a home office renovation. 
Factors That Increase Work Productivity
Did you know that your body picks out vibes and energy from your surrounding environment? Well, this is common, especially in the workplace. It does not matter how talented or versatile you are; working in an unpleasant workplace reduces your productivity. 
Your body and mind require maximum comfort and relaxation to work well. Therefore, here are some factors to help improve your productivity in your workspace. 
1. Office Layout and Design
A beautiful and professional office layout and design are fulfilling and mind-refreshing. Some office layout ideas enhance your working relationship with the rest of the team. 
With the new COVID-19 normal, office layouts are set differently to reduce cross-contact due to health protocols. Privacy and focus are some impacts derived from the layout. A motivating layout is ideal for having an easy and interactive day with colleagues. 
2. Office Decoration
Your home office decor is a great motivation that increases your productivity. Some home office makeover ideas, for example, painting walls and hanging pictures, make the space more appealing. Working desk decor like a calendar, clock, or plant makes the working space professional. 
3. The Office Desk
A spacious and well-organized office desk establishes a productive workspace. Using a good, quality, and ergonomically designed desk is beneficial to your working habits and health. 
Ideally, an ergonomic office desk should be your first choice. Smart office desks such as SmartDesk Core and SmartDesk Corner have an adjustable height that offers you a variety of height options to choose from. The desk enhances productivity due to its flexibility and health benefits. 
4. General Office Furniture
Before buying home office furniture for your work office makeover, there are many aspects to pay attention to. A good office layout and furniture placement play a significant role in increasing productivity. 
When setting up your home office, make sure you choose the right furniture. Some common equipment for a simple DIY office makeover includes an office chair, a desk, a file cabinet, and other storage systems. It is also important to avoid bulky office furniture to create more working space. 
Considerations Before Executing Your DIY Ideas to Make Your Office Productive
Before starting your DIY office makeover journey, a few things need consideration to get it right. Depending on your style, you can craft your home office essentials from scratch. 
Working from home is an adventure that keeps your mind active and energized. The energy helps you get ready to start your working from home adventure. Below are a few factors to consider when starting your DIY process. 
Ergonomic Attributes
A workstation with an ergonomic design is critical for increasing productivity. If you have no idea of how to make your ergonomic desk, consider research to get things right from the onset. 
Take your time to learn the basics and understand ergonomic requirements better. Craft your DIY item with a goal of comfort and relaxation when at work.
Material
If you decide to execute your DIY ideas to make your work office makeover productive, you need to consider materials as a factor. 
Your DIY project needs to be durable, so you need to look for quality materials. For instance, if you are crafting an adjustable desk, choose the most ideal, good-looking, and durable materials. Make sure you choose the ideal colors and finishes, matching your overall style.
The Price
Did you know you can have a complete and appealing home office at an affordable cost? One of the things to consider when creating your work office makeover is the cost of the items. Though there are numerous DIY standing desk ideas, you can easily use them to customize your office. 
You can craft your simple sit-stand desk with your personalized touch. There are many advantages to creating a workstation. First, a DIY office makeover experience is fun and entertaining as you save money and work at your own pace. 
Inspiring Home Office Makeover Ideas to Spur Productivity
1. SmartDesk
Why do you need a smart desk for your home office makeover? Well, you may need to keep changing your sitting positions now and then. Furthermore, body comfort is important, hence the desk's adjustability supports this. It is not wise to work for long hours on a desk fixed in a location that limits your movements. 
When you start the office makeover process, consider buying a smart desk. You can buy smart desks such as SmartDesk Pro, Hybrid, Corner, or Core Duo. The beauty of the home office makeover is that you can also become creative in your way. You can, for instance, set up a DIY standing desk to meet your needs. 
2. An Ergonomic Chair
You have just bought yourself a smart desk for your home office makeover. What do you do next? An ergonomic chair should be part of the office makeover. Why do you need this type of chair? Well, body comfort is the most important factor when working. 
Imagine having a well-laid office, everything in place, but you have an outdated chair. How does that even work out? An ergonomic chair like ErgoChair Plus, Pro, or Core is a must-have. These are some of the best ergonomic chairs with a variety of adjustable features. 
You are sure to get the greatest body comfort when using these chairs. When your office is up-to-date, and you have a good chair, you can forget about body pain. Enjoy the environment while you concentrate on your work to be productive. 
3. Use a Wall Paper or Wall Painting
Your home office wall plays a vital role in enhancing the appearance of the room. There are times that you may need to change the color to match the seasons or blend with your furniture. Before you mount a picture or a drawing, make sure you get the painting right. 
You don't want to use dull colors that may depress you all the while, do you? When it comes to frequent office wall decor changes, wallpaper provides more flexibility. You can surely not be repainting your office every season or whenever you desire. 
With removable wallpaper, you can alter your office look with ease. If you wish to match the seasons, you just pull it down and mount another. The result of wall painting or mounting wallpaper provides a cozy feeling. 
4. Devices for Connecting
A home office transformation without any connective devices is an office in the dark. How can you link and connect with your colleagues and clients without these devices? You can buy an affordable webcam, microphone, headphones, earphones, speakers, and USB adapter. 
In one way or another, these devices enhance your productivity. With the trend of working from home picking up, you can comfortably have your meetings at home. All you need are these devices to make your work easier. Make sure they are recently developed devices that serve their purpose well. 
5. All-in-One Printer
One of the main goals of customizing a home working area is to create space. An all-in-one printer eliminates the need for multiple machines to perform different tasks. This all-in-one system reduces the time and cost of acquiring several other items. 
Furthermore, having a printer in your home office reduces the back-and-forth moments of printing documents somewhere else. Consider purchasing items that are multipurpose to save your space, time, and money. 
6. Computers or Laptops
A laptop and a PC are vital home office essentials that many people cannot work without in your home office renovation. Though laptops are flexible, having a desktop is a good backup. 
Make sure you invest in a high-quality and durable laptop to increase productivity. Working from home has become a common experience and it is necessary to have a laptop that offers convenience. 
7. Filing Cabinets
Working in a clean and neat environment is safe and healthy. Therefore, consider purchasing a slim filing cabinet for your home office makeover where you can arrange your documents. A good filing cabinet keeps your office away from scattered and untidy files. 
The convenience of having a multipurpose item is to enhance mobile. Furthermore, the safety of your files is enhanced through the lock and key aspects. A spacious cabinet accommodates many files and other stuff in your home office. 
Did you know that you can use a filing cabinet as a footrest? Well, this is possible when you have a strong cabinet with wheels for mobility. 
8. Standing Mats
A home office transformation journey is a critical process that also seeks to keep you safe and healthy. There is a good ergonomically designed standing mat that might work best for your home office. 
The standing mat is ideal for enhancing blood circulation in your body while working. If you like working while standing, then consider getting a standing mat to enhance comfort. A comfortable mat reduces muscle stains on your body, thus enhancing work productivity. 
9. LED Lighting
LED lighting is a safe and affordable way to not only keep your office lit for your home office makeover but also protect your eyes. Having light in your home office is ideal for increasing your visibility. 
Though it is important to use natural light during the day, you can have a good LED light to serve you while working at night. 
Alternatively, a well-designed LED light acts as a work desk decor together with other items. A LED light, when compared to other conventional bulbs, is long-lasting, safe, and elegant enough to fit into any office setup. 
10.  A Stable Internet
With the new working from home normal, you need to have an active and stable internet connection. During the home office makeover process, consider installing the network system. Good network connectivity is a vital essential that you should have in your home office. 
The system helps you connect with the team, clients and perform various meetings. With a stable internet connection, you can easily communicate with people all over the world. This process is the only effective and quick way to pass messages through the online platform. 
Make sure to streamline your office area with a good quality net. To enhance productivity, you must have the general necessities, like an internet connection. 
Further, did you know that an internet router can connect all your devices from one source? Thus, it becomes affordable, effective, and flexible to use the Internet within the home area. The process becomes more effective if you have a flexible laptop and a phone. 
Final Remarks
Are you now ready for your home office makeover? You must now be aware of home office essentials to adopt. It is not a must that you spend too much money on upgrading your office. There are so many cost-effective ways to do that. Try out DIY setups to give your home office a different look. 
Of course, a good ergonomic desk and chair go a long way in making you comfortable at work. An officer organizer makes sure that your home office transformation is clean, neat, and tidy always. Cut down on your endless trips to nearby stores to print and reproduce documents. Install an all-in-one printer for the job. In a nutshell, scour through the market to get all you need for your home office makeover.
Video ads for product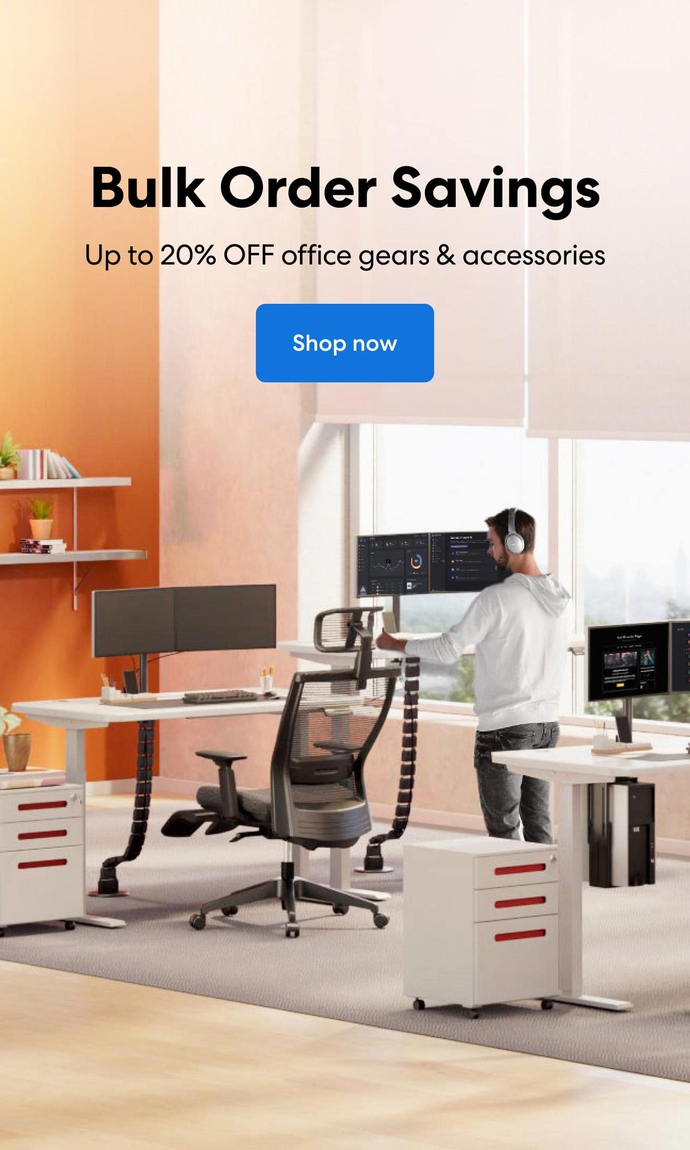 Subcribe newsletter and get $100 OFF.
Receive product updates, special offers, ergo tips, and inspiration form our team.