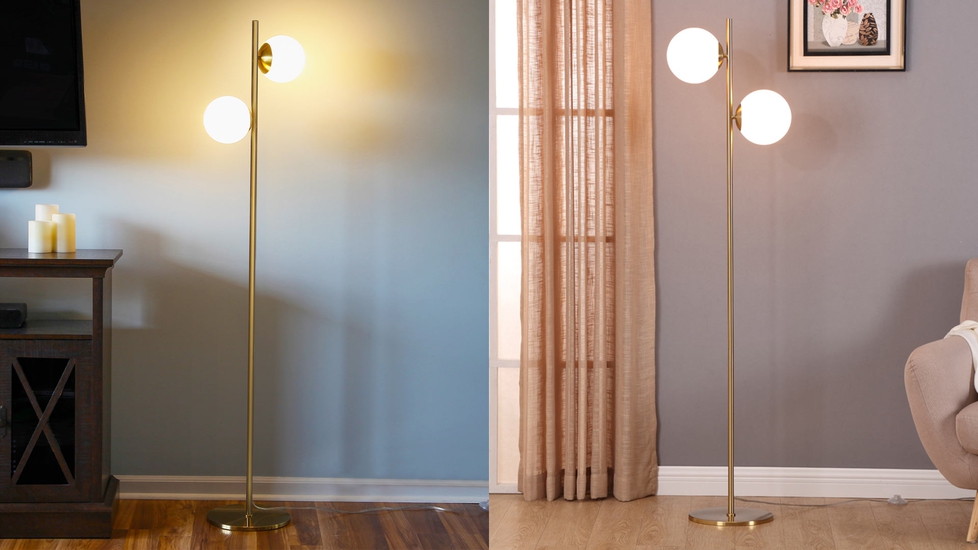 Brightech Sphere Floor Lamp
28 reviews
Visit our store
Buy now
Add to cart
FREE shipping Dec 03 - Dec 05. FREE 30-day returns.
Bought by 1+ Heartfeltcounseling employees.
Sold and shipped by Brightech
Brightech Sphere Floor Lamp at a glance.
Featuring a gorgeous brass finish, frosted white glass, and two long-lasting LED bulbs, the Sphere turns heads and lights up your home.
• Modern, slim profile
• Emits warm, diffused light
• Brass finish
• Frosted glass bulbs
• LED lights with 20-year lifespan
• Energy efficient
Deep dive into specs
Features
Specs
FAQs
reviews
5.0
Brightech Sphere Floor Lamp – Illuminate your spaces with style
The Brightech Sphere Floor Lamp combines some of the best features found in modern LED floor lamps at an accessible price. Besides that, the beautiful design will blend in perfectly in any room. If you're trying to find some good office lighting ideas, you've come across the perfect option. This Brightech floor lamp has a brass finish and frosted glass bulbs, ensuring its preservation over the years. Furthermore, the LED lights make it more durable than the average floor lamp. It is a space-saving and cost-effective brass floor lamp hat that will accompany you for several years.
What is a brass floor lamp?
The best way to describe a brass floor lamp is to describe its components. The Brightech Sphere Floor Lamp is made with two main materials: Brass and Frosted Glass Bulbs. Both options contain unique characteristics that make them an excellent choice for any space. Brass is a metal composed of two elements, copper and zinc. Typically, it has a yellow (almost golden) color, but it can also be found in red, for instance. This modern floor lamp has the most common brass finish, which is the yellow variation. This metal is extremely resistant to harsh conditions and other damages, including corrosion. Furthermore, thanks to the "oligodynamic effect," it sanitizes itself and gets rid of all the microbial agents that come in contact with its surface. Brass is capable of maintaining its shiny appearance throughout the years. Thus, the Brightech Sphere Floor Lamp will continue looking as good as always, regardless of how much time has passed. This material is quite common in different appliances, tools and diverse everyday items, but most people often overlook its properties. On the other hand, LED lighting is slowly becoming the preferred illumination option within the population. LED lights do not produce heat and are practically immune to overheating, unlike incandescent bulbs. The frosted grass bulbs included in this lamp are extremely resistant to damage and distribute the light evenly throughout the room. This lamp combines everything that's good about LED lighting with a beautiful brass finish. However, there is more to this lamp than what meets the eye.
Why you should choose Brightech Sphere floor lamp
If you're looking for a good office floor lamp, you don't have to do so anymore. The Brightech Sphere Floor Lamp has everything you need in a lamp and takes it to the next level. Here are some of the reasons why choosing this modern LED floor lamp is an excellent decision. It includes two LED bulbs, which have a lifespan of approximately 20,000 hours. This time equals about TWENTY years with normal use. You will never have to replace a light bulb again, and you will save a ton of money on your electricity bill. You can turn it on and off by using the pedal switch. You don't even have to touch the lamp to make it function! Due to its high resistance, it is perfect if you live with pets and kids. The LED bulbs are packed and are not that easy to break, while the weighted base makes it quite steady. Don't worry, though – you'll still be able to carry it around easily. Its modern design will match any room easily without problems. It doesn't matter what décor you have in your room; this lamp will fit in perfectly. It doesn't produce any extra heat, and the light bulbs emit warm and diffused light. Thus, you can be sure that your rooms will be appropriately illuminated without exposing yourself or your loved ones to accidents. The Brightech Sphere Floor Lamp is perfect for any room and complies with its purpose easily. It is one of the best brass floor lamps available in the market.
About Brightech
Brightech is a company dedicated to the creation of designer lighting. Thus, their illumination solutions are stylish and functional, allowing you to decorate your room further while keeping an appropriate lighting level. The company's mission implies providing the general population with beautiful and high-quality lights at accessible prices. More than one million satisfied customers rely on Brightech to provide them with the lighting solutions they need for their spaces. If you're looking for a floor lamp for your workstation, the Brightech Sphere Floor Lamp is what you need. Learn more about its features and capabilities.